Burned at the Buzzer
The big hit of the New York theater season in 1894 was William Gillette's Too Much Johnson. It was a farce, but when it was revived at Yale Bowl...
The big hit of the New York theater season in 1894 was William Gillette's Too Much Johnson. It was a farce, but when it was revived at Yale Bowl on November 20, it played out as tragedy for the Crimson faithful attending the 116th Harvard-Yale football game. Yale flanker Eric Johnson, in the title role, set an Ivy League record by catching 21 of the 42 passes completed by Joe Walland, the league's top-rated quarterback. Walland, who spent the afternoon fighting a fever and revising the record books, put the ball in the air no fewer than 67 times. With 29 seconds to play, and Harvard shielding a 21-17 lead, it had to be the ubiquitous Johnson who made a diving pickup of a short, deflected pass in the Crimson end zone, giving Yale its sixty-third victory in the venerable series.
Adding another theatrical touch, Walland was revealed to have slept in a hospital bed on the eve of The Game, with a 103-degree fever ascribed to tonsillitis. The Boston Globe, in its account of Yale's 24-21 triumph, did not resist the temptation to observe that Walland "was at least that hot in the second half," when the irrepressible invalid clicked on 33 of 51 passes for 343 yards. The respective Ivy records for an entire game were/are 39, 64, and 501. (Walland's full-game passing yardage--437--did not efface the last of those records, set by Princeton's Bob Holly against Yale in 1981.)
Losing a lead with less than a minute to play was not a novelty to this fall's luckless Harvard squad, which ended the season with an Ivy record of 3-4 and an overall slate of 5-5. Seven of those games were up for grabs until the very last play. In four of them, John Harvard had his watch and his wallet lifted as time expired.
In the season's third game, against Colgate, the team overcame a two-touchdown deficit in the fourth quarter, tying the score at 21-21 with 84 seconds remaining. But an 11-play drive took the Red Raiders to Harvard's 16-yard line, and Erich Kutschke's 33-yard field goal gave Colgate a 24-21 decision at the final tick of the clock.
At Cornell, Harvard held a 23-10 lead with less than three minutes to play, but Big Red quarterback Ricky Rahne threw two scoring passes to put Cornell up, 24-23. With three seconds left, Harvard's Mike Giampaolo came on to try a 40-yard field goal, but the kick was blocked.
In the last seven minutes at Brown, the Crimson offense twice drove inside the Bruin 20, but came up empty each time, allowing the eventual league cotitlists to preserve a 17-10 lead. Close, but no cigar.
Against Pennsylvania, Harvard scored 17 fourth-quarter points to take a 17-14 lead, but a fumble with three minutes to play returned the ball to the Quakers. With 81 seconds left, quarterback Gavin Hoffman's 50-yard desperation pass on fourth-and-10 enabled Penn to pocket a 21-17 victory.
Not all the close ones ended in defeat. At Worcester, a last-second Holy Cross score was averted when a fourth-down pass from the 11-yard line was caught out of the end zone, letting Harvard escape with a 25-17 win. At Fordham, with six seconds remaining, safety Ben Green snaffled Ram quarterback Matt Georgia's 64th pass of the day at Harvard's 17-yard line, clinching a 37-30 victory. And with two seconds left against Princeton, senior quarterback Brad Wilford burrowed into the end zone from the one-foot line, breaking a 6-6 tie and consigning the Tigers to their fourth consecutive loss to Harvard, 13-6.
The Dartmouth game, played on the following weekend, wasn't close at all. Scoring almost at will in a 63-21 rout, Harvard broke or tied a dozen school and league records. Wilford threw for three touchdowns and a school-record 398 yards, Giampaolo's nine extra points broke the Ivy record, and the team set new school and Ivy records for first downs (34) and points scored. Harvard's unrelenting defense held the Dartmouth offense to 18 yards and a single first down in the second half. With six catches, senior split end Terence Patterson became Harvard's career reception leader, supplanting Colby Skelton '98. Senior tailback Chris Menick scored four times, and broke the career rushing-yardage record of 3,073 set by Eion Hu '97.
The stinging loss to Penn, in the season's second-to-last contest, saw the farewell appearance of Menick, who tore a knee ligament in the third quarter. An average-sized back who could drag would-be tacklers along as he drove for yardage, he had energized Harvard's ground game for the better part of four seasons. Menick's slashing running would have enhanced the team's prospects against Yale, but what decisively shaped the outcome of the big game was Yale's aerial prowess: too much Johnson, much too much Walland. Harvard's rushing defense, ranked first in the league and sixth in the country, left Yale no alternative but to go airborne. Clamping down on the Eli running attack, the Crimson defensive unit yielded only 51 yards--42 of them on a single breakaway by tailback Rashad Bartholomew--in the opening half. Yale's only scoring came on an early field goal. The Eli defense, playing creditably, kept Harvard off the scoreboard until late in the second period, when senior Troy Jones, filling in for Menick, caught a short end-zone pass that helped the Crimson to a 7-3 halftime lead.
The left-handed Walland, who had looked for most of two periods like a man who should not have signed out of sick bay, got his groove back in the second half. Bartholomew ran for short yardage on the first play from scrimmage, but from then on it was all Walland. Mostly he threw, often deploying five receivers. When he couldn't find anyone open, he ran. Harvard rover back Mike Brooks's 66-yard runback of a blocked field goal enlarged the Crimson lead to 14-3, but Walland came back with two scoring passes to put Yale ahead, 17-14, as the final period began. Harvard then quickly recaptured the lead with a drive that was climaxed by Jones's 18-yard dash to the end zone, and the defense stopped Yale on its next two possessions. But with less than three minutes to play, a fumbled pitchout set Harvard back and the Crimson was forced to punt. With three pinpoint passes, Walland moved his team 40 yards downfield. His running advanced the ball to the Harvard 10-yard line, and a short pass to Johnson put it four yards from the end zone. Then came the not-so-immaculate reception. Walland's second-down pass attempt, tipped by Harvard tackle Chris Nowinski, wobbled into the end zone and was scooped up by Johnson. Nowinski--and others--thought the ball had hit the turf. Grinning broadly, Johnson averred at a postgame press conference that it hadn't. "Let it be known," he said, "I caught that ball." Too much, Johnson? Harvard coach Tim Murphy, whose demeanor seemed to become more equable with each agonizing loss, was dubious. But "it's a moot point," he tactfully conceded. "They win the football game. They made the plays, and it's ancient history."
Tidbits: Yale's win gave it part ownership of the Ivy title, shared with Brown. What was surely the best ever 5-5 team
in Harvard annals wound up fifth in the league standings....The Yale Bowl crowd of 55,484 was the largest since 1989, when Yale last won Ivy laurels....Harvard's special teams excelled in The Game. The punting unit downed two kicks on Yale's one-yard line. Terence Patterson, not only a record-setting receiver but also a running and throwing threat, had kickoff returns of 42 and 34 yards....Until Mr. Johnson showed up, no one had caught more than 11 passes in a Harvard-Yale game.
For the record: Chris Menick's final career totals included 3,330 rushing yards and 724 carries, both Harvard records; 29 touchdowns; and 16 100-yard-or-more rushing efforts....Inside linebacker Isaiah Kacyvenski, who won the team's most valuable player award, was the first Harvard player to start 40 games in a collegiate career. He set new tackling records for game (20), season (133), and career (395). Outside linebacker Aron Natale ranks number two in career stops, with 276.....Mike Giampaolo's 146 points made him Harvard's all-time scoring leader by kicking. He punted 205 times, another record....With 164 pass completions in a season, Brad Wilford tied a Harvard record. It was set in 1997 by Rich Linden, whom Wilford displaced as starting quarterback in preseason practice. Linden owns the record for career completions (372), and he shares the record for passing touchdowns (17). Had his three-year role as starter been extended, he would most likely have set new records for career passing, total offense, and touchdown passes....All of the above are seniors. Eight defensive and six offensive starters are scheduled to graduate in June.
Aerial circuses: Stronger rushing defenses and a clutch of rifle-armed quarterbacks are making Ivy football increasingly like the pro game. Joe Walland's 42-for-67 day against Harvard was one startling example. The previous weekend, Brown's James Perry made good on 41 of 54 passing attempts, while Cornell's Ricky Rahne completed 28 of 40....Testifying to an unusual parity in the league, a total of 15 points separated the winners and losers in four Ivy games played that day.
Summa cum laude: First team all-Ivy recognition went to tight end and captain Chris Eitzmann, offensive tackle Mike Clare, Kacyvenski, Menick, and cornerback Kane Waller....Clare, of Rutherford, New Jersey, and Adams House, will captain the 2000 Harvard team. A two-year starter at left tackle, the six-foot-four, 315-pounder is the biggest lineman to play at Harvard in Tim Murphy's six seasons of coaching.
See you next year: ...when, for the first time in 25 seasons, Columbia will not be the opening-day opponent. Holy Cross reclaims the first entry on Harvard's dance card; Brown, defending its Ivy cochampionship, will follow. Harvard won't beard the Lions until November.
You might also like
Genetic analysis reveals a culture enriched from both sides of the Danube.
Harvard researchers illuminate a longstanding epidemiological connection. 
Harvard's Faculty of Arts and Sciences broaches two tough topics.
Most popular
Professors' humble beginnings, concentration choices, and a mini history of Harvard and Radcliffe presidents
Brief life of a feisty mountaineer: 1859-1925
Realizing the full potential of black employees
More to explore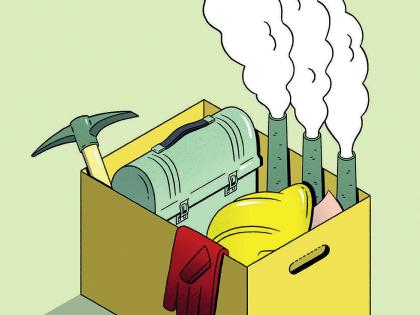 Expect massive job losses in industries associated with fossil fuels. The time to get ready is now.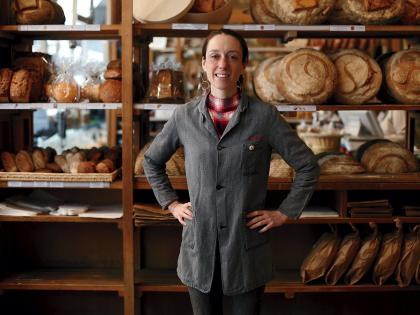 A third-generation French baker on legacy loaves and the "magic" of baking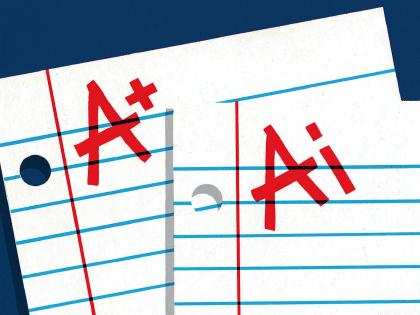 Generative AI can enhance teaching and learning but augurs a shift to oral forms of student assessment.