The Adaptive Law of the Land
In an exaltation of deans, the acting dean of the Radcliffe Institute for Advanced Study and the institute's dean-elect welcomed dean of...
In an exaltation of deans, the acting dean of the Radcliffe Institute for Advanced Study and the institute's dean-elect welcomed dean of Stanford Law School Kathleen Sullivan, J.D. '81, on April 28 to launch the institute's series of inaugural lectures with a talk on the Constitution in the twenty-first century. In President Neil L. Rudenstine's introduction of Sullivan, who did indeed demonstrate what he called
"a complex mind in elegant motion," he noted that the lecture was the institute's "first, major, official, public, academic event." Speaking to a standing-room-only crowd in the auditorium of Longfellow Hall, Sullivan assured listeners that the Constitution would endure. Constitutionalism is about the evolution of institutions, she pointed out. In the face of technological, social, and conceptual change, we respond in adaptive ways that allow us to preserve the original purposes of the document. Similarly, she said in conclusion, the mission of the Radcliffe Institute represents a "reflective equilibrium between the first principles on which this institution was founded and the changes that have come since."
Above: Three-dimensional animations
of complex biological processes show great promise in teaching. This one, on RNA splicing, shows pores on the surface of a cell nucleus.
In the surrounding cytoplasm float a mitochondrian (purple) and several lysosomes (yellow). Right: Course websites with text, audio,
and video that students can access from their rooms open new pedagogic possibilities.
Illustration by Matthew Bohan for Biovisions © President and Fellows of Harvard College Course websites courtesy of Professors Thomas Kelly and Richard Losick
Dean Murphy Moves On
Jerome T. Murphy, Ed.D. '73, announced June 5 that he will step down as dean of the Harvard Graduate School of Education in June 2001. After a year's sabbatical, Murphy--who joined the faculty in 1974 and has served as dean since 1992--will return to the school and resume teaching as the Howe professor of education. The search for his successor is expected to begin in the fall.
During his tenure as dean, the school has developed seven new master's programs involving such subjects as the arts, brain sciences, and school leadership. Murphy created the Askwith Education Forum speaker series, which brings in scholars, activists, artists, and policymakers to address topics related to education and learning; and established an office that works with Massachusetts public-school systems, applying the education school's research to current practice. He also led the school's capital campaign (part of the University Campaign), which raised $102 million and tripled the number of endowed professorships.
"Dean Murphy has been at the center of the national debate on school reform, and he has encouraged active engagement by faculty and students with critical issues in the field of education," said President Neil L. Rudenstine. "Jerry has brought vigor and insight to the school, and I am personally grateful to him for the exceptional ability and collegial spirit with which he has served Harvard and the School of Education."
Murphy, a specialist in the politics of education, said the school "is playing a pivotal role in the pursuit of public goals and the rapid increase in knowledge about learning and development. More than ever before, the nation needs to harness this knowledge to benefit children, particularly those who are poor."
Jerome T. Murphy
Photograph by Eric Fowke
Digital-age Policy
Who owns Harvard courses? Professors? The University? As the potential audience grows--enabled by new technology--so may the money at stake. Some universities have asserted ownership of courses. Harvard, instead, has revised its policies on the outside activities of faculty members to ensure that "Harvard students will have special access to an education distinctive to the University they attend."
The issue drew public attention when law professor Arthur Miller taped lectures for on-line Concord University of Law. Miller, well-known for his former PBS show, Miller's Court, has been professing law to the public for years on videotape, so the distinction between his former activity and the new one--arguably prohibited under the old rules against teaching at another institution--was fuzzy. The new rules explicitly state that it is permissible to distribute materials (video, audio, text) electronically if the materials "do not constitute a substantial portion of a course"; are "produced without a substantial University contribution"; and are distributed on a "non-exclusive basis." "It's not a question of prohibition," says associate provost Dennis Thompson, chair of the policy committee, "but of permission. The aim here is not to discourage faculty members from disseminating knowledge freely. That's our vocation...and the more the Internet can help in that, the better." Faculty members have obligations to the Harvard community of their colleagues and students and to the University, reasons the policy, which sets a limit on total outside professional effort of 20 percent, leaving to the faculties the interpretation of this standard. Faculty may continue to teach at other institutions in the summer and during sabbaticals, but not for redistribution in electronic form.
Medical Ethics
Revisited
Harvard medical school has decided for now not to liberalize its rules governing faculty members' economic stake in company-sponsored research conducted in their laboratories. The issue, under study by a committee appointed in 1998 by Dean Joseph B. Martin, was scheduled for debate at a faculty meeting on June 1. Instead, on May 25, Martin announced that "we will not recommend any new exceptions in our policy" and canceled the June 1 debate.
The school's "Policy on Conflicts of Interest and Commitment" permits only minor exceptions to financial conflicts. A researcher may own up to $20,000 in publicly traded stock in a company whose technology is being studied, or may receive consulting fees or honoraria of up to $10,000 annually from such companies. Those limits, considered the tightest in American academic medicine, were being reevaluated by the committee for two reasons. One is concern that the guidelines might unduly stifle fruitful industry-medical school collaborations. Another is that Harvard's stringent criteria might cause talented researchers to work elsewhere.
The medical school's self-examination did not take place in a vacuum. Martin recently served on an independent panel that reviewed the University of Pennsylvania's Institute of Human Gene Therapy. The death there last September of a teenaged research subject has prompted federal safety reviews and changes in procedures, practices, and personnel. While endorsing the promise of gene therapy, the panel's report, issued April 27, questioned the institute's organization, training, and allocation of responsibilities, and urged that Penn "review its policies on conflict of interest." It noted that "the avoidance of conflict of interest that even remotely might detract from putting the needs of patients first becomes paramount" because "new therapies differ from...other ventures, such as computer technology, which involve no responsibilities for patient care."
On May 18 the New England Journal of Medicine ran a sharply worded editorial by outgoing editor Marcia Angell titled "Is Academic Medicine for Sale?" Angell cited bias among researchers with ties to drug companies. "Academic medical centers," she declared, "should be wary of partnerships in which they make available their precious resources of talent and prestige to carry out research that serves primarily the interests of the companies." For Harvard's faculty to consider "[s]oftening its conflict-of-interest guidelines is exactly the wrong thing for Harvard Medical School to do."
The June 1 medical-school faculty meeting was to have been attended by outside experts. Among them, David Korn '54, M.D. '58, senior vice president of the Association of American Medical Colleges, and Kenneth I. Shine '57, M.D. '61, president of the Institute of Medicine of the National Academy of Sciences, both supported Martin's decision. Shine expressed the hope that more schools would move toward Harvard's standard, rather than vice versa.
A few days later, Jeffrey M. Drazen--Angell's successor at the New England Journal--was embroiled in the kind of conflict she editorialized about. An asthma expert, Drazen has been Francis professor of medicine and professor in the School of Public Health's department of environmental health. As editor, he said, he would recuse himself from reviewing manuscripts involving any of nine companies from which he had received research support or fees. Late in May, it was reported that a 1999 press release from Sepracor had quoted Drazen, then a paid consultant, who hailed a new drug's efficacy--but the Food and Drug Administration found that the quotation misleadingly went beyond the uses for which the drug had been approved.
Given heightened public concern over the relationship between private research sponsors and academic medical centers, the federal government in May proposed further oversight of clinical trials and research. In that context, Martin told his colleagues, the medical school faculty's deliberations "should await a national forum for dialogue." He continued, "[T]he most important role academic medicine can have in clinical research today is to try to bol-
ster the public's faith in the veracity and
ethical underpinnings of this noble endeavor....at the same time that we try to move science forward as efficiently as possible to
the benefit of mankind."
'60s Generation Confronts '90s Protest
When David Illingworth '71 and Allan Ryan went to college, the causes of the day were civil rights and opposition to the Vietnam War. Now, campus progressive groups are rallying to oppose sweatshop labor and support a "living wage" for University employees. And the students who came of age in the 1960s find themselves on the inside of University Hall, as Illingworth, Ryan, and a handful of other officials try to handle the increasingly vocal protests of a new generation of Harvard activists.
"When we heard students rallying and protesting and carrying signs and demanding action, it was something we could immediately relate to," says Ryan, a University attorney who oversees sweatshop issues for Harvard. "Does that mean that we are here to say yes to whatever the students ask for? No, it doesn't. We have grown up and become college administrators. But I think there is a sense that they have a legitimate basis to come to us."
Members of the Progressive Student Labor Movement (PSLM) are demanding that Harvard pay a "living wage" of $10.25 an hour to all its lowest-paid employees and that the University join the as-yet unformed Workers' Rights Consortium, a labor monitoring group that would inspect the conditions in factories producing Harvard-logo apparel and similar wares licensed by other schools. The University is already a member of the Fair Labor Association, a rival monitoring group, but PSLM members claim that its standards are inadequate and that the group is too beholden to businesses (six of 13 slots on its governing board are given to member corporations). Furthermore, even though a University committee recommended in May that Harvard extend job training and health-insurance benefits to almost all University employees, including casual workers and those employed through subcontractors (see adjacent story), PSLM members say these concessions are no substitute for higher wages.
The group has staged increasingly aggressive protests this semester, holding teach-ins in administrative buildings, occupying the College admissions office to hand out leaflets to prospective freshmen during "pre-frosh weekend," and bringing actors Matt Damon '92 and Ben Affleck to Harvard to headline a protest during the busy ArtsFirst weekend in early May.
In response, the new generation of Harvard administrators has thus far eschewed the tactics the University used in 1969, when police officers forcibly ousted protesters from University Hall. Even when PSLM members disobeyed University police department requests to leave the admissions office in April, the police (after consulting with administrators) declined to arrest them, and the College took no disciplinary action against them.
University officials say their relationship to the protesters is focused around productive conversation driven by reasoned argument, not noisy protest or PSLM's numbers. (Though hundreds of students turned out to hear Damon endorse the living-wage campaign, celebrity-less protests generally attract fewer than 50 students.) "They have our ear," Ryan says. "It's one thing to have a mass rally out there, but if you really want to get anything done, it may be more effective to sit down with me and whoever else is involved in these issues and say, 'Here's what we want to change.' When students go into administration buildings and walk up and down the corridors making noise," he adds, "I think they set themselves back. Nothing is really accomplished and the University's attention necessarily has to turn to what we should be doing to make sure disruptions like that don't happen again or cause us to lose time and effort on the job."
Administrators even say they identify with the protesters. Ryan traces a historical chain from the civil-rights activism he says he was involved in during his time at Dartmouth to antiwar and antiapartheid movements and ultimately PSLM's labor activism. Illingworth--now associate dean of the College and the College's primary liaison to student groups, including PSLM--says he too learned from his participation in antiwar protests as a Harvard undergraduate. "Back then, we felt as if we were not being heard," he explains, "and I vowed not to ignore the student voice once I was part of the older generation."
PSLM members say that living through the late 1960s may have turned College administrators away from the most extreme responses to protests, but hasn't led them to feel a greater commitment to progressive causes.
"You can count the number of times they bring up the '60s. It's just absurd," says Ben McKean '02, a PSLM member. "I hope they've learned a lesson--that bringing in the cops to bust heads isn't the best way to break up a protest. But from our perspective, what it does is give them another rhetorical ploy."
Indeed, PSLM member Amy Offner '01, whose parents were both involved in the 1969 University Hall takeover, says the more things have changed for activists at Harvard, the more they have stayed the same--University officials remain recalcitrant in dealing with students' demands. "I'm completely unconvinced of their good will and good faith in trying to promote dialogue with us," Offner says. "Their actions have been hostile. Their claim that we have this productive working relationship is basically an attempt to gloss over and distract from the fact that they are ignoring and resisting our demands...What makes Harvard change is public humiliation and threats of embarrassment. When Harvard's good name gets sullied in the press, that's when Harvard gets scared."
Offner says PSLM may continue to escalate its protests, not ruling out the building takeovers and sit-ins that similar groups at other schools have used. "It's going to be quite a struggle," she adds, "and we think it's only going to escalate from here."
vrachel kovner
Beyond Wages in
the Workplace
The terms of employment Harvard offers its lowest-paid and part-time workers would change significantly if the recommendations of a faculty and administrative committee are adopted. The recommendations, issued May 4, include educating entry-level workers to enhance their job skills, extending health-insurance benefits and requiring contractors to do the same, establishing guidelines for the outsourcing of service work, and modifying internal University employment policies.
President Neil L. Rudenstine appointed the Ad Hoc Committee on Employment Policies in April 1999 to review the University's relationship with its "contingent workforce"--those who work on a temporary basis and those who are employees of outside firms to which Harvard services have been contracted.
The committee began work in an environment shaped by two converging concerns about Harvard's policies and practices. First, negotiations were then under way with the Harvard Union of Clerical and Technical Workers over the misuse of part-time employees (see "Treating Workers Too Casually," November-December 1999, page 82). Second, students had been campaigning for higher labor standards for manufacturers of apparel licensed to carry the Harvard name, and for a "living wage" for employees ("Students Protest Sweatshop Labor," May-June 1999, page 67).
Indeed, in commenting on the committee's report, Rudenstine thanked "the students, faculty, and others who have focused the attention of the entire University community on important questions of economic justice and on the dignity and well-being of all workers on this campus." Absent their advocacy, he noted, "[W]e would not have looked so carefully and broadly at these questions, and probably would not have considered such wide-ranging reforms as those proposed by the Committee."
The committee, chaired by D. Quinn Mills, Weatherhead professor of business administration, in fact extended its mandate and looked beyond the "contingent workforce." Of 12,722 "regular" Harvard employees, it found, 12,458 work more than half time and receive full University benefits. "Limited regular" staff, numbering 264 unionized employees, work fewer than 20 hours per week and receive Social Security, workers' compensation, and unemployment compensation, but not other benefits. Just under 3 percent of regular employees--372 of the 12,722 total--were found to earn less than $10 per hour in wages, the initial goal of the Living Wage Campaign; all of these workers are represented by unions. Only 194 employees, all of whom work half time or less, earn total hourly compensation of less than $10 including benefits.
"Casual" employees --temporary workers, who work less than half time or for less than three months--number 1,200 to 1,500 at any given time, and total 9,000 during the course of the year. They too receive only the legally mandated benefits. A committee survey found that three-quarters of the casuals are students, retirees, or people supplementing income from other jobs.
Finally, 2,000 employees of outside contractors work on campus in dining, custodial, security, and other service jobs. The committee found that less than a quarter of these contracted employees, the majority of whom work part time, earn wages of less than $10 per hour. The employees of construction contractors working on capital projects for Harvard are governed by University hiring policies, the committee found; service workers are not.
Having concluded that "the University meets and exceeds its stated goal of providing fair and competitive compensation, and that its fringe benefits and other perquisites are 'above market,'" the committee focused on opportunities for Harvard to "enhance significantly the circumstances of its entry-level workers." It did so not by recommending a wage floor, but instead by advocating access to essential skills and benefits.
Foremost, the committee recommended that as an educational institution, Harvard ought to expand the "Bridge to Learning and Literacy" program piloted this year at the Faculty Club. It offers English-language and basic literacy skills, with additional classes in computer training and access to General Education Degree courses. The committee envisions 500 enrollees per year, using paid release time during the workday, with the aim of qualifying the workers for higher-skilled positions at Harvard or elsewhere.
The committee also suggested that service employees who work at least 16 hours per week qualify for University health insurance coverage (the minimum has been 20 hours). More controversially, it recommended that contracts for Harvard's larger outside service vendors be let only to those firms that meet the same standard of offering subsidized health-insurance coverage to their workers on campus. This suggestion provoked a sharp dissent from committee members Paul F. Levy, executive dean of the Medical School, and Nancy L. Maull, administrative dean of the Faculty of Arts and Sciences. They argued that Harvard had no business imposing such standards, "based on a moral position," on the marketplace; that the requirement would prove impractical; and that it would drain University resources from their intended use--for example, depriving medical students of financial-aid funds, thus making it less likely that they would pursue careers in research or public-interest medicine.
The committee also urged that guidelines be created to regulate future use of outside service contractors. And it recommended changes in Harvard's internal fringe-benefit rates to better reflect actual costs, removing possible incentives toward hiring of casual workers to save on total employment costs.
Students and Cambridge government officials who support the "living wage"--now $10.25 per hour--expressed disappointment with the report, and said they would continue campaigning for adoption of their own program.
Despite the criticisms, the recommendations appear likely to be adopted, at a direct cost of $2 million or more per year, plus higher costs for contracted services. Before the report was issued, Rudenstine had committed only to circulating it widely for comment. Neither he nor anyone else raised a personal perspective the president might have on this issue. In 1991, Rudenstine told this magazine that he remembered growing up with "a sense of living close to the margin economically. Not wondering where the next meal would come from, but for a few years there was no financial flexibility." He recalled that his father, a federal prison guard, held part-time jobs evenings and weekends.
In any event, upon release of the committee's report, Rudenstine immediately announced his "strong inclination" that the "expansion of benefits for each category of workers, and the guidelines for contracting with outside companies for services" be implemented. (The report, minus appendices, may be read at www.provost.harvard.edu/.)
After camping overnight outside the Science Center (to bring attention to the living-wage issue), students brought their protest to the steps of Massachusetts Hall in early April.
Photograph by Kris Snibbe
Members of the Progressive Student Labor Movement rally for a "living wage" outside University Hall, garnering the support and attention of Cambridge city councilors Anthony Galluccio (left) and Jim Braude (right).
Photograph by Rose Lincoln
Two major Harvard construction projects have gone back to the drawing board as a result of civic objections to the architects' designs. In Cambridge, where the approval process for a planned center for government and international studies seemed stalled, architect Henry Cobb appeared before the Mid-Cambridge Neighborhood Conservation District Commission (MCNCDC) on May 30 with a greatly revised scheme (see "Two Buildings, Many Obstacles," May-June, page 66).
Quoting one of the commissioners, who had called the previous design "gutless" at a prior meeting, Cobb explained his new approach: the redesigned buildings, which make extensive use of glass, are not as tall, yet are much more distinctive in appearance. Both are rounded at the back, presenting soft shoulders to the adjacent residential neighborhood. Cobb told the commission that the gross floor area of the buildings had been reduced, but that the net usable space remained the same due to increased efficiency in the design. He also reported that Harvard itself has only provisionally approved the new scheme, since reactions from the departments affected remain to be heard.
MCNCDC chair John Moos summed up his colleagues' reactions by telling Cobb, "You clearly have a consensus from this commission that this redesign is very much in a direction that we would like to support....We've got a lot of work to do, but [are] clearly energized about continuing to work" with Harvard on the project. The larger community is expected to have a chance to comment when a public hearing is scheduled to discuss the redesign. Some neighbors continue to express displeasure that an academic center with classrooms, library, and conference facilities and its attendant traffic would be located adjacent to a residential neighborhood.
Meanwhile, across the river in Allston, where the University was planning a 21-story apartment building to house graduate students, the opposition of community leaders led Mayor Thomas Menino to ask for a redesign of the complex. "It is difficult for me to make this request because of the urgent need for this project," wrote Menino, alluding to the severe shortage of student housing in Boston. "Nevertheless...the Allston community has serious reservations about the design; in particular, the height of the proposed tower.... In view of that, and because inevitably this project is an important signal of Harvard's larger presence in Boston in the years to come, it is wise to take another course." Harvard has therefore instructed architects Machado and Silvetti to start over; project managers hope to have a new design in hand by the end of this year.
Back to the Drawing Board
A greatly redesigned center for government and international
studies (the renderings above) impressed members of the Mid
Cambridge Neighborhood Conservation District Commission (MCNCDC) much more than did the previous design (inset). Architect Henry Cobb (in hound's-tooth jacket, below), seen conferring with MCNCDC chair John Moos and other commission members during a site visit, has used energy-efficient glass extensively in the new plan. Though the new buildings are not as tall as those in the previous plan, Cobb said that the net usable floor space remains the same
because the design is more efficient. Another consequence: more of Memorial Hall's new tower will be visible from Cambridge Street.
Photographs by Justin Ide. Other images courtesy Pei Cobb Freed & Partners
You might also like
Genetic analysis reveals a culture enriched from both sides of the Danube.
Harvard researchers illuminate a longstanding epidemiological connection. 
Harvard's Faculty of Arts and Sciences broaches two tough topics.
Most popular
Professors' humble beginnings, concentration choices, and a mini history of Harvard and Radcliffe presidents
Brief life of a feisty mountaineer: 1859-1925
Realizing the full potential of black employees
More to explore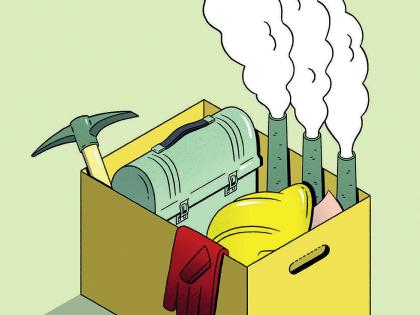 Expect massive job losses in industries associated with fossil fuels. The time to get ready is now.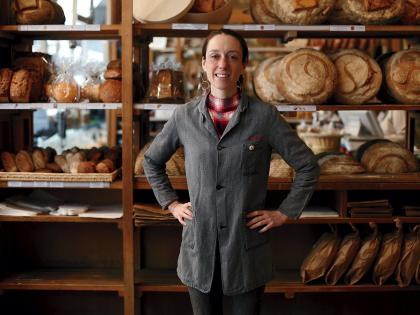 A third-generation French baker on legacy loaves and the "magic" of baking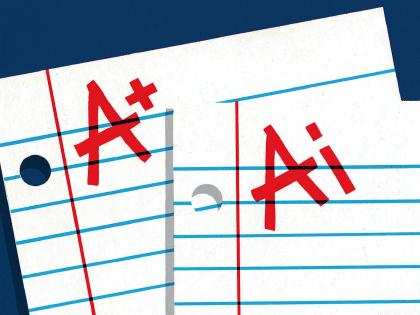 Generative AI can enhance teaching and learning but augurs a shift to oral forms of student assessment.