Sprinter, Taylor, Hurdler (High)
One of the country's best track athletes, Brenda Taylor gracefully clears an indoor hurdle. Photograph by Jim Harrison The summer...
One of the country's best track athletes, Brenda Taylor gracefully clears an indoor hurdle.
Photograph by Jim Harrison
The summer
before ninth grade, Lindsay Taylor, twin sister of Brenda '01, wanted to learn to run hurdles. Their home town of Boone, North Carolina, had a Junior Olympics. "I didn't have anything else to do, so I went with her," Brenda recalls. On her first attempt, Taylor ran three steps and cleared the hurdle easily. Startled, the coach asked, "Could you do that again?" Her second question: "Could you do that for eight hurdles?" And next: "Would you like to do it this weekend at the Junior Olympic meet?" Yes to all, and that weekend, though she had never before seen 10 hurdles in a row, Taylor won the event and ended up taking the statewide Junior Olympics championship. She was among the top 20 in the nation that year, at age 14.
Seven years later, Taylor found herself in the starting blocks in Sacramento, California, at the 2000 U.S. Olympic Trials for the 400-meter hurdles. "It was amazing to hear the announcer saying, 'Brenda Taylor, Harvard University,' " she recalls. "Suddenly I was lining up next to the fastest people in the world." In the next lane was 31-year-old Kim Batten, holder of the world record (52.61 seconds) in the event. Another competitor was 32-year-old Sandra Glover, who ran the fastest time clocked last year--53.31. Hurdles, Taylor explains, is "one of the events where older women do much better; a lot of them peak at 27 to 29." So perhaps Taylor can continue getting faster; in any case, her Sacramento semifinal time of 57.85 placed her eleventh in the field, but in the preliminary heat she ran a personal-best 56.64, which set a Harvard record.
That mark isn't lonesome for company. Taylor holds Harvard records in the 60-, 100-, and 400-meter hurdles, and the 60- and 100-meter dashes--plus team records as a member of the 4 x 100 and 4 x 400 relay squads. She earned all-American status in the 400 hurdles at both the 1999 and 2000 NCAA Championships. At five feet, eight and a half inches, with size 10Zx track shoes, Taylor is built for speed. She's also strong enough to power-clean 180 pounds or raise 390 pounds in a partial squat. But her real strength is an athlete's work ethic that verges on a spiritual quest. "Running means constantly pushing yourself, transcending personal limits," she says. "Ultimately, that means there aren't any limits. You can do whatever you want. Your success depends on what you can make yourself do; it isn't contingent on someone passing you the ball at the right moment. There are no barriers to succeeding except your mental state and your physical state, which are things you can control."
Indeed, Taylor's stamina, versatility, and sheer force of will have exploded boundaries most track athletes live with. Consider simply the number of events she runs. At this year's indoor Heptagonal meet, Taylor ran the 60-meter dash and hurdles, the 200-meter dash, and the 4 x 400 relay: including trial heats, she raced 12 times. (The week after, an exhausted Taylor could practice only twice--for a total of one hour.) Outdoors, she runs the 100-meter dash and hurdles, the 400 hurdles, and both the 4 x 100 and 4 x 400 relays. "A coach wouldn't ask an athlete to do five events for personal success," she says. "People do that for the team. Nothing will push you more than knowing you're out there for someone else who is also pushing herself to the limit. I run my fastest 400 in the 4 x 400, even if it's the last event of the meet and I feel really tired after having been on the starting line all day." It's no surprise that she is now in her second year as women's track co-captain, this year sharing the honors with Marna Schutte '01.
The bulk of Taylor's coaching has come from associate coach Walter Johnson, who works with the sprinters. He tells how, last year, Taylor pulled a hamstring early in the outdoor season, but was running fast again by the Heptagonals. There, she reinjured the muscle while winning the 100-meter dash. "I was crying, I was a mess," she says. "I was pretty sure that was the end of my summer." Yet Taylor wanted to know if Harvard still had a chance to win the meet. It did. Overruling her coaches, she rose from the trainer's table and ran the 400 hurdles--finishing second, as did the team. "That was one of the most amazing, courageous things I've seen anyone do," says Johnson.
Taylor's strongest indoor event is the 400-meter run; outdoors, it's the 400 hurdles. "I like hurdles better," she admits. "If nothing else, it distracts you from the pain of the 400!" Both the 100- and 400-meter events use 10 hurdles; they are simply spaced more tightly for the 100, where athletes take three steps between each hurdle. "The 100 is very consistent," Taylor says. "The steps are the same length, and you don't change based on the weather." In contrast, the 400 calls for more complex techniques: runners, for example, may take 15, 17, or even 19 steps between hurdles. Taylor might take 15 steps for the first five or six hurdles, then shorten her stride to 16 or 17 steps for the stretch run--"It's up to me to decide while I'm running," she says. "If a wind is blowing, I take it easier at the start to save energy for the stretch." She adjusts her starting blocks to be sure she goes over the hurdle on her stronger leg. "The 400 hurdles is a race where the smarter person can beat the faster one," she says.
Competitively, Taylor grew up in the ideal environment, if you like controlled experiments: identical twin Lindsay, now a Brown senior, was, this winter, second in the nation in the pentathlon; she also excels in the heptathlon outdoors. "She's my greatest rival," Taylor declares, grinning broadly. "Lindsay still thinks it's funny that people confuse us. She'll have long conversations with someone without telling them they are talking to the wrong Taylor."
In college, the twins have rarely run against each other, but at this year's indoor Heptagonals, Lindsay and Brenda both took the second leg of the 4 x 400 relay. Lindsay started almost 30 meters ahead, and one coach opined that Brown's lead was too great for Harvard to overcome. But Brenda ran "an extraordinary leg," according to Johnson, almost catching up with her sister by the baton pass and triggering a rejoinder from another coach: "Want to reconsider that?" Harvard went on to win the relay.
Born in St. Louis, the girls moved at age 10 with their family to Boone. Their father, Jesse, teaches philosophy at Appalachian State University; mother Patricia works in real estate.
Athletically, the girls did a little of everything--well, a lot of everything--growing up. At five, Brenda sprang into a six-year career as a gymnast. By 12 she was already five-feet-five and began swimming, which she pursued from sixth through twelfth grades--breast stroke, individual medley, relays. Unsurprisingly, her strongest event was a sprint--the 50-yard freestyle. At Wataugh High School she kept a full dance card: cross-country in the fall, swimming in winter, track in the spring; in her last two years she switched to volleyball in the fall season. She even skied the Appalachians, but says, "I had to stop. I was a menace to myself and others on the slopes." Meanwhile she compiled a straight-A transcript, excepting one B-plus. ("I think Lindsay may have had a couple," she says, eyes twinkling.)
The twins were part of three outdoor state-championship track teams. In her junior and senior years, Brenda was a high school all-American in both the 300- and 400-meter hurdles. She was also a three-time North Carolina champion in hurdles at both 100 and 300 meters. The twins were so versatile that they once teamed up to win the state indoor track championship, without benefit of any non-Taylor teammates.
When college approached, however, both girls were ready for separate paths. "We'd been the 'Taylor Twins' a long time," Brenda explains. "I started getting letters from everywhere, all over the country," she says. "I realized I could probably go wherever I wanted to go--hey, this could get exciting!" She wanted a more worldly setting than Boone, where the nearest airport is two and a half hours away. Explaining that she and her sister are biracial--their mother is white, their father African American--she adds that she "wanted to be one of more than five minority students at the school."
She has thrived in Cambridge. As a premedical honors concentrator in psychology/biology, with a special track in cognitive neuroscience, Taylor is an Academic All-American candidate. A member of Delta Gamma, one of two sororities at Harvard, she lives in Kirkland House and is engaged to marry classmate Jeff Chaput. Ultimately she plans to attend medical school ("I'm very much into health policy," she says) but one near-horizon possibility is working for a clothing retailer: she has a job offer from The Gap. "I'm really into fashion and clothing. I make all my own clothes," she says. Style is one reason Taylor admires the late Olympic sprinting champion Florence Griffith-Joyner ("Flo-Jo"). "I thought she was cool," Taylor says. "She was a really hip lady who did anything she wanted."
Taylor, another hip lady, can also probably do whatever she wants. That may include another Olympic run: Athens 2004 is an open question. In any case, as she explains, her athletic horizons are still expanding: "My sister and I want to try pole vaulting."
You might also like
Genetic analysis reveals a culture enriched from both sides of the Danube.
Harvard researchers illuminate a longstanding epidemiological connection. 
Harvard's Faculty of Arts and Sciences broaches two tough topics.
Most popular
Professors' humble beginnings, concentration choices, and a mini history of Harvard and Radcliffe presidents
Brief life of a feisty mountaineer: 1859-1925
Realizing the full potential of black employees
More to explore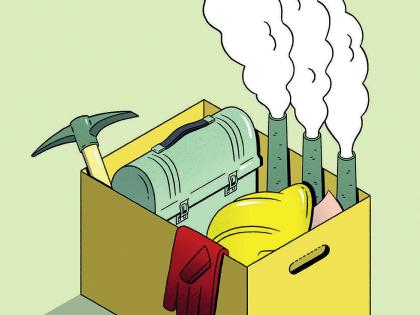 Expect massive job losses in industries associated with fossil fuels. The time to get ready is now.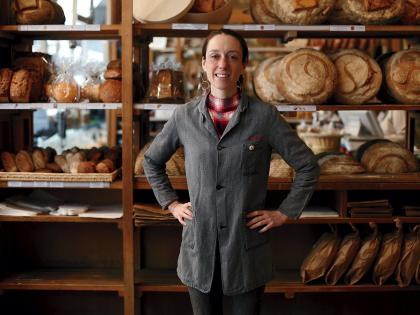 A third-generation French baker on legacy loaves and the "magic" of baking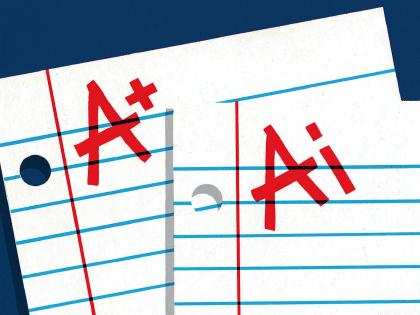 Generative AI can enhance teaching and learning but augurs a shift to oral forms of student assessment.