Ask Not, Want Not?
Seniors wonder about graduation gifts
When asked what they would like for graduation presents, many members of the class of 2002 were nearly speechless. Something must be up. While former seniors happily pined for purple iMacs, blue '58 Plymouths, Selmer Mark 6 saxophones, and Elsa Peretti hearts, this year's seniors had little to suggest, and tamer, less materialistic aspirations.
"Most people I know aren't asking for anything," says Danielle McCarthy, of Adams House and River Forest, Illinois. "They just got an education."
Maybe it's guilt. Or maybe seniors were so distracted with grinding out theses and building résumés when I talked to them that the thought of a life beyond spring break (let alone presents) was inconceivable.
Or maybe it's the economy. Unlike years past, when seniors put on their caps and gowns having already signed six-figure employment contracts, many of this year's seniors are without work and facing the gritty reality of returning to their high-school bedrooms. Though they are upbeat and excited about options to avoid the slump ("I can go teach in Morocco!" notes one), the reality is all too tangible. "We're in an economic downturn," says David Grimm, of Eliot House and Trenton, New Jersey. "I don't want to ask for more presents when I don't even have a job yet."
In addition to voicing unusually dollar-conscious concerns this year, some people are questioning the logic of Harvard graduation gifts altogether. "The idea of a present from my parents seems counterintuitive when they've just put in $100,000 for me to graduate," says Zayed Yasin, of Leverett House and Scituate, Massachusetts. Many parents might find themselves nodding assent here. Parents not unlike my own mother. When I told her I was writing a magazine article on gifts for graduating seniors, she was shocked. "I'm supposed to get you another present next year?" she asked. "Really? Whose idea was this?"
Good question. The custom dates back as far as the 1930s, at least, because future war correspondent Theodore H. White '38 wrote about his gifts in a passage published in The Harvard Book: Selections from Three Centuries. White received a second-hand typewriter and an old tuxedo: items essential for his maiden reporting voyage around the world.
Ten years later, some Radcliffe women received equally useful gifts. Eleanor Foley Glimp '48 remembers a string of pearls for her Commencement; her friends received similar pieces of jewelery. "That's what people wore then," she explains. Her future husband, Fred L. Glimp '50, Ph.D. '64, was awarded what was then a popular gift: his family's presence at Commencement. "My mother and sister traveled all the way from Boise, Idaho," he says. Years later, Glimp's Bostonian mother-in-law bought him a crimson robe in honor of his doctorate—yet another practical piece of clothing.
But by the time my mother graduated from New York University in the 1970s (and she won't tell me exactly when), something had definately changed. "The rich kids got cars," she says. "I got a card." Harvard senior preceptor of expository writing Gordon Harvey received a plane tick-et to Vancouver in honor of his 1974 graduation from the University of Alberta (and subsequently enjoyed a "very wild trip" with a best friend). His peers got nice watches, pens, and leatherbound books. That stuff seems a bit old-fashioned compared to what some seniors in recent years have been known to take home. "Some kids I know get pretty serious transitional presents," Harvey says. "Not always cars, just largish objects, or big chunks of money. It used to be very rare that anyone got something really nice, at least that I knew. Now it's kind of expected that you get something pretty major."
Upon examination, graduation gifts do seem to be a particularly American indulgence, probably related to a wider cultural consumerism. Specific holidays are regularly coopted by the gift-giving industry: Valentine's Day, Administrative Professionals Day, and National Bosses Day. Graduations fit right in: a present to celebrate achievement and a rite of passage to adulthood.
The international students I spoke with seemed particularly perturbed at the idea of graduation gifts, for both cultural and financial reasons. "In America, people are always giving each other presents, whether it's for a good reason or not," says Laure de Vulpillières of Leverett House and Crespières, France, who gets presents only on her birthday and at Christmas. "In France, you don't give presents very often at all. And definitely not for graduation." Some students are baffled by the idea. "Presents are a non-issue for me, because they're not in my culture," says Michelle Aitkens, of Adams House and Morinsbille, New Zealand. "I'm getting nothing."
Some foreign universities do not even conduct formal commencement ceremonies. "I had never heard of graduation ceremonies before I came here," says Esteban Real, of Leverett House and Monte Grande, Argentina. "My high-school class took a little trip to a ski resort at the end of the year, but that was it." De Vulpillières and Rohan Gulrajani, of Leverett House and Montreal, say that in their countries graduating is more of a formality. "In France, your diploma comes in the mail," de Vulpillières explains. "Graduation is assumed, not something you are rewarded for." Nevertheless, all the seniors I spoke with are planning to have their families attend their graduation ceremony—a pricey prospect in itself—and to take part in the annual Harvardian hooplah.
But hooplah can lead to wishful thinking. When pressed to name something, anything—one guilt-free indulgence—seniors were a tad more vocal.
"A nice car. A BMW. Green," quips one dreaming senior. "A giant telescope," murmurs another. Travel? "Maybe a backpacking trip around the world." No more debts? "A benefactor to pay off my school loans...." Still. The bubble lasted only so long. By the time I met David Grimm, talk had veered out of the fantastical and back to the fatalistic. "How about a job?" he asked.
Arianne R. Cohen is one of this magazine's 2001-2002 Berta Greenwald Ledecky Undergraduate Fellows.
You might also like
Toward another apartment complex on Harvard-owned land
Stepping down after 30 years of University service
Harvard researchers seek to empower individuals to steer their own careers.
Most popular
Brief life of a black radical: 1872-1934
Brief life of a textured artist: 1911-1988
In Agyementi, Ghana, Sangu Delle '10 brings clean water to a village.
More to explore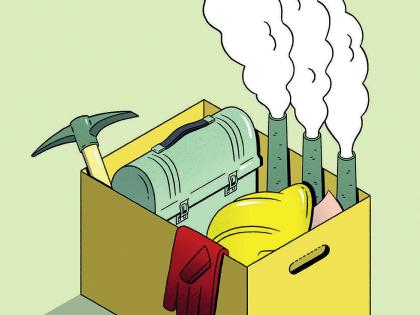 Expect massive job losses in industries associated with fossil fuels. The time to get ready is now.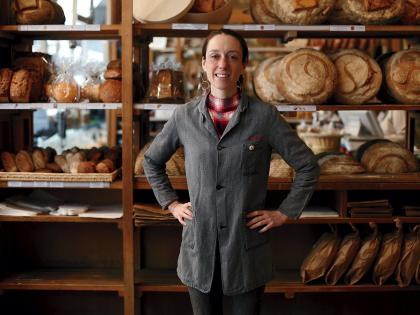 A third-generation French baker on legacy loaves and the "magic" of baking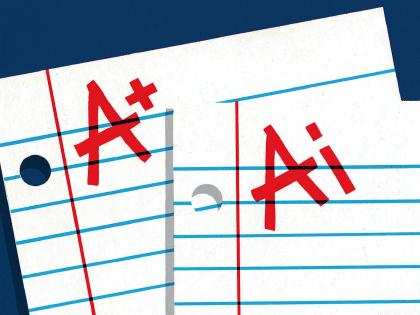 Generative AI can enhance teaching and learning but augurs a shift to oral forms of student assessment.