Staging a Harvard Tradition
How They Pull It Off
Every June, on Commencement day, Harvard rolls out the crimson carpet for about 32,000 people. It is arguably the most important 24 hours on campus not only for students receiving diplomas (and their families and friends), but also for the collective Harvard community, past and present, that converges to join the celebration. "Just about everyone is in a good mood," says Hoopes Wampler, Ed.M. '99, director of College alumni programs at the Harvard Alumni Association. "I just love the week. It's what we've been working toward all year."
He is not exaggerating. Putting on this Barnum-like extravaganza takes a gargantuan planning operation led by a cadre of professionals and pulled off by thousands of Harvard employees and an army of undergraduates after hundreds of hours of meetings over many months. Many guests require not just merriment and sustenance, but also a place to lay their exhausted heads when the day is done. Wampler and his staff organize the senior class events before and during Commencement week, as well as the major and minor College reunion activities, which draw roughly 6,000 people to Harvard—700 of whom are the offspring of the twenty-fifth reunion class.
Vincent James doles out the greens for alumni spreads inside a refrigerated truck.
Greg Klim / Harvard Dining Services
Dorm beds are made up for about 3,000 people—plus the 500 undergraduate "dorm crew" members who clean the dorms before and after reunion reveling. In raw numbers, that's 7,000 bed sheets, 3,500 pillow cases and washcloths, and 7,800 bath towels. Trucking the masses around is another feat. The real spectacle, Wampler notes, is the 40-bus caravan that carries reunioners to and from their night at the Boston Pops. Police escort the nearly mile-long entourage down Massachusetts Avenue. "It's unreal," Wampler says. "You feel like you're the president when the police clear the way. And they do that twice, on Tuesday and Friday, there and back, for the fiftieth and twenty-fifth reunions."
Visitors during the week—reunioners, graduates, their respective guests, faculty, administrators, and honorands, consume about 80,000 individual meals (more, if you include Commencement-week events at the professional schools). Last year, for the Class Day picnic alone, a battalion of dining-services employees made 5,500 sandwiches—all in one day. "They actually sliced 5,500 individual pieces of tomato. Can you believe it?" says Madeline Meehan, a fast-talking, "I-need-it-yesterday" type who directs Crimson Catering. "How many pounds of meat does it take to make 5,500 sandwiches? That's our job." Workers laid out 4,000 kaiser rolls and 1,500 spinach tortillas (for vegetable wraps), cut 1,000 grilled chicken breasts and 8,000 slices of ham, and 1,500 pieces of green pepper. For dessert, 10,240 brownies were baked, and an entire dining hall full of workers formed an assembly line to put the items—and a nice piece of fruit and a bag of chips—into snappy plastic bags.
Where to store those lunch bags overnight? Nobody on campus had refrigerators big enough, so Meehan had them put into plastic crates (to prevent "smooshage" of the sandwiches), and piled the crates into three refrigerated trucks whose engines ran all night long outside the stadium. A trusted guard checked their temperatures every hour, and found one truck had dipped below 45 degrees. "So what did he do? He called me in the middle of the night," says Meehan. "I was ready to wake my whole family up to go move all those sandwiches, and call the Harvard police to help us out. Luckily, I found a refrigeration engineer at two o'clock in the morning who fixed it. I didn't get back to sleep that night." The trucks were in the Yard by 7 a.m.
As soon as the Class Day lunches were made, the food crews (numbering around 450 people) moved on to new projects: the alumni spread, the Tree Spread, varsity dinners, kosher meals—the list seemed endless. Now they're gearing up to do it all over again. Crimson Catering handles about 250 events (including those for the medical school) during Commencement week—everything from a coffee break for 10 to the tonish honorands dinner for 504. (This year's menu: baby artichoke salad, filet mignon with shallot confit and chimichurri sauce, roasted sweet potatoes, haricots verts, and chocolate mousse with meringue cigarettes and raspberry sauce.) "By Wednesday, we're rockin'!" Meehan laughs.
In tallying the numbers for some of those feasts, she found that visitors ate at least one and a half tons of pasta, 26,000 chicken breasts, and 2,650 pounds of rice salad. And they still had room for dessert: 6,600 miniature pastries, 18,000 chocolate-chip cookies, 624 pints of strawberries, and 12,000 special ice-cream treats decorated with an "H." Ahhhhh. "When it's all over, I am so mentally exhausted that it takes me until August to recover," Meehan says. "Then, before I know it, I have to start all over, thinking about how we can make it better next year. And around January, I'm up to my eyeballs in it."
Meehan also supplies 24,000 bottles of spring water and 12,000 bottles of lemonade. But the harder stuff is Wampler's responsibility. For starters, there are the 2,430 bottles of wine, the 12 cases each of scotch and bourbon (that's 9,216 ounces of booze); 15 cases of gin; 18 cases of vodka; 7 cases of rum (and smaller quantities of dry vermouth for the martini drinkers). Beer is also consumed—about 9,600 bottles' worth. Tonic water, club soda, nonalcoholic beer, and Bloody Mary mixes also arrive, alongside 12,240 cans of soda. There are 10,000 cocktail stirrers ordered. And don't forget the cooling agent: 52,100 pounds of ice—more than 25 tons.
One of the many enticing meals served al fresco during Commencement week
Greg Klim / Harvard Dining Services
Just think of all those celebrants crowding into Tercentenary Theatre, and roaming through Harvard Square—it's the entire population of a not-so-small town. Managing the Commencement masses is the job of Grace Scheibner, A.L.B. '90, who orchestrates the flow of the morning exercises. "Precision—that's what we're all about," she says. "It all doesn't just happen." She is fond of martial patois. "This is likened to the Pentagon command center," she says of her rose-scented, carpeted office in Wadsworth House. "If you look at this operation, it's like pulling together a military campaign."
Indeed, she is surrounded by an infantry of white binders and crimson-colored folders filled with protocols, instructions, maps, charts, deadlines, and foam-core models of Tercentenary Theatre and the adjacent yards where each processional group is represented by a color, and arrows mark their paths. Gesticulating with a pointer with a light on the end, she outlines the marching route just as generals might explain the day's offense. It's a job she clearly loves. When the processions begin, "My eyes fill with tears," she says. "It's a moving experience for me to be a part of it. It's something I can give back to Harvard."
If Scheibner, Meehan, and Wampler plan the events on paper, they look to "Commencement superintendent" Jason Luke '94 to render them in the third dimension. He produces the 80,000 chairs, 7,500 tables, 120 tents, and the rest of the infrastructure required. Three 18-wheelers roll into the Yard in mid May filled to the brim with green security fencing, 400 signs, tent and pole hardware, and video, audio, and soundbooth equipment. The white vinyl tent over the central stage takes 10 workers two full days to erect.
Luke takes special care of the more than 19,200 chairs set up in front of the tent. They are are used twice before Commencement, and the Harvard Band and Glee Club concert on Wednesday rarely ends before 9:30 p.m., which means that Luke and his crew have to pick up trash and realign and recount all 19,200 chairs (they are apportioned in exact numbers per row, per Scheibner's charts) before the Yard opens at 7:45 the next morning. "It's dark, nobody's around, and we just count, count, and recount," Luke says. "Up until then we're getting maybe two or three hours of sleep a night. But the night before, we may not get any at all."
The earliest guests show up outside the locked and guarded Yard gates at 6 a.m. By 6:45, nearly 100 Boston Latin School students arrive to wipe dew from the Tercentenary Theatre chairs, to place Commencement programs on select seats, and prepare to greet the crowds. By that time Luke is "going crazy." The counting behind him, he has seen the sun rise, and moved on to last-minute tasks. "At a certain point," he admits, "there is nothing more you can do. You just have to let it all happen."
You might also like
Toward another apartment complex on Harvard-owned land
Stepping down after 30 years of University service
Harvard researchers seek to empower individuals to steer their own careers.
Most popular
Brief life of a black radical: 1872-1934
Brief life of a textured artist: 1911-1988
In Agyementi, Ghana, Sangu Delle '10 brings clean water to a village.
More to explore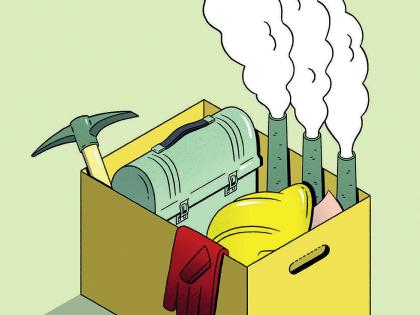 Expect massive job losses in industries associated with fossil fuels. The time to get ready is now.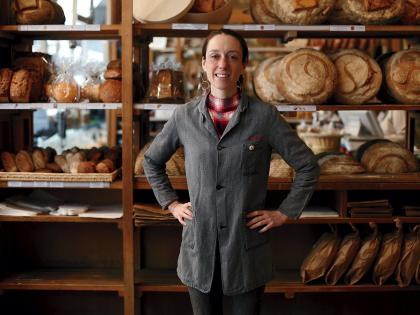 A third-generation French baker on legacy loaves and the "magic" of baking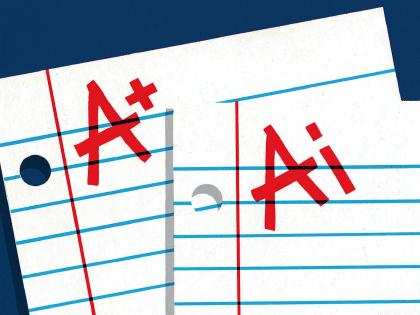 Generative AI can enhance teaching and learning but augurs a shift to oral forms of student assessment.