Working on the Railroad
Can David Gunn save Amtrak?
David L. Gunn '59, M.B.A. '64, has always been a railroader. Growing up in a Boston suburb, his family's vacations usually involved getting on a train and riding across the country for a week or two, stopping at national parks and local attractions, or just watching America pass by the window. Now, the 65-year-old has found himself in the unlikely position of being the last hope for the nation's passenger-rail system.
Photographs courtesy of Amtrak
The new president of the National Passenger Railroad Corporation, commonly known as Amtrak, arrived on the job May 15 as the unanimous first choice of the company's board of directors. "If he was available, we wanted him," explains Michael S. Dukakis, J.D. '60, vice chair of Amtrak. A decade ago, the lifelong railroad manager had turned down the position because he didn't think Amtrak was in enough trouble to get anyone to pay attention. This year, though, the crisis was evident: the company was hemorrhaging money and clearly unable to meet a congressionally imposed deadline of financial self-sufficiency by December 2. Gunn was wooed from his Canadian retirement to clean things up--just as mass-transit officials throughout the Northeast had brought him on board to fix their ailing systems during the past three decades.
Gunn was shocked by the level of disorganization he found at Amtrak. "None of the most basic managerial controls were there," he says. The railroad could not get a loan because its books were so unorganized and unbalanced. In its quixotic quest to be self-sufficient, the company had mortgaged everything--including its flagship Penn Station; shut down its major overhaul
facilities; and deferred maintenance. Officials bet Amtrak's future on high-speed trains like the Acela, only to implement the program so poorly that each of the 19 Acela trains was configured differently. The railroad's organizational structure was so fragmented that it included four presidents and 84 vice presidents. "It was a textbook case of how not to run a railroad," Gunn notes.
Perhaps the worst sin from his perspective, though, was that Amtrak employees seemed to have lost their pride in the railroad--the connection to the service itself was gone. Amtrak's headquarters, for example, was filled with banners with business-oriented slogans like "Satisfaction Guaranteed," but had no photos or historic depictions of the trains themselves. "They had tried to take the railroad out of the railroad," Gunn laments. One of his first moves was to dig out of the closet elegant paintings and dramatic photos of Amtrak's best-known trains to grace the public areas.
That small detail illustrates Gunn's priority as president: to take the railroad back to its roots. And if anyone can save Amtrak, it is this blunt, matter-of-fact manager who has spent a lifetime helping urban Americans get to their destinations on time.
After he finished college, where he had concentrated in government and economics, and stints in the navy and at business school, Gunn began working as a staff analyst for the fabled Atchison, Topeka, and Santa Fe Railroad. The chance to manage an operation attracted him back east to the Massachusetts Bay Transit Authority; in 1974 he was appointed director of commuter rail in Greater Boston and, after a nationwide search, was promoted to director of operations. "They looked and looked and looked, and couldn't find anyone, so they promoted me," he jokes. He oversaw the MBTA's purchase of the eastern portion of the Boston & Maine system (a 200-mile expansion) and its passenger rolling stock for $39.5 million and negotiated the new system's operating contract. Later, as general manager of the Southeastern Pennsylvania Transportation Authority (SEPTA), in Philadelphia, he cut that system's operating costs by almost 30 percent while rebuilding the cars and infrastructure.
In 1984 he moved north, where he took on one of the biggest challenges of his career: New York City's Metropolitan Transit Authority (MTA). "The system was in crisis. They'd just given up," Dukakis explains. "When [Gunn] went up to look at [the MTA], he commented that 'No sane man would take this job.' I took that as a tip-off that Gunn was going to take it." Gunn spent six years and nearly $12 billion rebuilding the entire system--but perhaps his best-known accomplishment was simply ridding it of the sprawling graffiti that blanketed almost every subway car running and had come to symbolize the urban decay of New York City. "The graffiti was only a minor part of it, but from a passenger perspective, it was hugely important," he explains.
Practicing what he preached, Gunn also earned praise because he didn't use a car in the city. He took the subway for almost all of his personal and business travel--even to pick up his mother at the airport. He did use an MTA car and driver briefly while recovering from testicular cancer in 1985, but returned to the subway after the car was stolen from his driver's driveway one night.
When he left the MTA in 1990 to become general manager of the District of Columbia's Metro system, the New York Times dubbed him "The Man Who Saved the Subways." In Washington, he supervised the development of the last 13 miles of the system's tunnels. "Eventually, it came in on time and under budget--which is pretty good for government work," he says with a smile.
Critics and supporters alike say that Gunn does not suffer fools gladly. He left the Metro after assailing the board for continual interference in day-to-day decisions, saying it made his job almost "impossible." In several cities, his direct approach earned him more than his share of labor problems, but even most of his critics concede that Gunn does make the trains run on time.
From Washington, Gunn moved to the Toronto Transit Commission. He retired in 1999, moved back to his ancestral home on Cape Breton Island, Nova Scotia, and had just fulfilled his lifelong dream of obtaining Canadian, in addition to American, citizenship when Amtrak's "desperate" problems convinced him to return to the working world.
The difference Gunn has already made at Amtrak can be summed up by the fact that the trains are still running. Although the system has been weakened by the political need to run unprofitable trains through remote congressional districts, Gunn has focused on cleaning up internal problems first. Within weeks of taking the job, he announced that new accounting of the company's finances showed its debts were $200 million higher than previously reported. His subsequent decision that the railroad would begin shutting down operations in early July unless the government produced a new loan touched off a crisis on Capitol Hill. "People said I threatened to shut down Amtrak. It wasn't a threat. We were going to shut down," he says. "About the third week in July, checks were literally going to bounce." As the deadline for the shutdown neared, Amtrak's foes criticized Gunn for "playing games," while people who knew him better understood that the railroad veteran meant every word he said. "It's typical Gunn....The first thing he did was go up to the Hill and tell them self-sufficiency was a loony idea," Dukakis says. Amtrak got the loan and the trains continue to chug down the tracks--at least for now.
For his part, Gunn rails against the spending excesses and priorities of previous Amtrak administrators. Close to a hundred wreck-damaged cars languished in Indianapolis as part of a deferred maintenance plan--which meant that, after a July derailment in Maryland, Amtrak had too few cars to run its daily routes. Moreover, "They spent $12 million on a consultant. With that I could have rebuilt 30 or 40 desperately needed cars. Which do you think I would have rather had? I've never even looked at this," he says, holding up the six-inch-thick report. "I'm not going to hire consultants to tell me how to run the business. That's my job. If I don't know, I shouldn't have been hired."
Although Gunn understands that his new job will be a long and difficult fight, he sees it as essential: cities can accommodate only so many highways and there's little room left to build or expand airports. "There is a role for Amtrak, we just have to get our act together," he says. Amtrak's future lies in building high-speed travel corridors, like that now in place between Washington and Boston, in the Midwest and Florida and on the West Coast--alleviating congestion at airports by becoming a viable alternative for trips shorter than 350 miles. Even if he canceled the much-maligned long-distance trains today, Gunn explains, it would be more than two years before Amtrak saved a penny because of longstanding labor contracts. Instead, he sees a future where the cross-country trains run less frequently, and rely partly on state subsidies, but still provide a breathtaking view of the vast American landscape for family vacationers.
In the meantime, he has rolled up his sleeves and dug in. He has cut management ranks and handled several personnel spats throughout the system; he has dealt with a highly publicized derailment outside Washington and mechanical problems that canceled Acela service briefly and restored it only on a reduced schedule. And he has secured funding for another year's service. His affection for railroading and for the small details has been rekindled--witness his obsession with Amtrak's mishmash of three different paint schemes developed over the years. "Right now, our trains look like circus cars," he sighs. Within a year, he hopes to have them all painted the same way.
As for privatization, Gunn believes that, over time, it would only hurt the nation's transit system. "It all sounds nice, but when it's done, there won't be any service," he says. Standing in the train yard at Union Station, he sweeps his arm toward the maze of overhead electrical wires that run the trains. "Most of that was erected by the Works Progress Administration in the Depression. Do you really think some company is going to come in and replace those wires all the way to New Haven for an operation that breaks even each year?" he asks. Turning away from the tracks and walking down the platform, he looks around at the waiting trains. "I think I can make a good case for Amtrak," he says over the rumbling of idling locomotives. "I think we have a pretty good chance now."
You might also like
Genetic analysis reveals a culture enriched from both sides of the Danube.
Harvard researchers illuminate a longstanding epidemiological connection. 
Harvard's Faculty of Arts and Sciences broaches two tough topics.
Most popular
Professors' humble beginnings, concentration choices, and a mini history of Harvard and Radcliffe presidents
Brief life of a feisty mountaineer: 1859-1925
Realizing the full potential of black employees
More to explore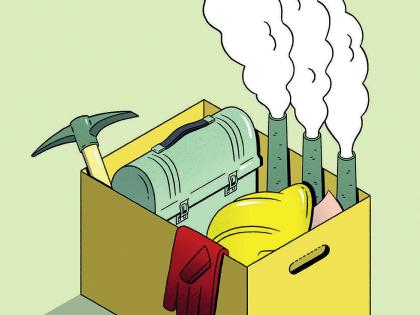 Expect massive job losses in industries associated with fossil fuels. The time to get ready is now.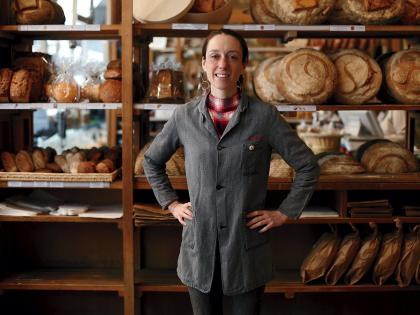 A third-generation French baker on legacy loaves and the "magic" of baking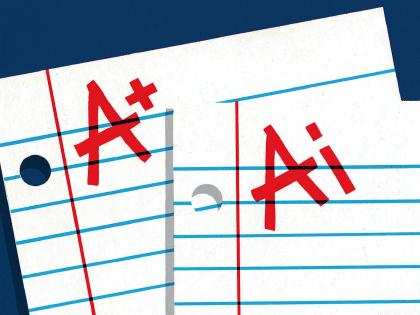 Generative AI can enhance teaching and learning but augurs a shift to oral forms of student assessment.