Chocolatier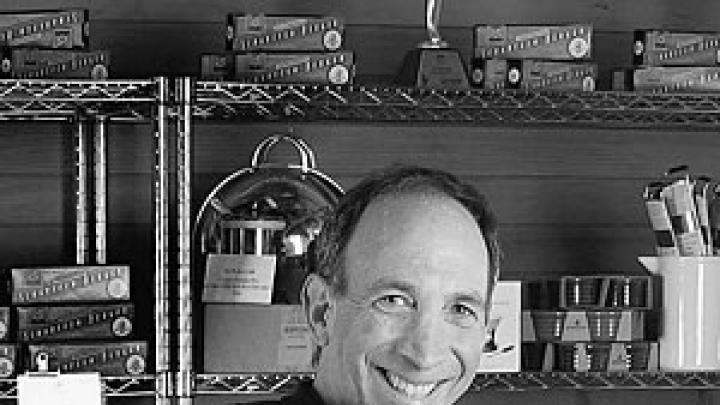 Can the "food of the gods" help us live longer, healthier lives? Like red wine and green tea, the seeds of Theobroma cacao, which are ground to make chocolate, are being studied as a source of flavonoids, a type of antioxidant compound found in plants. Circumstantial evidence suggests flavonoids may help counteract changes in the blood that may be involved in heart disease. "But wait a minute," writes Robert Steinberg '69, M.D. "Whatever health benefits chocolate may eventually be shown to have, nothing has yet been proven." Furthermore, portraying chocolate as a medication risks transferring it "from the realm of voluntary pleasure to that of prescribed obligation. It remains to be seen whether such a change would...contribute to improved overall health or, perhaps more importantly, a greater sense of well-being."
Steinberg is neither a biochemist nor a psychiatrist--his specialty is family medicine--but he knows a lot about chocolate. In 1997, he and a friend, John Scharffenberger, a successful vintner, began making pure dark chocolate in San Francisco using artisanal European methods and vintage equipment. Today Scharffen Berger Chocolate Maker is one of only 11 chocolate manufacturers in the United States. It has a new factory, in Berkeley, about 40 employees, and is starting to turn a profit. Steinberg, who started out roasting, and then testing and selecting, the beans, now develops recipes as well and writes for the company website (www.scharffenberger.com), where the virtual library offers articles on scientific, cultural, socioeconomic, environmental, and political aspects of chocolate, plus nutritional and technical details of company products.
Steinberg's chocolate connection began after he gave up his full-time medical practice in 1990 to cope with a lymphoma. He was already a serious cook; when a friend gave him a technical book on chocolate manufacturing, he felt as though a hidden world had been revealed. "Making art," he says, "has to do in part with taking in what's in front of you and making something different from it. On a day-to-day basis, making chocolate doesn't necessarily exemplify that, but when I started to think about it, it was a very exciting idea, a way of combining disparate elements [in my life]." Further research, including a visit to a French chocolate manufacturer, led in time to the new firm.
He is not a chocoholic. "I'm a very omnivorous person," he says. "In the past, I didn't especially crave chocolate, or seek out the best. I'm probably more excited about hunting down pickled herring, which gives me a useful distance on the job."
You might also like
The Crimson springs a major upset.
Harvard officially installs Claudine Gay, its thirtieth leader.
A half-dozen symposiums feature Harvard research on AI, climate change, inequality, and more
Most popular
A community letter as the new administration begins
Solving legal challenges at MoMA
More to explore
A test can identify these productivity-boosting personnel.
Ancient history professor studies coins, ceramics, and Zelda.
Anwar Floyd-Pruitt's wildly profuse art