Dominant Flotilla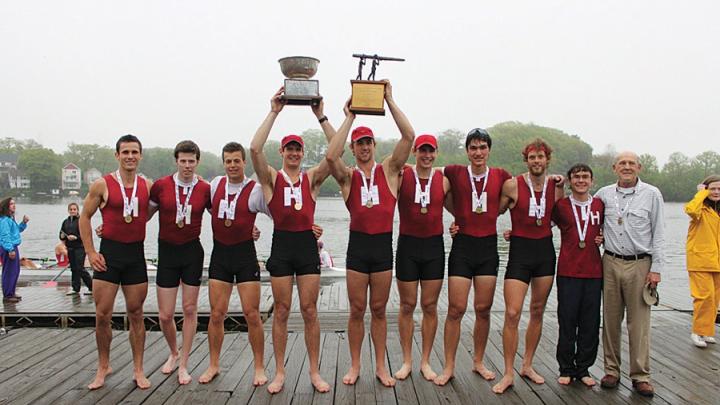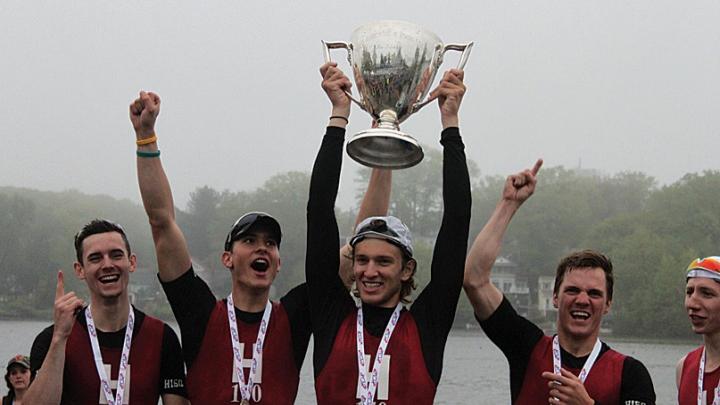 Since Harry Parker became head men's crew coach in 1963, Harvard has been a steadfast powerhouse on the water. Yet some years are more powerful than others, and this spring Parker's crews dominated Eastern rowing in a way that was rare even for the Crimson. At mid May's Eastern Springs regatta at Lake Quinsigamond in Worcester, Massachusetts, Harvard captured the Rowe Cup for overall heavyweight supremacy, sweeping (for the sixth time in Harvard history) the freshman, junior-varsity (JV), and varsity events. In the varsity final the Crimson were two seconds in front of Princeton, which edged Wisconsin for the silver.
Next up was Yale, at the annual, ancient Harvard-Yale boat race on the Thames River in New London, Connecticut (see "The Mystique of Red Top," May-June 2010, page 66). Last August, Yale hired Steve Gladstone, the 68-year-old head crew coach and former athletics director at the University of California at Berkeley, to run their men's crew program. Gladstone is one of the nation's preeminent rowing mentors; during his long career, his crews have won 11 Intercollegiate Rowing Association (IRA) championships, i.e., national titles. Yale, with some fine athletes in its boathouse, was aspiring to improve its competitive results—having been swept, for example, in each of the past three years by Harvard. But the tide has not yet turned: on May 28, Harvard again brought out the broom at the 146th running of the boat race, leaving Yale's varsity 13.4 seconds behind, its JVs 20 seconds back, and the Eli frosh 21 seconds astern for a fourth consecutive Crimson sweep. Yet the Bulldogs were hardly unique victims. In the 2011 spring season, those three Crimson heavyweight eights entered 27 dual races and regattas: final record, 27-0.
Charlie Butt's lightweight crews were similarly overpowering. At the Eastern Sprints, Harvard won the Jope Cup for overall lightweight superiority, taking the varsity and JV championships and thus bringing to Newell Boathouse five of the six Sprints titles that 18 different colleges' crews had vied for at the regatta. Harvard's varsity and JV lights were both undefeated all spring; only the freshman lightweights, 3-3 in head-to-head races and seventh at the Sprints, suffered losses.
In early June, the heavyweight crews and the varsity lights all made their respective grand finals at the IRA regatta in Camden, New Jersey, but none was able to record a national championship there. University of Washington crews edged both the Crimson varsity and JV boats, by 2.7 seconds and 1.6 seconds, respectively, while the freshmen claimed the bronze, 3.7 seconds behind California, with Washington second. In a true photo finish, Yale nipped the varsity lights by a mere .022 seconds. Given the sterling spring of rowing, Harvard will no doubt send crews to the Henley Royal Regatta in England, in late June (after this issue went to press).
You might also like
The Crimson springs a major upset.
Harvard officially installs Claudine Gay, its thirtieth leader.
A half-dozen symposiums feature Harvard research on AI, climate change, inequality, and more
Most popular
A community letter as the new administration begins
Solving legal challenges at MoMA
More to explore
A test can identify these productivity-boosting personnel.
Ancient history professor studies coins, ceramics, and Zelda.
Anwar Floyd-Pruitt's wildly profuse art