Home Builder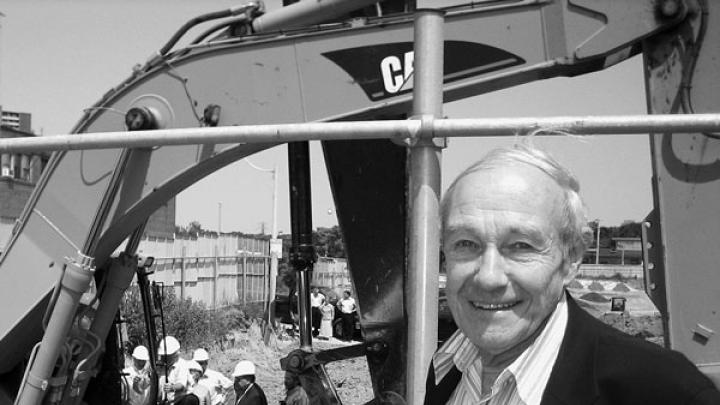 Upon graduating, Nick Volk '53 began traveling the world, going from Cambodia to Thailand to Bangladesh with the U.S. Foreign Service. Today, he finds himself helping others find stability through affordable housing in Toronto. His current project, AT HOME, is working toward building a 250-unit housing complex in a Toronto neighborhood.
Volk arrived in Canada in 1964 as the U.S. consulate's communications director; he wasn't intending to stay. But he and his wife loved the country so much that he quit his job and went to work for the Canadian Broadcasting Corporation for 23 years. Though he was president of the Harvard Club of Toronto and the Harvard Alumni Association's regional director for Canada in the 1970s, he says he was not involved with public service in Toronto until his "wife came home one day and said, 'How about helping the poor? You've been helping the rich.'"
Volunteering with the Society of St. Vincent de Paul, collecting clothing and other items for the needy, Volk was appalled by the dismal living conditions he saw, and he decided to make accessible housing a priority. Yet his hands were tied until 1987, when new Ontario provincial legislation allowed nonprofits to build affordable housing.
He then created Vincent Paul Family Homes Corporation to raise funds for and find a place to build a housing complex in the Toronto area. He found a dilapidated 1.5-acre lot in 1991, and three years and $23 million in funds from the provincial government later, Gower Park Place opened, with more than 150 units at reasonable prices; it still provides housing for low-income individuals. "Through this process," Volk says, "I learned that before coming [to Gower Park Place], some people had very little sense of self-worth. They thought, 'Maybe if I live here, there'll be something I can do with my life.'" Affordable housing, he has found, is about "improving the conditions of people on welfare, and reducing welfare rates."
Gower Park Place was named the Best Non-Profit Affordable Building in the province by the Ontario Non-Profit Housing Association in 2001; Toronto's city council appointed Volk to the board of the Toronto Community Housing Corporation the same year. Meanwhile, Habitat for Humanity had provided him with another opportunity to work on housing, ever since 1993, when he took a break from his CBC job to volunteer on a Habitat project. He still serves on the organization's Canadian board, having chaired it from 1998 to 2002, but says, "[Habitat] builds 60 to 70 homes a year in Toronto—I want to build 100."
More than 65,000 households in Toronto are on a waiting list for affordable housing, and 80 percent of families seeking support make less than $20,000. AT HOME, Volk's new project, was founded by East York East Toronto Family Resources (EYET) to provide affordable housing for mother-led households in particular; the organization asked him to become its development chair. Today, Volk is working to make this possible by raising $43 million from the provincial government and the Board of Trade, and also running a direct-donation campaign appealing to the general public.
At the same time, he is actively engaging again with the wider world. Volk represents the Ontario Non-Profit Housing Association on the board of Rooftops Canada, an organization that works to develop international housing. "I found that I can use my experiences [in Canada] for international social justice, working on housing and microfinance programs here and in Africa," he says. "I've dedicated most of my time to housing because I've seen demonstrated the strength and importance of a decent place to live."
You might also like
The Crimson springs a major upset.
Harvard officially installs Claudine Gay, its thirtieth leader.
A half-dozen symposiums feature Harvard research on AI, climate change, inequality, and more
Most popular
A community letter as the new administration begins
Solving legal challenges at MoMA
More to explore
A test can identify these productivity-boosting personnel.
Ancient history professor studies coins, ceramics, and Zelda.
Anwar Floyd-Pruitt's wildly profuse art