Harvard Business School Building Boom Continues
The Chao Family Foundation donates $40 million for an executive-education facility and fellowships.
The cranes keep coming. Harvard Business School (HBS) dean Nitin Nohria and others today announced that a $40-million gift from the Dr. James Si-Cheng Chao and Family Foundation will support replacement of Kresge Hall with a new executive-education facility ($35 million) and fellowships for students of Chinese heritage ($5 million). Read the HBS announcement here.
The gift, which will defray part of the costs for the Ruth Mulan Chu Chao Center, extends an HBS campus building boom: it comes not long after reconstruction of the former WGBH building on Western Avenue into the Harvard iLab and classrooms for the M.B.A. program's international FIELD courses (opened last November), and as construction continues on the $100-million Tata Hall—a 179-bedroom expansion of its on-campus executive-education facilities. With the Chao-supported project—shown as a four-story, 90,000-square-foot structure in the University's new draft master-planning document for Allston (discussed with the neighborhood on the evening of October 11)—HBS will have briskly invested perhaps a couple of hundred million dollars in its campus—and its building ambitions are not satisfied. The Allston planning document outlines renovation of Baker Hall, an executive-education residence, in mid decade, after Tata comes on line; reconstruction of Burden Hall (classrooms and a large auditorium, a 1968 Philip Johnson design) subsequently; and, toward the end of the decade, a substantial new faculty and administrative office building.
An HBS Family in an Anniversary Year for Women M.B.A.s
James S.C. Chao, a merchant mariner, left China for Taiwan—where he and Ruth Mulan Chu, who had also left her home in China, married—and ultimately for the United States. He founded what is now the Foremost Group, a New York-based shipping, trading, and finance enterprise. He and his late wife had six daughters (listed by age), four of whom earned M.B.A. degrees at HBS—the only such quartet of sisters to attend: The Honorable Elaine L. Chao, M.B.A. '79, U.S. Secretary of Labor from 2001 to 2009 (who is married to U.S. Senator Mitch McConnell, of Kentucky, the Senate minority leader); Jeanette Chao (who earned her M.B.A. from the College of William and Mary); May Chao, M.B.A. '85; Christine Chao (a Columbia J.D.); Grace Chao, M.B.A. '78; and Angela Chao '95, M.B.A. '01.
The gift, in honor of Mrs. Chao, comes during HBS's year-long celebration of the fiftieth anniversary of admitting women to the M.B.A. program. It was announced in an afternoon briefing by Nohria, Harvard president Drew Faust, and Boston mayor Thomas Menino (all three of whom also announced the $50-million gift to build Tata Hall, in 2010, when Ratan Tata, AMP '75 was present), with Elaine Chao and Angela Chao. The HBS news release included a statement from their father:
Because Ruth devoted her life to promoting excellence in education and enhancing U.S.-China cultural exchanges, she embodied the spirit of the love of learning in this university community. I would like to dedicate this contribution to memorialize and honor my beloved wife and soul mate, Ruth Mulan Chu Chao.
In the release, Elaine Chao cited her mother's belief "in the transformational power of education regardless of gender in developing leaders for the world. Throughout our formative years, she always emphasized our responsibility to contribute to society and being kind and generous to others." Angela Chao said, "My family and Harvard Business School have had a remarkable relationship spanning four decades. We are so pleased to be able to further the School's work of educating leaders who make a difference in the world while at the same time honoring our mother—the woman who inspired us with her selflessness and courage."
Enhancing Executive Education, and Changing the Campus
The new Ruth Mulan Chu Chao Center will rise on the site of Kresge Hall. It thus represents further intensification of HBS's commitment to campus-based executive education: the news release makes note of "the more than 10,000 executives who will attend classes there each year…." Although HBS now has full classroom facilities at the Harvard Center Shanghai and in the Taj Lands End in Mumbai—and also makes use of online, audiovisual learning tools—it is heavily committed to Boston-based, in-person executive education through both general-management courses (the Advanced Management Program, the Program for Leadership Development) and narrower, business-sector and even company-specific, instruction.
According to its fiscal year 2011 HBS annual report, executive education generated tuition revenues of $132 million—significantly more than the M.B.A. program ($96 million), and more than one-quarter of the school's total revenues.
Executive education now makes up a significant part of the Allston campus, in the northeastern corner toward Soldiers Field Road and the Charles River (see map and aerial photo above). Bainbridge Bunting's authoritative Harvard: An Architectural History (1985) speaks of a "quasi-independent educational unit, where short specialized seminars for business executives are held," comprising the 1970s Baker Hall (a mid-rise residence with 160 bedrooms) and McCollum Center (classrooms); more recently joined by the 1999 McArthur Hall (170 bedrooms); and, next fall, Tata Hall.
In a way, this expanding cluster of facilities is separated from the core of HBS by Kresge, which opened in 1953, according to Bunting, and was designed by Perry, Dean and Hepburn. The Georgian Revival building lies perpendicular to Harvard Way, the principal cross axis established in the 1920s campus plan by McKim, Mead and White. (Architecture critic Douglass Shand-Tucci, in Harvard University: The Campus Guide [2001], wrote, "Harvard Way, a veritable enfilade of arching trees to each side of a gracious Georgian Revival street; it is the most beautiful avenue at Harvard. Bar none." He regrets its expiring in Kresge Hall, which he dismisses as "pale, expiring neo-Georgian.") Redesigning the building on the site might enable the core campus and the "quasi-independent" executive-education precinct to interrelate more readily.
The new center provides an opportunity to rethink this whole, relatively new part of the HBS campus—and its wider educational uses. Detailed planning and programming are presumably just beginning; the final design is expected to yield a mixed-use building with meeting spaces, offices, dining areas, and classrooms. (HBS's standard 90-seat amphitheaters are sometimes larger than is optimal for smaller or custom executive-education courses; Tata Hall incorporates two new classrooms.) 
But the news release hints at early ambitions and visions. It says the Chao Center will "serve both as the gateway to Harvard Business School for the more than 10,000 executives who will attend classes there each year and as a vibrant hub that will enable them to convene with each other, with faculty, and with students from the M.B.A. and Doctoral programs."
That at least suggests trying to draw upon the expertise of visiting executives—enriching the experience and perspectives available to M.B.A. students at the outset of their business careers, and exposing the executives to students' fresh ways of engaging with problems in management. As such, it might extend into the Allston campus the M.B.A. student outreach now being realized through the new FIELD (Field Immersion Experiences for Leadership Development) course and its January global experiences on company sites around the world, first put into effect last winter.
In such a reconceived "hub," of course, executive-education participants could also mingle more easily with each other, and with faculty members from diverse disciplines.
The Chao gift also provides an opportunity to repurpose a structure that is nearing functional obsolescence. Although Kresge's lower level is used for executive-education dining (and executive-education staff are based on the first floor), much of its remaining space is reportedly underutilized conference rooms. The HBS faculty club, formerly on the upper floor, was closed in 2009, since it was no longer in much use. With the opening of Spangler Center (the University's first facility to face its Allston neighborhood) at the beginning of the last decade, HBS faculty, students, and visitors could enjoy a modern dining, meeting, and conference center, lessening demand for Kresge's comparable services. And with Tata's superstructure in place, the river views from Kresge's upper dining room are now a memory.
The Boston-based Goody Clancy architectural firm will design the Chao Center. It oversaw the 1996 conversion of the Harvard Union, the former College freshman dining room, into Barker Center (home to most of the Faculty of Arts and Sciences humanities departments today), and the 2001 renovation of the Law School's landmark Austin Hall, designed by H.H. Richardson. The firm's website includes among its academic projects business-school assignments for Georgetown and Purdue.
According to the news release, HBS plans to break ground in 2014—hard on the heels of completing Tata Hall. The Kresge name will be recognized by renaming the road in front of the site Kresge Way.
Fellowships and Harvard's Academic Mission
The newly funded, $5-million Ruth Mulan Chu and James Si-Cheng Chao Family Fellowship Fund, in support of Chinese-heritage students attending HBS, is of a piece with previous philanthropies by the family. According to biographical information prepared for the Chinese American Academic and Professionals Society's conferral of its distinguished lifetime achievement award on Dr. Chao (introduced by Elaine Chao), in September 2001, he and Ruth Mulan Chu Chao had awarded more than 5,000 scholarships through their Shanghai Mulan Education Foundation and other gifts.
In the HBS news release, President Faust said:
The Chao family's generous gift reflects their faith in the enduring value of higher education and their lasting confidence in the University. They are deeply committed to making Harvard more accessible to more people and to building a welcoming environment for generations of business leaders from around the world.
Speaking at the event, Faust amplified by noting that the Chao family has long been committed to the idea that education has the power "to generate opportunity, to create possibility, for everyone in our society." She said that the four Chao sisters who earned Harvard M.B.A. degrees had lived that experience at HBS; the new building, honoring their mother, is a tangible representation of "[e]ducation that is meant to serve others, education that is meant to build a better world"—in part by spreading opportunities for such education "more broadly throughout the world."
Dean Nohria said:
The Chao family is the embodiment of the American dream, and we are humbled by their generosity. The new center will be the gateway to Executive Education at the School…. What is also very special about this gift is the story of the Chao family. To come to this country, and to rebuild their lives and achieve so much, speaks volumes about Dr. and Mrs. Chao's courage and fortitude. Giving back in the way they have through public service and philanthropy speaks in equal measure to their individual and family values.
Updated October 12, 4:30 p.m., with addition of family photograph and President Drew Faust remarks from the announcement event.
You might also like
The Crimson springs a major upset.
Harvard officially installs Claudine Gay, its thirtieth leader.
A half-dozen symposiums feature Harvard research on AI, climate change, inequality, and more
Most popular
A profile of Harvard's thirtieth president
Life decisions en route to Massachusetts Hall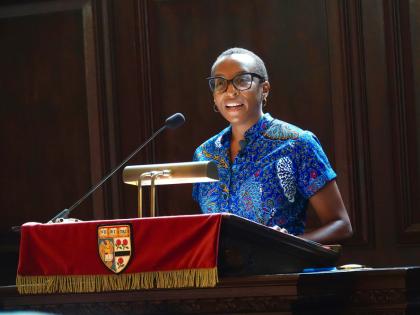 President Claudine Gay's first semester-opening Morning Prayers
More to explore
A test can identify these productivity-boosting personnel.
Ancient history professor studies coins, ceramics, and Zelda.
Anwar Floyd-Pruitt's wildly profuse art