The Radcliffe Campaign Launches
Dean Lizabeth Cohen lays out priorities and shows off a new public-art garden.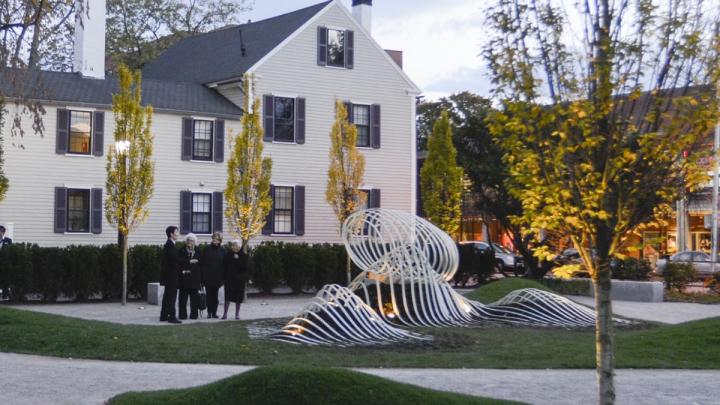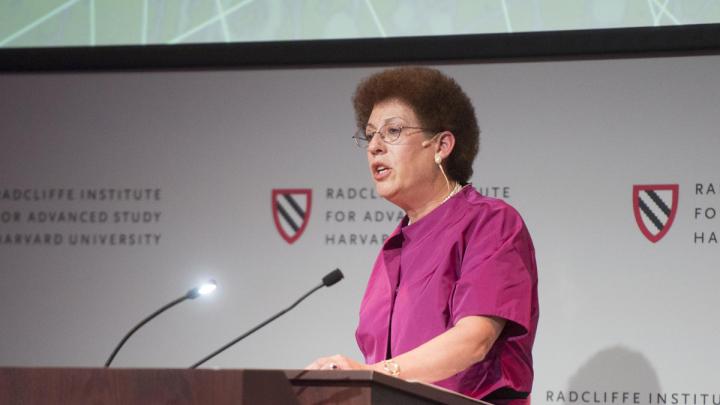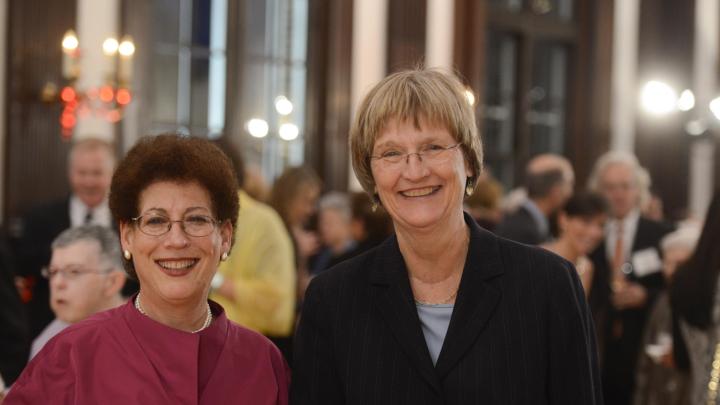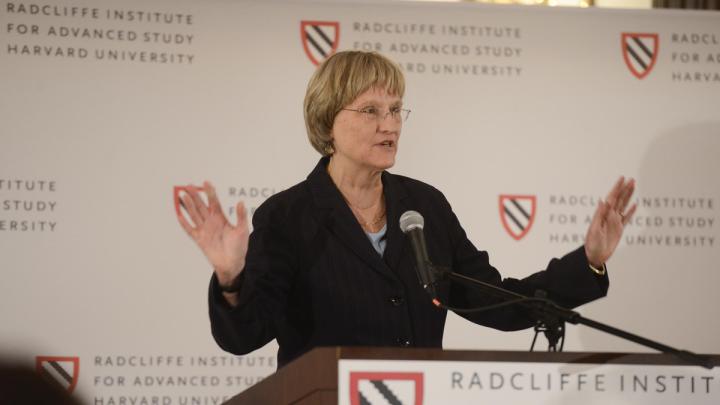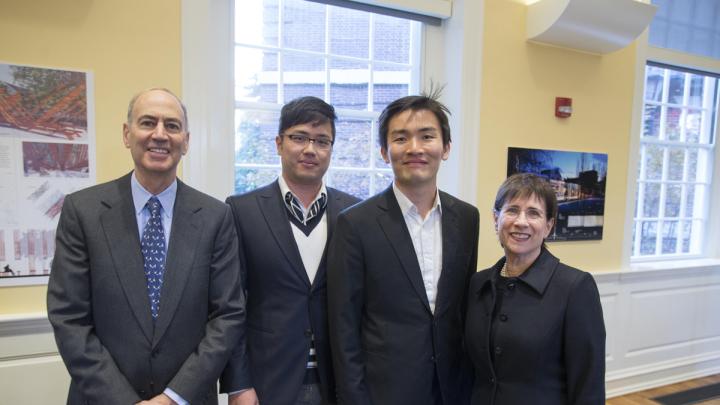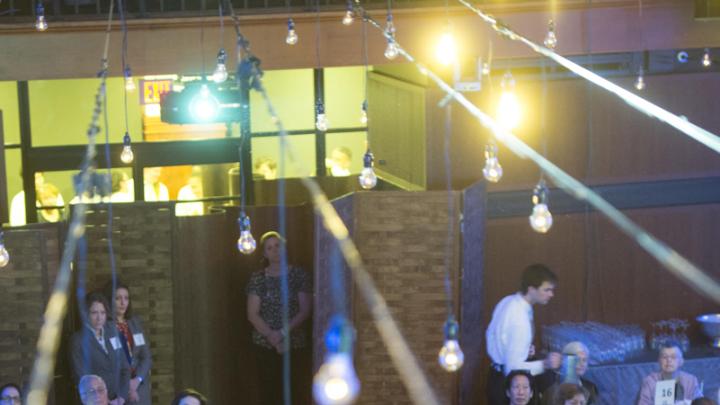 The Radcliffe Institute for Advanced Study, founded in 1999, launched The Radcliffe Campaign, its part of the University's new capital campaign, with events in Radcliffe Yard on October 28. Susan (Schildkraut) Wallach '68, J.D. '71, who co-chairs the effort with Sidney R. Knafel '52, M.B.A. '54, announced at a kickoff cocktail party that The Radcliffe Campaign had set a goal of $70 million, and had already raised $26 million, or 37 percent of that figure.
The program began at 4:00 p.m. in the recently renovated Fay House with a celebration of the new Susan S. and Kenneth L. Wallach ['68, J.D. '72] Garden in Radcliffe Yard. Located between Buckingham House and Putnam House, the garden borders Brattle Street across from Harvard's Loeb Drama Center. The large, 72- by 54-foot site, equipped with water, drainage, electricity, Internet access, and seating, will host a new piece of public art every two years.
The events began with an official unveiling of the first of these, an installation, Saturate the Moment, by Graduate School of Design students Keojin Jin and Juhun Lee. (Both are natives of South Korea and expect to receive master's degrees in design studies next spring.) Their work won a competition for a site-specific public-art project limited to Harvard students; there were 20 entries, and some of the others were on display in Fay House.
Saturate the Moment, an undulating structure fabricated from fiberglass strips and fishing lines strung vertically in a way that recalls harp strings, is a "self-irrigating installation" designed to capture moisture from the air (e.g., morning dew or fog) and return it to the ground beneath, which is covered with thyme plantings. The work, said Jin, is "a conversation between the ground plane and the air." In Susan Wallach's phrase, the installation "is a 'wow,' to use a technical term."
That afternoon, the Institute had played off the "open house" trope by hosting an "open yard," with several options available. The Byerly Hall Gallery contained mathematician Tadashi Tokieda's exhibit, "Toys in Everyday Science." Tokieda, of Trinity Hall at the University of Cambridge in England, is the 2013–2014 Hewlett Foundation Fellow at the institute; his "toys" here are simple, everyday objects that, if used in imaginative play, can set "physicists/mathematicians thinking for days," he writes. The interactive exhibit includes objects like a cup and a spoon that make differently pitched sounds depending on the angle at which one holds them; wooden balls whose rotation in a dish shifts from clockwise to counterclockwise when their number changes; and a hairdryer that uses Bernoulli's principle to make a Ping-Pong ball seemingly defy gravity.
Simultaneously, in the Schlesinger Library lobby, a new exhibit, "It Changed My Life: The Feminine Mystique at 50," honored the fiftieth anniversary of journalist Betty Friedan's groundbreaking book of 1963—the same year that a pioneering report by the Presidential Commission on the Status of Women appeared. (Friedan began donating her papers to the Schlesinger Library in 1971.)
An evening program for invited guests began at an Agassiz House cocktail reception with President Drew Faust, who is also Lincoln professor of history. In introducing Faust, Susan Wallach announced that the president would be the recipient of the Radcliffe Medal on Radcliffe Day next May. Faust spoke on lessons she had learned as the first dean of the Radcliffe Institute for Advanced Study that had carried over to help her lead the University. These included the notion of "one university," reflected in the "cross-disciplinary energy the Radcliffe Institute communicates to its fellows." Faust recalled, for example, witnessing a conversation between a mathematician and a choreographer who were sharing ideas about movement. She also remarked on the power of the "presence of the creative arts in the midst of an academic enterprise. The artists are always the most popular fellows—everyone wants to sit with them at lunch."
Launch events continued over dinner at Knafel Center (the renovated and renamed Radcliffe Gymnasium) in Radcliffe Yard, with "stars" the underlying theme of the evening. (Star-shaped pieces of chocolate graced each place setting.) Donner professor of science John Huth, who co-directs the science program of the Radcliffe Institute's Academic Ventures initiative, guided the dinner audience around an overhead display of lights of differing intensities arranged to mimic constellations in the night sky. He discussed "stars we have 'lost' as a result of light pollution." Novelist Gish Jen '77, BI '87, RI '02, perhaps a star in her own right, discussed her nonfiction book, Tiger Writing, and contrasted the Eastern "collectivist" self with the Western individualist self, asserting that she alternates between them all day long. Composer Augusta Read Thomas, BI '91, recalled how the Bunting Institute's support lifted "a weight off my shoulders." The grant allowed Thomas, then a young composer in straitened circumstances, to rent a studio apartment and a small spinet piano in Chicago, where she composed music for 10 hours a day. "That year affected everything I have done since," she said, before introducing a live performance of her piece "Orbital Beacons for Solo Piano," which did evoke beacons or stars orbiting each other, as the composer herself suggested.  
Radcliffe Institute dean Lizabeth Cohen, Jones Professor of American Studies, gave the keynote address. She described five "campaign priorities" for Radcliffe, leading off with its capacity to invest in experiment: "Just as venture capital invests in the entrepreneurs of industry," she said, "so we invest in the entrepreneurs of ideas." She used as an example current Radcliffe fellow Sean Graney's theatrical venture that will combine all 32 Greek tragedies into one 12-hour performance, an undertaking she called "gutsy."
The second priority is to diversify the Institute's programs and expand its global reach. This would mean broadening the Schlesinger Library's collections and digitizing more of its holdings, to give more scholars and researchers around the world access to its unparalleled resources on women's history. She also advocated expanding the number of Radcliffe Professors—there are six—"a program which provides select new Harvard faculty with two precious years as Radcliffe Fellows." 
The third priority is to educate more students via collaborative research.   
"With job prospects unsure," Cohen said, "career-focused undergraduates are often wary of taking intellectual risks." She hopes to enlarge the successful (and oversubscribed) Radcliffe Research Partners program, which each year pairs as many as 100 Harvard undergraduates with Radcliffe fellows, "getting them into the lab, the archive, and the studio."
Radcliffe's fourth priority is to "advance our impact across Harvard." Cohen cited the Institute's Exploratory Seminars and Workshops, which she called "multi-disciplinary conversations." They have attracted more than 2,000 faculty members and recent fellows during the past decade. She referenced last year's symposium, "Cloudy with a Chance of Solutions: The Future of Water," which brought together epidemiologists, oceanographers, engineers, geologists, and others to train varied lenses on problems like changing sea levels, and cholera in Haiti. Radcliffe now turns down half the proposals it receives for such events; Cohen seeks to accept more of them.
The fifth and final priority is "sharing transformative knowledge with the public." Cohen noted that librarians at Schlesinger answer more than 3,000 e-mailed questions annually, and that webcasts of Radcliffe lectures have enabled 13,000 viewers to watch Indian director Deepa Mehta discuss her films and 14,000 more to learn about the universe from astrophysicist Lawrence Krauss. She hopes to "open Harvard's front door wider to more—and new—audiences."
"All of this happens," the dean told the attendees, "because you believe in the importance of advanced study—of stretching beyond the expected to the barely imagined." 
You might also like
Toward another apartment complex on Harvard-owned land
Stepping down after 30 years of University service
Harvard researchers seek to empower individuals to steer their own careers.
Most popular
Brief life of a black radical: 1872-1934
Brief life of a textured artist: 1911-1988
In Agyementi, Ghana, Sangu Delle '10 brings clean water to a village.
More to explore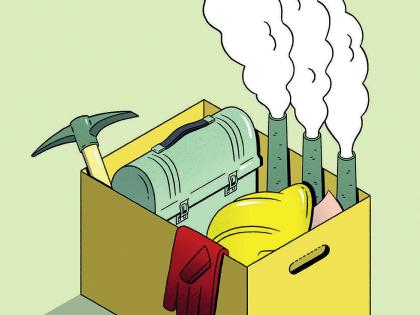 Expect massive job losses in industries associated with fossil fuels. The time to get ready is now.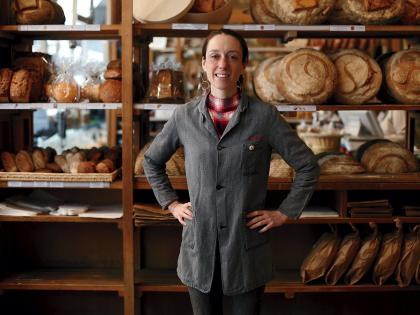 A third-generation French baker on legacy loaves and the "magic" of baking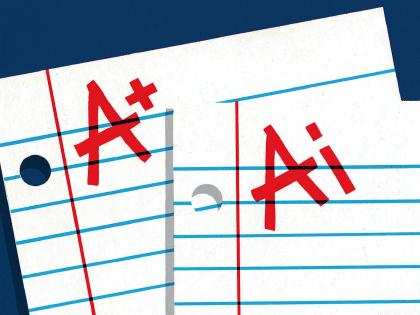 Generative AI can enhance teaching and learning but augurs a shift to oral forms of student assessment.