Students
Internet-era Students, Meet Rare Books
11.18.15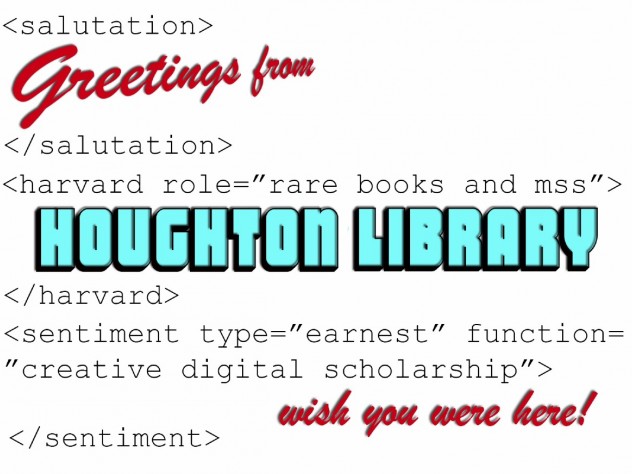 A Houghton Library postcard designed to attract undergraduates in computer science to its resources
Courtesy of Emilie Hardman.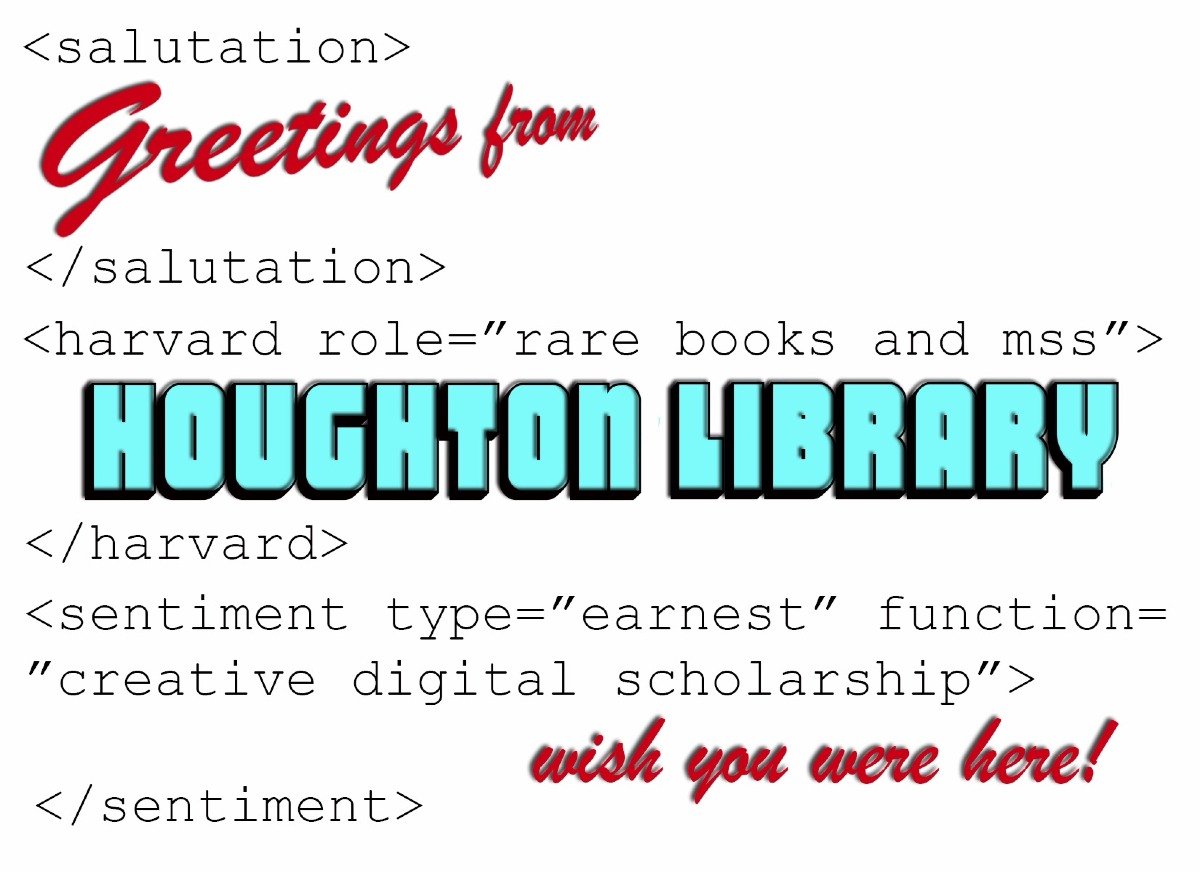 A Houghton Library postcard designed to attract undergraduates in computer science to its resources
Courtesy of Emilie Hardman.
Mikhaila Fogel '16 used to see Houghton Library as "that big building that blocks my path between Widener and Lamont." She had never seen anyone enter or leave the building, and had no knowledge of what went on inside.
Now, after a summer spent working there as a Houghton Undergraduate Fellow, her impression of the library—Harvard's primary repository for rare books and manuscripts—has changed from mysterious to "vibrant" and "engaging." "We forget," she marvels, "that when we're walking across the Yard, we're walking on top of really interesting rare pieces of history."
Fogel is one of the three undergraduates who inaugurated the library's undergraduate fellowship program, which enables students to spend a summer immersed in its rich collections while working on a self-designed project. Fogel, who studies British literature, conducted thesis research on why the birth-control movements in the United States and the United Kingdom produced vastly different results. Hers was the most traditional project among the trio; Jake Wilder-Smith '16 composed an opera on the life of Alice James and her siblings William and Henry, while Virginia Marshall '15 produced a series of podcasts from the sound archives at the Woodberry Poetry Room, which contains collections overseen by Houghton.
The program is the brainchild of Houghton librarians Heather Cole and Emilie Hardman, who were thinking hard about ways to bring more undergraduates into a library that is not usually on students' radar. "Ten years ago, there were very few undergraduates in reading rooms at all," Cole says. "Undergraduates are a big focus for the library now." As universities around the country place more emphasis on exposing students to primary sources, Houghton is opening its arms to a new constituency. The library now hosts hundreds of class sessions each semester, enabling students to engage directly with original manuscripts as course materials.
The fellowships, which offer a stipend of $3,500 each, opened for applications last February. The three fellows were chosen from a pool of 22 applicants. Cole, who is assistant curator of modern books and manuscrips and curator of the Theodore Roosevelt Collection, says she was heartened by how deeply the fellows engaged with collections that she manages daily. Wilder-Smith's opera on the James family, for example, brought the characters to life in a way that demonstrated remarkable emotional intelligence, she explains. "He grasped the complicated interpersonal relationships, and understood them on a level that I haven't seen in researchers who have been in the field for years. It was pretty stunning."
Summer is the busiest season for Houghton, which bustles with researchers who travel from all over the world to use its valuable collections. Fogel, who had never done archival research before, not only learned research techniques from the librarians, but also benefitted from the chance encounters facilitated by being part of a community of researchers. Befriending a woman who sat next to her in the reading room, for example, brought her the opportunity to meet one of the U.K.'s foremost experts on the history of sexuality.
Marshall, a former English concentrator who is now a freelance radio journalist, spent the summer producing the podcast series "Reel Writing: Poems and prose off and on the tape reel," which was released on the Woodberry Poetry Room's website. The listener hears not just Marshall's narration, but also the voices of poets (from Houghton's sound archives) and poetry experts whom Marshall interviewed. "I couldn't have done this type of project anywhere else," she says. "I wouldn't have had access to these materials, or platforms to put up the podcasts." In one episode, she tours the Houghton stacks with Hardman, Houghton's research, instruction, and digital initiatives librarian, and tells the listener, with awe, "I don't want to compare it to a dungeon of scholarship, but the metaphor is somewhat appealing."
Starting in 2016, the young fellowship program will be supported by the Office of Undergraduate Research and Fellowships' more structured Summer Humanities and Arts Research Program (SHARP), allowing fellows to enjoy additional resources such as housing and meals. Meanwhile, Houghton's efforts at courting students—of which the fellowship is a part—have produced significant results: this October, its reading rooms saw a 32 percent increase in undergraduate readership compared to a year ago, according to Hardman. A library that used to host primarily faculty members and researchers now has a third of its clientele coming from the College. "It's important for undergraduates to understand that this is not just a stately building serving some far-off constituency," Cole says. "We're here to help them."