Sports
Men's Basketball Splits Ivy Road Games
2.23.16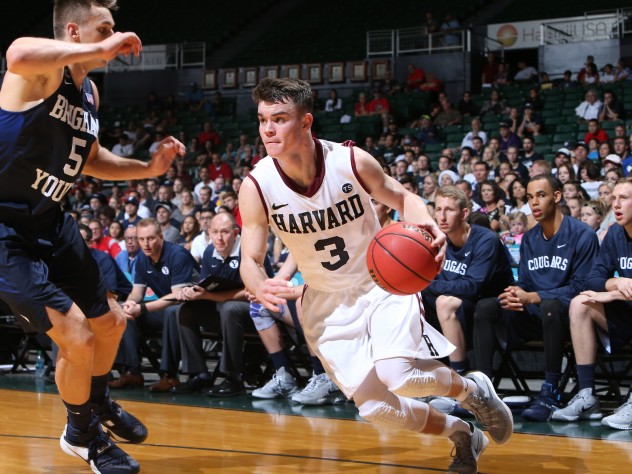 Tommy McCarthy '19 (shown here in earlier action against Brigham Young) led Harvard with 21 points on Saturday against Cornell, none more important than the game-winning basket with six seconds remaining.
Photograph courtesy of Harvard Athletic Communications
Tommy McCarthy '19 (shown here in earlier action against Brigham Young) led Harvard with 21 points on Saturday against Cornell, none more important than the game-winning basket with six seconds remaining.
Photograph courtesy of Harvard Athletic Communications
After a subpar performance against Columbia on Friday, Zena Edosomwan '17 (shown playing against Auburn) bounced back with a double double (13 points, 10 rebounds) against Cornell.
Photograph courtesy of Harvard Athletic Communications
After a subpar performance against Columbia on Friday, Zena Edosomwan '17 (shown playing against Auburn) bounced back with a double double (13 points, 10 rebounds) against Cornell.
Photograph courtesy of Harvard Athletic Communications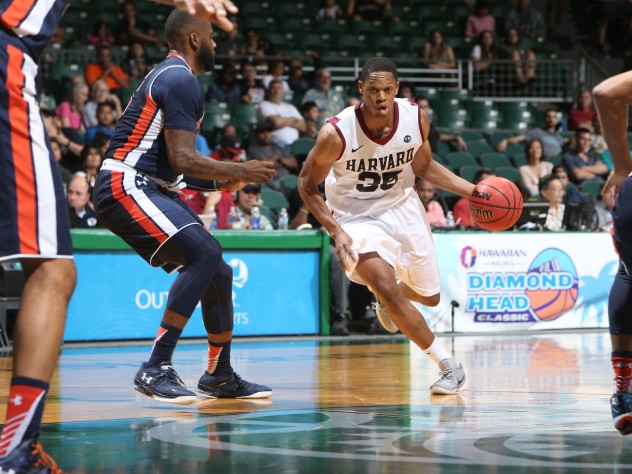 Agunwa Okolie '16 (shown in a file photo) continued his strong play, leading the team with 20 points against Columbia and adding 16 against Cornell.
Photograph courtesy of Harvard Athletic Communications
Agunwa Okolie '16 (shown in a file photo) continued his strong play, leading the team with 20 points against Columbia and adding 16 against Cornell.
Photograph courtesy of Harvard Athletic Communications
Following last Friday's 90-76 loss at Columbia, several Harvard men's basketball players and staff lingered on the floor at Levien Gymnasium, seemingly shell-shocked over what had just happened and uncertain how to proceed. 
Senior Patrick Steeves suggested taking a step back, saying it was difficult to analyze the game so soon after the final buzzer and that the team would review film the following morning to analyze what had gone wrong. Sophomore Andre Chatfield emphasized the need for action, saying that the players could not just talk about playing better defense, but had to start actually doing it. And there was a general consensus that Agunwa Okolie '16—who led the Crimson with 20 points, five rebounds, and five assists—could no longer be expected to shoulder the load singlehandedly.
For the first 30 minutes of Saturday night's game against Cornell in Ithaca, it seemed that things had actually gotten worse for Stemberg coach Tommy Amaker's squad. The Big Red hit seven three-pointers in the first eight minutes of the contest to jump out to a 27-10 lead—an advantage that ballooned to 21 points in the second half.
Then something clicked. Harvard finished the game on a 30-7 run to score an improbable 76-74 win that demonstrated the growth of freshman point guard Tommy McCarthy; exemplified the benefits of Amaker's even-keeled approach; and left the Crimson (now 11-15 overall, 3-7 Ivy) with quite a bit to play for with two weekends to go in the regular season.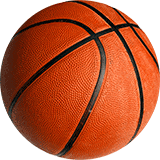 Harvard Hardwood
Sign up for Harvard Magazine's basketball e-mail and follow the Crimson all season long! David L. Tannenwald '08 will provide the latest news, game summaries, and insights.
McCarthy's Maturation 
The transition to college basketball is challenging for any freshman, but for McCarthy, the learning curve was unexpectedly steep. The California native had expected to spend the year backing up and learning from three-time All-Ivy point guard Siyani Chambers '16, but after Chambers tore his ACL over the summer, McCarthy became the starter—no easy task on a team that's been to four consecutive NCAA tournaments. 
At first, McCarthy struggled. In a pair of November games against Boston College and the University of Massachusetts, he totaled 10 turnovers and just one assist. Another setback came in January against Vermont, when he hyperextended his knee. As he limped through the start of Ivy play, it seemed he had hit the "freshman wall"—a point around mid-season when the wear and tear of the lengthier college season depletes younger players.
But McCarthy has worked hard to improve. In the pre-season, he watched extra film with Amaker and his staff. As the season got under way, he gradually found a rhythm with his jump shot and grew stronger. And as Ivy play began, the point guard, whose father is a performance coach for elite business leaders and athletes, read a book about how to hone his mental game.
Against Cornell on Saturday, that preparation paid off. During the first half, while most of his teammates struggled to find their shots, McCarthy sank three threes, helping to keep the Crimson in the game. He also showed impressive ball control and creativity, splitting several double-teams (dribbling through a pair of defenders trying to trap him) and penetrating off the dribble while turning the ball over just four times.
But the most important plays came on Harvard's last two possessions of the game. First, he rifled a pass to Zena Edosomwan '17 for a wide-open dunk that gave the Crimson a 74-71 advantage. Then, after the Big Red tied the game with another three, McCarthy drove to the basket and hit a game-winning basket with six seconds to go, his team-leading twentieth and twenty-first points. 
As Amaker said after the game, McCarthy "really grew up tonight right in front of our eyes." 
A Calm Culture
As Harvard won five consecutive Ivy championships, Amaker repeatedly emphasized that the team was focused on its internal standards, not external expectations—a key to success in a season as a whole. Rather than let players get too caught up in the outcome of one or two contests, the coach has sought to focus them on getting better, regardless of the squad's won-loss record or any player's individual performance.
That perspective has no doubt been hard to maintain during this up-and-down season, but against Cornell, the approach paid dividends. Having lost seven of eight contests, and trailing by 21 points with a little more than nine minutes remaining, Harvard might have panicked or folded. But as McCarthy said after the game, he and his teammates focused on chipping away at Cornell's lead one possession at a time and improving their defense. In other words, the players stayed calm—a major reason they won.
Also making a difference was the perseverance of star center Edosomwan. After Friday's loss to Columbia, Amaker said that the team needed more from the big man, particularly on defense—a topic that might have been on Edosomwan's mind when he spent the waning minutes of Friday night and the start of Saturday's game on the bench.
But like the team, Edosomwan persevered and finished on a strong note at Cornell, tallying nine points and six rebounds in the second half. The most important of those came on Harvard's penultimate possession when the center (who had just blocked a Big Red shot) grabbed two offensive rebounds and then dunked off McCarthy's pass. That, Amaker said, reflected "the way…basketball should be played." He was talking about the pass and the dunk, but his comment also reflected his team's and star's mindset.
Four Chances
Will the Crimson's comeback win mark the beginning of a turnaround, or is it just a rare bright spot in an otherwise disappointing Ivy campaign? With four regular-season games to go, Harvard has an opportunity to even its record at 7-7 in Ivy play and 15-15 overall—important figures because it is extremely rare for a team below .500 to be invited to a post-season tournament.
The Crimson also has an opportunity to build momentum for the future. Two of Harvard's remaining contests are against the opponents that lead the league: Yale and Princeton. A win in one or both of those games would allow the Crimson to shake up the Ivy title race and give the younger players the confidence to pursue the conference championship next year. This is also an opportunity for some of the underclassmen to show what they can contribute to the team moving forward—no small matter given the highly touted, seven-member recruiting class expected to arrive next fall. 
And then there is the seniors' legacy. Multiple generations of Harvard basketball alumni were in attendance Friday. Some preceded Amaker's arrival; others were recruited by Amaker's predecessor, Frank Sullivan, but also played for the former Duke point guard; and two—Charlie Anastasi '15 and Alex Nesbitt '15—were part of the historic senior class that won four Ivy League titles and reached four NCAA tournaments.
This year's seniors lost quite a bit of firepower and their on- and-off court leader over the summer. But they do have a narrow window to reinforce the program's winning culture, built with great effort by the players who came before them. The first of these waning opportunities comes this Friday against league-leading Yale in New Haven.
Women's Basketball Update 
The women's basketball team extended its win streak to four games, throttling Columbia 84-54 and defeating Cornell 68-63. The Crimson (now 12-11 overall, 7-3 Ivy) again benefited from strong play from the seniors, with significant support from the underclassmen. Against the Lions, Shilpa Tummala '16 and Sydney Skinner '19 led the way with 14 points apiece. The following night, Tummala tallied 15 points, while classmates Kit Metoyer and AnnMarie Healy added 14 apiece. Head coach Kathy Delaney Smith's squad closes out its home slate next week against Yale and Brown.