News
Michael Pollan's Crooked Writing Path
4.7.16
Author Michael Pollan speaks to a packed house at Radcliffe
Photograph by Tony Rinaldo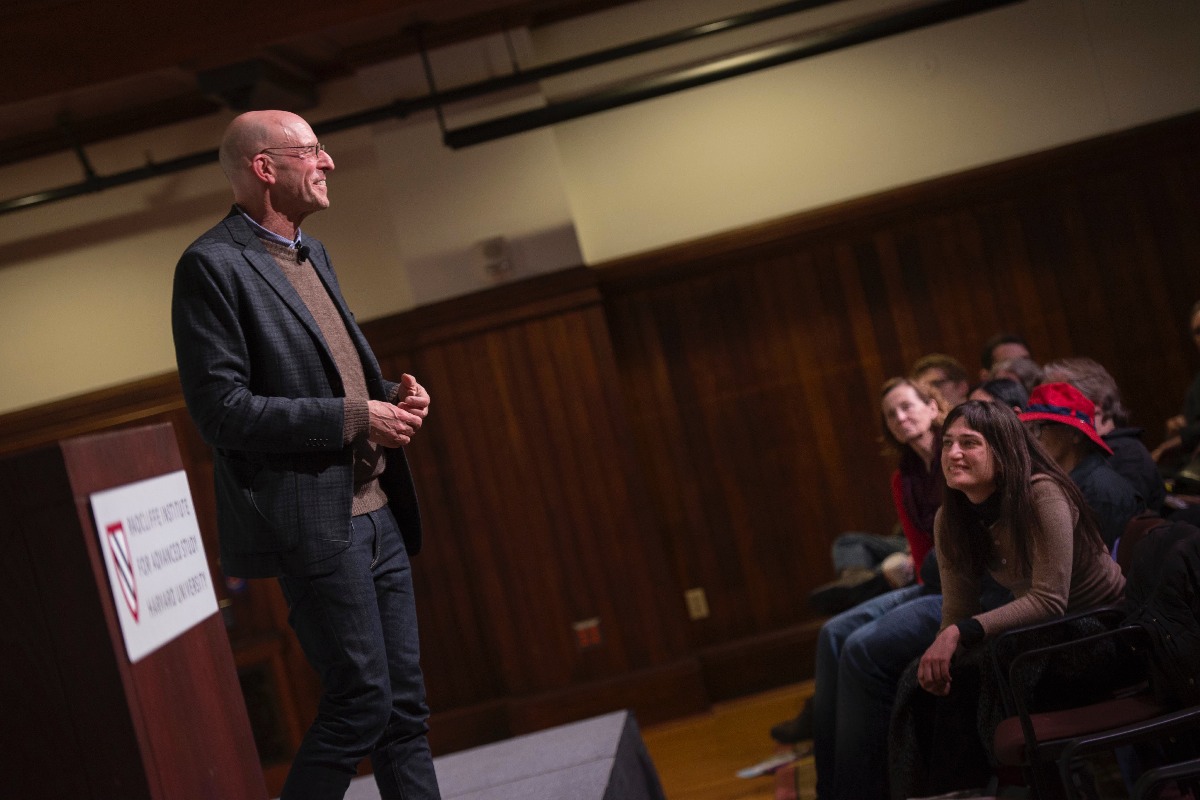 Author Michael Pollan speaks to a packed house at Radcliffe
Photograph by Tony Rinaldo
Whether he is writing a book on big farming and the way Americans think about food, or interviewing terminal cancer patients who have had life-altering experiences through hallucinogenic drugs, author Michael Pollan's career as a writer has been anything but traditional.
"The path of someone's career only appears in retrospect. I really didn't know where I was going. The path of a writer isn't like the path of a doctor or a lawyer—it's really crooked," Pollan said yesterday at the Radcliffe Institute for Advanced Study, as he delivered an autobiographical lecture, "One Writer's Trip: From the Garden to the Plate and the Beyond," to a packed audience. "On this journey you will never know which books you will have been grateful to have packed, or where your curiosity will take you."
Pollan, a Radcliffe fellow this year, is also a food activist and a professor of journalism at UC, Berkeley. He discussed his evolution as an author, starting with the realization that the books he had treasured in college—namely those by the great American nature writers Henry David Thoreau and Ralph Waldo Emerson—would not serve him very well as he set out to grow his own food. Dreaming of an easy and harmonious relationship with nature as a vegetable farmer, Pollan instead found himself engaged in what he described as "horticultural Vietnam" with a very aggressive woodchuck who persistently ruined his garden. The experience would become Pollan's book Second Nature, which explores the complexities of man's relationship with the natural world.
"It made me realize that there might be a different place to explore our relationship to the natural world than the ones Americans usually go to, which is of course the woods, the wilderness, the desert, or the ocean," he said. "I decided instead to explore these middle landscapes [such as gardens and lawns], and nature in other places where we can't really observe."
Pollan, who has since written other books about industrial farming and food—including Cooked: A Natural History of Transformation (2013), which is now also a series on Netflix, and The Omnivore's Dilemma: A Natural History of Four Meals (2006)—described an eye-opening trip he took to an industrial farm that supplies potatoes for McDonald's French fries. McDonald's won't purchase the russet Burbank potatoes from farmers if they contain net necrosis, a brown discoloration that blemishes the potato after infection from the potato leaf virus, he explained. To eliminate blemishes and insects, farmers use a pesticide that is so toxic, they "won't venture outside into their fields for five days after they spray."
"For the first time I understood what is meant by the concept of a food system," Pollan continued, adding that it was these farm visits that helped him "connect the dots" between how we produce and consume food, as well as the impact big farming has on health, climate change, economic inequality, and the federal budget. (Watch a video of Pollan describing his experience at the potato farm here.)
Most of the ideas for his books, he said, grew out of his curiosity. Questions, he pointed out, are more important than answers—"a good question can drive a book from beginning to end in a way that answers cannot." Questions lead to more propulsive and suspenseful writing, and can be the difference between "a speech and a detective story."
Delving into his recent research for a new book about the use of plants and fungi to induce altered states of consciousness, Pollan described interviewing many terminal cancer patients undergoing clinical trials using otherwise illegal drugs, such as LSD and psilocybin (the active ingredient in magic mushrooms), to provide spiritual experiences that would calm their fears about death. (Read Pollan's article "The Trip Treatment" in The New Yorker.) One patient, a former journalist, said his psilocybin session was followed by months that were "the happiest in his life"—even though he knew he was about to die. 
"I almost always write as a naïve. It's one of the reasons I'm moving away from food," Pollan explained. "Once I become an expert at something, it's harder for me to write about it the way I like to—as an amateur, as somebody new to it. Readers would much rather come on a journey with you than hear a lecture about it after the fact."