Sports
A Long Road
12.7.17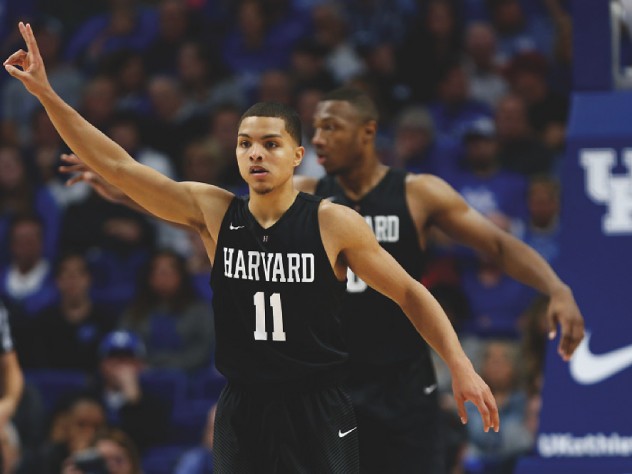 Bryce Aiken '20 is leading Harvard with an average of 17.6 points per game.
Photograph by Michael Reeves

 
Bryce Aiken '20 is leading Harvard with an average of 17.6 points per game.
Photograph by Michael Reeves
In August 2012, Tommy Amaker welcomed an unusual visitor to Lavietes Pavilion: Kentucky men's basketball coach John Calipari. It was mostly a social call; Calipari was in town to visit his daughter. He dropped by practice as the Crimson prepared for a trip to Italy to play several local teams and tour the country, recalled Trey Grayson '94, the team's then faculty fellow and a former Kentucky secretary of state, in a phone interview last week.
Still, there was subtext: after leading Harvard to its first NCAA tournament appearance in 66 years, Amaker was trying to build a squad that could contend with national powers like Kentucky. He had already competed with Calipari for a recruit, point guard Brandon Knight, who spent a year in Lexington and now plays for the Phoenix Suns in the NBA. He was also hoping to schedule a home-and-away series with Kentucky, swapping a trip to Lexington for another to the TD Garden.
Last Saturday, that hope was half-realized when the Crimson took the floor at Kentucky's famed Rupp Arena. (As of now, there are no plans for a reciprocal trip to the Garden.) Unfortunately, the result—a 79-70 loss to the then-seventh-ranked Wildcats—comes amid a disappointing 4-6 start to the season that has revealed just how far Harvard must go before competing on the national stage. This team, which was picked to finish first in the Ivy League on the strength of its highly touted sophomore class, has yet to show that it can develop the offensive balance, defensive identity, maturity, and resolve to compete for an Ivy title.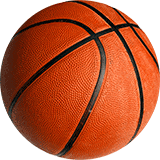 Harvard Hardwood
Follow the Crimson all season long! David L. Tannenwald '08 will provide the latest news, game summaries, and insights as the Crimson chase an Ivy title.
Offensive Balance
On a Sunday afternoon in November, the bass in the locker room was thumping, easily overheard in the press room above where Bryce Aiken '20 wore an ear-to-ear grin. The Crimson had just upended UMass 70-67 in overtime, and Aiken (30 points) had nailed the winning three. Nonetheless, the game highlighted a challenge. Only two players other than Aiken had scored in double figures: Chris Lewis '20 had 15 points; Corey Johnson '19 added 10. Since then, Lewis (12.9 points per game) has been a consistent scoring presence inside, but the rest of Harvard's offense, apart from Aiken (who is averaging a team-high 17.6 points), has been streaky.  
Not surprisingly, opponents are strategizing to contain Aiken. Last week, Northeastern deployed two players to press Aiken to slow him in transition. The Huskies won 77-61. (Aiken still managed 26 points, and Lewis 20, but no other Harvard player scored more than six). Similarly, at Manhattan College, the Jaspers pressed Aiken and attempted to double-team him before he could get a third dribble in the half court. The goal was to get the ball out of Aiken's hands. It worked: Aiken scored just 12 points. "If somebody was going to beat us," Manhattan coach Steve Masiello said after his team's 73-69 win, "we weren't going to let it be Bryce."
How can Harvard become more balanced?
First, Aiken must become a great scorer and a great facilitator. Against St. Joseph's, a Division One team from the respected Atlantic 10 Conference, he did that beautifully, tallying 21 points and eight assists in a 77-71 victory. Against MIT, though, Aiken had no assists, and Harvard squeaked by its less prominent Division Three opponent 73-64.
Meanwhile, Seth Towns '20 needs to perform more consistently. Amaker has called him the team's "most important player"—a versatile six-foot-seven forward who can drain the three and take the ball to the hoop—but Towns has been mercurial. He dazzled against Kentucky, sinking six of seven three-point attempts and scoring a team-high 25 points. But earlier, against Northeastern, he scored just two points, and he followed up his Kentucky game by shooting only four for 14 against Fordham (though he did hit the game-winning three). After the Northeastern loss, Amaker said, "He's got to be better for us if we're going to have the kind of team we're supposed to have."
Finally, Harvard needs to start making shots. The squad is shooting just 40.7 percent from the field and, after going two for 20 from downtown against Fordham, it's making a paltry 27.9 percent of its three-point attempts. Amaker says that he evaluates the quality of shot attempts, not whether they go in, but he also pointed out that missing so much is demoralizing, especially for a young team.
A Defensive Identity
There have been encouraging signs defensively. Against Fordham, the Crimson defense had their best performance this year, holding the Rams to 45 points. Lewis is leading the Ivy league in blocks per game, while Justin Bassey '20 and Rio Haskett '21 have proven themselves strong perimeter defenders. But Harvard is giving up an average of 70.8 points per game, far from the performance of its recent Ivy League champions (the 2013-2014 squad ceded just 61 points per contest).
What is preventing team from reaching that level? 
One issue is decision-making. After the MIT game, Towns noted that he and his teammates were "gambling" in the passing lanes: going for steals instead of simply denying passes meant that they often meant they fell out of position. The Crimson is also struggling to defend teams with quick, smaller lineups that can dribble past Harvard's taller perimeter players. This can cause the guards to commit unnecessary fouls. It also leads to help-and-recover situations, where a player leaves the opponent he is guarding to help a teammate who has lost his man. This can leave open shots for opponents; it also suggests opponents are imposing their offensive will on Harvard's defense, instead of the other way around.
Maturity and Resolve
A final issue is inexperience, and the nerves and difficulties that accompany it. The Crimson's starting lineup typically includes four sophomores, and Johnson is the only junior who plays regularly. After the team's shaky performance against MIT, Towns said the team seemed "antsy." Several days later, Amaker declined to go that far, but acknowledged that the team is young and "with youth comes inconsistency."
Amaker has been trying to instill in his young players the intangible resolve and commitment required to win. After the Crimson got off to a slow start in a 73-69 loss to Holy Cross, he benched all five starters for the start of the Manhattan game. Following Towns's lackluster effort at Northeastern, a game he started, Amaker demoted him to a reserve role against Kentucky and Fordham. "We're making a point that it's not acceptable for the starters to start the way they did in the last game," Amaker said. "It's such a privilege and an honor to be a starter. We have to adhere to that standard."
This points to a larger challenge for both coach and team: learning how to win close games and reestablishing a championship culture. Only three players this year—seniors Chris Egi, Andre Chatfield, and Zach Yoshor—have been part of an Ivy League championship team, and not one has played this season—a byproduct of injuries and of being outperformed in practice by younger players. Harvard's underclassmen are relearning the lessons and hoping to rediscover the resolve imbued in the program during the Crimson's run of four straight NCAA tournament appearances from 2012 to 2015.
The good news? It's still early in the season—but this team has a long way to go.
Women's Basketball Update
The Harvard women's basketball team enters exams with a 5-4 record, following a 79-69 victory at Northeastern. Harvard started the year slowly, dropping both contests at a season-opening tournament in Maine. Since then, they have won five of seven. The Crimson are led by point guard Katie Benzan '20, a first-team All-Ivy selection last year, who is averaging 14.8 points per game.
Harvard Hardwood will return in January with an update on the men's team and a more detailed account of the women's season.