Standing Out, United
Harvard affinity celebrations honor graduates' diverse journeys. 
Briana Acosta, M.P.H. '23, is used to sticking out. As "one of a handful" of low-income students on financial aid at her private high school in Houston and one of its only students of color, Acosta said she struggled with "really feeling out of place"—a sentiment that loomed throughout her academic career and tempted her to fit herself into a box "that isn't necessarily who I am."
With a Mexican flag draped over her left shoulder, a Puerto Rican flag on her right, and a golden stole reading "First Gen Next Gen," she stood out again Tuesday amidst the sea of black gowns at Harvard's University-wide affinity celebration honoring Latinx graduates. But this time, Acosta said she felt like the space "was designed with me in mind."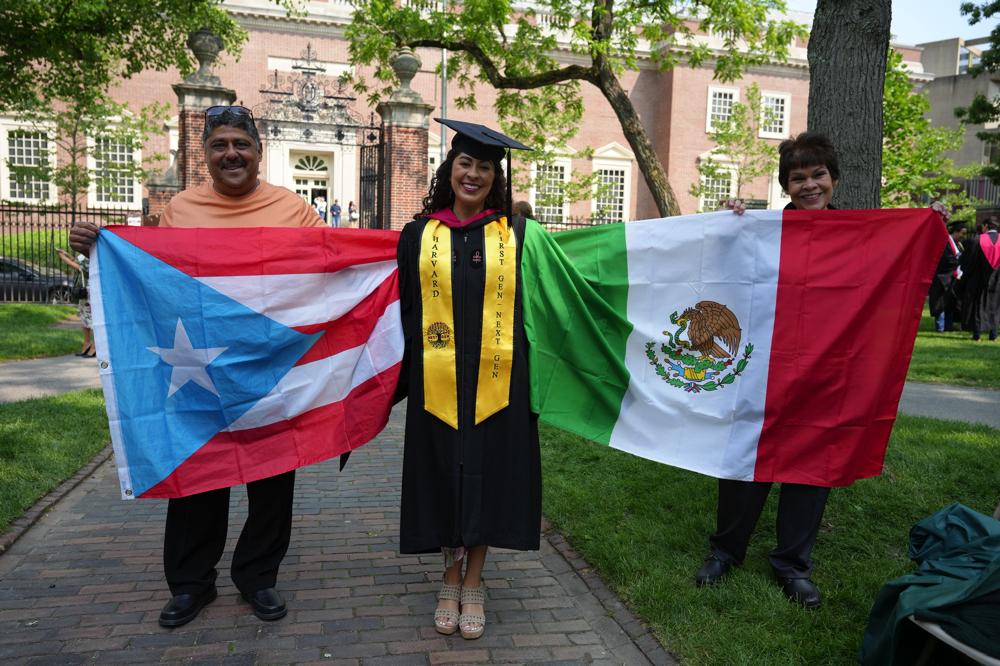 Photograph by Ryan Doan-Nguyen
"As I've grown older and healed, my relationship to my identities—both in terms of class, in terms of race, in terms of all of those pieces—it's something that I am extremely proud of," Acosta said over the backdrop of mariachi tunes and Selena y Los Dinos' "Como La Flor." "Being able to celebrate that publicly is just really special."
Acosta noted the music and pointed to others wearing cultural pieces. "I feel seen," she said.
Monday and Tuesday, May 22 and 23, saw eight University-wide affinity celebrations—held at locations including Sever Quad, Memorial Church, and various schools— that highlighted the accomplishments of students from diverse backgrounds. Supported by Harvard's Office for Equity, Diversity, Inclusion, and Belonging, student affinity groups honored graduates representing LGBTQ+, Black, Indigenous, Latinx, Arab, and Asian American, Pacific Islander, and Desi American (APIDA) identities, as well as those with disabilities and those from first-generation, low-income backgrounds.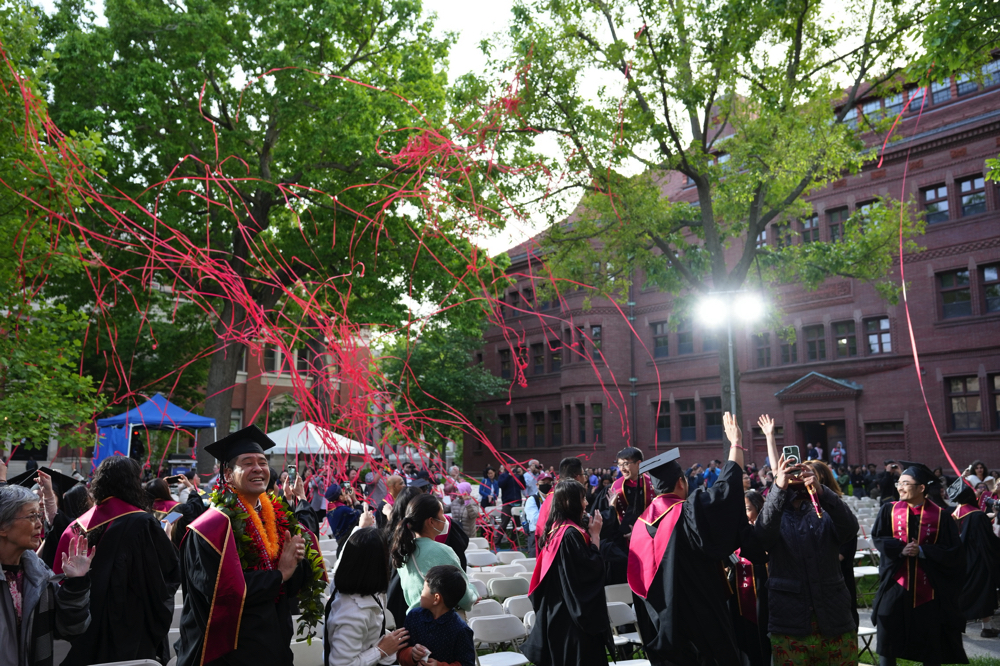 Photograph by Ryan Doan-Nguyen
In the recent past, Harvard has hosted just five affinity celebrations. With this week's Commencement celebrations for the Class of 2023 came the first ceremonies for Arab graduates and graduates with disabilities and just the second for APIDA graduates, which took place for the first time last year after students expressed disappointment over the exclusion of their groups and advocated for its implementation. 
"A Tapestry of Diversity and Brilliance"
The eight affinity celebrations honored graduates with multicolored stoles specific to their identity, certificates, and glass awards, while featuring keynote speakers whose speeches revolved around embracing the unique qualities of each heritage and identity. Cultural performances and festivities dotted the colorful ceremonies.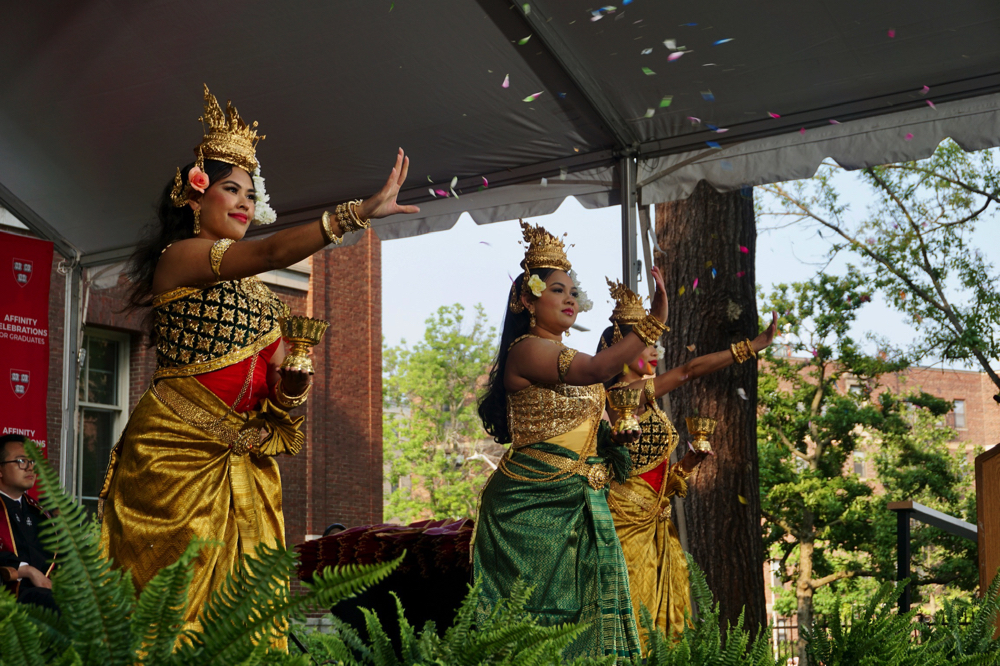 Photograph by Ryan Doan-Nguyen
Three members of the Angkor Dance Troupe—a Cambodian traditional arts organization based in Lowell, MA—opened Monday's APIDA celebration at the Sever Quad with an Apsara dance performance. Donning silk draping known as "sampot," crowns atop their heads, and shimmering golden bracelets, anklets, and shoulder bands, the trio tossed dyed flower petals into the crowd of hundreds of graduates. Then, they turned and threw more to the sitting ceremony speakers, which included Harvard Law School lecturer Alexander Chen, who delivered the faculty address, keynote speaker Jeannie Park '83, and Charles Hua '23, who delivered the student address.
Memorial Church reverberated with traditional Middle Eastern melodies as a group of musicians—Boston College ethnomusicology professor Ann Lucas, A.L.M. '18, Lebanese artist Jamal Sinno, and Egyptian artist Mina Hana—entertained the audience with a flute, qanun, and oud. Leaders of various Harvard Arab affinity organizations offered words of praise and hope during the Tuesday ceremony, including Harvard Arab Alumni Association president Luma Al-Saleh, M.P.A '17, Harvard Society for Arab Students President Sam Saba '23, and Harvard Arab Students Association president Yasmin Kayali, M.C./M.P.A '23.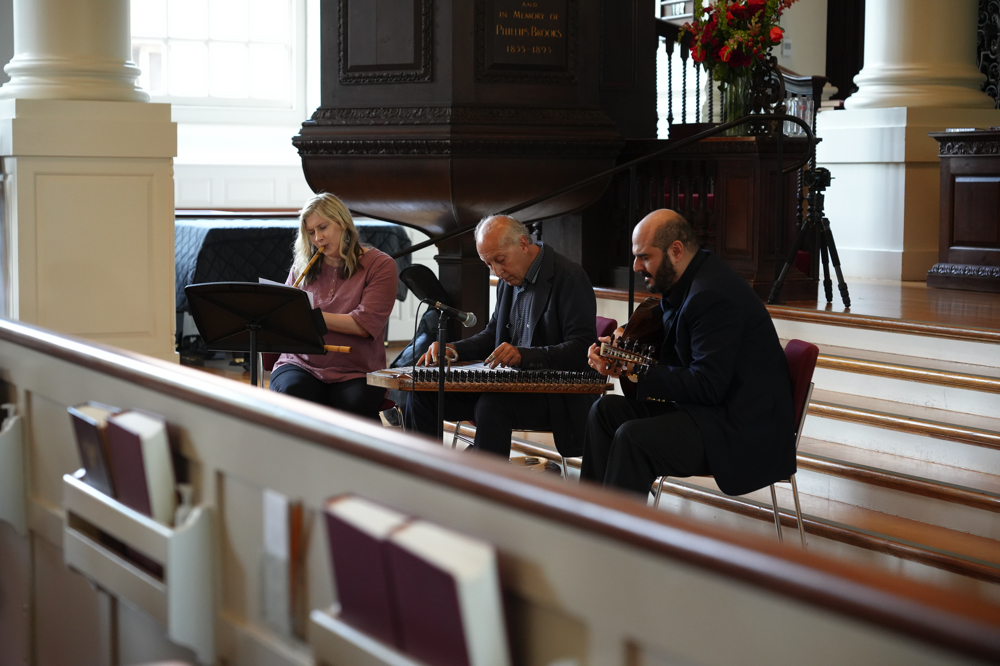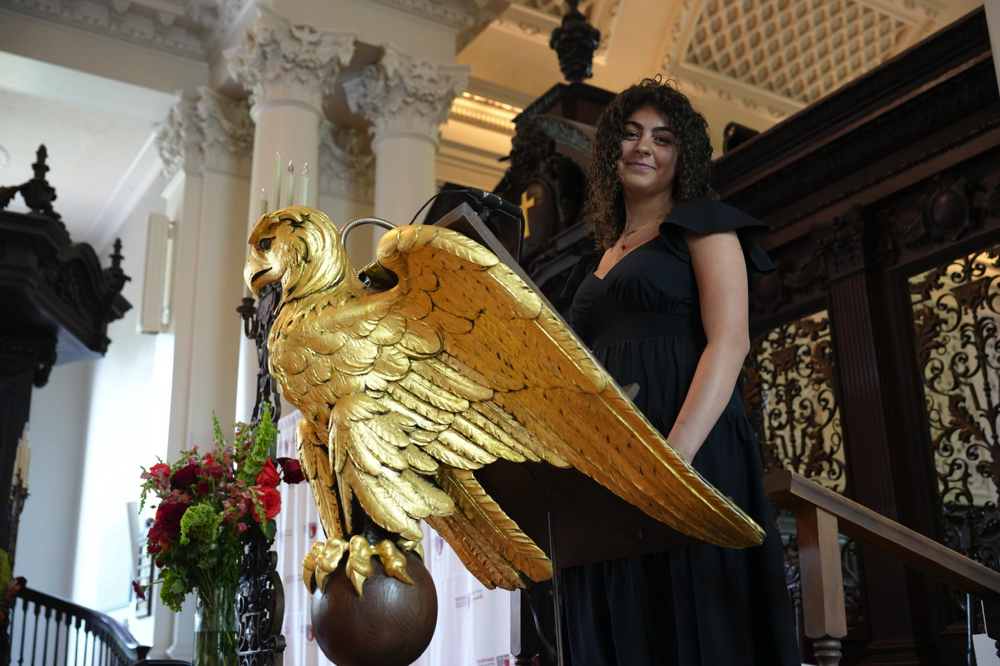 Photographs by Ryan Doan-Nguyen
"Today, we gather as a community to recognize the achievements, resilience, and potential of the Arab graduates from Harvard in 2023," Kayali told attendees. "Look around this room, and you'll see a tapestry of diversity and brilliance—a tapestry that reflects the rich cultural heritage, the deep-rooted traditions, and the unyielding spirit of the Arab world."
At Tuesday morning's Black affinity celebration, graduates heard speeches by Harvard Kennedy School professor George (Chip) Greenidge, civil rights activist DeRay Mckesson, Jourdan Henry, M.B.A. '23, and Harvard Black Alumni Society President Tyrell Adeyemi, Ed.M '21. They listened to spoken word poetry by Reem Ali '23 and watched a lively performance by Afrobeats Dance Boston, a dance company centered around contemporary African music. At the ceremony's end, the hundreds of graduates, family members, and faculty that filled nearly every folding chair lining the Sever Quad locked arms and swayed left to right and back in a hip-hop dance move: the swag surf.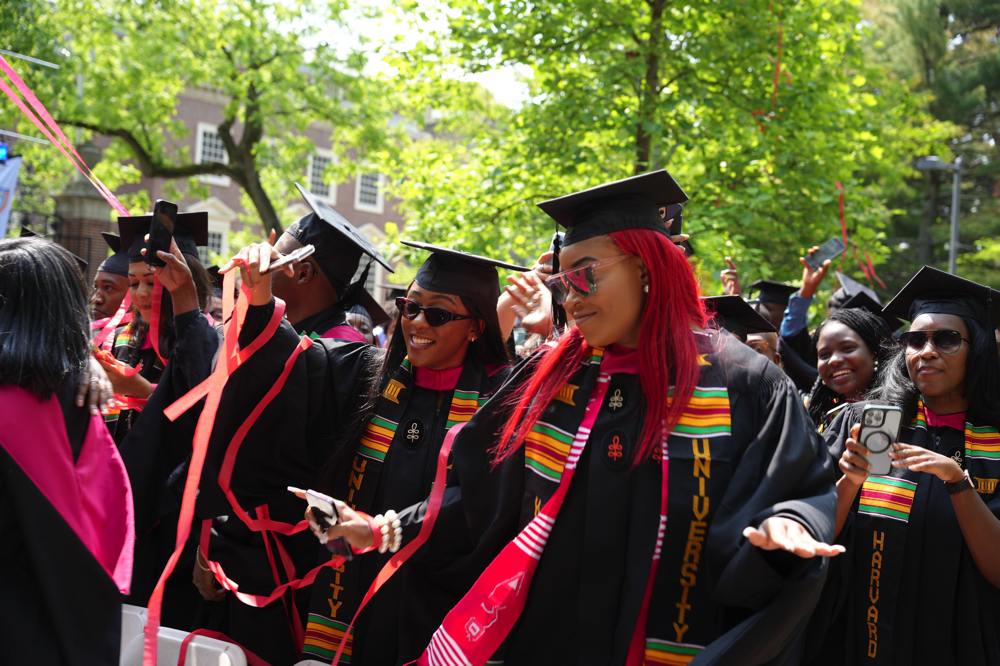 Photograph by Ryan Doan-Nguyen
"I've done it so many times with my friends when we've been out enjoying a good night," said Terrence Mensah, M.D. '23, who explained that the move is immediately done when a song called Swag Surfin', by Fast Life Yunstaz, plays on the dance floor. 
"Everybody—no matter who you are, you don't know the person beside you—just locks arms and moves together," Mensah said. "It was a great way to bring everybody together and end this ceremony."
"Eternal Gratitude"
Most of the affinity celebrations began with speakers acknowledging the indigenous people who inhabited the land Harvard was built on. The theme of recognizing those who paved the way and whose sacrifices, support, and dedication enabled each student's educational pursuit resounded throughout the ceremonies. Between excited congratulations amongst each other and chat of future plans, students were seen hugging their families, shaking hands with their mentors, and talking about the people who helped them reach this point.
In an interview following Harvard's APIDA affinity celebration, Jeena Mistry, M.P.H '23, said she's grateful especially for "four very, very special people" who played large roles in her journey: her parents, her partner Chris, and her father's best friend, also named Chris.
"If it wasn't for them, I genuinely wouldn't be here today," Mistry said. "They push me to be a better person, whether that's academically, personally, or professionally."
Mistry said she often thinks about her Asian Indian community supporting her from back home in Leicester, England.
"I just thought that people from my background wouldn't make it to an institution like Harvard," Mistry said. "I still remember the shock on everyone's faces when I told them that I was coming out to Harvard."  
Photograph by Ryan Doan-Nguyen
"This feels incredible to have a moment where we could all come together and celebrate the adversities that our ancestors have overcome," she added, sharing that her immigrant grandparents were limited in their own opportunities.
As William Jensen-Diaz, M.C./M.P.A. '23, received his stole from Harvard's affinity celebration honoring LGBTQ+ graduates at the Divinity School, his mother Ana Maria Diaz and fiancé Pedro Pablo Cortés—who flew in from Monterrey, Mexico—cheered him on from their seats.
"I'm very proud of him because he has been pursuing his dream while being an openly gay man," Cortés said of his soon-to-be husband, sharing that after their wedding in December, they eventually hope to start a family together. "He's in the energy sector, and that's a very masculine and heteronormative sector—so I'm very grateful, because he has never been afraid of being who he is and showing his love for me."
Jensen-Diaz said his mother was a lifelong support. When his parents got divorced, she raised him by herself and made sure he was cared for emotionally and financially. "She was amazing," he said, looking toward her with a glint of admiration.
 Some graduates decided to honor where they came from by attending their affinity celebration in cultural clothing.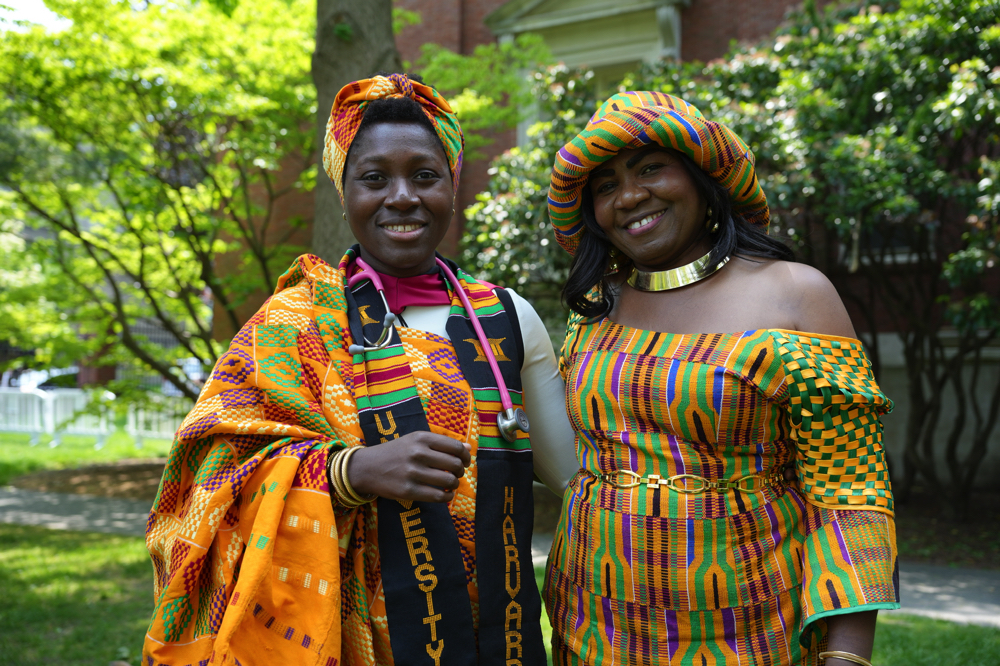 Photograph by Ryan Doan-Nguyen
Jean Adomfeh, M.D. '23, attended the Black affinity celebration in marigold Ghanaian kente cloth with a stethoscope around her neck. "Historically, we were very strong in textiles and weaving," she said. "So even though far removed from West Africa, I wanted to represent the culture."
Adomfeh said she was inspired to become an ophthalmologist by the women in her family and by rampant, untreated eye disease in Ghana. "When I was younger, I encountered so many people of the African diaspora who had advanced eye disease and blindness from very treatable illnesses," Adomfeh said. "When I came into medical school, I did try everything on for size, I did—but ophthalmology just felt right. The people were really nice. The topic's interesting. And the work is so gratifying."
Amy Chalán-Vacacela '23 spoke to attendees of the Indigenous celebration wearing traditional dress from her Kichwa Saraguro heritage. Part of her outfit was hand-spun in a "self-sustaining practice that has been passed down from generations," and her jewelry, Chalán-Vacacela said in a post-event interview, was made by family members.
"I've been thinking a lot about what a Harvard degree means to me," she continued. "And I think it means eternal gratitude. Gratitude to my ancestors, to everybody in my family, everybody who believed in me and made a sacrifice so that I can be here."
"Power in Surviving"
Alexis Murillo, Ed.M. '23, opened her student address at the affinity celebration honoring first-generation graduates by describing some of the barriers she has had to overcome given her background as a queer, Latinx, first-generation college student. "I have navigated oppression in the forms of classism, racism, hyper-sexism, and heteronormativity," Murillo said. "These struggles have often led to discouragement, isolation, and a keen sense of alienation."
Murillo told graduates that being present at the celebration means they have "shattered barriers and defied expectations."
"We have triumphed over the limitations and obstacles of a system that was never designed with us in mind, and in doing so we have paved the way for those who'll come after us, leaving an indelible mark on the path to progress," Murillo said. "Our achievements ripple far beyond our own lives, and they serve as a testament to the resilience and strength of our communities."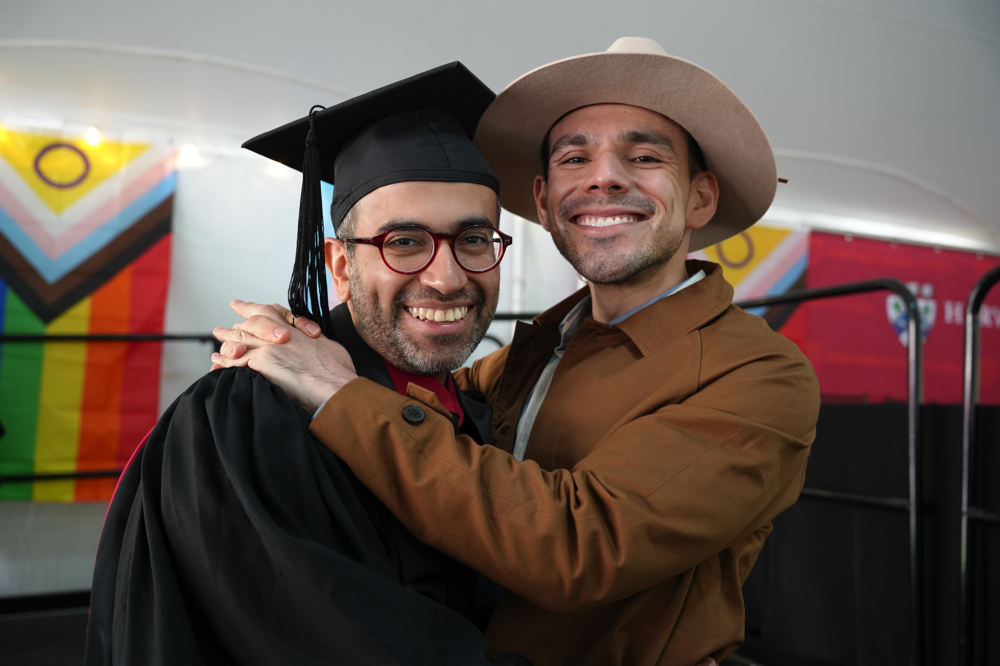 Photograph by Ryan Doan-Nguyen
Jensen-Diaz said he saw the affinity celebration honoring LGBTQ+ graduates, which included a drag show as part of its program, as "a symbol of resistance." "A drag show at a Harvard graduation is quite something," Jensen-Diaz said, by comparison to the status of gay rights in other countries and the expansion of the "Don't Say Gay" bill in Florida.
Casey Orozco-Poore M.D. '23, a queer and nonbinary person, said that being surrounded by other members of the LGBTQ+ community at the celebration "empowers me, fortifies me, and makes me really excited for my life." Orozco-Poore will be a child neurology resident at UCLA, a step closer to their goal of reforming the healthcare system. 
Orozco-Poore said that the speech of keynote speaker Schuyler Bailar '19, the first trans athlete to compete on an NCAA Division 1 men's team, got them "amped up to be a trans person in a hospital space." There's "power in surviving," Orozco-Poore said.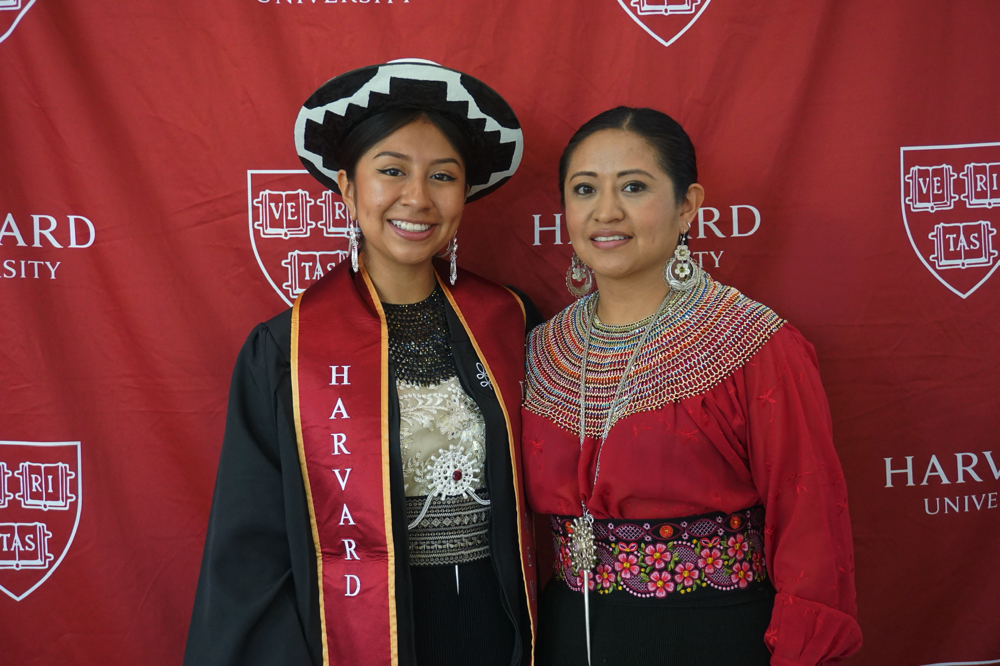 Photograph by Ryan Doan-Nguyen
Chalán-Vacacela said that once, having her roots "meant to be denied many things—to be denied the chance to be welcomed in certain places, even a taxi ride."
To Chalán-Vacacela, the opportunity to wear her cultural clothes at the Indigenous affinity celebration "is that reclamation of: Our culture is meaningful. It's important, it belongs in society, and it belongs here at Harvard."
"A Leader by Themself is Just a Person on a Lonely Walk"
"Change is constant," Harvard's first Chief Diversity and Inclusion Officer Sherri Ann Charleston told Indigenous graduates Monday at their affinity celebration in the SEAS building. Charleston, who delivered closing remarks at all the affinity celebrations (except the one honoring graduates with disabilities), quoted Joy Harjo—the 23rd Poet Laureate of the United States and the first Native American to hold that title. "Keep your eyes on the horizon of kindness, no matter the transformational waves of change," she said.
"Remember as you're going out to lead the world that a leader by themself is just a person on a lonely walk," Charleston added. "While you're out there, remember your community, and care for those who are around you."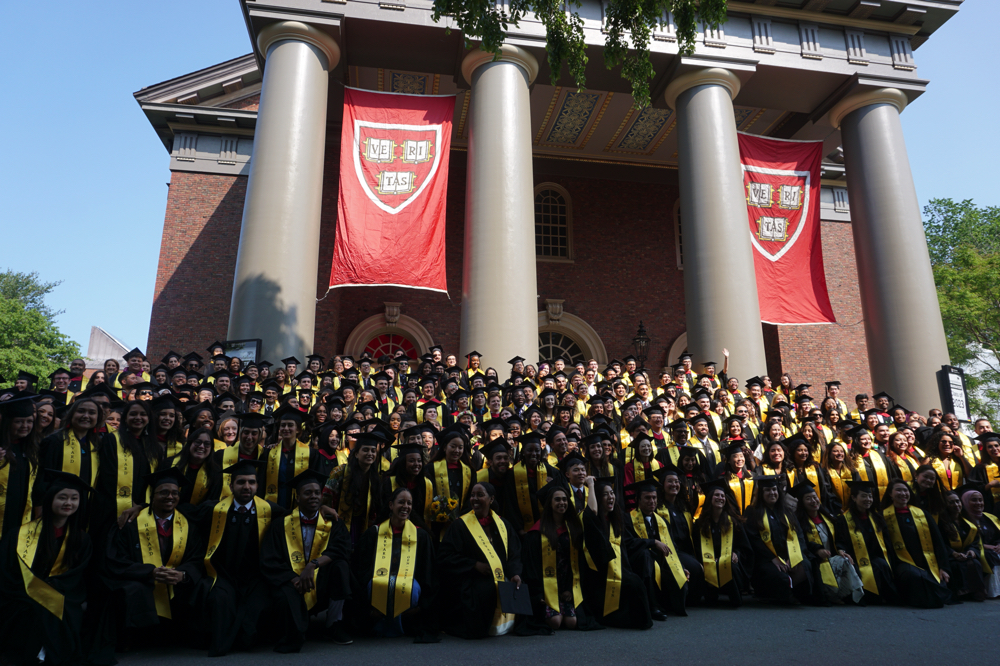 Photograph by Ryan Doan-Nguyen
Rohini Iyer, M.P.P '23, and Alexandre Prandecki, A.L.M '23, who both attended the first-generation celebration, credit Harvard with helping them find community and for providing overwhelming support. Iyer said the affinity ceremony "means a lot personally" because she doesn't see many "people around me with the same background." She feels "at home" finding them within HKS and the wider Harvard community.
"I didn't know there were so many Black, educated people at Harvard," said Adomfeh's mother, Abena Adomfeh, of the crowd at the Black affinity celebration. "It's very inspiring and encouraging."
When each of these students arrived in Cambridge, they brought with them unique heritage, culture, and traditions. Now, they will embark toward their dreams as members of the Class of 2023 and embrace a new community and identity—as Harvard graduates.
You might also like
How to encourage free speech and inquiry on campus
A new play at the A.R.T. provides a modern take on ancient mythologies   
For Crimson football, another opener (its 149th!), another show
Most popular
The University's Muslim chaplain
A "star-chitect" as P.T. Barnum
Hockey champion A.J. Mleczko in the broadcast booth
More to explore
A test can identify these productivity-boosting personnel.
Ancient history professor studies coins, ceramics, and Zelda.
Anwar Floyd-Pruitt's wildly profuse art