Commencement
"I Hope You Took a Picture"
5.17.23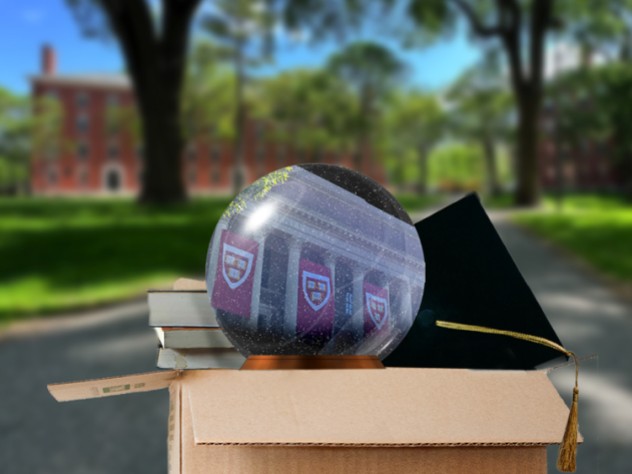 Montage illustration by Niko Yaitanes/Harvard Magazine; photographs of box, books, and cap by Unsplash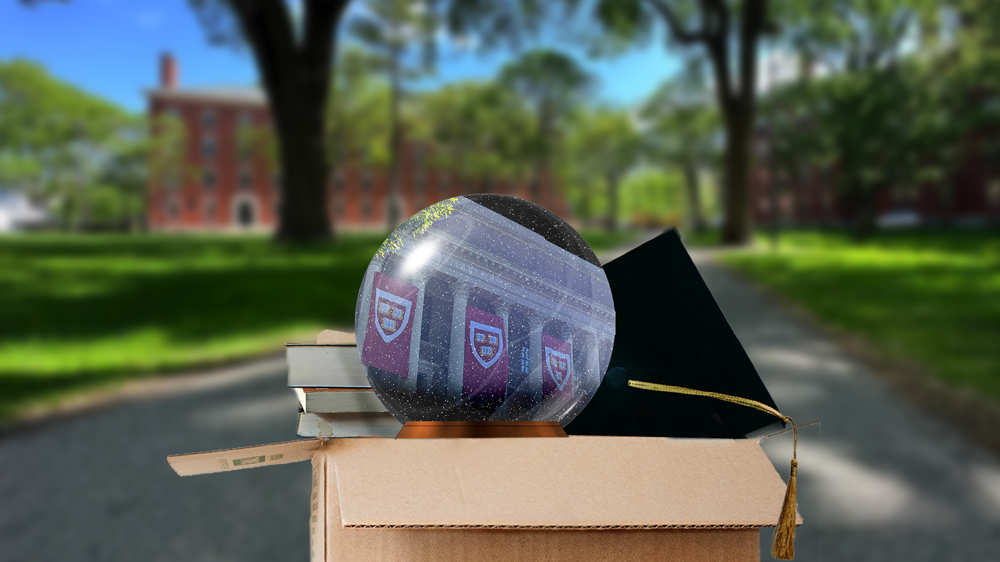 Montage illustration by Niko Yaitanes/Harvard Magazine; photographs of box, books, and cap by Unsplash
This spring, Kingsley Porter University Professor Drew Faust taught an undergraduate class titled "American Speeches." According to the course description, it explored orations "across the sweep of American history"—from Jonathan Edwards to Frederick Douglass to contemporary commencement and political addresses—"examining them both as windows into their own era and as texts created to inform and persuade." 
Maureen Clare '23, a history and literature concentrator, was among the students, and she was drawn to the course by an interest in screenwriting. "As an aspiring TV writer and a huge American history nerd, I knew that Aaron Sorkin and Abraham Lincoln had something in common—something that made their written words heard, felt, and remembered—and that unnamable quality is what we sought to capture in this class," she says. "Professor Faust opened my eyes to new ways of reading, writing, and thinking about history."
The semester's final assignment was to write (and deliver) an original five-minute talk. Clare's, reprinted below, was styled as a commencement address, reflecting on the bittersweet memories she'll carry from college.
—The Editors
I don't like commencement celebrations. I know they say commencement is just the beginning, but often commencement just feels like a nice-sounding word meant to somehow spin or sugar-coat the fact that in a matter of days we'll download our boarding passes, pack up our rooms, make horrifying refrigerator discoveries, and leave this place for good. We break out our vintage Etsy cameras as if a musty Polaroid can somehow fix this ejection. They say to hold onto these memories, to nail them into the most hallowed hallways of our minds because these are the best years of our lives—and now they're over. I hope you took a picture.
It's a cruel transition, it's just a little bit cold—give us four years of this endless summer camp, show us things that challenge and surprise us, introduce us to people that we want to hold onto forever just to cut the cord on some random Thursday: "Congrats, your four-year friendship subscription is up, I hope you took a picture! Now get out of here by 5pm, good luck finding your place in the world, and no, we will not be providing summer storage while that happens." 
Perhaps I am being a bit of a downer. After all, this has truly been a wonderful thing. But can you blame me for being just a little bit confused? The reason I'm afraid that I peaked in college is because college is painted as the peak of everything by college itself! They've coated this place in this shimmer of nostalgia since the moment we first gathered in Sanders Theater and were promised a transformative experience. College is a moment, it's a summit, it's something that you will never replicate and so it must be eternally cherished and never outdone. College is this ship of dreams that is scheduled to sink, it's the final flight of a staircase at the end of which there's nowhere to go but down, it's the first sip of a milkshake where every taste that follows brings only diminishing returns, it is that golden hour of your existence in which you will never be lovelier or happier or more alive than you are right now.
It's a f---ing lie. All this sentimentality, these rose-colored lenses, this chronic nostalgia and fleeting beauty that we're taught to associate with the college experience, it's a conspiracy! 
It's an instrument of deception, a covert device used to make more appealing an otherwise challenging, messy, and extremely confusing experience. Call me a cynic, but what would happen if they told us the truth? That it was going to be an underslept, over-caffeinated, disorientingly thrilling emotional rollercoaster? That we would learn things and experience profound joy but they'd come at a cost of deep and grueling personal growth? Who would sign up for that? Oh, and you have to do homework and get a degree while you're here, too. 
It's easy to romanticize things sitting in a tree-filled, echoing theater on a beautiful summer day—but let's be clear, it wasn't all this photogenic. Because, let's face it: things got ugly. If college was indeed the final flight of a staircase, it was only because the elevator in Sever was broken again. If college was the peak of my youth and vitality, then I've got the life expectancy of an Annenberg cockroach (which…isn't that bad, now that I think about it). And if college was that wonderfully-anticipated first sip of a milkshake, then it was a HUDS milkshake. 
There are better milkshakes out there.
And this is my real problem, I think, with the commencement celebration. This mindset's real crime is that it draws our focus to the pretty parts of college, the parts that we think to take a picture of, and it forgets the painful and the hard and the ugly. All of this reminiscing, all of these highlight reels and moments of reflection are a lovely representation of our four years here...but are they accurate? Because I must have seen a thousand sunsets over Weeks Footbridge but all I see right now is the roommate who held my hand in a McKinlock hallway the morning I learned a family member had cancer, or the way that walking with a boy one April night I regained a sense of safety that I thought I'd lost forever, or the day that the Lampoon cut me my freshman fall and I decided I'd simply have to find another way to do what I loved. These moments were not borne of anything beautiful—they demanded the lowest of my lows—and you won't find them in any picture. But they're the best things I'm taking with me. 
The moments of beauty this kind of day honors—with its Latin orations and celebrity speakers and built-in hours upon hours of warm nostalgia—these moments will come to me in Facebook memories and scrapbooks to which I'll devote prime bookshelf location in some Brooklyn apartment five years from now. But the moments of ugly—those messy, gritty, unphotographed things—are mapped out on my heart, and they help me every day. I'm not going to reminisce about those things, which is just as well, because they ask no attention. I'm just going to live with the gifts that they gave me. I'll let the good things go and the best things last. 
So on this day that I find myself looking through my camera roll and getting caught up in the wistfulness, I'll tell you what I'm trying to tell myself: those things you're leaving behind are beautiful, but they don't really matter. So let's be grateful for the beautiful, but let's worship the ugly. I hope you took a million pictures. But some things are not captured in pictures—and they're still yours to keep.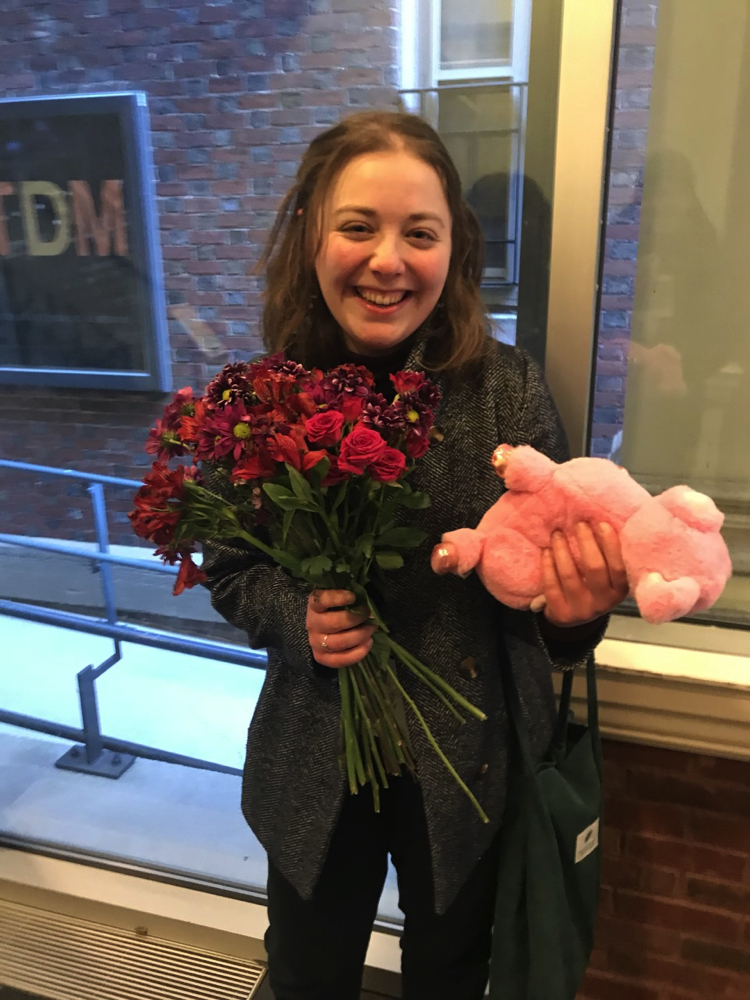 Photograph courtesy of Maureen Clare