Oldest and First
Bertram A. "Bert" Huberman '44 and Ruth Samuels Villalovos '49 led the alumni parade.
Donning his Class of '44 cap that he got at his 25th reunion fifty years ago—a signature wear, loved ones say—Bertram A. "Bert" Huberman '44, M.B.A. '48, led an all-alumni parade past the John Harvard Statue and into Tercentenary Theatre for today's second-ever stand-alone Alumni Day. Huberman held the distinction of being the most senior attendee at this weekend's festivities, which commemorate the global Harvard community and recognize alumni involved in this year's reunions.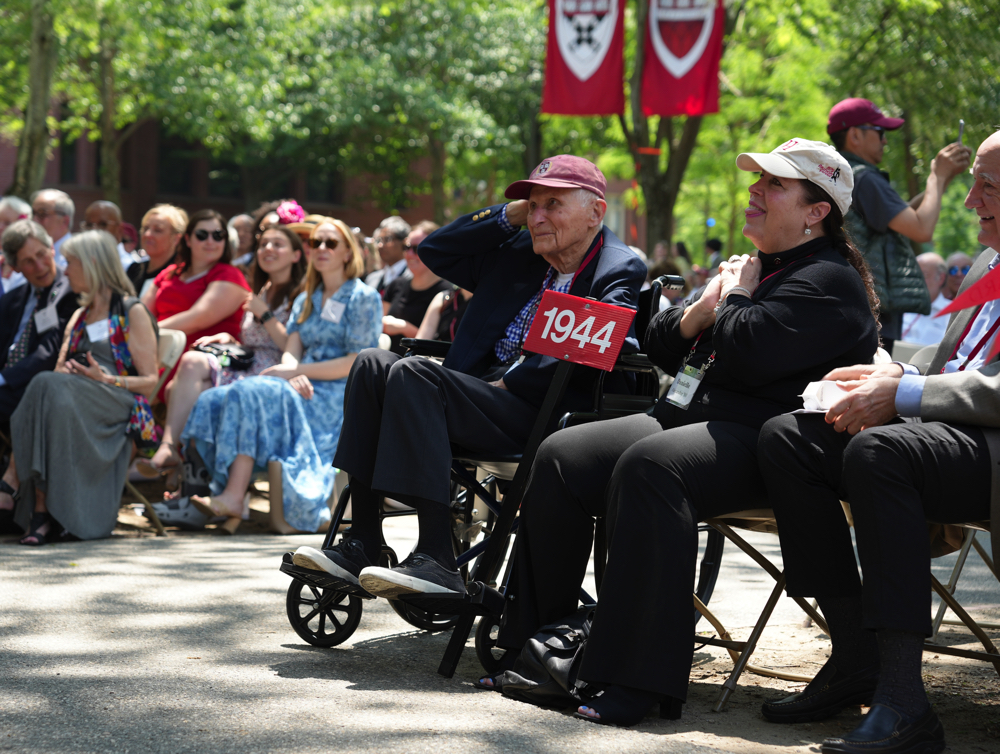 Photograph by Ryan Doan-Nguyen
Huberman has chaired every class reunion from the 25th forward and every reunion for his Business School class, according to his daughter Danielle Alexandra '80 and a family friend, Nicole A. Dawson Talma '99. "He deserved to be recognized, especially because he's been so active with Harvard all these years," Talma said. "His loyalty to Harvard and the fact that he has remained inspired by Harvard all of these years was unique."
Alexandra, who accompanied him throughout today's events, said in an interview that her father has watched the parade on Alumni Day since she was about six years old.
"For over 60 years, I've stood with my father on the steps of [University Hall]—the administration building near John Harvard—watching that parade go by at Commencement," Alexandra said. "In a million years, I never thought my dad would be leading it at 100."
Huberman, who celebrates the centenary year of his birth on June 11, flew in from Florida's Lido Key island. He and Ruth S. A. Villalovos '49, the oldest Radcliffe alumna present, were recognized by Harvard Alumni Association president Allyson Mendenhall '90, M.L.A. '99—who led the crowd of hundreds of affiliates through a song of "Happy Birthday" to him.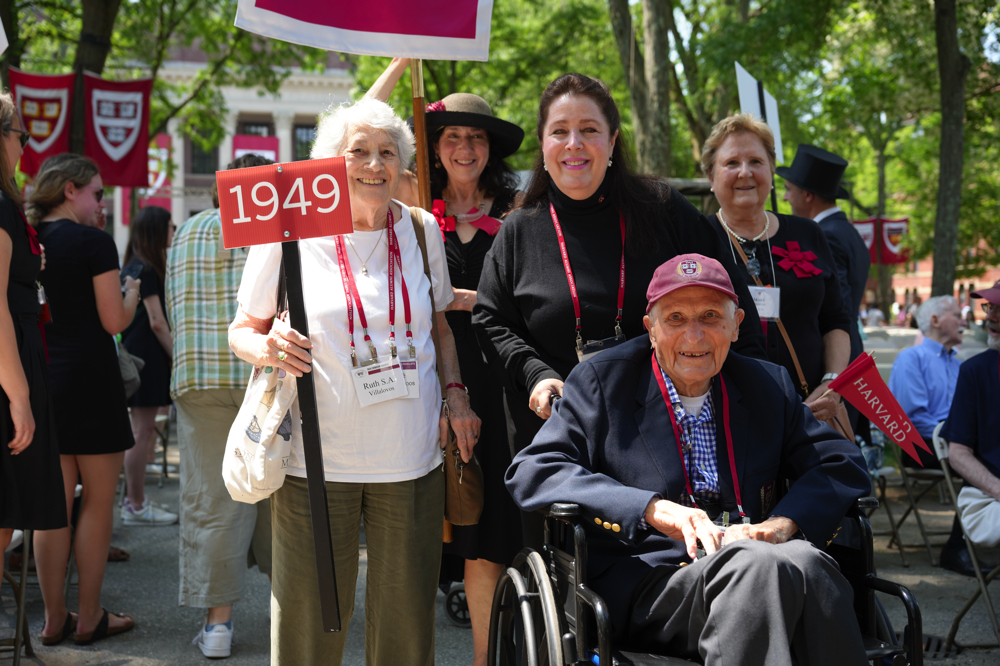 Photograph by Ryan Doan-Nguyen 
"It's just a remarkable feeling to realize that I was part of this establishment," Huberman said. "It's really overwhelming. It's a privilege and an honor to be here."
Halfway through his Harvard education, Huberman enlisted in the military to fight in World War II. As the United States Army Air Force's lead navigator, he received the Distinguished Flying Cross and multiple air medals.
"He's a vivacious person—there's no other way to describe him but as somebody full of life," Talma said, pointing to the way Huberman carries himself and the effort he puts into remaining "on his game" despite difficulties with his walking and sight.
Talma, who described Huberman as "brilliant," said she believes "it's his curiosity that's kept him young—kept his brain so sharp and active."
Oldest Radcliffe Alumna in Attendance: Ruth S. A. Villalovos '49
Ruth S. A. Villalovous '49, who turned 95 in January, was honored as the oldest Radcliffe alumna present at Alumni Day and led the all-alumni parade with Bertram A. "Bert" Huberman '44. "There's a lot of walking that you don't realize there will be," she said of marching down Tercentenary Theatre. "I just need to relax, drink a bit of water."
Photograph by Ryan Doan-Nguyen
Villalovos noted that her class was the first post-World War II class and said she was "lucky enough to be after the war and have more diverse opportunities."
"They didn't force us so much then to specialize, and as a result I feel I had a really great liberal education," Villalovos continued. She started her educational career in philosophy before switching to a program called Social Relations that combined sociology, anthropology, and social psychology. In addition to her requirements, however, she "was always taking creative writing courses and literature," writing poetry, and publishing pieces in the Harvard Independent. She finally emerged with her degree in English.
After her graduation from Radcliffe, Villalovos worked at a graphic art gallery on Massachusetts Avenue for several years and raised four children in Cambridge, one of whom—Julie—became a published poet. Asked about whether Julie took after her, Villalovos replied, "No, she followed her own star."
Regarding this weekend's alumni activities, Villalovous said she "was very impressed," particularly with yesterday's memorial service in which the names of those who died after their last reunion were read aloud. "It was moving," she said.
You might also like
The first in a series of public conversations about Harvard and the legacy of slavery
How to encourage free speech and inquiry on campus
A new play at the A.R.T. provides a modern take on ancient mythologies   
Most popular
Brief life of a formidable anthropologist: 1903-1991
First-years Ngozi Musa and Gabby Thomas help set the pace for track and field.
A negative investment return and annual spending reduce the endowment's value 5.1 percent.
More to explore
A test can identify these productivity-boosting personnel.
Ancient history professor studies coins, ceramics, and Zelda.
Anwar Floyd-Pruitt's wildly profuse art