Harvard College
Lowell House Renovations: An Inside Look
9.12.19
"They used to sleep on Lowell; now they['re] jealous of our renovations," croons Eric Tarlin '21 on Lowell House's 2019 Housing Day music video. Based on "Congratulations," a swaggering, autotune-heavy hit by rapper Post Malone, "Renovations" (attributed to Post MaLowell) boasts about Lowell House's long-awaited but, at the time, not-yet-completed upgrades. So, how did the two-year project [4] turn out? 
"It's amazing," said Peter "PJ" Jankowski '21, who directed, shot, and edited the video. "It's so good…I almost feel bad." Asked for some of his favorite elements of the change, Jankowski went on for 10 uninterrupted minutes while basking on the now-pristine grass of Lowell's main courtyard.  
The Lowell renovations bring a mixture of old and new, painstakingly refurbished and constructed. New common spaces have been added and old ones refreshed, dorms have been redesigned, and some of the most iconic features—the Lowell House bells, the courtyard, and the dining hall—are much the same. 
On a tour of the House, Merle Bicknell, assistant dean of physical resources for the Faculty of Arts and Sciences, emphasized the importance of maintaining Lowell's historic elements while pushing it into the twenty-first century. She pointed out a long sloping ramp, camouflaged by a brick façade, that adds much-needed accessibility to the House entrance without changing the look of the courtyard. 
David H. Armitage, senior project manager for the House Renewal program, added that even though outdoor appearances may be strikingly familiar, "Everything you're looking at has been touched in some way." The 1,100 windows were replaced with double-paned versions, all 56 chimneys were altered—taken down completely and rebuilt, or just re-sided—and all the wood was refinished to match its original color.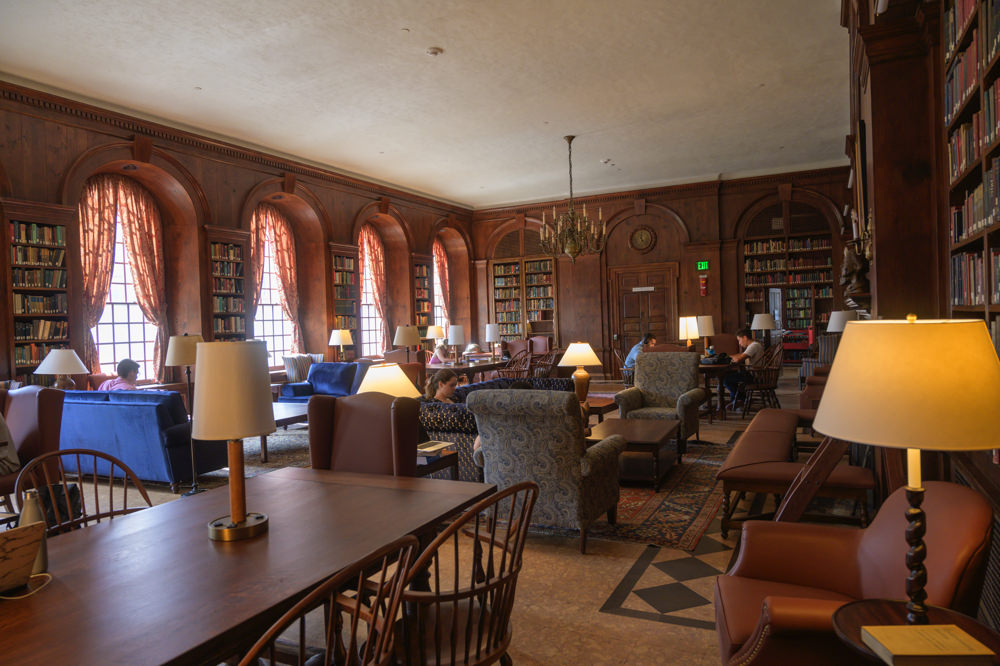 Photograph by Jim Harrison
Most other traditional features were also preserved. The dandelion-yellow walls of the dining hall remain (though not all the portraits—notably including that of Abbott Lawrence Lowell, Harvard's president from 1909 to 1933 [5]), and the Lowell House Library is a more polished version of its former self, with added electrical outlets and air conditioning. The century-old chandeliers in both locations have been spruced up and outfitted with more energy-efficient bulbs. An upgraded dining-hall sound system, for events like the Lowell House Opera and Lowell Speeches [6], has been smoothly incorporated. 
Jankowski noted that the improvements made to the House's social spaces provide valuable party spaces outside the confines of the final clubs. A large open area spreads out next to the student kitchen, which can be re-arranged and closed off for large parties.   
Armitage added that because modern appliances are small and efficient, former utility rooms clogged with outdated machines are now open for student use. Six of the House's seven former squash courts have been re-outfitted, too: as a tiered screening room, with plush seating, and a large dance studio. The walls of the one remaining court, immaculate a couple of weeks ago, are already dotted with smudges.  
Other new amenities include seven music practice rooms of varied sizes and the "Makerspace," a workshop designed so engineering students can work within the comfort of their House. It features high-speed computers, a 3-D printer, and drones, along with the more traditional hot-glue guns and wrench sets. 
Perhaps the most impressive instance of refurbishment took place in the Hayek Junior Common Room, where a distressed French mural was on its last legs. A crew attempted to preserve the original Vues de l'Amerique du Nord ("Views of North America") with some re-painting, but it was of no use. Fortunately, Jean Zuber et Cie., the French firm that produced the original mural, still exists. Though they manufacture the elaborate wood-printed wallpaper only once a decade, Harvard managed to snatch one. (The colorful, intricate wallpaper has also been a staple in The White House, originally installed by Jacqueline Kennedy.) 
For students, improvements to rooms and suites are of particular importance. Eighty-five percent of the student rooms are now singles, giving most Lowellians—even sophomores—their own space. Jankowski takes particular joy in his brand-new duplex suite, complete with seven singles. "I can't count on my fingers the number of times  a suitemate has brought friends to see the room, and they're literally, like, 'Oh my god, expletive, this is crazy!'"
As for Lowell's 2020 Housing Day video, he is expecting big things. Hyping renovations is one thing, he said. Now, they'll have something to show.