Staying Active without Climbing Mount Everest
Darting around his living room, Brad Washburn '33, L.H.D. '75, shows a visitor excerpts from his latest manuscript and copies of his alpine...
Darting around his living room, Brad Washburn '33, L.H.D. '75, shows a visitor excerpts from his latest manuscript and copies of his alpine photographs, exhibited at the Museum of Fine Arts earlier this year. Then there's his other small project--measuring Mount McKinley. In the midst of his comments about "staying connected," the phone rings. Barbara Washburn answers it and turns to him: "Brad, when are you going in to work?"
"That's my secretary, wondering where the hell I am," says the wiry Washburn. "Tell her I'll be in around 10." Then it's back to the plaques, pictures, and proclamations, including one from the mayor of Anchorage declaring February 22, 2000, "Brad and Barbara Washburn Day."
One would never guess the celebrated adventurer turned 90 in June. As he recalls the view from atop Mount McKinley years ago--"the world spread out for hundreds of thousands of silent miles"--and how he cried at the beauty of it, it's easy to envision him still marching among those clouds, mapping the world's highest peaks. There's little sign of his triple bypass in 1991, and the surgery in February on a carotid artery.
"I'm active as hell," reports Washburn, during an interview at his home at Brookhaven, a retirement community in Lexington, Massachusetts. "We've never been so busy. We're buried in it."
Indeed. Barbara Washburn (whom her husband partially credits for his amazing vitality) is "only 85" and no slouch herself. Three times a week she lifts weights and walks Brookhaven's nature trail "faster than anyone here." Then there's tennis, which she has played with the same friends for 25 years. Tumbling on the court is nothing new, she says. Though she recently cracked a rib falling on her racket and, for a while, couldn't see out of her left eye, so what? "Don't count me out," she says. "The doctor told me, 'Keep playing, it's good for your morale. Your friends won't mind if you miss the ball.'" She giggles. "And they don't."
The Washburns' extreme activity may be a little intimidating, even to a much younger crowd. But they represent a trend among many older people and offer the rest of us a glimpse of what could lie ahead.
Nationwide, the number of Americans who, as Washburn puts it, "like to live on the edge of the twilight of life" is simply exploding. More than 70 percent of the population now lives to the age of 65--triple the number at the turn of the century, according to Successful Aging. Authors Robert L. Kahn, Ph.D., and John W. Rowe, M.D. (former professor and founding director of the Division of Aging at Harvard Medical School; see page 54), argue that public perception lags far behind the reality of aging today. In fact, the average 65-year-old can expect to live another 17 years--almost an entire generation. "Today's and certainly tomorrow's older individuals generally have more education, greater access to healthcare...and greater financial worth than past generations of seniors had," Rowe and Kahn write. "These improvements have resulted in a rapid increase in older people's ability to function."
Across New England, experts say, those a decade or two--or three--into their retirement are taking classes; learning new things, like t'ai chi or yoga; walking miles every week; pumping up their muscles through weightlifting; and staying more connected to society and friends, sometimes thanks to new technology. People less active than the Washburns need not feel inadequate, says Dr. Lewis Lipsitz, physician-in-chief at the Hebrew Rehabilitation Center for Aged in Boston. "People think that if they can't climb Mount Everest, they're no good," notes Lipsitz, a professor of medicine at Harvard Medical School. "You can achieve some sort of quality of life and maximize your potential at all levels, no matter what your disability is."
Take Micheline M. Bator '49.
The 71-year-old yoga enthusiast had to stop taking classes because of arthritis, but a hip-replacement operation led her to the new joys of "deep-water jogging." Now she exercises five times a week at a health club near her retirement condo at Fox Hill Village in Westwood, Massachusetts. "You just keep going" despite the aches and pains, Bator says. "I do it because I love the endorphins. I just feel better." The retired social worker also loves NIA (neuromuscular integrated activity), a new type of workout that combines dance, yoga, and karate. The ancient martial art of t'ai chi (which Lipsitz says improves balance and mental focus) "was interesting, but too slow for me," Bator reports. "But I tried it."
How much exercise is necessary is still debated, Lipsitz says, and any new program should be checked with a personal physician. But most older people should try to walk at least a half hour to an hour a day. In lieu of that, they can try swimming or pedaling a stationary bike. Once a regular schedule of aerobic activity is in place, Lipsitz encourages older people to build muscle, especially in the region between the hip and knee, to help ease climbing stairs and getting out of a chair.
Many people simply stop being active at some point and their muscle mass melts away, Lipsitz says. He coauthored an important 1994 study published in the New England Journal of Medicine that showed that weight training over a 10-week period "is a feasible and effective means of counteracting muscle weakness and frailty in very elderly people." In other words, he says, "Use it or lose it."
That idea applies to the brain as well. Reading, listening to music, learning new things, staying connected socially, and--when possible--getting out to work, volunteer, or participate in any regular group activity are key ingredients for physical and mental health.
"What we have found is that people who have really become socially disengaged are much more likely to decline cognitively than people who remain active," says Lisa Berkman, Ph.D., Norman professor of health, social behavior, and epidemiology at the Harvard School of Public Health. She and two colleagues carried out a long-term study in New Haven, Connecticut, of 2,800 people aged 65 or older who were involved to varying degrees in social networks, and published their findings last August in the Annals of Internal Medicine. A different study, conducted in Sweden and published in April in the British medical journal The Lancet, further concluded that the quality of social relationships--the satisfaction gained--is far more important to seniors than mere quantity in guarding against dementia, Berkman says.
At the same time, Berkman points out, "Our society determines a lot of what we can do." Poverty and isolation, particularly in the context of inadequate housing, transportation, and healthcare, can be societal problems that shape individual behavior. She therefore cautions against "blaming the victim" by requiring elderly people to take the initiative for their own integration into the larger society. The rest of us need to learn how to value the connection.
"The relationships with friends and family members, in volunteer groups and social activities, have a kind of mutuality attached to them. It's the engagement that is really important. It's the sense of belonging and meaning that these groups provide," Berkman says. "So it's not just the support older people are receiving, which is how society usually looks at it. It's that when older people are babysitting, meeting friends, or working they are giving"--and that, scientists are finding, is what helps ward off physical and mental decline.
For example, Dr. William Berenberg '36 still battles rush-hour traffic twice a week on Route 128 to make the rounds at Children's Hospital in Boston, where he used to work full-time. Friends there call him "Dr. B." The 84-year-old, who lives at the Orchard Cove retirement complex in Canton, Massachusetts, was so busy he barely had time for a phone interview, explaining, "There have been some lecturers in town--former students and interns. It's wonderful, after teaching for so many years, to be learning from them. And to keep up with what's going on in my field." Berenberg also teleconferences with colleagues to evaluate research and grant proposals, and uses e-mail to stay in touch with organizations that help handicapped children, his specialty.
Berenberg, Batou, and the Washburns are all voracious readers. Barbara Washburn is involved with travel clubs and volunteers to record books for the blind. Batou finds time to keep up her French with a French club, and plans to join a German club if one is started. She joined the movie committee at Fox Hill Village to satisfy her need for foreign and art films, even though such works often don't go over very well, she laughs. "When I want to show a film like Fargo, I get an awful lot of criticism," she says. "Then I have to be sure to show Roman Holiday or some such thing the next time. "
One way to stay informed and aid in medical research is to join the Harvard Cooperative Program on Aging, a registry of 1,500 people (mostly over age 60) that is coordinated by the Harvard Medical School's Division on Aging and the Research and Training Institute at the Hebrew Rehabilitation Center for Aged. Since 1991, the registry has found volunteers from a wide variety of backgrounds to participate in research studies, says Roberta Rosenberg, its director of outreach and recruitment. Study topics have ranged from blood-pressure regulation and the prevention of falls to incontinence and memory loss. Lewis Lipsitz used registry members, for example, in his 1994 study on muscle strength.
Participants complete a confidential health profile and are notified by mail when there is a study for which they are eligible, Rosenberg says. Generally they must be able to travel to study locations in the Greater Boston area, but no other geographical limits apply. Studies are open to people of all ages, with or without health problems. In exchange for participating, registry members can earn stipends, learn more about their own health, and receive a newsletter three times a year on "healthy aging." January's mailing highlighted a conference by the Multicultural Coalition on Aging, updated readers on elder-care legislation and resources for investigating elder abuse, home care, and housing options, and offered advice on health. (For more information on the registry, contact Marcie Freeman at 617-363-8654; by e-mail at [email protected]; or write to the center at 1200 Centre Street, Boston 02131.) "The bottom line is that anything people do to help themselves feel socially connected, physically active, and mentally stimulated, even if they're doing crossword puzzles or rereading classic novels that they read as a child, will help them age well," Rosenberg says. "We're not just talking about superstars."
Brad Washburn would be the first to agree. As the interview winds down, before he hurries out the door to work (as the honorary director at the Science Museum), Washburn pauses for a second to consider his own theory on aging.
"Keep busy doing exciting new things with bright, young people," he says, staring right into his visitor's eyes. "Get involved in something."
Nell Porter Brown is the assistant editor of this magazine.
You might also like
Harvard researchers seek to empower individuals to steer their own careers.
How the Bezos Earth Fund hopes to seed economic transformation
A Harvard series explores South Korean cinema in the years following the Korean War. 
Most popular
Brant Berkstresser aims to ensure sound bodies for Harvard's student athletes.
Steven Choi, J.D. '04, works—and fights—at the vitriolic epicenter of immigration politics.
John Alexander follows the ups and downs of funk musician Rudy Love.
More to explore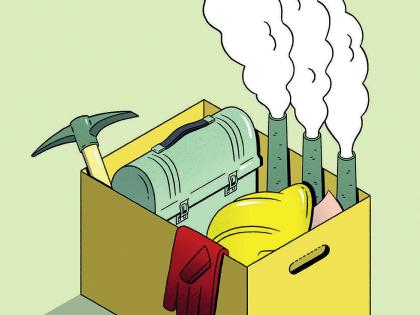 Expect massive job losses in industries associated with fossil fuels. The time to get ready is now.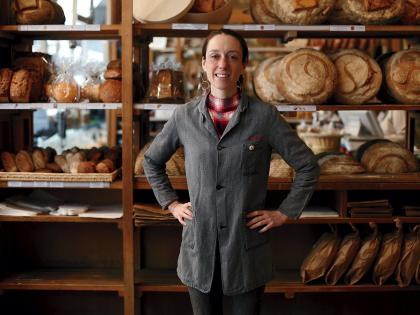 A third-generation French baker on legacy loaves and the "magic" of baking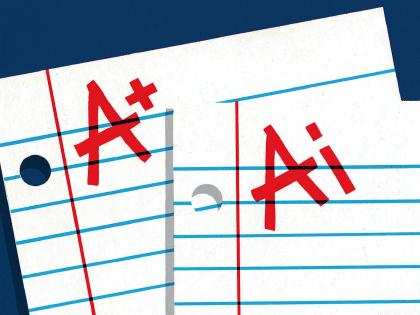 Generative AI can enhance teaching and learning but augurs a shift to oral forms of student assessment.