Up in the Air and Killing
Volleyballer Katherine Hart goes on the "quick attack."
Here on the volleyball court we find deceit. Right now the ball is headed for Harvard setter Mindy Jellin '03 as senior Katherine Hart races to the net, calling out, "One! One! One! One!" Hart is lustily yelling out the number for a "quick attack" because she wants Jellin to set the ball for her: now up in the air, right arm high above the net, Hart is poised for the kill. Though Jellin nods in seeming acquiescence, instead she lofts the ball above Hart to the far sideline, where long-legged and long-armed outside hitter Erin
Denniston '02 leaps and pounces, blasting it across the net onto the hardwood floor. Point to Harvard.
Two of the opponents' blockers, fixated on stopping Hart, had raised their arms and leapt, clearing an avenue for Denniston's kill shot. With feint and intimidation, Hart has helped her team win yet another point--this time, without even touching the ball. "The thing I love most about volleyball is the teamwork," she says. "Without my teammates passing and setting, it doesn't matter how well I can hit the ball--it's impossible to play one-on-one volleyball. Communication is very important; six individuals on their own little islands will not make an effective team."
This fall the Crimson, led by cocaptains Hart and Sarah Mattson '01, may have all the ingredients needed to win their first Ivy League volleyball championship. Princeton has been a dominant force in the sport, capturing five of the last eight Ivy titles, the other three going to Brown. Last year, Harvard (20-13, 5-2 Ivy) was the only team to beat the Tigers, sweeping them 3-0 at Princeton. (College volleyball matches use a best-three-of-five-game format, with each game played to 15 points.)
But regular-season results are irrelevant to the Ivy League championship, which is decided solely by the league tournament. Last November, all five of Harvard's tournament matches went the full five games. Despite winning three of them in the double-elimination format, a weary Crimson side narrowly lost to the eventual champions from Princeton. This fall, with a strong core of veterans and a tall, talented group of freshmen, Harvard hopes to win it all when they host the championships on November 10 and 11. It will be the last Ivy women's volleyball tourney; starting next year, the league will crown its champion through regular-season results.
The versatile Hart, a rare player who excels in nearly every aspect of the game, boosts Harvard's chances. Although the uninitiated may think that volleyball means hitting the ball back and forth across the net until someone knocks it into the net or out, the net is in fact a minor issue. Attacking players are tall--Hart and Denniston are six-footers, and freshman Mariah Pospisil is 6 feet, 1 inch--and can jump; both hitters and blockers work their magic well above the net's height of 2.24 meters, just over 7 feet. Volleyball is about the floor. On defense, that means keeping the ball off the floor: good defenders are quick to the ball, passing it with their forearms to the setter who will "set" the ball for a hitter, thus getting their side back on the attack. Defenders must leap, lunge, and dive for digs, defensive rescues that keep the point alive by saving the ball from the floor's finality.
Attacking, of course, means hitting the ball to the opponents' floor. The setter runs the offense; she is the quarterback who can call planned plays with hand signals and directs the attack by setting the ball to outside hitters like Denniston or middle hitters like Hart, who take the kill shots. The direct counter to the kill shot is the block. As a hitter goes aloft to strike, one or two blockers across the net also jump up, arms raised to obstruct. Sometimes the blocker deflects a hit directly back, a bang-bang play that instantly turns the killer into the killed. "It's an incredibly satisfying feeling when you do block a ball," says Hart. "But it doesn't happen very often." More often, the blockers' presence cuts off certain angles of attack, allowing defenders in back to scramble for positions where they can dig the ball. Thus volleyball becomes a game of geometry, angles, and, of course, deception: a hitter may fake a kill, missing the ball just before her teammate hits the actual kill shot in a different direction. Or, instead of belting the ball, a hitter can cross up the blocker by tipping it over the block in a low arc that drops to the floor behind.
In this rapidly shifting scene of attack, defense, and position, Hart does everything but set the ball. "Katherine is one of our most consistent defensive players, as well as an offensive threat," says head coach Jennifer Weiss. "She also serves very well." Last year, Hart's array of talents won her first team all-Ivy status. She was third for Harvard in kills per game with an average of 2.78, behind outside hitters Denniston (3.74) and Angela Lutich '01 (2.95). Denniston's height, strength, and long arms allow her to hit over blockers with great force. Lutich sees open spots on the court well and can generate terrific power from her 5-foot, 9-inch frame. "Believe me," Hart avers, "I've been in the way of some of her shots, and it's no fun."
As a middle hitter (or middle blocker), Hart's killing style differs from outside hitters, who operate near the sidelines and usually hit a ball falling from a high arc. A set to the middle hitter, on the other hand, runs parallel to the net on a lower path of flight, offering a "lateral" choice of when to hit, instead of a "vertical" one. "I hit a 'quick set,' so timing is very important," Hart says. "I want to hit the ball before the blockers have time to react--I'm already up in the air before the setter releases the ball. The middle hitter is usually the one faking. Often I don't know if I'm getting the ball. But the blocker doesn't know where the ball is going, and has to honor me." Keeping one, or preferably two, blockers tied up in this way is "holding your blocker," which can open up angles for the outside hitters.
Hart's gifts on the court may be a family inheritance: she and her two sisters are all excellent volleyball players--and all middle blockers. Elissa Hart '98 captained the Crimson and was first team all-Ivy in her junior and senior years; younger sister Laura is a freshman who plays for Georgetown. All three clear the six-foot mark, although "Elissa is very proud of the fact that she is half an inch taller than I am," Hart observes, grinning. The sisters grew up in Sacramento; their mother, Cary Smith Hart '68, is a pediatrician and their father, Gary Hart, M.A.T. '66, "a passionate sports enthusiast," is a former state senator who runs an education institute.
Certain sports have regional hotbeds. Just as Maryland and Long Island grow lacrosse players and Minnesota sharpens skaters, California sprouts legions of skilled volleyballers. Of 16 players on Harvard's women's roster, for example, 10 hail from California. The popularity of beach volleyball in Southern California is surely a factor, although Hart, unlike some of her teammates, doesn't play much on the sand. "I'm frustrated by how much it hinders my mobility," she explains. The sisters attended Rio Americano High School in Sacramento, and were spaced in age so that Katherine got to play one year with Elissa, and later one year with Laura. Her older sister was "a big reason" why Katherine switched from swimming to volleyball at age 14. In time she played with several very competitive club teams in tournaments around the country and she now says, "My club experience was most valuable in becoming the player I am now."
Plenty of recruiting mail arrived. Early on, Hart preferred the Ivy League, but didn't want to "just follow Elissa" to Harvard; on the other hand, she was "also thinking that it might be nice to have Elissa around." Her gut feeling for Harvard panned out. As a freshman, she led the team with 29 service aces, and her 74 blocks were second only to Elissa's 119. "Katherine was an impact player right from the start," says coach Weiss. More importantly, "Playing volleyball really eased my transition as a freshman," Hart says. "I was part of a group where I was unconditionally accepted by 12 or 13 other women. There was advice and friendship."
That big two-Harted squad went 7-0 in the Ivies, only to be upset in the league tournament, finishing fourth and seeing the championship that should have been theirs slip away. "There was a lesson to be learned there," Hart says, "about taking nothing for granted." In her sophomore year she missed much of the season with a stress fracture in her foot, a "wear-and-tear injury," she says. Harvard placed fourth again in the Ivy tournament, but then improved to last year's second-place finish in a very even final match with Princeton.
A history and literature concentrator living in Currier House, Hart is writing a senior thesis on women and popular literature in the early twentieth century. She enjoyed her recent summer job with a nonprofit organization, and wonders about working in the field of women's sports; this year she is student cochair of the Harvard-Radcliffe Foundation for Women's Athletics. Perhaps appropriately, her future is, as she puts it, "up in the air."
This fall, though, she is going aloft only for sets from Mindy Jellin, who was volleyball's Ivy League Rookie of the Year last fall. Jellin is only the second Harvard woman ever to earn that honor. The first one, poised and waiting for her set, is Katherine Hart.
~
Craig Lambert
You might also like
Harvard researchers seek to empower individuals to steer their own careers.
How the Bezos Earth Fund hopes to seed economic transformation
A Harvard series explores South Korean cinema in the years following the Korean War. 
Most popular
Brant Berkstresser aims to ensure sound bodies for Harvard's student athletes.
Steven Choi, J.D. '04, works—and fights—at the vitriolic epicenter of immigration politics.
John Alexander follows the ups and downs of funk musician Rudy Love.
More to explore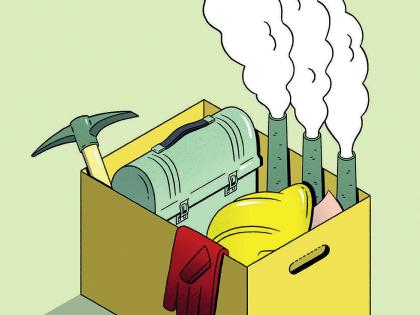 Expect massive job losses in industries associated with fossil fuels. The time to get ready is now.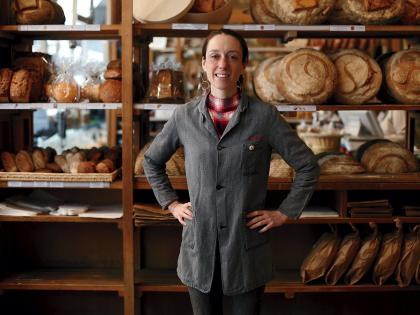 A third-generation French baker on legacy loaves and the "magic" of baking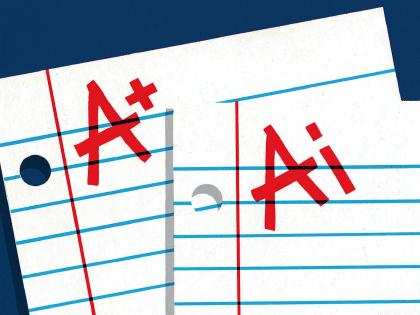 Generative AI can enhance teaching and learning but augurs a shift to oral forms of student assessment.