On April 12, 1877,
in a baseball game between Harvard students and the Live Oaks (a semipro team from Lynn, Massachusetts), James Alexander Tyng, A.B. 1876, stepped onto the field wearing a catcher's mask. According to established history, he was the first man to do so. But controversy over the mystery of who invented and wore the first modern catcher's mask has never quite subsided.
An early image of the first catcher's mask, front and center in a Harvard baseball team photograph from 1877. The mask's inventor, team manager Fred Thayer (middle row, second from left) sits beside the first catcher to wear it, James Tyng (third from left).
Photograph courtesy of Harvard University Archives
Tyng arrived at Harvard in the fall of 1872 and quickly established himself as an outstanding athlete. Harvard baseball manager Frederick W. Thayer, A.B. 1878, flatly called him "the best all-around natural ballplayer of my time." In those pre-NCAA days, Tyng played for Harvard's baseball team for seven years. Just after leaving Harvard, on September 23, 1879, he pitched (and won) for the Boston Red Caps of the National League, becoming the first Harvard alumnus to appear in a major league game.
But he's best known for the catcher's mask. The standard version of the story is that after the 1876 season, Harvard catcher Howard K. Thatcher, of the class of 1877, left the College, leaving that position open. Thayer looked to Tyng as someone with enough athletic ability to quickly master the art of catching. But Tyng had played a few games as catcher, and had been hit with several foul tips. In the words of manager Thayer, he had "become more or less timid." Tyng consented to catch, however, if something could be done to protect his face.
Remembering a game played the previous season, in which the opposing catcher wore a fencing mask with eyeholes cut into it, Thayer had a Cambridge tinsmith make a wire-mesh mask with large holes that would not impede vision, and with chin and forehead rests for cushioning when the ball hit the mask.
Tyng practiced with the mask over the winter, and first used it in that 1877 game. His new gear went unmentioned in local newspaper accounts, but the Harvard Crimson took notice. It called the mask "a complete success," which "adds greatly to the confidence of the catcher, who need not feel that he is every moment in danger of a life-long injury."
Tyng committed only two errors in the game, far fewer than usual, and continued to use the mask despite criticism. One wag wrote that if the catcher's mask was accepted, the public would soon see "a player sculling around the bases with a stove funnel on his legs and a boiler-iron riveted across his stomach." When Harvard played the Boston Red Caps, opposing catcher Deacon White tried the mask but discarded it, claiming it blocked his vision. But the Crimson declared, "[t]o the ingenious inventor of this mask we are largely indebted for the excellent playing of our new catcher."
Thayer claimed the invention, receiving a patent early in 1878, just as the mask took off in popularity. But the issue of inventorship remained unsettled. In the early 1880s he sued rival manufacturers, finally prevailing in 1886. Then questions arose as to whether Tyng or Howard Thatcher, his predecessor as catcher, had actually invented the mask. Thatcher, by then a physician living in Maine, claimed that "[w]hen we played our first game in the spring of 1876, I put on a mask which I had made from heavy wire." He did say that Thayer "helped me to make it." Tyng disagreed. His account follows the accepted version, with an added claim that Tyng originally suggested the mask to Thayer, who then had it made by a "wiremaker in Boston." Tyng then complained that neither the "original suggestor of the idea," nor the wiremaker, "have ever seen the fruits of their ingenuity."
Warren R. Briggs, a local semipro catcher of that era, disputed these claims in the popular press. He claimed he saw a catcher's mask in Thayer's room in 1875 (and thoughtfully suggested some improvements). Briggs added that he had used the mask in 1876.
So who invented the mask: Thayer, Thatcher, Tyng, or the metalsmith who actually made it? Legally, of course, Thayer invented it. But the questions would not go away. They arose in 1895, again in 1909, and even when Tyng died in 1931, after a long career in insurance and as a noted amateur athlete. His obituary states that "some say that Mr. Tyng rigged up a mask for himself of wood and stiff wire."
Perhaps the explanation is that when someone on a team invents something, the leader takes credit. Thayer was the manager and later became an attorney, well prepared to defend his patent. A similar situation arose in recent decades over the term "threepeat." Los Angeles Laker (and until recently New Jersey Nets coach) Byron Scott coined the term in 1988, after the Lakers won consecutive NBA titles. Coach Pat Riley, however, copyrighted the term and added to his wealth when two later teams threepeated. About the only thing that can be said with any certainty is that Thayer didn't create the mask in a vacuum, and that Tyng went to his grave believing he contributed more to the invention of the mask than he received credit for.
~Stephen Eschenbach
Baseball historian Stephen Eschenbach is collaborating with the Ivy League on the Ivy Baseball History Project (www.ivyleaguesports.com/documents/bsbmlb.asp). Tom Schieber, curator of new media at the Baseball Hall of Fame, directed the author to new information about the first catcher's mask.      
You might also like
Toward another apartment complex on Harvard-owned land
Stepping down after 30 years of University service
Harvard researchers seek to empower individuals to steer their own careers.
Most popular
Brief life of a black radical: 1872-1934
Brief life of a textured artist: 1911-1988
In Agyementi, Ghana, Sangu Delle '10 brings clean water to a village.
More to explore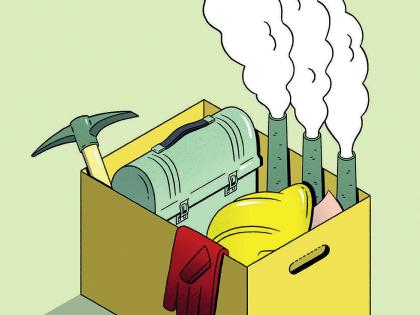 Expect massive job losses in industries associated with fossil fuels. The time to get ready is now.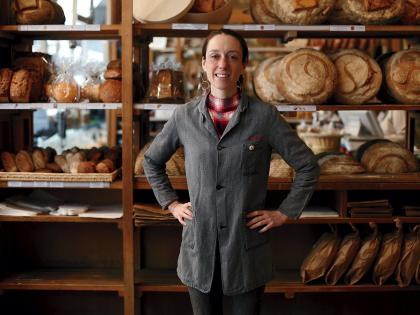 A third-generation French baker on legacy loaves and the "magic" of baking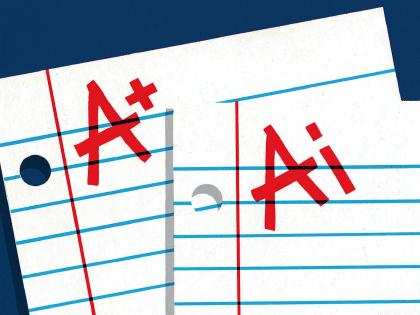 Generative AI can enhance teaching and learning but augurs a shift to oral forms of student assessment.