Kidding Around
Children are seen and heard at the twenty-fifth reunion
Marc Goldberg '79 is treasurer of the Varsity Club, a trustee of the Harvard Yearbook, and a season-ticket holder of the Harvard football team. So last year when his daughters—Meredith, 13, and high-school senior Alyssa—heard they were going to attend their father's twenty-fifth reunion, they were underwhelmed: "Why're we going back to Harvard again?" But Goldberg urged them to come—and join the other 700 or so kids of the class of 1979 who would be entertained, fed, and exercised in what he calls "one of Harvard's hidden jewels," the reunion's "Sons and Daughters Program."
The program runs from Wednesday through Sunday of Commencement week and constitutes a mini-camp for kids (aged 18 months to 19 years) of the twenty-fifth and thirty-fifth reunioners. A team of undergraduate counselors supervises a robust schedule of age-appropriate events that range from arts and crafts and cookie-making, to trips to the Children's Museum in Boston and Canobie Lake Park in New Hampshire, to a field day of sports and an evening at the Boston Pops. Last year, teenagers looked forward to the "Last Night Celebration Dance" and perhaps less eagerly sat through a seminar on "Everything You Wanted to Know about College Admissions and Financial Aid." (Proctored exams can also be arranged for kids whose school schedules would otherwise rule out attendance.) Most popular seemed to be the tour of Fenway Park. "That was a big hit," reports Goldberg, "The universal comment when parents saw this program was, 'Can we do this, instead?' We're busy going to symposiums and the kids are doing all the cool stuff."
Organized by the Harvard Alumni Association, the children's program is among the biggest of its kind, says Jessica Garza, the HAA's program coordinator. Other universities tend to offer limited care or hire outside companies to provide it. At Harvard, the reunion is more family-focused because alumni at the twenty-fifth seem to want it. "Having children come is about introducing your family to college friends, and introducing your kids to the College—which is on a lot of parents' minds," Garza points out, "especially those with children aged 15 to 17."
The sheer demographics of the twenty-fifth reunion—which, during Commencement week, result in a ratio of about 800 classmates to 700 children—have also required the program to expand. During the last 15 years or so, Garza says, there seems to have been a steep increase in the number of older parents with younger children, more evidence of second marriages with second sets of younger children, and more parents who want their children to be part of the reunion festivities. The HAA has run a children's program as far back as anyone can remember, but prior to the 1990s, it also accommodated a group called "Young Marrieds," says Jessica Barry, a former children's program coordinator who now works at Brown University's alumni office. "We went from having a program for the classmates' married adult children and their spouses, if you can imagine them coming to a reunion, to creating a program for 18-month-olds and toddlers."
The adult-focused aspects of the reunion are, of course, fully intact, quickly adds Michele Blanc, who runs the twenty-fifth. Unattached alumni and alumnae, and those without children—or who choose not to bring partners or children—are not neglected. "Although there is a family focus," she says, "we're very mindful of people who don't bring children." The childrens' program arose largely as a service to alumni who were unable to attend without on-site childcare. "People have come to expect it," Garza reports, "and to expect it to be a quality program."
The fees are $300 for kids 18 months to 5 years, and $140 for the rest. Participants are divided into eight groups by age, from the Rainbow Group (18 months through 2 years), to the Young Adults (high-school seniors and older). The youngest kids can be in care from 8:30 a.m. until 5 p.m.; the older children have the option of additional evening activities. (Parents in a Pinch, a licensed, bonded childcare service, supervises the two youngest groups at the Sheraton Commander Hotel.)
Mary Howard '79 didn't hesitate for a minute to sign up Nicole, 4, and Benjamin, 6. "I knew it was fabulous because I had done it myself," she says—as a teenager at the twenty-fifth reunion of her father, Thomas P. Howard '48. "To be that age and be allowed to roam around Harvard Square was great: my first moment of freedom." But unlike her parents, Howard also brought along her children's babysitter. "I really wanted to be able to do anything I wanted, and not have to worry about my children," she says. "You want to relive your younger days." (Sitters can accompany children to many events and eat for free, Garza says, but parents must pay for their accommodations.
Howard and her husband, Stephen Mooney, the children, and the babysitter all stayed in a dormitory suite together. "It was three bedrooms and bunk beds," Howard explains. "I loved it because several friends who weren't staying in dorms would hang out in my room in between events. It was like being on campus again. We walked everywhere and didn't worry about the car. You really miss out if you don't live on campus during reunion week. There's something special about being there—it's another piece of feeling free and being central to the events."
Goldberg heartily agrees. "You have the opportunity to go back and be part of the community again," he says. "I got to sit down late in the evenings and talk with classmates even after the central gathering place closed for the night, then sit out on the stoops with them. There were some special moments, like waking up on Commencement morning and looking out and seeing the Yard bustling with activity."
Goldberg's son, Rick '07, also turned up at the reunion—and earned a tidy sum tending bar. (The liquor budget for the twenty-fifth is about $65,000.) "It was a blast," he says. "Some people I did it with ended up in my dormitory and we became best friends." What was it like being at his old man's reunion? "A little weird," he admits. "I tried to stay out of his events, but he really enjoyed having me there, and saying, 'And this is my son.' So I bartended a couple of them," even serving his father drinks. And yes, "He tipped me very well."
The younger Goldberg was among 15 bartenders who doled out refreshments for the class of 1979; in all, the twenty-fifth reunion employed more than 300 people. The children's program alone hires 150 counselors, 100 night babysitters for those aged 6 to 8, and 50 more night counselors for the older kids. In addition, the HAA employs 30 babysitters from Parents in a Pinch, 10 drivers, 15 bellhops, and various other student coordinators.
Lindsay Frost '05 worked as a counselor for the last three years, most recently for the Red Group (9- and 10-year-olds). Responsible for six or eight kids at a time, Frost says she got to know them well and enjoyed the job. "At Fenway Park, we got to touch the Green Monster and see all the baseball paraphernalia," she says. "It was a great way for me to get out and see Boston." She would gladly have worked again this year—had not more pressing matters, such as her own graduation, interfered.
If parents worry that the days pack in too much, Frost mentions the down time spent playing cards or other games, reading, and talking. And flexibility with attendance helps: typically, about half the kids spend only part of the day with counselors, she adds. Howard's children ended the days tired but happy. "I put my four-year-old in the older group because she was used to being with bigger kids," she notes. "She did better than my son—he got pretty worn-out. But he loved Fenway Park because he is such a Red Sox fan."
At 5 o'clock, or when additional evening programs end for the younger kids, night sitters take them to dinner and then to their rooms, where they stay until the parents return, Garza explains. Kids nine to 14 have a night sitter who stays in the dorm entryway and does not allow them to leave the building. (Kids 15 and older are not supervised by counselors or the program after evening activities end; parents set and enforce individual curfews.)
Neither Jessica Garza nor Michele Blanc knows the precise history of the children's program, but old event guides suggest children have been enjoying much the same format since the early 1970s. Jessica Barry has a 1920s photograph that shows children having fun at a reunion.
Warren "Renny" Little '55, who is researching the history of Commencement, has two photographs of the children's program in 1948—when he attended the twenty-fifth reunion of his father, Bertram K. Little '23. In those days, he says, all the kids mixed together, regardless of age, though it was an older group overall. They took trips to the beach, played games, and had at least one dance. After one party, Little recalls walking across the Yard to Holworthy Hall, where he and his family were staying. "As I approached, I heard people and began to realize that the old man was having a whopping good time inside, where I was supposed to be going to sleep," Little says with a laugh. "I didn't get much rest that night."
For the Goldberg girls, the week turned out to be a lot more fun than they anticipated. "Even though we live near Boston, I got to do things I've never done before, like see Forces of Nature at the Omni Theater at the Science Museum," says Meredith. She even made a few new friends. For Alyssa, the highlights were the field day and the last dance. But she also treasures talks with some of her dad's classmates. "They told me what he was like, which was kind of funny. When you see a stranger, sometimes it's easy to see how they might have been when they were younger. But I've known my dad my whole life, so it's hard to see him in any different way," she explains. "I had this picture of him as a nerd who sat in his room all day doing homework. And from what his friends told me, that wasn't what he did at all."
Nell Porter Brown is the magazine's assistant editor.
You might also like
Harvard researchers seek to empower individuals to steer their own careers.
How the Bezos Earth Fund hopes to seed economic transformation
A Harvard series explores South Korean cinema in the years following the Korean War. 
Most popular
Brant Berkstresser aims to ensure sound bodies for Harvard's student athletes.
Steven Choi, J.D. '04, works—and fights—at the vitriolic epicenter of immigration politics.
John Alexander follows the ups and downs of funk musician Rudy Love.
More to explore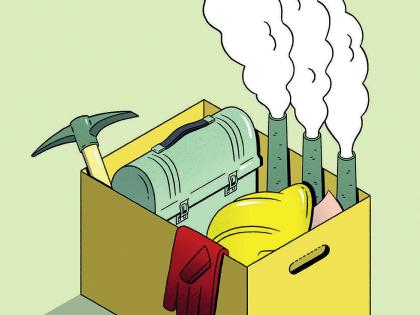 Expect massive job losses in industries associated with fossil fuels. The time to get ready is now.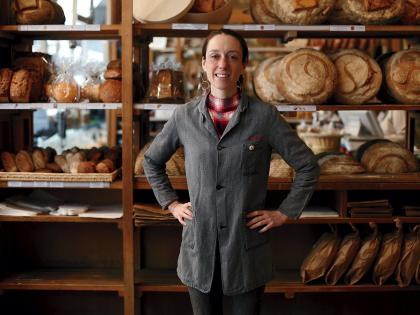 A third-generation French baker on legacy loaves and the "magic" of baking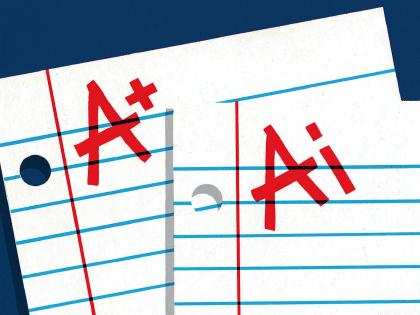 Generative AI can enhance teaching and learning but augurs a shift to oral forms of student assessment.