Living with Modern Furniture
The "new" aesthetic, from Bauhaus to Eames
Elizabeth (Dean) and Heinrich Hermann live in a nondescript ranch house in Concord, Massachusetts, that was built as affordable housing for returning World War II veterans. Its simple, functional lines perfectly suit the couple's mix of mid-century modern furniture, which includes a red, upholstered "wire diamond" chair by Harry Bertoia, an elegantly proportioned Danish sofa by an unknown designer, and a high-backed, padded black-leather chair by Charles and Ray Eames. "When I sit on or handle an Eames chair, I think, 'I could never be as brilliant as they were,'" reports Elizabeth, Ph.D. '96, a professor of urban design, architectural history, and landscape architecture at Rhode Island School of Design.
Such enthusiasm for modernism is common among professionals in the visual fields (Heinrich, Ph.D. '95, is an architect and historian of modern architecture). "But most people have never liked modernism," Elizabeth allows. "North America is very traditional and many people thought modern design looked too industrial or cheap—in the case of ranch houses—or that it was trying to be too intellectual. Despite the fact that my architect grandparents had a modern home [in Wellesley, Massachusetts], my own family members are sometimes reluctant to sit on my furniture."
In New England, at least, that sentiment is changing. Normand Mainville owns Machine Age in Boston, the region's largest mid-twentieth-century-furniture store. He says that most of his customers are designers, artists, and architects, but that a growing segment of younger buyers of all types is also excited by the modern aesthetic. Some of them live in former industrial spaces, like lofts, and want furniture that fits that style, and others live in small apartments where efficiency is essential. "When I moved in and opened the store 15 years ago, people said that Boston was too provincial for this kind of furniture," he says.
Beatrice Gruendler, Ph.D. 95, and Steven Brittan, M.Arch. 89, relax at home. The tte--tte, based on a 1959 model by American designer Edward Wormley, was custom-made a foot shorter to better fit their 1860s rowhouse.
Photograph by Jim Harrison
Reside Inc., in Cambridge, also sells vintage modern furniture. "This furniture is timeless—it's as fresh today as it was when it came out," says Pamela Watts, who opened the store in 2002. "People now are also less afraid to mix modern and antique furniture in a room. The modern gives the space a feeling of being alive; it adds verve and wit."
The modern aesthetic is rooted in the British Arts and Crafts Movement of the 1880s that was spearheaded by William Morris, who was also a socialist, says Jane Prentiss, director of twentieth-century furniture and decorative arts for Skinner auctioneers in Boston. "The design style exposed joinery and made use of clean, rectilinear shapes for the first time," she continues. "They wanted to make good design and fine art available to everyone, not just the upper classes. Also new was the idea that the whole home—the building, the furnishings, the garden—was considered one design concept. They even had their own type of flowers in the garden; zinnias were very popular."
The furniture at Machine Age in Boston exemplifies the modern aesthetic of straight lines, curved woods, and some funky colors.
Photograph courtesy of Machine Age
The style was developed further by subsequent European design movements, such as de Stijl in the Netherlands, the Wiener Werkstätte in Austria, and the Bauhaus School, in Germany, all of which contributed to the architectural sea change of the 1920s and 1930s known as "International Style." "Inspired by a new machine aesthetic, the Modern Movement stripped away unnecessary ornament from the interior," Anne Massey writes in Interior Design of the 20th Century. "Mass production was now established as the means of manufacturing consumer goods, and Modern Movement theorists were inspired by concepts of rationalization and standardization. New materials and building techniques were used to create a lighter, more spacious and functional environment. The early Modern designers hoped to change society for the better with the creation of a healthier and more democratic type of design for all."
The long view of Steven Brittan s home shows off the polished cherry-wood top of this 1956-designed Eero Saarinen table that resembles a Brancusi sculpture.
Photograph by Jim Harrison
The Bauhaus was led first by Walter Gropius; its members included Marcel Breuer, Paul Klee, Wassily Kandinsky, and Ludwig Mies van der Rohe. Furniture from that period includes the unprecedented "Wassily Chair," created by Breuer in 1925 for his friend Kandinsky from bent steel tubes inspired by his bicycle, and the black-leather chaise longue designed a few years later by the French/Swiss architect Le Corbusier. Gropius and Breuer, among others, fled Germany as Nazism gained power and in the late 1930s brought their vision and talents to the United States, where they worked together for a time, taught at Harvard's Graduate School of Design, and built their own modern homes in Lincoln, Massachusetts. (The Gropius House, now a National Historic Landmark, is owned by Historic New England, www.spnea.org/visit/homes/gropius.htm.)
Meanwhile, a new group of American-based designers was being trained at the Cranbrook Academy of Art in Detroit, which opened in 1932 and was directed by Finnish-born architect Eliel Saarinen, whose son, Eero, became famous in his own right for his buildings and furniture. Among them were Florence Knoll (after 1958, Florence Knoll Bassett), Charles and Ray Eames, Harry Bertoia, and Ralph Rapson, who all experimented with new materials such as plywood, wire mesh, and plastics. Knoll, who at one point worked for Gropius and Breuer in Cambridge, later developed Knoll Planning Unit with her first husband, Hans Knoll. Knoll Associates Inc. and Herman Miller became two of the main American manufacturers of the new modern furniture and corporate interiors; Miller holds the license for and currently produces many Eames designs.
"Modern furniture," therefore, encompasses a wide range of designers and architects. Because the work has been mass-produced over time, collectors focus on originality, rarity, value—and the purely aesthetic appeal of a given piece.
Machine Age in Boston offers a wide array of furniture designed between the 1930s and the 1970s.
Photograph courtesy of Machine Age
Jane Prentiss says modern pieces generally fall into three categories: prototypes, licensed reproductions, and knockoffs. Prototypes include the pieces constructed while the Bauhaus was open, for example, and are exceedingly rare and valuable; if they come on the market at all, it's generally at European auctions. Licensed reproductions are made according to the design dimensions and materials the artist originally specified, Prentiss says, but have been produced by different manufacturers with varying contractual agreements at different times, so the pieces have evolved. "A collector may want just Eames work made by the Evans Products Company, and only the earliest pieces made," she explains. Some work is stamped and/or labeled with serial numbers that track its age.
The knockoffs, Prentiss says, "may look to the eye the same as the original design, but will be a half-inch shorter, or the padding is thinner, the plating not as thick—they've cut corners. I've had people tell me they have a Mies van der Rohe and I'll measure it and say, 'No, it's in the manner of Mies van der Rohe,'" she continues. "I think it's an insult to the artists to put their names on something they did not design."
Mainville's store in Boston's Fort Point neighborhood is a revolving gallery of hundreds of pieces from the 1930s through the 1970s by designers in Italy, France, Scandinavia, and the United States. "People come in regularly to see what's new," he says. "I've even had some professors from the Rhode Island School of Design come in with their classes to study the furniture." One recent visitor found a blond birch bedroom set by the Heywood-Wakefield Company (1826-1966, founded in Gardner, Massachusetts), a roll-top "action office desk" with a walnut top and an aluminum base by George Nelson (an innovative designer and businessman who became head of design at Herman Miller in the mid-1940s), a light-green lounge chair by Danish designer Hans Wegner, and an unusual, nine-foot-long, oval dining table by Florence Knoll Bassett. The pieces are not prototypes: they are more likely the "original" licensed reproductions, most of which were mass-produced, or specifically commissioned for an interior.
"Original" refers to the furniture produced closest to the time it was actually designed, Mainville says; it does not necessarily explain the condition of the object. Vintage furniture often comes to dealers missing parts, broken, or stained. Mainville and Pamela Watts have no qualms about repairing, reupholstering, or sometimes even refinishing a piece to make it more visually appealing. "A sofa that is 50 years old has fabric that is torn, or the foam might be dry—this is not a practical piece," he says. "People want to live with the object, so if I buy an old Florence Knoll sofa, I will buy Knoll fabric to reupholster it with. Now an Aalto dresser I will not touch, because it's beautiful—the way it has aged—and it is practical the way it is. Its value and character are intact." (Finnish architect Alvar Aalto was a professor at MIT in the 1940s; he designed its Baker Dormitory.)
Sedia Inc. owner Colebert Andrus, M.Arch. 68, seated on his version of a chair by Mies van der Rohe. Note the Eames design to the back right, and the classic 1944 glass table by Isamu Noguchi in the foreground.
Photograph by Jim Harrison
At Reside, "If a nice original or early vintage piece comes in in good condition, I like it to stay on the floor like that so I can give the customer the opportunity to decide on the restoration," Watts reports, although many customers "buy furniture because they like it and don't worry about where it came from or what's been done to it."
This is true for Elizabeth Hermann. She cut off the ends of a nine-foot Danish teak coffee table (by an unknown designer) to fit in her Concord living room, and her brother is shortening and making teak tabletops for two formerly upholstered stools by Eero Saarinen. Hermann says she respects the originality of these designs but, as a creative person, sees design "as a living, evolving process. While I certainly wouldn't alter one of my more sculptural pieces by a known designer, in the case of the coffee table, it was just too long," she adds. "As for the Saarinen stools, the covers needed to be replaced anyway and, who knows? Given enough time, Saarinen might eventually have seen for himself the value of producing a shorter end table!"
Colebert Andrus, M.Arch. '68, owns Sedia, a furniture store in Boston, which has sold high-quality reproductions of classic modern styles since 1976. "We have been successful because we are able to supply pieces to architects and designers at prices they can afford," he says of his business philosophy. He sells versions of Breuer's "Wassily" and Le Corbusier's chaise, which he calls the "Kandinsky" and the "Salon," respectively. Classic modern pieces, he maintains, "are not 'original' works of art—the designs are in the public domain. Prototypes are virtually nonexistent," unlike the case with printmaking, for example, where artists create a limited number of signed lithographs and then generally destroy the plate. "For factory-produced furniture, this concept doesn't exist," Andrus says. Serial numbers may be stamped onto a piece, he explains, but they are not limited, and there are no dictates on quality, or constraints against ongoing technical improvements.
 Moreover, when designers were involved in the process, it was "a collaborative effort —not just on the part of a designer like Mies van der Rohe, for example, but on the part of other people in his studio and probably also with the factory that produced it," Andrus continues. "If you get a 'Barcelona' chair produced before 1964, then Mies had a hand in controlling his own production. But if it was made after that, someone else was in charge. A lot of times you don't really know when these things were made. People use the word 'original' for marketing purposes—and it misleads people into thinking the piece is more special than it really is. The key issue is quality."
The relative scarcity of modern pieces, despite their mass production, is also essential to understanding their value. Many of the people who purchased modern furniture when it was new in the 1930s through the 1950s are still alive, but are moving to smaller homes; others have recently died, so their estates are coming on the market. In New England, it was predominantly architects and academics who built modern homes and furnished them. Mainville predicts that during the next decade, much of the material now in those homes will be dispersed, "and you're not going to be able to find this vintage stuff" thereafter.
Prentiss agrees. Skinner's December auction of twentieth-century furniture featured an armchair and a marble-and-chrome coffee table by Mies van der Rohe that came from his Seagram Building in New York City. "The building was sold, and the vision of Mies van der Rohe that had been protected by the Bronfman family [who commissioned the building]—the interior walls, curtains, lighting, furniture, art work, rugs, the whole look of the place—is all broken up," Prentiss says. "Once those pieces are sold off, nobody will see the whole vision together. It is lost."
This sofa, by an unknown designer, is among Steven Brittan s favorite pieces. The glass and tubular chrome side table was designed by influential Irish-born artist and architect Eileen Gray in 1927.
Photograph by Jim Harrison
The same holds true for individual residences. Prentiss cites an example in Lexington, Massachusetts: a modern home, designed by architect Hugh Stubbins, M.Arch. '35, for Miriam and Albert Goldman, LL.B. '43, that contained the work of furniture maker George Nakashima. "They had a vision of what they wanted and, after World War II, they paid a Japanese-American artist, one of the first designer craftsmen of the postwar era, to furnish their home—which was very unusual," she says. "His work has organic forms that are just beautiful." (Some of them were sold at the December auction.)
For many collectors, the beauty of the design outweighs any issues of originality, provenance, or even monetary value. Steven Brittan, M.Arch. '89, and his wife, Beatrice Gruendler, Ph.D. '95 (a professor of Arabic at Yale), live in a renovated brick row house in Boston that was built in the 1860s and is now filled with modern furniture. A rosewood credenza with a white marble top by Florence Knoll sits in the dining room next to the oval dining table and six chairs designed by Eero Saarinen (whom she knew through Cranbrook Academy). The cherry-wood table top with its thick, beveled edge sits on a white pedestal. "It's a lot like a Brancusi sculpture," says Brittan, director of the Boston Burt Hill architecture office. "There's a feeling that it's floating, that there are no obstacles, and yet it's very well formed and balanced. It's a great work of art that acts as a dining table." Upstairs he points to a sofa with wicker sides, elegantly splayed walnut arms, and a rich charcoal-gray upholstered seat. "We found that on the street when we were students and I think it's one of the best pieces we have," he says. Mainville recovered the seat with Knoll fabric. "It's the form I love so much," Brittan says, running his hands over the no-name sofa's smooth arms. "It's just so shapely."
~Nell Porter Brown
You might also like
Harvard Kennedy School researchers on how to report pro-Israeli and pro-Palestinian protests accurately 
Harvard Chabad, IDF, and Bill Ackman screen October 7 Hamas footage
Toward another apartment complex on Harvard-owned land
Most popular
First-years Ngozi Musa and Gabby Thomas help set the pace for track and field.
A negative investment return and annual spending reduce the endowment's value 5.1 percent.
The director of Head Over Heels and The Star, on animation's different dimensions
More to explore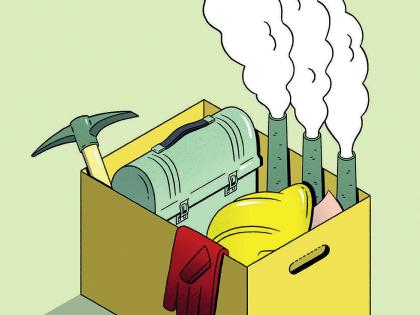 Expect massive job losses in industries associated with fossil fuels. The time to get ready is now.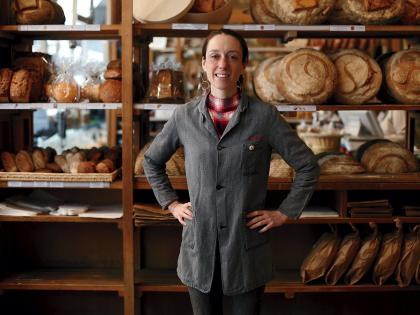 A third-generation French baker on legacy loaves and the "magic" of baking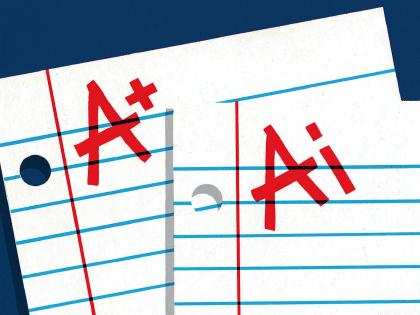 Generative AI can enhance teaching and learning but augurs a shift to oral forms of student assessment.