Up Three Times
Triple jumper Samyr Laine takes true giant steps.
It's one of the least understood, and most difficult, events in a track and field meet. Yet the essence of the triple jump is simple: jump three times. The rules, however, have some stringent specifications on how you jump. It starts like a long jump: the athlete sprints down a 120-foot path to the takeoff board and jumps—but if even one toe goes past the board's front edge, that is a foul and disqualifies the jump. The rules also dictate the takeoff leg for the three jumps: you can choose to start on either leg, but once committed, you must abide by the sequence. Take off from the board on, say, your right leg, then land on the right foot; jump forward again off that right foot and land on the left; then make your third jump with that left foot and land in the sand pit, just as long jumpers do after a single leap. The officials measure the distance covered from the takeoff board to the landing mark in the sand that is closest to the board. "It's not instinctive at all," says Samyr Laine '06, summarizing the process. "Some say it takes 10 years to master."
If so, Laine is only about halfway through his decade, but has already demonstrated extraordinary skill in this complex performance. He's the best triple jumper that Harvard has ever seen, the holder of the Crimson records for both indoor and outdoor triple jumps. Indoors, he has soared as far as 15.83 meters (51 feet, 11 1/4 inches); outdoors, he has landed 16.34 meters (53 feet, 7 1/2 inches). The latter flight, which Laine accomplished at the 2005 NCAA outdoor championships, is also an all-time, all-Ivy record, a healthy two and a half inches longer than the previous mark. In other words, Samyr Laine has lived up to his first name, which rhymes with "a CHEER" and means "always onward and upward" in Arabic.
Triple jumper Samyr Laine at the Gordon Track and Tennis Facility. He holds Harvard's indoor and outdoor records, plus the all-time Ivy outdoor mark, in the event.
Photograph by Jim Harrison
As a freshman, Laine finished second in the outdoor Heptagonal ("Heps") meet—the major track competition for Ivy colleges. "Each year since then, I've made it a point not to come in second at the Heps," he says, grinning. Indeed, as a sophomore and junior, he won the triple jump at both the indoor and outdoor Heps. But this February, an injured Laine saw Cornell's Rayon Taylor edge him out for first place at the indoor Heps; Laine will look to round out his senior campaign with another first-place finish at the outdoor Heps in May.
Laine likes large competitions like the Heptagonals. "I'm not a fan of dual meets —sometimes you're the only one competing," Laine says. "I like a big crowd, lots of competitors, lots of noise. That's my scene." In fact it was the biggest track scene of all, the Olympic Games, that inspired him to focus on track and field instead of tennis, which he had played for two years for his high-school varsity. He watched the 2000 Sydney games on television and realized it was "where I wanted to go," he recalls. "And I knew I could be a better track athlete than tennis player."
He comes from a sports-loving family. His parents, Evelyne, a systems programmer for IBM, and Jacques, a school administrator for a special-needs high school, are both passionate and accomplished tennis players, and his two brothers and one foster brother are all active in school athletics. As a youngster, Laine earned a black belt in the Korean martial art tae kwon do and was a sweeper in soccer. He had a brief flirtation with distance running in seventh grade before switching to tennis, but it was not until spring of his junior year that he went out for the track and field squad at Newburgh Free Academy, a public high school in Laine's hometown of Newburgh, New York.
A fellow student who had seen Laine playing basketball in the gym advised him to try jumping. The summer after his first spring track season, he launched a program of self-training with sprints, distance runs, and weight lifting. As a high-school senior he progressed by, well, leaps and bounds: he finished sixth in the New York State indoor triple-jump championships; the next day he drove to the National Indoor Scholastic Championships and made a better jump, coming in fourth. He didn't make it to outdoor nationals: "It conflicted with the prom."
"My decision to come [to Harvard] was independent of track," says Laine, a government concentrator who will also graduate with a French language citation. (He hopes to attend law school and perhaps later become an athletes' agent.) At Harvard, he worked first with jumps coach Jackie Hoover, and now gets mentoring from assistant track coach Dave Counts. "Samyr is physically gifted," Counts says, "but the thing that distinguishes him is that he is a tremendous student of the event. He collects videotapes of the best triple jumpers in the world and watches them over and over again—he takes a kind of scholarly approach to the sport."
Laine's preparation goes far beyond watching jumps by world recordholder Jonathan Edwards of England, who landed 18.43 meters (59.90 feet) in 1995. In addition to running and weights, there are special drills called plyometrics: jumping onto and down from boxes between half a meter and a meter high can help build explosiveness. Laine's powerful leg muscles enable him to hop over even a high hurdle (42 inches) from a standing start on one leg—and land on the same leg. "Doing a lot of landings, especially if you can closely pair a landing and a jump, improves your leap," Counts explains.
When flying through the triple jump's "hop, step, and jump" sequence, Laine's body does not fall very far toward the ground. "To do it well, you have to spend as little time on the ground as possible," he says. "You want to land on your whole foot, but to conserve your speed, to slow down as little as you can. It's like taking a big stride."
Since starting his jumping career, Laine has taken many big strides and, depending on future results, might even leap as far as the 2008 Olympics in Beijing. He also does long jumps for the Crimson, and is skilled enough in that event to have finished second in this year's indoor Heps. "Based on my triple jump, I'm supposed to be a better long jumper than I am," he says. "I haven't realized my potential yet." And after only about five years of triple jumping, the astonishing thing is that he may be just finding his stride there, too.
You might also like
Toward another apartment complex on Harvard-owned land
Stepping down after 30 years of University service
Harvard researchers seek to empower individuals to steer their own careers.
Most popular
A new election could take place as early as next fall. 
In the Woodberry Poetry Room, a landmark audio collection waits to be heard.
Lincoln offers rich history, nature trails, local food, and art.
More to explore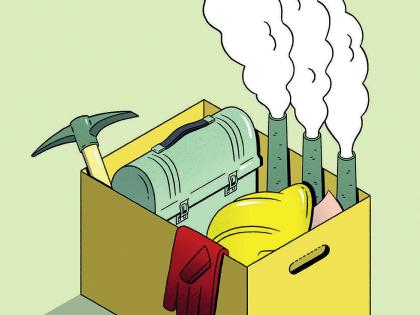 Expect massive job losses in industries associated with fossil fuels. The time to get ready is now.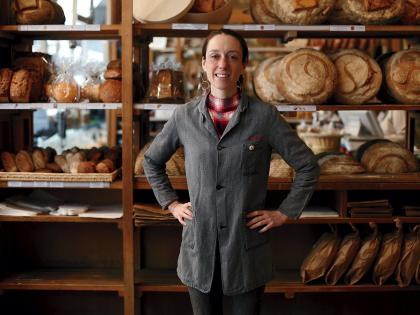 A third-generation French baker on legacy loaves and the "magic" of baking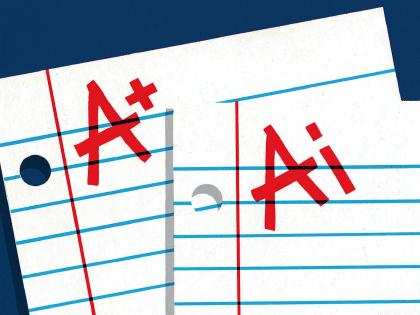 Generative AI can enhance teaching and learning but augurs a shift to oral forms of student assessment.