Fighting Brain Drain
Relationships with Harvard scholars bolster scientific research in sub-Saharan Africa.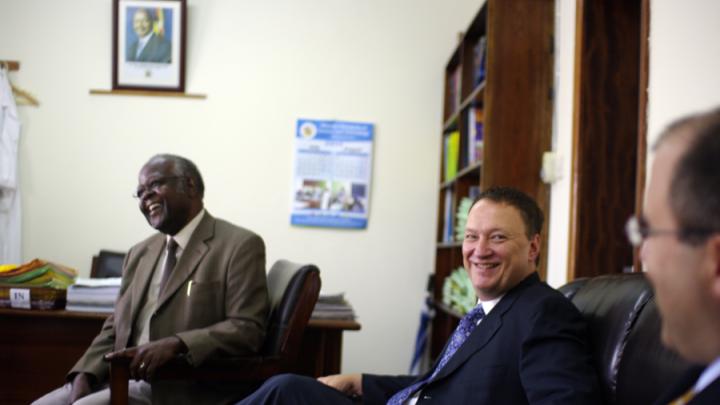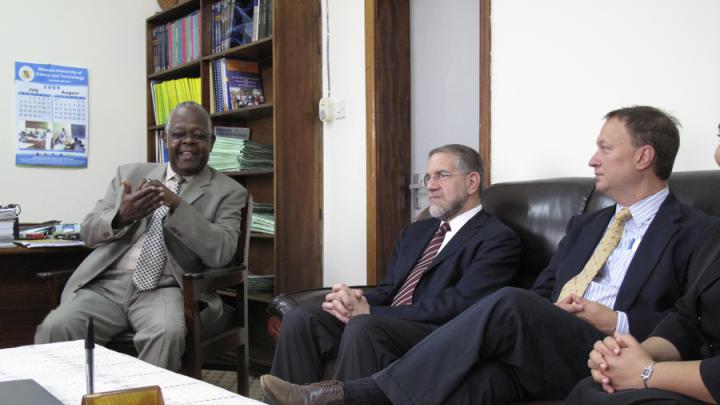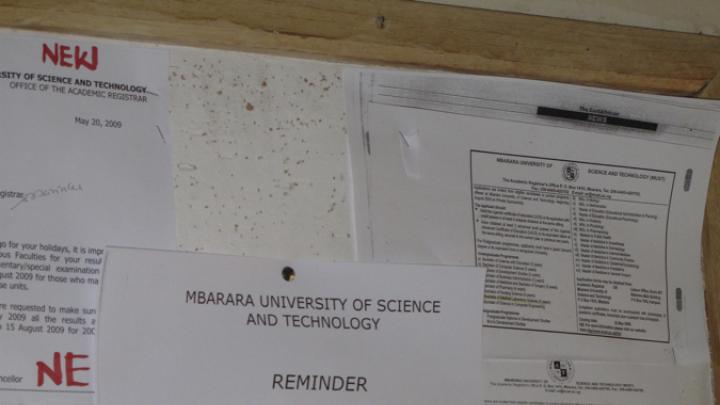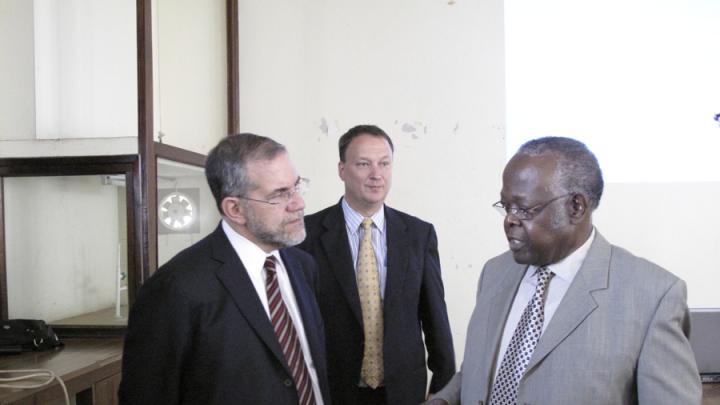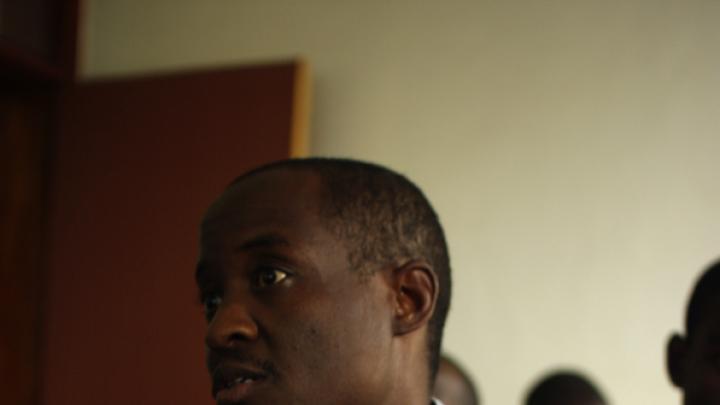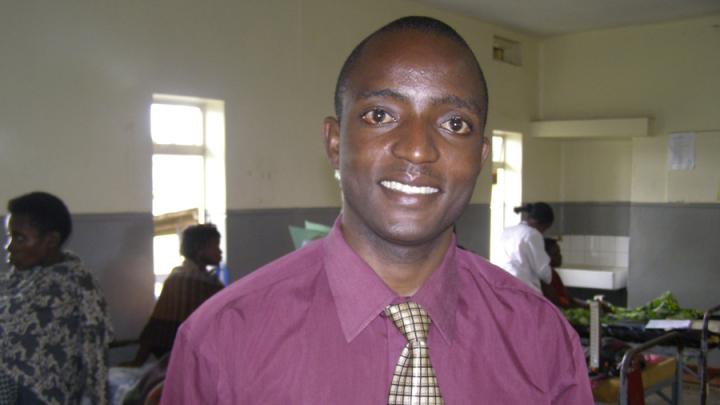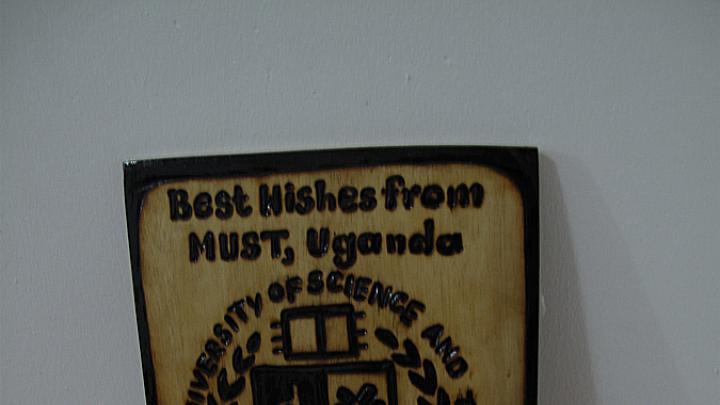 When lecturer on medicine David Bangsberg first began contemplating a partnership with the medical school at Mbarara University of Science and Technology (MUST), in Mbarara, Uganda, he met with vice chancellor Frederick Kayanja. "If you can do one thing for me," Kayanja told Bangsberg, "please help me retain my best and my brightest."
Medical schools across the developing world see their graduates depart for countries where they can command a higher income, or at least work in a smoothly functioning healthcare system. Their departures have repercussions not only for patient care, but for medical research as well. "If you look at the map of HIV, it's all in sub-Saharan Africa, but if you look at the map of papers published, it's all in the West and the North," says Bangsberg. "We want to create a better balance."
Toward that end, Bangsberg and Kayanja have developed the Global Health Scholars program, which pairs selected MUST faculty members with a Harvard mentor and offers funds for research and travel to Cambridge. (Funding comes from the Harvard provost's office, the Rockefeller Foundation, and two sets of private donors: Mark Schwartz '76, M.B.A. '78, M.P.P. '79, and his wife, Lisa, an organic farmer and cheese maker; and Paul Klingenstein '78, a healthcare-technology venture investor who chairs the International AIDS Vaccine Initiative, and his wife, Kathy Bole.)
Conrad Muzoora, the first Global Health Scholar, is an internist at the MUST hospital. The Harvard support has freed him from the obligation to operate a private practice alongside seeing patients in the public hospital, and teaching, and conducting research. His study of treatments for a particularly lethal type of meningitis, which poses a grave threat to AIDS patients, produced a paper that was published last year in the journal Clinical Infectious Diseases. His next manuscript examines T-cell activation in patients with tuberculosis. With program funding, he spent three weeks in a TB lab at Harvard; he is now spending a year at the University of California, San Francisco in a program in clinical diagnostics, with funding from the Harvard Institute for Global Health. "However bright you are, in this setting, you always face a lot of challenges," he says. "When this program started, I got so many opportunities."
Muzoora just finished his five-year stint as a Global Health Scholar; Francis Bajunirwe is just beginning his. In the department of community health at MUST, he studies HIV treatment adherence. Bajunirwe's research examines Chancellor Kayanja's concern: physician retention. He is tracking the graduates of MUST's medical school, finding out where they went and what motivated them to leave or to stay.
Bajunirwe, who has a Ph.D. from Case Western Reserve University, determined in his doctoral research that the distance an HIV patient in western Uganda lives from a clinic is the biggest factor in determining whether he seeks treatment. It was published in the Journal of the International Association of Physicians in AIDS Care. Bajunirwe also designed a mobile pharmacy system so patients could pick up medication at community health centers, which are more numerous, but offer fewer services, than full-fledged clinics.
Like other Ugandan physicians, he had opportunities to work elsewhere—but he chose to stay. "Here I have the opportunity to do things that I wouldn't anyplace else," he says. As one of six faculty members in his department, he helped craft the curriculum for the school's new master's-degree program in public health. "I feel I'm capable of having more impact here than elsewhere," he says. Compared to the United States, where there are so many physicians, in Uganda, "just one person makes a difference." He also confesses feeling a duty to stay as an example for his countrymen who are in medical school now.
For scholars who aren't selected for this program, Bangsberg, an infectious disease physician at Massachusetts General Hospital (MGH), tries to help in an advisory capacity. Last summer, as MUST professor Isaac Kigozi practiced a presentation he planned to give at a conference, Bangsberg tried to prepare him for a critical audience. As Kigozi presented his study of why HIV patients wait until they have late-stage AIDS to come to a clinic, Bangsberg asked searching questions—for example, probing whether Kigozi had selected his study population correctly.
Bangsberg is proud of the scholars his project has nurtured, and just this summer, the first two Harvard undergraduates, rising juniors Michael Zhang and Rumbidzai Mushavi, went to Uganda to conduct research with Muzoora and Bajunirwe as mentors. In Bangsberg's mind, this was an important step in moving away from a "colonial" model of scientific research led by Americans, and toward one in which African scientists set the agenda and become leaders who train African and foreign students alike.
Professor of medicine Bruce Walker, another infectious-disease specialist at MGH who oversees a major HIV research project in South Africa, also works to build local scientific capacity. His laboratory in Durban opened in July 2003; in 2004, the group published a paper in Nature on genetic influence in controlling the level of viral load in the bodies of HIV-infected people. The lead author was an African scientist. "We were able, in a really surprisingly short period of time, to publish in the premier scientific journal in the world, from an effort led by Africans, and address issues that we could never have addressed in the United States or in Europe," Walker says. Without a "critical mass," without a community of talented researchers, it can be difficult to design studies and get manuscripts critiqued and in shape for publication; this support function is Harvard scholars' chief contribution, says Walker. "To me, that's been one of the most exciting parts of this—trying to create opportunities for really talented people. Some of the best people I've worked with have been people we've found over there, who would not have had the opportunity to pursue a scientific career without this."
Harvard prides itself on seeking out talented international students to educate in Cambridge and Longwood, but not all those students return home—another reason why Bangsberg believes it is important for the University to fill an educational role within the countries where its scholars conduct research. "Harvard has a leadership role in changing the culture of how research is done in the developing world," he argues. University provost Steven Hyman, who visited MUST last year and met Muzoora and Bajunirwe, agrees: Harvard researchers can't act as "transient interlopers," he says. Seeing HIV patients without sufficient food, without employment, without access to healthcare, "you want to spend all your money on taking care of sick people," he says. "But if you don't build local capacity, then when the money dries up, everything goes away."
You might also like
Genetic analysis reveals a culture enriched from both sides of the Danube.
Harvard researchers illuminate a longstanding epidemiological connection. 
Harvard's Faculty of Arts and Sciences broaches two tough topics.
Most popular
Sledding, Nordic skiing, and art at Fruitlands Museum, in Harvard, Massachusetts
The deal marks the end of nearly a year of strained negotiations between the University and its largest labor union.
When academics embraced scientific racism, immigration restrictions, and the suppression of "the unfit"
More to explore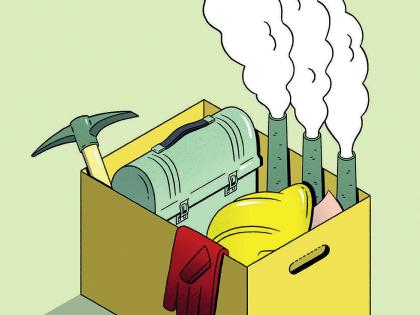 Expect massive job losses in industries associated with fossil fuels. The time to get ready is now.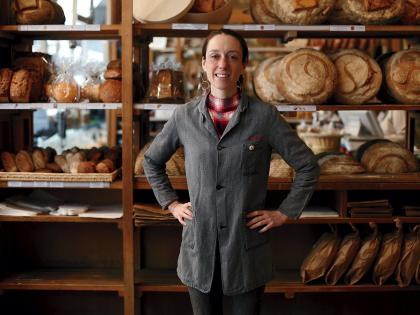 A third-generation French baker on legacy loaves and the "magic" of baking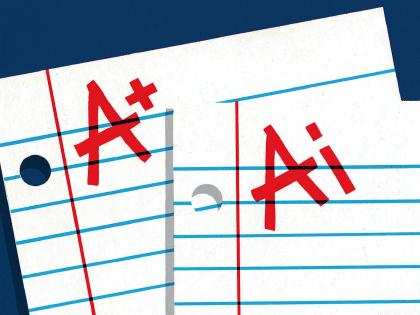 Generative AI can enhance teaching and learning but augurs a shift to oral forms of student assessment.