Addressing Conflicts of Interest
As the academic year ended, the Faculty of Arts and Sciences (FAS) adopted new standards and procedures for identifying and addressing professors' possible financial conflicts of interest with their academic responsibilities as researchers or in the classroom.
The Corporation approved a new, University-wide policy in May 2010 (available at the provost's website). It established procedures for reporting and disclosure of possible conflicts, and set a framework for each school to follow in governing its faculty's special circumstances. Particular attention focused on Harvard Medical School (HMS), given the intersecting obligations to protect human research subjects and to translate discoveries into clinical use. The revised policy, announced in July 2010, requires public disclosure of all relevant faculty financial interests; prohibits most gifts from industry; and regulates faculty members' participation in industry speakers' bureaus and delimits industry involvement in continuing medical education (see "Conflicts of Interest, Revisited").
FAS presents different challenges, and changing ones, in identifying, avoiding, and mitigating conflicts. First, it encompasses disciplines ranging from bioengineering (where medical applications are clearly sought) and psychology (where human subjects and federal research funding often come into play), to classics, where such concerns are remote. Second, it increasingly involves faculty members whose work and appointments cross disciplines and even school boundaries (as in bioengineering or stem-cell science). Third, as Charles H. Ferguson's Academy Award-winning documentary film Inside Job (2010) seemed to suggest, the financial-services industry has become entwined with academic economists and government officials, offering large fees for opinions on regulation and other work drawing on research expertise that posed undisclosed potential conflicts of interest—a challenge that became a focus of wider discussion on such conflicts, given the financial crisis and recession.
The latter set off vigorous discussions about appropriate rules and disclosures within the academic economics profession. Olshan professor of economics John Y. Campbell (who chaired the department until June 30) agreed to be interviewed by Ferguson (others declined); the portion of their conversation that made it into the movie depicted Campbell as ambiguous on the subject of disclosing potential conflicts of interest. (His academic work and teaching focus on finance and investments; as his curriculum vitae and the "outside activities" tab on his webpage now disclose, he has applied that expertise on both a compensated basis, for example as founding partner since 1999 of Arrowstreet Capital, LP—an investment firm that manages some $39 billion for 94 institutional clients—and on a non-compensated basis, including service for seven years as a board member of Harvard Management Company, which invests the endowment and other funds.)
Harvard's economics department subsequently debated whether it could or should adopt standards on these issues, but deferred any action while they were being debated by the American Economic Association (AEA), the National Bureau of Economic Research (NBER)—the leading professional organizations—and economists at peer institutions (and as FAS was refining its own policies, as part of the larger University exercise). There were sharp disagreements over the proper locus for setting and enforcing such policies: departmentally, within a school or institution, or at the level of the profession. (The AEA and NBER now require disclosure of authors' potential financial conflicts of interest in journal articles and working papers, following the practice in the medical profession.)
The new FAS procedures encompass Harvard's economists, and their faculty peers in other disciplines—a total of about 1,070 teaching professionals—in a way that is broader than past practices, but less revealing than the HMS policy. As explained in a March 27 FAS faculty meeting by professor of molecular and cellular biology Alexander Schier, chair of the faculty's committee on research policy, and then put into effect in a May 9 memorandum from Dean Michael D. Smith, FAS faculty members by this June 30 must report annually all financial interests (income or equity) in excess of $5,000 (down from $10,000 previously) from outside entities that may be related to their Harvard responsibilities, including such interests accruing to a spouse and dependent children. (Any equity in a private, for-profit entity has to be reported.) This broadens reporting compared to past practice, when it was up to faculty members' judgment whether a financial interest represented a potential conflict with their Harvard activities, and so had to be reported; comprehensive reporting is now the default.
Although the potential conflicts reported through a new online tool are more sweepingly defined, the disclosures go only to FAS's "designated institutional official." The DIO, in turn, evaluates whether there are in fact potential conflicts of interest and if so recommends appropriate mitigation measures. (Thus, unlike the HMS process, FAS's does not intend wholesale disclosure of all pertinent faculty financial interests.) Should the DIO and faculty member disagree on whether there is a potential conflict, or on suitable mitigation, the policy sets out processes for appeal to the faculty research-policy committee; to an expert panel it can convene, if necessary; and ultimately, to decanal resolution.
In a conversation, Patrick W. Fitzgerald, associate dean for research administration, and research integrity officer Gearoid P. Griffin, who is the DIO, explained that FAS's new policy does not change professors' allowed activities. These are, as before, described in the so-called "Grey Book" (the compilation of principles and policies governing "research, instruction, and other professional activities," which awaits updating to incorporate the new conflicts-of-interest language). For instance, a faculty member can be on a company's advisory board, but cannot actively serve in management. With faculty members disclosing all their pertinent outside interests now, Fitzgerald and Griffin are in the middle of determining what kinds of potential conflicts may arise. Based on experiences at other schools, they said, 90 percent of covered faculty members will have no potential conflicts.
Griffin cited some quotidian, and perhaps surprising, examples of potential conflicts, compared to straightforward questions governing research grants or investments. What happens when a faculty member requires his own textbook for a course? Appropriate mitigation might include pointing that out to students clearly, early in the course; donating royalties to a charity; or having peers certify that it is the most appropriate book for the class. More subtly, what happens if a publisher discovers a faculty member's lesson plan for another scholar's text, and contracts with her to write a study guide to be published for the next edition? Or if a humanities teacher in a course with a long reading list assigns many titles from one publisher, boosting its sales and potentially affecting his future contracts or royalties?
As the reporting began, Griffin noted, faculty members seemed eager to check with peers, to identify issues, to solicit guidance, and to comply with the new policy. "There will be more disclosure" (to the DIO) under the new procedures, Fitzgerald said. "There will be a learning process for the faculty, who had lacked awareness of the old policy—and that's a good thing."
You might also like
Stepping down after 30 years of University service
Harvard researchers seek to empower individuals to steer their own careers.
How the Bezos Earth Fund hopes to seed economic transformation
Most popular
Andrew Knoll on the planet's past—and fraught future
Framing the news with our best articles on diet and health
The research provides insight into the way materials react to repeated strain.
More to explore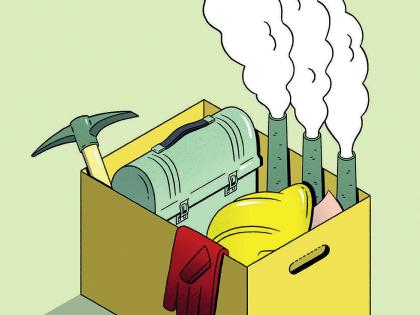 Expect massive job losses in industries associated with fossil fuels. The time to get ready is now.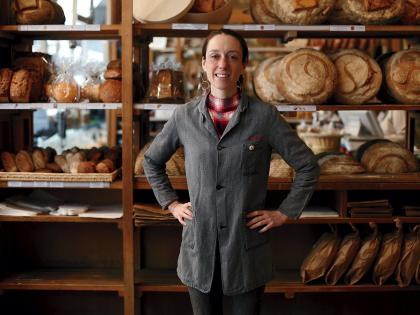 A third-generation French baker on legacy loaves and the "magic" of baking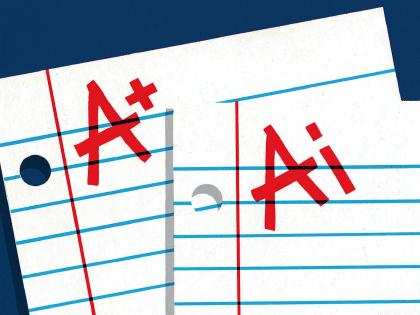 Generative AI can enhance teaching and learning but augurs a shift to oral forms of student assessment.