John Harvard's Journal | Sports
Rolling Along
Formidable early-season football
Harvard Athletic Communications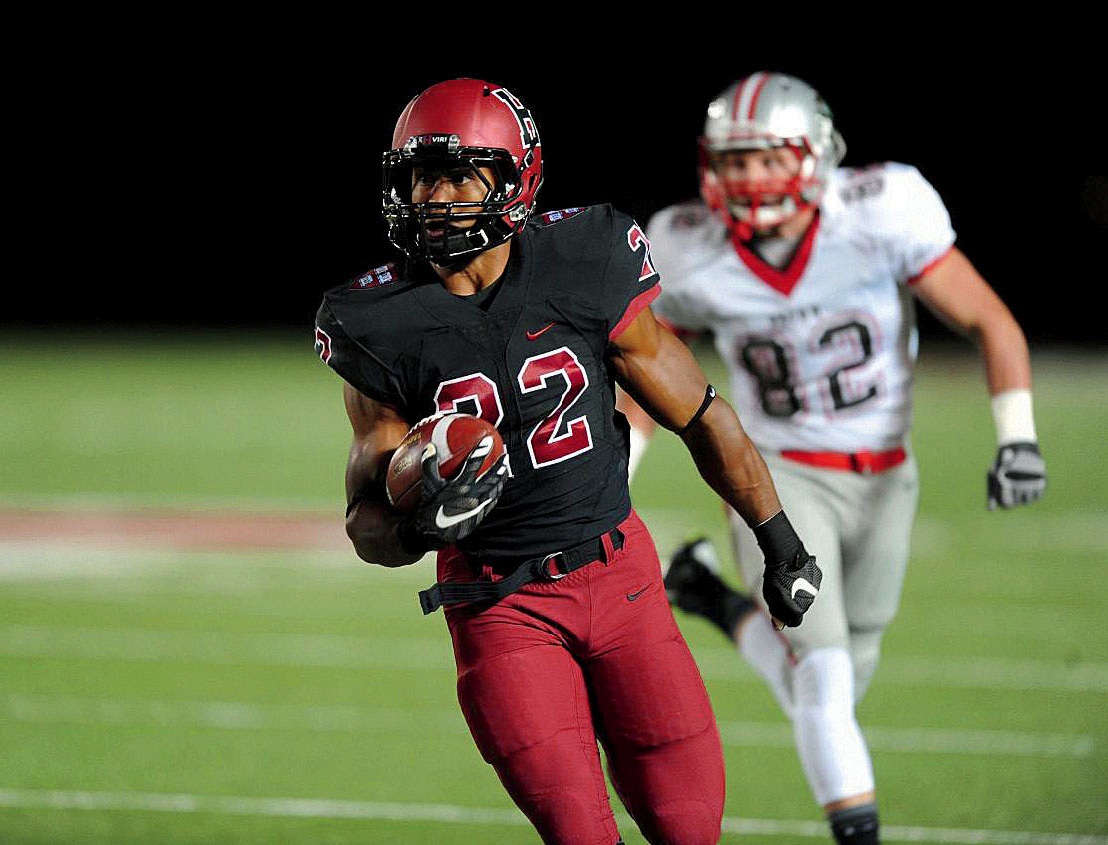 Harvard Athletic Communications
Photograph by Kit Wu/The Harvard Crimson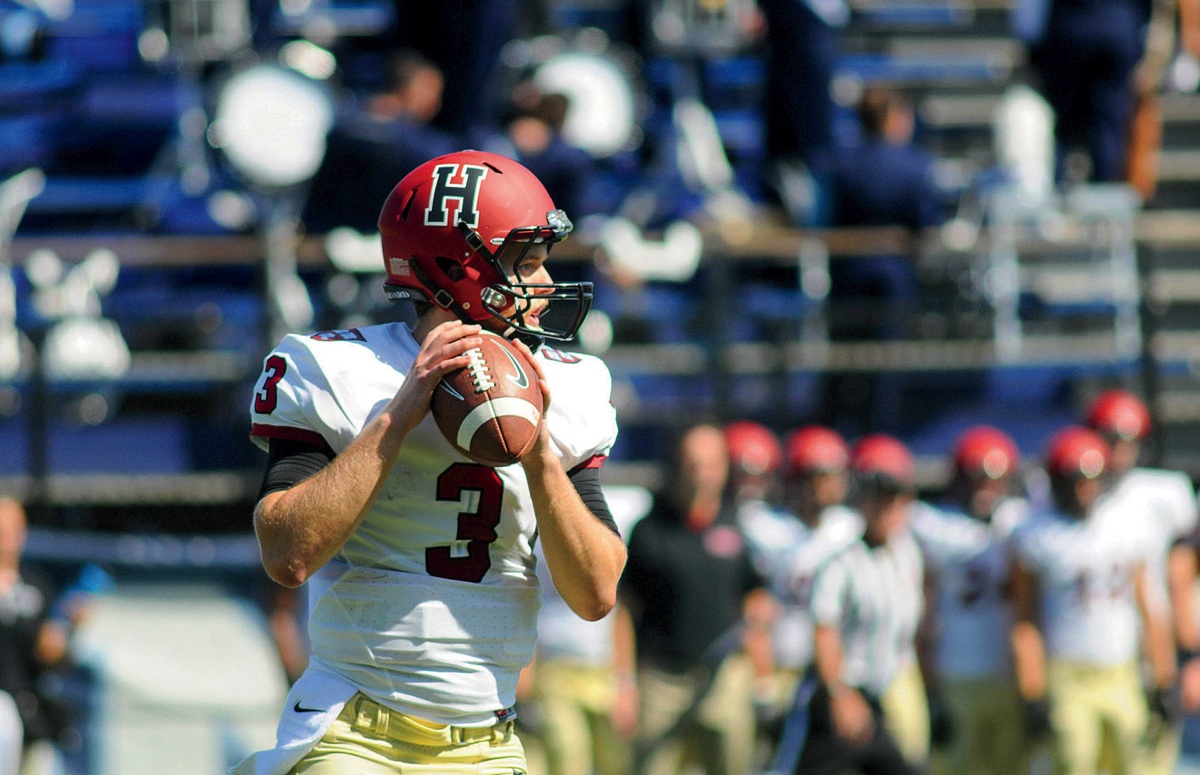 Photograph by Kit Wu/The Harvard Crimson
Harvard Athletic Communications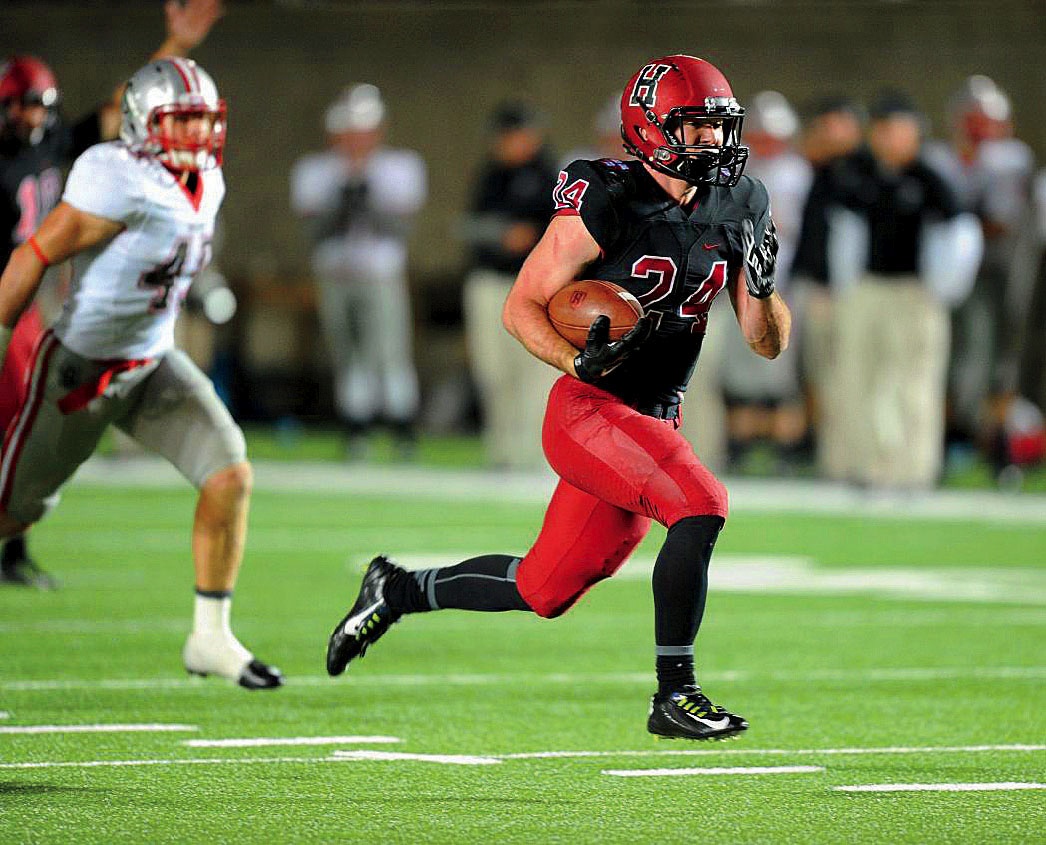 Harvard Athletic Communications
Before the Harvard football team kicked off the school's 142nd gridiron season, coach Tim Murphy's toughest foe was a familiar one: his 2014 squad, one of the greatest in Crimson history. This year, after all, could not end any better than last year's 10-0 campaign, which culminated in a heart-stopping 31-24 win over Yale last November 22 at Harvard Stadium. During the Ivy League's preseason teleconference, when The Harvard Crimson's Sam Danello '18 asked how to keep this year's edition from resting on the program's considerable laurels, Murphy declared, "You have to get rid of those skeletons. At every team meeting, the first thing I say is, 'Hey, Zack Hodges isn't walking through that door. Conner isn't walking through that door"—references, respectively, to Harvard's all-time sacks leader and one of its best big-game quarterbacks, who both graduated last May. "'We're not destined to go 10-0,'" Murphy's peroration continued. "If for any reason you think you're entitled to it because your teammates have won three of the last four Ivy championships, you'll get hammered. You can make the case that every team in the league is improved—maybe except Harvard.'" (See "Murphy Time," page 35, for an in-depth profile of Tim Murphy, and his place in Harvard football history.) 
In the early going, either because of Murphy's message or despite it, Harvard kept right on rolling. Showcasing a strong all-around game, the Crimson demolished its first three opponents, extending its winning streak to 17. Nevertheless, the apparent haplessness of the foes raised questions about just how good this year's team would be.
The rest of the Ivy League could be forgiven for thinking that Murphy was poor-mouthing. (In the preseason writers' poll, the Crimson was favored to repeat as champions, if narrowly over Dartmouth.) Entering his twenty-second year on the Crimson sideline, the coach had retained an enviable nucleus, many of them All-Ivy in '14. On defense, seniors Jake Lindsey, Eric Medes, and captain Matt Koran headed the seasoned linebacking corps. The defensive backfield sported their classmates Sean Ahern, Asante Gibson, and Scott Peters (who made the clinching interception against Yale) and junior Chris Evans. Power-and-cutback runner extraordinaire Paul Stanton Jr. '16 spearheaded the offense, and the wide receivers included fellow seniors Andrew Fischer (who caught Hempel's winning touchdown pass against the Elis) and Seitu Smith. Ben Braunecker '16 and Anthony Firkser '17 were foremost in a flotilla of versatile tight ends. (Harvard spawns tight ends the way Britain produces actors.) The mighty offensive line had lost All-Ivy center Nick Easton '15 but retained such primordial blockers as Cole Toner, Adam Redmond, and Anthony Fabiano, all class of '16. Moreover, there were intriguing freshman newcomers such as wide receiver Justice Shelton-Mosley and running back Noah Reimers. 
Still…who would replace Hempel? The main candidates to start at quarterback were Scott Hosch '16, who as the primary backup in 2014 steered the Crimson to six wins, and Joseph Viviano '17, whom Murphy termed "probably as talented a kid as we have recruited at that position." In preseason drills, the 6-foot-5 Viviano made a strong impression—until he broke his left foot in a non-contact play and needed surgery. By default, Hosch was number one.
Murphy continually lauds Hosch's "high football IQ," and the latter's intelligence as well as his touch were on display on September 19 during a 41-10 victory over Colonial Athletic Association member Rhode Island at Kingston. The 6-foot-3 Georgian completed 18 of 27 pass attempts for a career-high 336 yards, spreading the ball deftly among a half-dozen receivers while tossing for three touchdowns, a performance that won Ivy League player of the week honors. (It helped mightily that the offensive line allowed the Rams pass-rushers to get no closer than Woonsocket.) The first score, a 25-yarder to Ryan Halvorson '17 (yet another tight end), came on the game's first series and just 3:26 into the season. Early in the fourth quarter the special teams came through, with Peters blocking a punt; cornerback Kolbi Brown '17 picked the ball up and scampered into the end zone. Then came some magical punctuation. In mop-up duty at quarterback entered Hosch's fellow Georgian Jimmy Meyer '16, who took a snap at the Rams 37, dropped back, and let fly. The ball sizzled like a howitzer shell and whistled into the hands of Shelton-Mosley in the end zone. It was Meyer's first pass in varsity play, and the first catch for Shelton-Mosley. A new placekicker, Kenny Smart '18, was six for seven on extra-point conversions. 
The next week, the Crimson opened its home and Ivy schedule under the lights against Brown, a team that usually gives Harvard all it can handle. Perhaps the Bears (and a crowd of 15,804) were too gobsmacked by the Crimson's newly unveiled, Nike-designed home uniforms—black (not crimson) jerseys with crimson numerals and (most jarringly) reddish pants—to put up much of a fight. The final score, 53-27, obscures how one-sided the game was; at one point in the third quarter, the Crimson led 53-6. The contest featured a rarity: two safeties. Playing his usual efficient game, Hosch completed 12 of 19 pass attempts and threw for three more touchdowns in little more than a half, cementing his status as Harvard's Bart Starr. (As old-timers recall,the Green Bay Packers' Hall of Famer was never flashy or a gunslinger; he just won.) Stanton rambled for 89 yards and a touchdown on 12 carries. The evening also boasted hard hitting by Gibson (three solo tackles and an interception that set up a touchdown), and a quarterback sack by Ahern that enabled Lindsey to scoop up the ball at the Brown 11 and run it into the end zone—the first Harvard fumble recovery for a score in five years. The blowout (which completed an Ocean State sweep) also afforded Reimers the opportunity to strut his stuff: the 5-foot-11, 200-pounder from Virginia delivered with 60 yards on eight carries, including touchdown jaunts of 16 and 27 yards.
The following Friday, another night game yielded another blowout, this one over outmanned Georgetown, 45-0. The Crimson scored six touchdowns, all on the ground, the most impressive being Stanton's 37-yard, second-quarter scamper. Reimers got into the end zone thrice on short runs and flashed some nifty open-field moves, once even hurdling a would-be Hoya tackler. The defense made another fumble-forcing sack (by lineman Miles McCollum '17) followed by a runback (by Koran). And in what was becoming a signature, there was for the third straight week a punt block, this one by defensive back Tanner Lee '18.
Murphy pronounced this walkover "the end of the preseason." Six Ivy games loomed, including all the top contenders. The outcomes would determine whether during next year's preseason Murphy would invoke as inspiration the names Hosch, Stanton, and Koran. 
Tidbits: With the victory at Rhode Island, Harvard is 117-23-2 in season openers….The win over Brown brought Murphy's record in Ivy openers to 17-5….The Georgetown victory ran the Crimson's mark in home night games to 11-0….Thirty states are represented on the 2015 roster: California leads the way with 19; Texas is next (12), followed by Ohio (11) and Georgia (nine). Traditional suppliers Massachusetts and New Jersey have furnished six each. vdick friedman