News
Harvard Corporation Elects Shirley Tilghman
12.7.15
Princeton president emerita Shirley M. Tilghman

Courtesy photo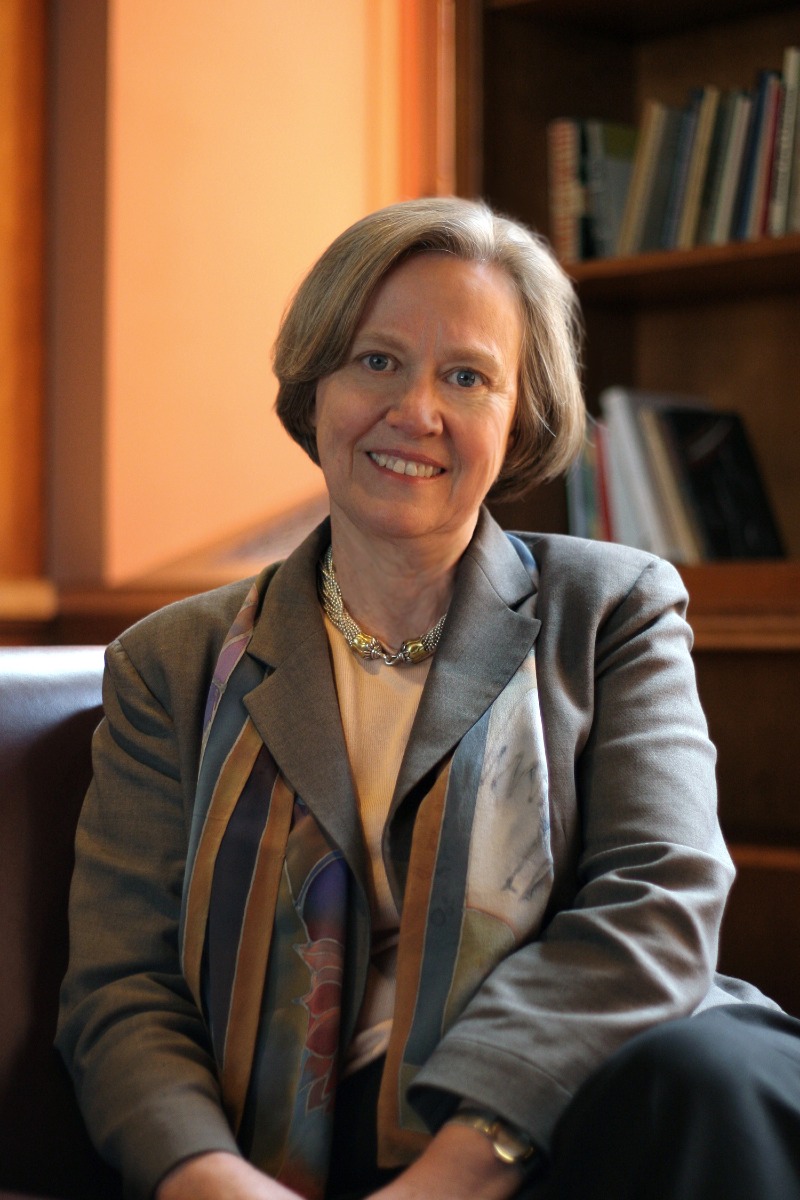 Princeton president emerita Shirley M. Tilghman
Courtesy photo
Molecular biologist and developmental geneticist Shirley M. Tilghman—2004 Harvard honorand and Radcliffe Medalist—now has a new Crimson credential to go with her tiger-hued service at Princeton University, where she was president from 2001 to 2013 and remains a faculty member: she has been elected a Fellow of the Harvard Corporation, the University's senior governing board. She will begin her service January 1, filling the vacancy created by the sudden death of James F. Rothenberg '68, M.B.A. '70, last summer.
Beyond the obvious value of her experience in leading a preeminent research university, Tilghman brings to the Corporation several perspectives of immediate interest to Harvard.
•The liberal arts, in residential campus settings. As an academic institution, Princeton is more institutionally weighted toward the arts and sciences, at the undergraduate and graduate levels, than Harvard, given that university's relatively modest professional schools. Tilghman's experience thus may be of some comfort to Harvard's arts and sciences faculty members, given local and national debates about the role of liberal-arts education; the prowess of Harvard's professional schools; and the recent emphasis on growth in engineering and applied sciences—but see below, too. (Harvard president emeritus Neil L. Rudenstine was a Princeton administrative alumnus, too, and brought some of that sensibility to his interactions with the arts and sciences faculty.)
During her presidency, Tilghman oversaw construction of an undergraduate residential college, the introduction of a four-year college system, and expansion of the undergraduate student body—all useful engagements at a time when campuses like this one are grappling with issues of diversity and inclusion. She is also now a trustee of Amherst College—an even more intimate liberal-arts institution, and one where the issues of diversity and inclusion have boiled over with particular heat in recent weeks, providing a clear window on such concerns within academic communities.
•Life sciences. At the same time, Tilghman is herself a biologist of the first rank (she was a Howard Hughes Medical Institute investigator, recognizing the importance and quality of her research). And she happens to have broad, deep, current knowledge of the field at Harvard, at a time when biological and biomedical sciences are considered particularly promising—and particularly vulnerable to declining federal research funding. She chaired a comprehensive review of the life sciences at the University, undertaken at the direction of the president and provost, this fall; no word has issued from its work, but it is understood to have encompassed the relevant parts of the Faculty of Arts and Sciences (FAS) and the medical and public-health schools. She previously chaired the visiting committee to Harvard's then-department of cellular and developmental biology, and served on the visiting committee to the division of medical sciences, the Medical School-FAS joint Ph.D. program that trains biomedical researchers in six interdisciplinary fields. 
Tilghman is also a director of the Broad Institute, the MIT- and Harvard-affiliated genomics powerhouse, an anchor for the biotechnology and life-sciences enterprises clustered in and around Cambridge's Kendall Square. Many faculty members are affiliated with the Broad and its vast research programs. During her Princeton presidency, Tilghman launched a significant neurosciences initiative.
•Engineering. As Harvard invests enormously in the growth of its relatively young and small engineering and applied sciences school (scheduled for rapid faculty expansion funded within the FAS capital campaign, and separately, with centrally raised funds, for a new laboratory and teaching complex in Allston), Princeton is already home to a top-tier school in those disciplines. Its regular engineering faculty members number 145—about 70 percent larger than the Harvard school; and it counts 1,300 undergraduates—nearly 50 percent more than Harvard concentrators in those disciplines. Thus, as the Corporation contemplates further expensive investments in these disciplines, Tilghman's insight may be of special significance (as may the growth of Princeton's energy and environment initiative during her administration).
In any event, her engagement with engineering at a minimum complements the related expertise of Senior Fellow William F. Lee (whose litigation practice focuses on intellectual property cases for technology companies, such as Apple, and life-sciences enterprises); and the technology-focused financial acumen of Corporation member James W. Breyer (Updated December 7, 3:55 p.m. Breyer is founder and CEO of Breyer Capital, a personal investment vehicle he established in 2006; he remains an emeritus-status partner at Accel Partners, a venture-capital firm based in Palo Alto, having reduced his role at that firm in mid 2014); and the experience of Corporation member Lawrence S. Bacow, former chancellor of MIT. She also brings to bear on this field her experiences as a director of Google. 
•The arts. As The Harvard Campaign provides incremental resources to begin implementing items from President Drew Faust's art agenda—notably, the launch of the undergraduate concentration in theater, dance, and media—the huge expansion of art-making that Tilghman launched is nearing its physical completion, in the form of a new "arts neighborhood," bringing together facilities to create a critical mass on campus.
More generally, Tilghman knows Harvard and its leadership already. She served on the committee that advised the new Radcliffe Institute's founding dean, Drew Faust, on how to organize such an entity (she is a trustee of the freestanding Institute for Advanced Study, which is located in Princeton), and is vice chair of the Carnegie Endowment for International Peace, where Corporation member Jessica Tuchman Mathews was president.
Since the Corporation began its expansion to 13 members, from seven, in 2011, it has gained considerably in financial experience and fundraising reach, with the appointments of Breyer; Kenneth I. Chenault (longtime chair and CEO of American Express); Paul J. Finnegan (a private-equity investor); Karen Gordon Mills (much of whose career was in private equity and venture capital); and Joseph J. O'Donnell (a businessman, investor, and philanthropist)—alongside other appointees, like Bacow and Mathews. No doubt, in the wake of the 2008-2009 financial crisis and then the gearing up for the $6.5-billion Harvard Campaign, now well under way, such expertise was particularly relevant.
In a statement, Faust and Lee said of Tilghman:
Shirley Tilghman is one of the nation's foremost molecular biologists and one of higher education's most admired and perceptive leaders. Her deep scientific expertise will bring valuable insight to the work of our governing boards in an era of transformative change in the life sciences and allied fields. Her broad experience in leading one of the country's great universities will bring fresh perspectives and beneficial knowledge to our consideration of Harvard's opportunities and challenges at a pivotal moment for universities.

Beyond her remarkable resume, she is a person highly regarded for her intellectual curiosity and creativity, her collegiality and incisiveness, her nuanced understanding of complex organizations, and her dedication to advancing the progress of the institutions she serves. We greatly look forward to welcoming her.
Tilghman said:
It is a great honor to be asked to serve on the Harvard Corporation. As one of the world's most respected research universities, Harvard has the capacity to influence education, scholarship, and discovery in ways that extend well beyond its own campus. At this moment when there are so many challenging issues facing universities and colleges, I am very much looking forward to working with President Drew Faust and colleagues on the Corporation to help guide Harvard's future course.
One of the items on this Corporation's agenda is certainly going to be Harvard's presidential succession. Tilghman herself stepped down after completing Princeton's Aspire campaign. President Faust shows every sign of pressing Harvard's fund drive through to its scheduled completion in 2018, and an astounding total. But having reformed Harvard's governance as one of her legacy achievements, she and the expanded and replenished Corporation must be in a position to secure the ultimate transition in University leadership, likely later this decade, hopeful that the institution's financial foundation has been secured. Having in place as members of the senior governing board experienced educators such as Bacow, Nannerl Keohane (president emerita of Wellesley College and Duke University; her Corporation term would logically end in 2017), and now Tilghman would seem an important asset when that time comes.