Sports | Basketball
"Climbing the Ladder"
12.4.15
With his team at 2-5, and a road game against fourth-ranked Kansas on Saturday, coach Tommy Amaker is focused on improving. Among those he's working with is freshman point guard Tommy McCarthy, who has averaged 10.7 points and six assists during the last three games.
Photograph by Gil Talbot/Harvard Athletic Communications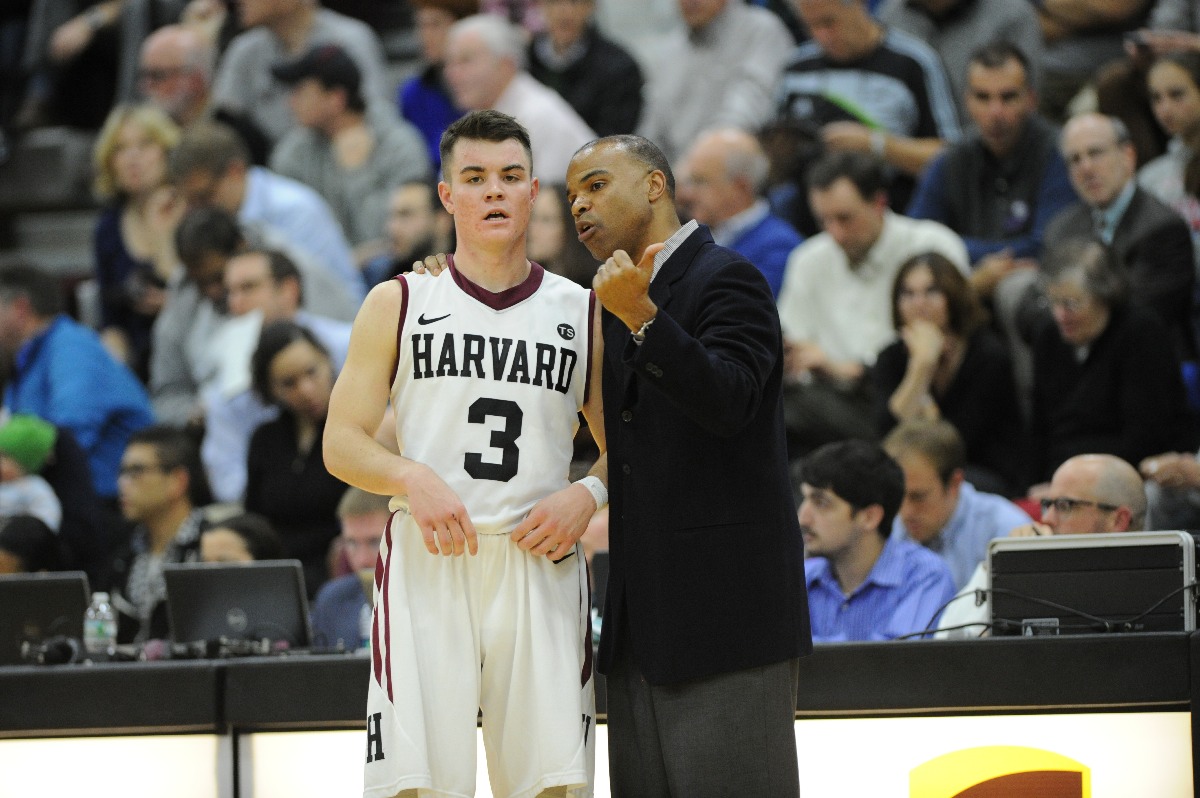 With his team at 2-5, and a road game against fourth-ranked Kansas on Saturday, coach Tommy Amaker is focused on improving. Among those he's working with is freshman point guard Tommy McCarthy, who has averaged 10.7 points and six assists during the last three games.
Photograph by Gil Talbot/Harvard Athletic Communications
After missing his first three seasons with injuries, senior forward Patrick Steeves has emerged as a team leader on and off court. In a loss to Northeastern on Wednesday, he scored 13 points in 27 minutes off the bench.
Photograph by Harvard Athletic Communications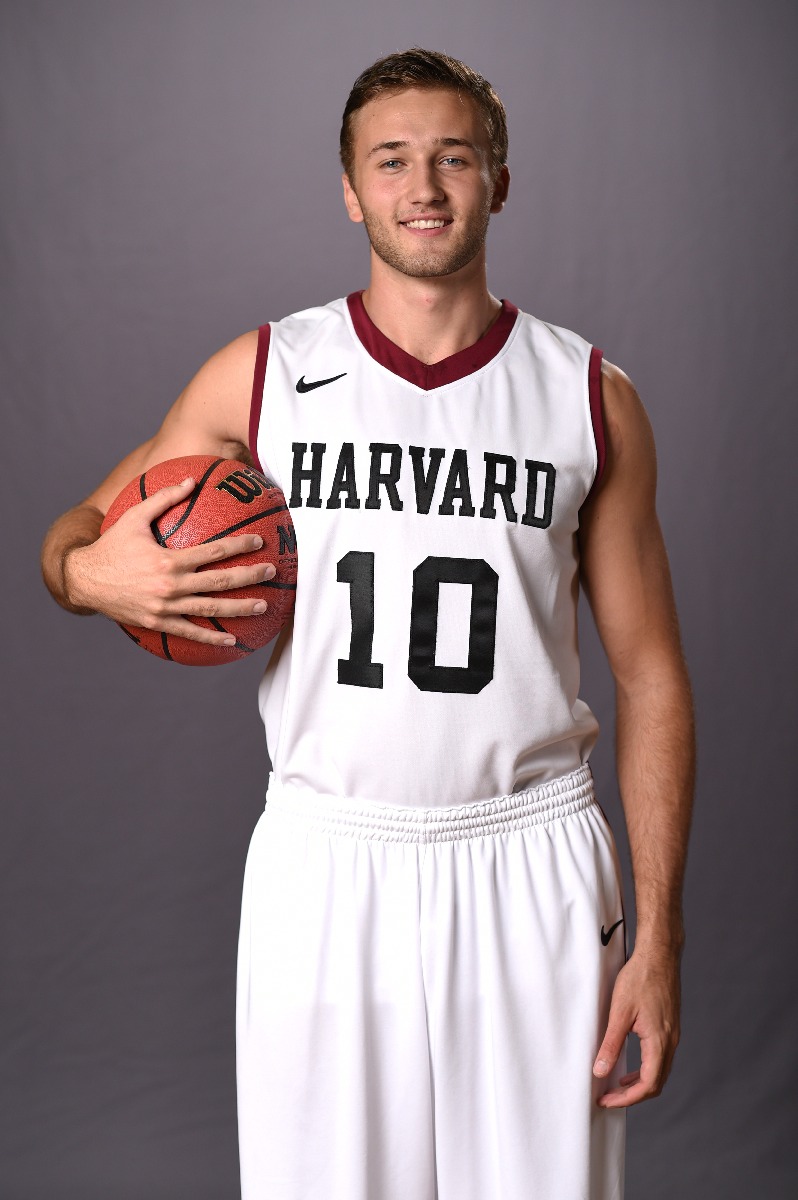 After missing his first three seasons with injuries, senior forward Patrick Steeves has emerged as a team leader on and off court. In a loss to Northeastern on Wednesday, he scored 13 points in 27 minutes off the bench.
Photograph by Harvard Athletic Communications
Amid a challenging start to the men's basketball season, Crimson fans looking for a hopeful analogy might think about senior forward Patrick Steeves '16. One setback after another seemed to define his career in Cambridge. After leading the team in scoring as a freshman during the Crimson Madness preseason scrimmage, he broke his foot. Sidelined for the season. Sophomore year? Torn ACL. Last year, complications from the ACL surgery led to more surgery, forcing him to sit out again. During the most historic run in Harvard basketball history—three-straight NCAA tournament appearances and two tournament wins—Steeves watched from the sideline.
But he remained upbeat. "Third time's a charm," captain Evan Cummins '16 recalled Steeves saying as he went in for his third surgery. And even though he could not play, he found ways to get better: strengthening his upper body and learning coach Tommy Amaker's offense and defense.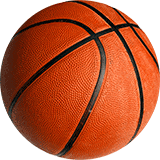 Harvard Hardwood
Sign up for Harvard Magazine's basketball e-mail and follow the Crimson all season long! David L. Tannenwald '08 will provide the latest news, game summaries, and insights as the Crimson chase another Ivy title and NCAA berth!
Finally, during the past three games, Steeves has played his first meaningful minutes for Harvard. And he has made them count, stuffing the box score with 27 points, 20 rebounds, and 12 assists. "Every bit of time that he gets is very meaningful for him," said Amaker, "so [he's] a huge example in our program and for his teammates."
Fans might hope so: the opening weeks of Harvard's season have played out a lot like the first three years of Steeves's career. Most recently, after throttling Bryant 80-45 on the Wednesday before Thanksgiving, the Crimson dropped back-to-back games to Holy Cross and Northeastern. With a record of 2-5, they are approaching the toughest game on their schedule: a visit this Saturday to fourth-ranked Kansas.
Buzzing Bryant
Facing the Bulldogs, Harvard controlled the opening tip, and freshman point guard Tommy McCarthy sent a long pass to Agunwa Okolie '16 for a layup. 2-0 Crimson. On the next possession, McCarthy drained a three, giving Harvard a 5-0 lead less than a minute into the game. The rout was on. Harvard scored on its first seven possessions, and clamped down on defense, en route to its first victory over a Division One opponent this autumn.
The matchup showed just how good the team can be. The offense was balanced, with three starters scoring double figures (led by McCarthy's career-high 16 points), and the defense held the Bulldogs to 26.7 percent shooting. "There's been something different every single game that we've been disappointed with," Cummins said after the win, "and it felt great to finally put it all together."
Halting at Holy Cross
Against Holy Cross, though, the wheels failed to turn. Harvard fell behind 9-0 within four minutes, and Amaker sent four starters to the bench. The second unit, propelled by two first-half threes from Corbin Miller '15 ('17), staked the Crimson to a 23-21 halftime lead, but then the Crusaders went on an 8-1 run to start the second half, eventually stretching the advantage to 10 points (45-35). Despite a late Crimson comeback, Holy Cross knocked Harvard off by a single point for the second straight year.
In his post-game remarks, Amaker said he was disappointed with Harvard's performance, especially its free throws: the team shot three for eight. Those numbers indicate a two-fold problem: players not getting to the free-throw line often enough, and not making their shots when they do get there.
Amaker ideally wants the Crimson to start a possession with a fast break or a quick scoring opportunity on a secondary break, before the defense has time to get set. From there, they look to play inside-out, by getting the ball in the paint with a pass or dribble penetration. The goal is to pressure the defense, leading to open shots—or trips to the line. In previous years, Harvard players could draw contact and get a foul call. This year, Harvard's guards in particular are not getting to the free-throw line, and the forwards, who get there rarely, frequently miss their shots.
Holy Cross attempted twice as many free throws (16) and converted 13. That made the difference.
Nixed by Northeastern
The start of the Northeastern game was frustrating and strange. The shot clock on the Crimson's side of the court repeatedly malfunctioned, creating multiple delays. Even so, Harvard had one of its best offensive halves of the season, scoring 42 points and shooting a blistering 62.1 percent from the field. Unfortunately, Northeastern was even better, draining six three-point shots to take a 46-42 lead. During the second half, Harvard's offense slowed, and the Huskies pulled away, leading by as many as 17 points on the way to a 80-71 victory.
Harvard again got just eight free throws and made only three. (Northeastern was 14 of 17 from the line.) The defense also looked weak, in part reflecting Northeastern's strengths: a veteran ball club, the Huskies have excellent outside shooters and a strong interior presence. Still, if Harvard is to be competitive in the Ivy League, it cannot give up 46 points in a half.
After the game Amaker said the team showed progress, despite the loss: freshman Weisner Perez scored 13 points in 12 minutes off the bench; McCarthy had a career-high nine assists; and Steeves continued his strong play, scoring 13 points in 27 minutes.
But there were also signs of frustration. Amaker clutched his knees after one miscue and several players scowled and one screamed as Northeastern pulled away.
As Harvard prepares for its visit to Kansas, it needs to focus on the long haul. The most important part of the season for defending last year's Ivy title begins in late January, when conference play opens in earnest. By then, the Crimson could be far more competitive. Northeastern coach Bill Coen pointed out after that game that Harvard is young and has faced strong teams. "What you are going to see as the season goes on," he said, "is that—come Ivy League play—they are going to be extremely formidable."
After the victory over Bryant, Steeves—finally on the court after three years of injuries—said that Harvard has "to start climbing the ladder." Two losses later, the ascent seems not insurmountable, but much steeper.
Tidbits
Last night, the Harvard women's basketball team fell 86-59 against the twenty-fourth-ranked University of South Florida, dropping the Crimson to 4-3 on the season. Last Saturday's outcome was brighter: the team defeated Rice in Texas 67-61. Against the Owls, Kit Metoyer '16 led with 15 points, while AnnMarie Healy '16 and Sydney Skinner '19 tallied 13 points apiece. Head coach Kathy Delaney-Smith's squad finishes its road trip with a visit to Florida Gulf Coast University on Saturday.