Sports
Men's Basketball Swept by Princeton and Pennsylvania
2.9.16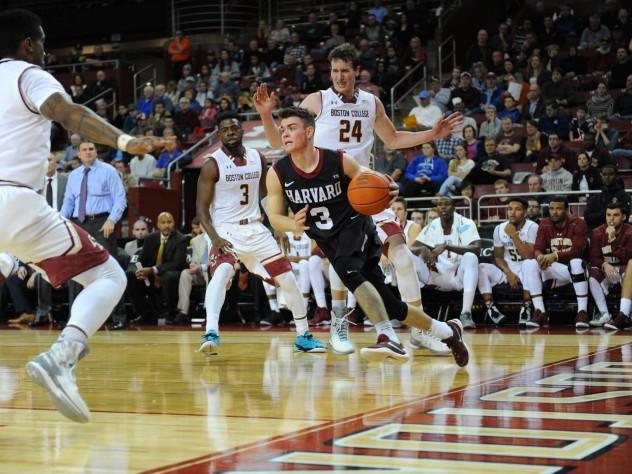 Tommy McCarthy '19 led the Crimson with 16 points against Princeton, but that was not enough to overcome the Tigers' offensive onslaught.
Photograph courtesy of Harvard Athletic Communications
Tommy McCarthy '19 led the Crimson with 16 points against Princeton, but that was not enough to overcome the Tigers' offensive onslaught.
Photograph courtesy of Harvard Athletic Communications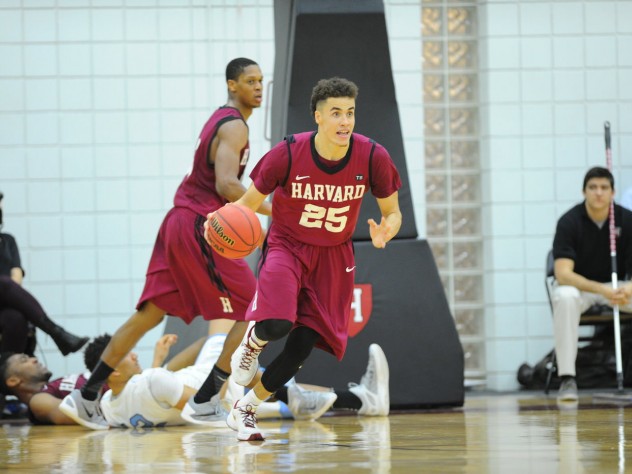 Freshman Corey Johnson made three three pointers against Pennsylvania, but was one of many Crimson players who left shots on the front of the rim, contributing to Harvard's meager 31 percent shooting.
Photograph courtesy of Harvard Athletic Communications
Freshman Corey Johnson made three three pointers against Pennsylvania, but was one of many Crimson players who left shots on the front of the rim, contributing to Harvard's meager 31 percent shooting.
Photograph courtesy of Harvard Athletic Communications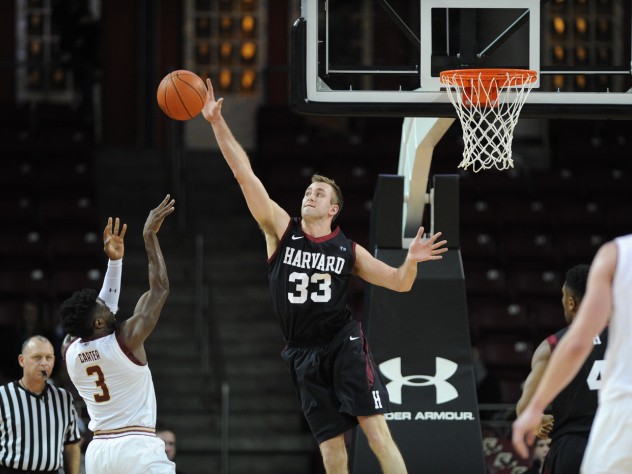 Senior Evan Cummins logged 36 minutes this weekend despite battling an illness that kept him out of practice for most of the week.
Photograph courtesy of Harvard Athletic Communications
Senior Evan Cummins logged 36 minutes this weekend despite battling an illness that kept him out of practice for most of the week.
Photograph courtesy of Harvard Athletic Communications
During the first 20 games of the season, junior center Zena Edosomwan anchored the Harvard men's basketball team. He averaged a double-double (14.2 points and 10.5 rebounds per game) and saved his best performances for the biggest stages—for example, pouring in 25 points in December's game against Oklahoma, now ranked third in the country.
This past weekend, when the Crimson traveled to Princeton and Pennsylvania for its first road weekend of Ivy play, the closest Edosomwan got to the action was leading the starters in their ritual pre-game handshakes. Absent its star, who did not dress for either game due to a quadriceps injury, Harvard lost to the Tigers 83-62 and to the Quakers 67-57. The setbacks dropped the Crimson (9-13 overall, 1-5 Ivy) to the bottom of the conference standings, completely removing the team from this year's Ivy title hunt. Instead, the squad now faces questions about what Harvard can do in the coming years to reestablish itself as a contender.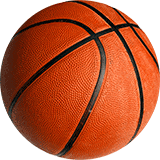 Harvard Hardwood
Sign up for Harvard Magazine's basketball e-mail and follow the Crimson all season long! David L. Tannenwald '08 will provide the latest news, game summaries, and insights as the Crimson chase another Ivy title and NCAA berth!
Limited Reserves
In its run of five consecutive Ivy championships, Harvard had different players step up when it lost stars to injuries, graduation, or other issues. In 2011, after superstar Jeremy Lin '10 graduated and the team lost Kyle Casey '14 to an in-season injury, Keith Wright '12 became the Ivy Player of the Year, helping the Crimson capture its first title. Two years later, when senior co-captains Casey and Brandyn Curry withdrew from the College after being implicated in the Government 1310 academic misconduct scandal, freshman point guard Siyani Chambers and Christian Webster '13 emerged as leaders, helping the team win the league and a game in the NCAA tournament.
Following Saturday's loss to Penn, Stemberg Family coach Tommy Amaker lamented that his upperclassmen had not done more to lead the younger players during this difficult stretch. At this point, the team is extremely thin, having lost star senior point guard Chambers to injury even before the season began, guards Matt Fraschilla '17 and Andre Chatfield '18 subsequently, and Edosomwan now. The recent setbacks, as Amaker added, don't stem from lack of effort. Senior Evan Cummins played 36 minutes in the two contests this weekend, after practicing only once the prior week, when he had strep throat; his classmate Patrick Steeves—who tallied 13 points against Penn—has played just 18 games in his college career but has emerged as one of the team's most important reserves; and the team's third senior, Agunwa Okolie, despite being a defensive specialist for most of his college career, is now second on the team in scoring, with 9.2 points per game.
Amaker has often likened the Ivy League conference season to a long horse race, but particularly without Edosomwan, Harvard does not have the legs to compete.
Zone
With a sixth consecutive conference crown out of reach, Harvard now turns to other goals. If the team manages to finish at or above .500 (which will require winning six of its final eight games), it can still qualify for a lower-tier postseason event such as the College Basketball Invitational (CBI) or the CollegeInsider.com Postseason Tournament (CIT). Playing more games would create valuable opportunities for the team's underclassmen to develop chemistry, helping to lay a foundation for future success. (Yale, which is currently 6-0 in Ivy play and shared the 2015 Ivy title with Harvard, reached the final of the CIT in 2014.)
To put together that kind of run, the team might need to tweak its defense.
Amaker has long adhered to aggressive man-to-man defense while occasionally mixing in a match-up zone that combines elements of man-to-man (where each Crimson player is responsible for guarding one opponent) with zone (where every defender is responsible for guarding a space on the floor).
In the first four Ivy games this year, he used the match-up zone for only a handful of possessions per game. But with Princeton pulling away late in the first half on Friday, he switched to the zone for a more extended period, and the Crimson got several stops that helped to keep Harvard in striking distance. (The Crimson eventually reduced Princeton's lead to 10 points, 50-40, early in the second half.)
To some extent, he was simply trying something different against an opponent pummeling his team. But his decision also might hint at a tactical shift that suits Harvard's current personnel. Besides creating variety, the match-up zone also helps camouflage less-athletic perimeter defenders and, as Okolie explained in an interview earlier this season, is designed to force opponents to take more outside shots. 
Absent a rim protector like Edosomwan and without quick, athletic guards like Chambers and former Ivy League Player of the Year Wesley Saunders '15, Harvard does not have the players that made its man-to-man defense so effective in prior seasons. More zone defense during the remainder of Ivy play might work better.
The Long Term
The team's five-game losing streak is primarily a result of injuries, but prompts reflection about what the Crimson needs to do to reemerge as a title contender. It's tempting to believe that when Chambers and Edosomwan return and next year's recruiting class, rated tenth in the country, arrives, Harvard will instantly bounce back as the Ivy favorite.
Restocking the team's talent may not be enough, though; Harvard might also need to make more significant tactical changes. Other Ivy teams have become familiar with Amaker's man-to-man defensive schemes and inside-out approach on offense. His philosophy rests on the assumption that a well-executed system, internalized over time by talented, intelligent, and athletic players, will yield wins, even if other teams know what is coming.
But other Ivy programs are recruiting at an increasingly high level and adapting their approaches. Princeton, for example, thrived for many years under legendary coach Pete Carril's offense, a plodding system that relied on lengthy possessions that slowed the game and on backdoor cuts (when a player fakes to the perimeter and quickly cuts to the basket, catching defenders off guard). The approach wore down the most disciplined Ivy squads and also frustrated more athletic teams: in the first round of the 1996 NCAA tournament, Princeton knocked off then defending national champion UCLA, 43-41.
Under current coach Mitch Henderson, a key player on that '96 team, the Tigers still use the Princeton offense, but they now play at a faster pace, with athletic guards such as freshman Devin Cannady and sophomore Amir Bell who can break defenders down off the dribble and attack the basket. That's a big reason the Tigers were able to score 83 points in successive games against Harvard on Friday and Dartmouth on Saturday. It's no coincidence that Henderson has sped his team up and recruited better athletes during Harvard's rise. To an extent, he—and other Ivy coaches—are adapting to what the Crimson has done so well.
During the rest of the Ivy campaign, Amaker and his staff might analyze what their opponents are doing well so that the Crimson can adapt its own game and benefit as much as possible from next year's influx of talent. That process continues on Friday against Brown and then league-leading Yale.
Harvard Women's Basketball Update
The women's basketball team also lost to Pennsylvania and Princeton this weekend, falling to the Quakers 68-48 on Friday and losing to Princeton 92-83 in overtime on Sunday. The Crimson continue to be led by senior co-captain AnnMarie Healy, who scored 18 points against the Quakers and poured in 21 points against Princeton. Head coach Kathy Delaney Smith's squad (8-11 overall, 3-3 Ivy) returns to the road this weekend when it travels to Brown and Yale.