News
Senior Fellow William Lee on Harvard's Strategic Challenges
11.30.16
Photograph by Stephanie Mitchell/Harvard Public Affairs and Communications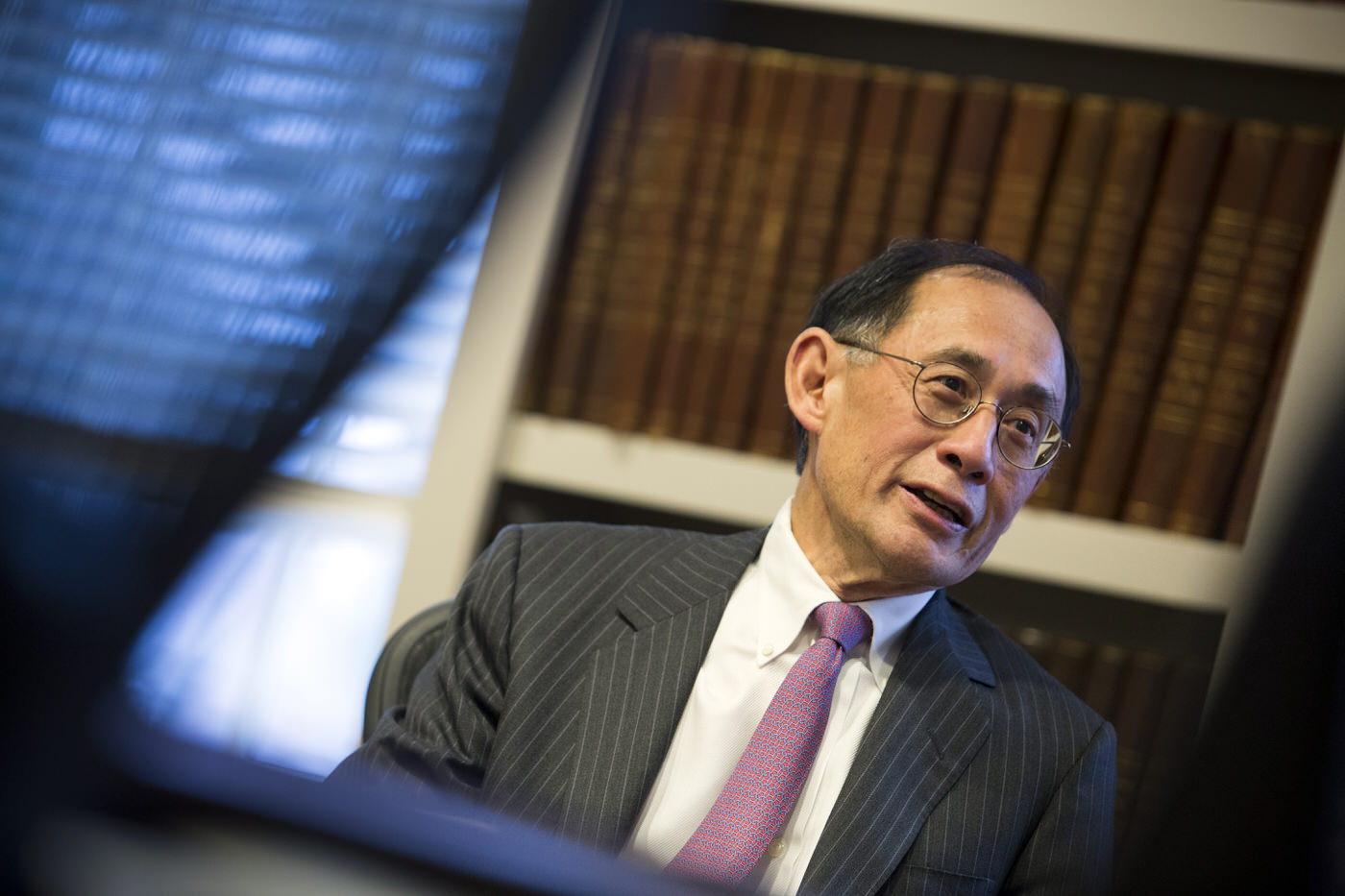 Photograph by Stephanie Mitchell/Harvard Public Affairs and Communications
The University's governance reforms, unveiled in late 2010, expanded the size of the Harvard Corporation, enabling it to broaden the range of expertise among its members and thereby populate newly created standing committees for better oversight of finances and capital projects: its paramount fiduciary duty. Of equal importance, the reforms aimed to create the opportunity for the Corporation to address Harvard's most significant strategic issues—engaging the fellows in thinking about the University's future and enhancing their capacity to advise the president and senior administrators, who manage the place day to day. The governing board's senior fellow assumed responsibility for reporting occasionally to the Harvard community about that body's interests and progress; William F. Lee, who joined the Corporation in 2010 and became senior fellow in 2014, did so most recently shortly before Thanksgiving, in a conversation at Massachusetts Hall.
Operating Imperatives
Last spring, when Lee began, the Corporation undertook a "reasonably complete evaluation" of the changes in governance after five years. Deans, the executive vice president and vice presidents, administrative deans, faculty members, members of the Board of Overseers, and former Corporation members were invited to comment on implementation of the reforms, perspectives on what might have improved, and so on. The findings were a subject of significant conversation last July, at the Corporation's annual summer retreat. The "headlines," as he put it, were that the formal changes, as enacted, "had accomplished some of the most critical things" the reforms were intended to accomplish:
Broader perspectives. Enlarging the Corporation from seven members (including the president) to 13 had indeed introduced a broader set of experiences and expertise on which the president can call.
Committees. Taking advantage of the larger cohort of fellows, and structuring standing committees focused on facilities and finances (populated by both Corporation members and expert nonmembers), has proven effective—again, broadening the knowledge available to the Corporation as a whole, and enabling its members to dig deeper on their fellow fellows' behalf.
Establishing procedures and protocols. Taking advantage of the aforementioned developments, the Corporation had assured that important fiduciary matters—the University's financial condition, significant capital projects, and management of risks—are properly attended to.
En route, the governing board has learned new ways of operating effectively, Lee noted. For example, given its term limits and processes for identifying candidates to join the board—assuring an orderly renewal—the Corporation has developed an orientation protocol for new members. And, he implied, the members have adjusted their deliberations to take advantage of the expertise developed and resident in the permanent committees.
Throughout, Lee emphasized, the Corporation has been attentive to employing its new expertise and diverse member experiences to support President Drew Faust and Provost Alan Garber: maintaining and refining a clear understanding of its role and value as a governing entity, not as the institution's senior management.
He did not explicitly refer to the work of two other important committees: on governance (the five-year review and orientation procedures would fall into that realm); and the Corporation-Overseers committee on alumni affairs and development (which would be the primary locus for campaign-related matters—and which has, so far, seven billion reasons to feel good about its work).
Turning to Strategy
With its committees and enlarged membership operating smoothly, the Corporation is focusing on "broad strategic imperatives," Lee said: the second element of its role, as the fellows perceive it. In so doing, Lee said, he and his colleagues seek to help Harvard's leaders articulate the University's mission and strategy, and protocols for implementing them.
Why now? Temporally, this shift toward a higher-order, strategic perspective makes sense. It is worth remembering that the governance reforms induced major changes in a 360-year-old corporate structure, and brought a lot of new players into the board's deliberations. At this point, only Nannerl Keohane (2005) and President Faust (2007) have served on the Corporation longer than Lee. Moreover, the changes took place against a backdrop of the severe financial disruptions that accompanied the 2008-2009 financial crisis and ensuing recession, including the $11-billion decline in the value of the endowment; the additional, multibillion-dollar losses on financial swap agreements and in the general operating account; and the forced multiyear deferral of construction on a badly needed science and engineering complex in Allston (after several hundred million dollars had been invested).
These events provided stark evidence that the University lacked sufficient budgetary, capital-spending, and risk-management controls—a major impetus for the governance reforms, and an urgent priority for the Corporation and Harvard leaders alike. Furthermore, the institution had a pressing need to mount a large capital campaign: the premature end of Lawrence H. Summers's presidency in essence kept development officers out of the market for an entire campaign cycle, and the huge losses toward the end of the decade made fundraising even more imperative in order to shore up financial aid and building projects, among other priorities.
In this sense, The Harvard Campaign, begun quietly early in this decade and unveiled publicly in September 2013, was the Corporation's strategic statement during that period. During a conversation in 2014, Lee highlighted institutional priorities that aligned closely with the campaign's broad goals:
how to attract the best faculty members and students;
how to address education in the digital era;
how to pursue innovation in pedagogy and learning;
how Harvard should participate in global education; and
how the institution can fund and support the best research.
He also mentioned discussions then about Allston and the increasingly diverse student body.
The strategic work, Lee said in the most recent conversation, is "a long-term project designed to ensure that Harvard will be Harvard" 25 years hence and beyond, no matter who is leading it then. As it has organized itself to think this way, he continued, the Corporation members have collectively identified these subjects to which they wish to devote time:
Allston development;
life sciences at Harvard;
"One Harvard" initiatives that cross institutional boundaries and disciplines;
life on campus, including diversity, inclusion, and undergraduate House life;
the endowment and Harvard Management Company; and
humanities and social sciences within a liberal-arts education.
The issues, framed in those terms, have obviously evolved from the 2014 list (digital education, internationalization, and teaching and learning are no longer explicitly addressed). And at first glance, the current issues are a very diverse lot, varying in nature. Some clearly bear on the governing board's financial responsibilities and its role in matching Harvard's aspirations with its purse: Allston development; the consequential record of lagging returns on investment from endowment assets. Others are academic in nature (albeit with potential financial implications): supporting and enhancing life sciences; encouraging interdisciplinary initiatives (always a priority for University leaders, who preside over largely autonomous deans and schools; examples range from modest program extensions like undergraduate architecture studies to the joint engineering-Graduate School of Design master's degree in design engineering to full-fledged collaborations such as that perhaps emerging between the applied scientists and the Business School).
The Corporation as a whole is devoting time at each of its periodic meetings to one of these issues, Lee said. This year, it has had extended discussions about Allston plans and the life sciences. (He did not detail the decades-long, and enormously expensive, Allston ambitions, which involve both academic facilities, like the science and engineering complex—now redesigned and back in construction—and potential financial returns from a commercially oriented "enterprise research campus," development of which can presumably be shouldered at least in part by private and investor partners, not within the confines of Harvard's capital budget.)
Life Sciences, Writ Large
Life sciences includes a broad spectrum of possibilities, Lee made clear, involving not only Harvard's medical and public-health schools and the Faculty of Arts and Sciences (FAS), but also the affiliated hospitals, the Broad Institute (genomics research), MIT, and the Wyss Institute (bioengineering). Together, they represent "a unique set of resources and opportunities," he observed. Princeton president emerita Shirley Tilghman, who joined the Corporation in 2016, has been a "gift," he said, noting her institutional background, training as a molecular biologist and developmental geneticist—and leadership of a recent, comprehensive review of life sciences at Harvard. (In an aside, Lee noted the value of having academic experts as Corporation members, given the "fundamentally different and more balanced perspective that's necessary" for governance in an academic, as opposed to a commercial, institution; not all peer research universities have that strength among their trustees, he observed.)
Drawing on his own involvement in the Boston legal and medical-institutional communities, Lee provided a personal perspective on the stakes in life sciences—insights that he said he believes reflect consensus among Corporation members. To begin, he noted, "We have the most extraordinary critical mass of resources in the life sciences" worldwide: faculty members, graduate students, postdocs. In fact, he continued, some 12.8 percent of the life-sciences postdocs in the United States are based at Harvard or its affiliated hospitals and institutions. When that expertise is combined with Greater Boston as a whole—MIT, Tufts, Boston University, and extending up to Dartmouth and its medical center—the regional concentration of resources is even greater, "an enormous collection of faculty and others."
"If that's our advantage," Lee said, "the strategic imperative is to use it or lose it": to apply those resources in ways that benefit the host institutions, the advance of life science, and the broader community. The key, he said, is fostering much more collaboration and cooperation—among Harvard and its affiliates, across the University, and with other institutions. (At a time of rising research costs and constrained funding, of course, such interactions make fiscal sense—and offer the benefits of applying diverse scientific insights and knowledge to important problems.) Specific opportunities will be identified by Faust, Garber (who is a physician, economist, and medical researcher), George Q. Daley (who becomes dean of the Medical School on January 1), and Michelle A. Williams, who assumed the public-health deanship last summer.
Lee has himself been involved in exploring collaborations among Harvard-affiliated hospitals in recent years, meeting occasionally with board chairs and CEOs. Beyond the long-term associations (thousands of Medical School faculty members are based in the hospitals; many of the school's Ph.D. students conduct research in hospital laboratories), the school and the hospitals collaborate on faculty appointments and retentions. There are always issues to sort out so that institutions can install, and arrange to manage, increasingly expensive apparatus (for instance, a cryogenic electronic microscopy facility shared among Harvard, Children's Hospital, and Dana-Farber Cancer Institute scientists whose research involves structural biology and visualization technology). Programs like the therapeutic-science initiative depend on engaging researchers from multiple home institutions—requiring agreements on sharing intellectual property, laboratory space, and so on. And evolving fields of inquiry and technologies like bioinformatics and data science naturally suggest operating on a multi-institution scale.
Having hands-on exposure to matters like these enables Lee to bring additional perspectives, complementing those of Tilghman and other fellows, to the Corporation's discussion. He noted, with pleasure, that the early-November launch of the Pagliuca Harvard Life Lab was attended by representatives from a broad spectrum of Boston-area life-sciences interests—a sign of the kind of ecosystem already evolving.
Toward a Dynamic Planning Process
The Corporation's next strategic discussion, Lee indicated, would bring it back to its core financial concern: how to pay for everything. With N.P. Narvekar arriving as president and CEO of Harvard Management Company (HMC) next Monday, the endowment will be on the Corporation's agenda.
HMC's performance looms large for all of Harvard. Endowment distributions accounted for some 36 percent of the University's operating budget in the fiscal year ended last June 30, and the management company's 10-year annualized rate of return, now 5.7 percent, is significantly below its long-term target of 8 percent—the level considered sufficient to maintain both current operations and the endowment's future purchasing power.
That connects directly to the other strategic priorities. For all their intellectual and clinical potential, for example, the life sciences remain difficult to fund: Harvard's three principal "wet-lab" faculties—FAS, medicine, and engineering and applied sciences—are all operating at a loss on a cash basis, and can all expect to require significant investments and operating subsidies to pursue future research. (Lee foresaw continuous fundraising to support life-sciences research in the coming decades.) Beyond the potential for the commercial enterprise zone in Allston—envisioned as both a center for innovation and an attractive financial asset—the University is stressing commercialization and licensing of Harvard discoveries (see, for instance, the recent announcement of the agreement with Magenta Therapeutics, and the list of start-ups resident at the new life lab). HMC's new leader, among other things, will have to sort out whether these are opportunities for the endowment—much like MIT's investment in Kendall Square real estate, and in The Engine, its new, large venture fund.   
Come next summer, financier, philanthropist, and Harvard campaign leader David M. Rubenstein will join the Corporation, helping to augment the expertise and experience that were lost with the premature death of former University Treasurer James F. Rothenberg in mid 2015. Lee not only welcomed Rubenstein's addition to the fellows' ranks, but drew a larger message from his pending arrival. The Corporation views its strategy responsibilities as dynamic, he said. It will likely devote part of its July retreats each year to determining whether it is focusing on the proper imperatives for the University, or needs to refine its targets of interest. And as the fellows themselves, and the institution's presidents, change over time, so will their common understanding of the strategic directions—"the right goals, viewed in the right way"—that Harvard should pursue into the future.