Destinations
Take to the Hills
Photograph by Lorna Ruby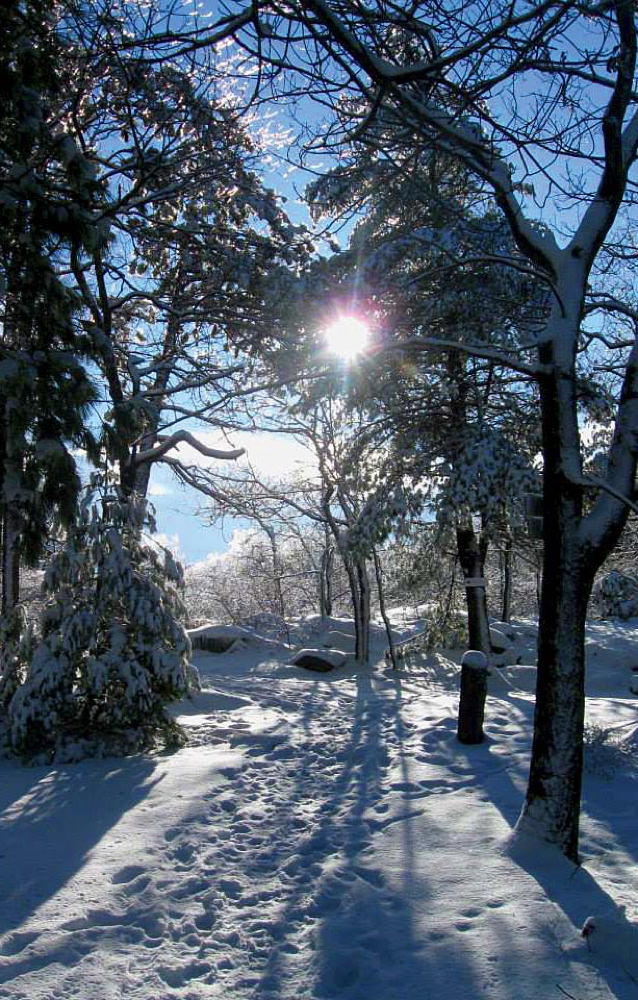 Photograph by Lorna Ruby
Photograph courtesy of the Appalachian Mountain Club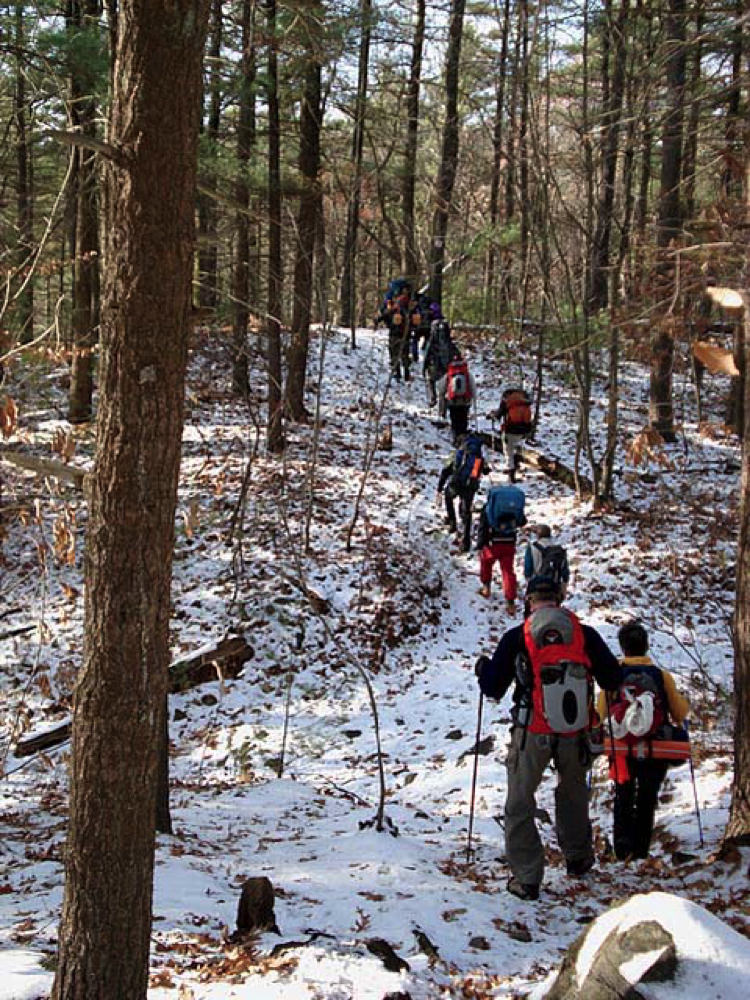 Photograph courtesy of the Appalachian Mountain Club
 The Blue Hills Reservation spans more than 7,000 acres, forming a scenic chain of largely unspoiled nature, just south of Boston. It's the largest state-owned green space that caters to year-round recreation—and, even rarer, it's accessible by public transportation.
In the winter, the golf course is transformed into a cross-country skiing haven, and other sections of the park are earmarked for downhill runs, mountain biking, rock climbing, and horseback riding. Urban-dwelling hikers especially flock to the reservation's 125 miles of trails, notes Catherine MacCurtain, a leader of the Appalachian Mountain Club's Southeastern Massachusetts chapter: "Otherwise we have to drive all the way to New Hampshire." The park's 22 hills offer a surprising array of treks, she assures, from beginner paths to the challenging Skyline Trail, which stretches across the range, offering perfect views of Boston's skyline and the harbor islands.
The chapter organizes free hiking trips throughout the year. MacCurtain herself prefers winter jaunts—"No bugs and it's cool"—and swears she's not alone. Consequently, she and fellow leader Paul Brookes have organized a weekly hiking series from December 27 to March 14 that roughly coincides with the winter solstice and spring equinox. The group will meet at different locations each Tuesday morning for four-hour expeditions. But anyone can take on the larger goal: hiking the length of every single trail in the park during the wintertime—although not necessarily within one season. (To traverse all 125 miles in three months, "you would be out there at least three or four times a week, in addition to the Tuesday hike," MacCurtain concedes.) About 20 hardy hikers joined the series last winter and averaged six miles each week. (For those seeking a mellower outing of three miles or so, the Blue Hills Reservation hosts its own SE Mass Adult Walking Club series.)
The point, really, is getting people together to enjoy winter, instead of leaving them to sit around the house. "We've found," MacCurtain adds, "that once they get the right clothing and get out there, they're not cold at all, and they enjoy it." The group stops along the way for snacks and lunch, but the pace is brisk; non-Appalachian Mountain Club members and fledgling hikers are welcome, but they should be in reasonably good physical condition. And, at least after the first snowfall, proper attire, hiking boots, and tread spikes or chains that increase traction are required.
Even without the winds and ice, winter hiking is more arduous than sunny-weather climbs. "Last year we didn't have much snow," MacCurtain recalls, "but we had many cold and rainy Tuesdays, which can be worse, because no matter what gear you wear, you get wet. We'd do five or six miles; then everyone would want to go home. But at least you're all in it together, so it's always more fun that way."