Sports
Finding Their Rhythm
2.27.17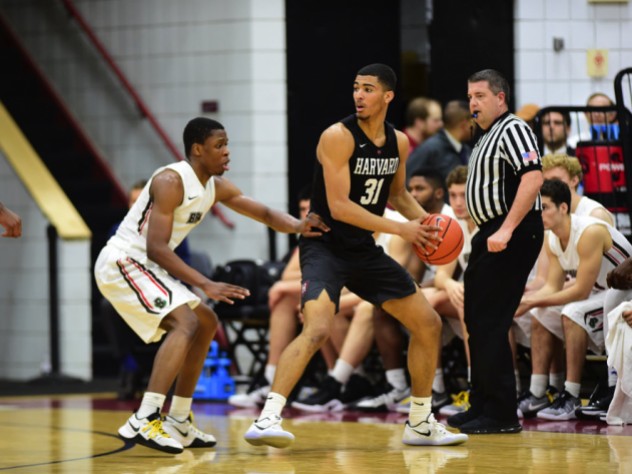 Photograph courtesy of Harvard Athletic Communications
Photograph courtesy of Harvard Athletic Communications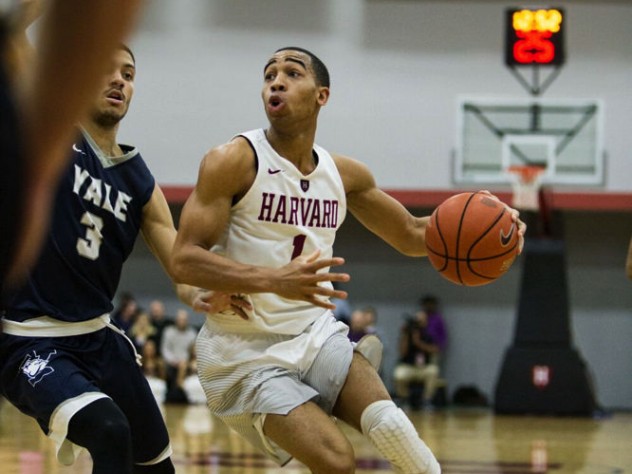 Photograph courtesy of Harvard Athletic Communications
Photograph courtesy of Harvard Athletic Communications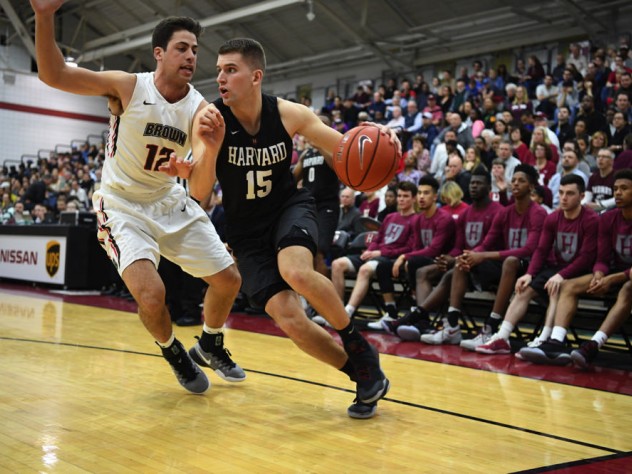 Photograph courtesy of Harvard Athletic Communications
Photograph courtesy of Harvard Athletic Communications
At a pre-season press conference in October, Stemberg men's basketball coach Tommy Amaker sat on a leather couch in the glass-encased lounge overlooking Lavietes Pavilion and spoke cautiously about the team's prospects. Although the Crimson had considerable returning talent—including all-Ivy veterans Zena Edosomwan '17 and Siyani Chambers '16 ('17)—and was adding a freshman class rated tenth in the country by ESPN, the coach warned that it could take time for the team to coalesce. "We're finding ourselves and learning about ourselves right now, and we're a work in progress," he said. He stressed that he had "no timetable" for getting the team's talented, large, and inexperienced roster to cohere.
On Saturday evening, moments after the Crimson had defeated Brown 77-58, Amaker sat on the same couch, analyzing the box score in his hands, and was far more upbeat. The Crimson dished out 18 assists, versus just five for the Bears. Harvard held Brown's leading scorer, Steven Spieth, to 11 points on four of 13 shots. Most significantly, the team's attack was balanced and fluid; 10 Harvard players scored. "I think we've been building toward it," said Amaker. "We're in a good rhythm right now."
Paired with Harvard's 77-64 win over Yale on Friday, the win over Brown showed improved ball movement and the evolution of freshman Seth Towns, crucial factors in the team's growth. Still, Harvard struggled to defend the paint without fouling. The Crimson (18-7 overall, 10-2 Ivy) now prepares for the last weekend of the regular season and the inaugural Ivy League tournament.
With just under six minutes left in Friday's game against Yale, Edosomwan caught a pass from Chambers on the right baseline, a few feet from the basket. He took one dribble and spun to his left, positioning himself for a post move. Yale countered with a double-team. Edosomwan—who at six-foot-nine and 245 pounds is one of the strongest players in the conference—could have tried to overpower the defenders, but instead he passed the ball to Towns on the perimeter, who sent it to Justin Bassey '20 on the right block. The Yale defense scrambled. Bassey bounced the ball back to Edosomwan, who flushed home a two-handed dunk that boosted Harvard's lead to 67-50. The sequence called to mind an Amaker quote that Matt Fraschilla '17 shared earlier this year: if you give the ball up, "chances are it's going to come back and find you."
The play also showed the team's improved ball movement. Earlier in the year, many Harvard players—particularly the freshmen, who were accustomed to being offensive stars in high school—often took ill-advised shots. The Crimson also turned the ball over against teams with disruptive zone defenses. This weekend, Harvard had 18 assists against both Yale and Brown (and 14 assists in the first half alone against the Bears). What's more, the Crimson accomplished this against two very differently defenses—Yale primarily played man-to-man and Brown deployed a zone. Harvard's offense has become more versatile.
"When you play that way," Amaker said, "it's amazing how many shots actually end up going in." The Crimson shot 50 percent from the floor against Brown and 47 percent from three-point range. The key, Amaker emphasized, is to "let the shot find you."
Less than two minutes into the second half of Friday's game, with the Crimson trailing 36-35, Seth Towns eyed Yale's Blake Reynolds holding the ball near the top of the key. As Reynolds passed to Sam Downey, the player Towns was guarding, the Harvard freshman extended his arm, stole the ball, and took off. The breakaway and two-handed dunk put the Crimson ahead 37-36. They would not trail their opponents again all weekend.  
The first-year's game has evolved this year. Amaker has said that Towns—who scored more than 2,000 points in high school—and fellow freshman Bryce Aiken are "wired to score." Earlier in the season, though, Towns was forcing his shots, and Amaker pushed him to do more rebounding and make contributions in other areas. The extra work Towns has put in on his shooting and conditioning showed: this weekend he had 18 points and eight rebounds against Yale, and 16 points and eight rebounds against Brown; he also made four steals and blocked one shot.
Amaker tells his players, "No paint, no fouls." In other words, the team should do everything it can to prevent opposing teams from getting the ball in the lane, but then not foul them if they do. During the last 10 minutes of the first half on Friday, when Yale went on an 18-9 run to take a 34-31 halftime lead, the Crimson struggled on both counts. The troubles began when Yale's Trey Phills, coming off a pick-and-roll, penetrated, scored, and drew a foul on Edosomwan. Several minutes later, Yale's Sam Downey beat Edosomwan on a cut near the basket, made a layup, and also drew a foul. Amaker substituted forward Chris Lewis '20, who then picked up his second foul when Downey again caught the ball near the basket.
The Crimson's difficulties in stopping dribble penetration and defending without fouling are concerning partly because they aren't easy to fix. Harvard's best guards, Aiken and Chambers, are extremely fast but small, which means they can be overpowered; two other guards, Corey Johnson '19 and Corbin Miller '15 ('17), are relatively slow, which makes it hard for them to keep opponents in front. And because the NCAA has in recent years encouraged referees to call hand-checking fouls more stringently, it is extremely hard to contain opposing guards off the dribble.
This leaves Harvard with two options. One is to make greater use of its match-up zone, designed to force an outside shot—but Amaker has made clear that he prefers an aggressive man-to-man defense. The second option would have Harvard players carry out what Fraschilla described as a "chain reaction" of switches on defense when one of their teammates is in danger of getting beaten. This stout, cooperative defense will be especially important against a savvy, veteran team like the undefeated, league-leading Princeton, whom the Crimson face next Friday. So, as the team enters the final weekend of conference play, Amaker and his players are focusing on continuing to improve. As Chambers said, "Now is not a time to let your foot off the gas."
Tidbits: On Saturday, the team honored its seniors—Fraschilla, Miller, Edosomwan, and Chambers—in a pre-game ceremony. Each player took the court with his family, and the public address announcer listed his career accomplishments. All four started, and Miller, Edosomwan, and Fraschilla hit the team's first four field goals. Chambers went on to score a season-high 19 points.
Earlier in the week, as part of its "Faculty, Food, and Fellowship" series, the men's team had dinner with and listened to a talk by Harvard Business School faculty member Steven Rogers. The presentation focused in part on his course "Black Business Leaders and Entrepreneurship." A former football player at Williams College and part-owner of the Chicago Sky of the Women's National Basketball Association, Rogers discussed how the players' work in the classroom should complement their athletic performance. He recalled telling the players, "Just because you're smart doesn't mean that you can't be a ruthless competitor; and just because you're a ruthless competitor athletically doesn't mean you can't be smart."
The Harvard women's basketball team, after falling to Yale 57-52 on Friday, clinched a spot in the Ivy League basketball tournament with a 66-63 win at Brown on Saturday. Freshman Katie Benzan led the way with 24 points and six assists against the Bears. The Crimson (20-5 overall, 8-4 Ivy) will conclude the regular season with home games Friday and Saturday against the two teams ahead of them in the conference standings, Princeton and league-leading Penn.