News
John Manning Appointed Dean of Harvard Law School
6.1.17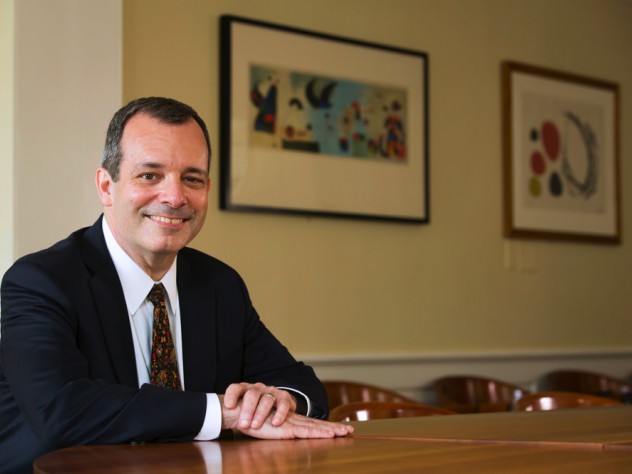 Photograph by Stephanie Mitchell/Harvard University
Photograph by Stephanie Mitchell/Harvard University
As Harvard Law School (HLS) prepares to celebrate its bicentennial year, it will do so under new leadership. President Drew Faust today named Bromley professor of law John F. Manning, who has been deputy dean, as dean, effective July 1. The appointment of Manning, a graduate of Harvard College (1982) and HLS (1985), continues the tradition of selecting the school's leader from within its faculty ranks.
Among those who know his work, he is regarded as a talented scholar, a devoted teacher who is accessible to students, and—not always the case in decanal appointments—someone who brings administrative experience to his new post at the school. Manning's scholarship has an especially Crimson character, in at least one important sense: he is co-editor of the sixth edition of one of the leading, standard texts, Hart & Wechsler's Federal Courts and the Federal System (with Richard Fallon, Daniel Meltzer, and David Shapiro); this puts him in the great chain of faculty succession from Felix Frankfurter to Henry Hart, Hart to Paul Bator and Shapiro, and Bator and Shapiro to Meltzer and Fallon.
In a statement accompanying the announcement, President Drew Faust said:
John Manning is known among colleagues and students for his intellect and humility, his wisdom and integrity, his energy and openness. He has an unusual capacity for creating conversations and connections across lines of difference, and a deep appreciation for a wide range of perspectives and methods. Over and again during the search, I heard people remark on his magnetic enthusiasm for the law, his strong academic values, his collaborative instincts, and his extraordinary devotion not just to Harvard Law School as an institution but to the people—faculty, students, staff, and alumni—who are the lifeblood of its vital work. I'm delighted that he has agreed to guide Harvard Law School forward.
Manning said:
Generation after generation, Harvard Law School prepares leaders who shape the law and institutions in the private bar, the public-interest community, government, business, academia, and beyond. Our unique strength comes from our large, excellent, and wonderfully diverse community—people whose many backgrounds, many lived experiences, many interests, and many perspectives energize all that we do. With them, I look forward to exploring how we can best nurture important scholarship on pressing issues, how we can embrace innovative teaching and learning, how we can further the best ideals of law and justice, and how we can together deepen an environment of belonging and mutual respect in which we discuss and debate the hard and crucial questions that belong at the heart of what we do.
A scholar of public law, Manning teaches courses on administrative law, federal courts, legislation and regulation, separation of powers, and statutory interpretation. According to the news release, he also serves on the University Task Force on Inclusion and Belonging and on the HarvardX faculty committee. Early in his career, he was an attorney-adviser in the Office of Legal Counsel (1986-1988) and an assistant to the solicitor general (1991-1994), both in the U.S. Department of Justice; between those stints, he was in private practice.
Manning succeeds Martha Minow, who became dean in 2009 and announced in January that she would step down at the end of this academic year. Read Lincoln Caplan's assessment of Minow's deanship here; she will be a Radcliffe Institute fellow in 2017-2018. He will certainly be considered more conservative than either Minow or her predecessor, Elena Kagan (now a Supreme Court justice): Manning clerked for both Judge Robert H. Bork at the U S. Court of Appeals for the District of Columbia Circuit, and for Justice Antonin Scalia, LL.B. '60 at the Supreme Court. His remarks last March at the HLS ceremony marking the donation of Scalia's papers to the school's library, titled "Without the Pretense of Legislative Intent," focused on Justice Scalia's textualism and skepticism toward legislative intent as a tool in federal statutory interpretation.
In the announcement, Minow said:
Harvard Law School will be fortunate to have at the helm such an outstanding person whose scholarship, teaching, public service, and devotion to justice and the rule of law exemplify the School's highest aspirations. John Manning's generosity of spirit, his superb judgment and integrity, his commitment to respectful and vigorous consideration of all points of view, and his longstanding contributions to strengthening community illuminate our crucial values, and I look forward to the splendid next chapter for this exceptional School.
HLS has of late grappled with issues of diversity and identity, and members of its student body figured importantly in Harvard's first Black Commencement last week, where they were warmly acknowledged by Minow. In its year-end issue, The Harvard Crimson highlighted the admissions challenges that even elite schools like HLS face as the profession changes, and the resulting adaptation it is making (allowing applicants to submit GRE rather than LSAT scores, to broaden the appeal to new kinds of students; extending its undergraduate junior-year admission program from Harvard College to all institutions).