John Harvard's Journal
Day One
Photograph by Rose Lincoln/Harvard Public Affairs and Communications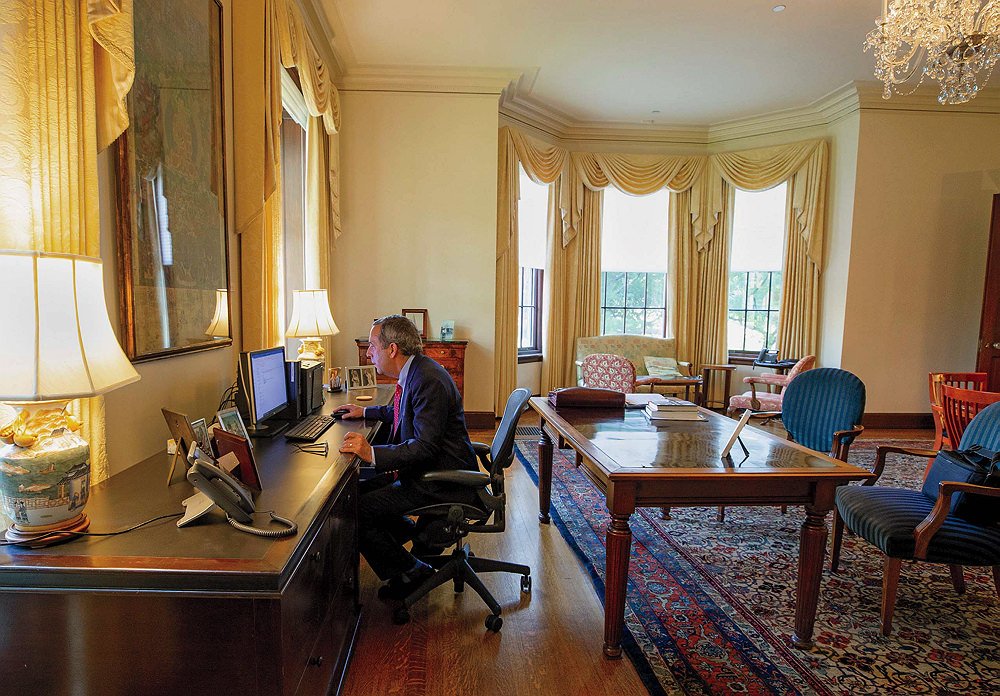 Photograph by Rose Lincoln/Harvard Public Affairs and Communications
Monday, July 2, Lawrence S. Bacow's first business day as Harvard's twenty-ninth president, found him literally, but not physically, in office: with Massachusetts Hall under renovation, he worked, as shown above, in Loeb House (the former president's residence, now the home of the governing boards—of which he was a member, as a fellow of the Corporation, since 2011). As was his wont during his leadership of Tufts, he reached out to one and all in an email. In it, Bacow highlighted his close friendship with his predecessor, Drew Gilpin Faust, and then emphasized a theme he sounded throughout his Tufts tenure—the joint responsibility of all members of a university community to further its common purpose:
"Every one of us who works here plays a role in advancing our academic mission. Collectively, we all help to educate new students and create new knowledge—whether we teach classes or work in a lab, shelve books in the library or maintain our beautiful grounds."
As is also his custom, he wrote in an approachable voice ("If you see me around campus this summer, please come up and say hello"), signing off informally, "All the best, Larry." A fuller report appears here.
The same themes punctuated the July 23 announcement of his first senior appointment: Claudine Gay, as Faculty of Arts and Sciences dean. He wrote that she "inspires trust. She is broadly curious and eager to engage with new ideas and diverse views. She listens intently and speaks incisively. She relates to people with warmth and ease. She is committed to free expression and robust dialogue across lines of difference and to inclusion as a pillar of Harvard's strength. She radiates a concern for others—and for how what we do here can help improve lives far beyond our walls."
A profile of President Bacow's lifetime in higher education can be found here.