Commencement
"You Can Correct the Mistakes of My Generation"
5.29.19
Photograph by Raychel Casey/Harvard Kennedy School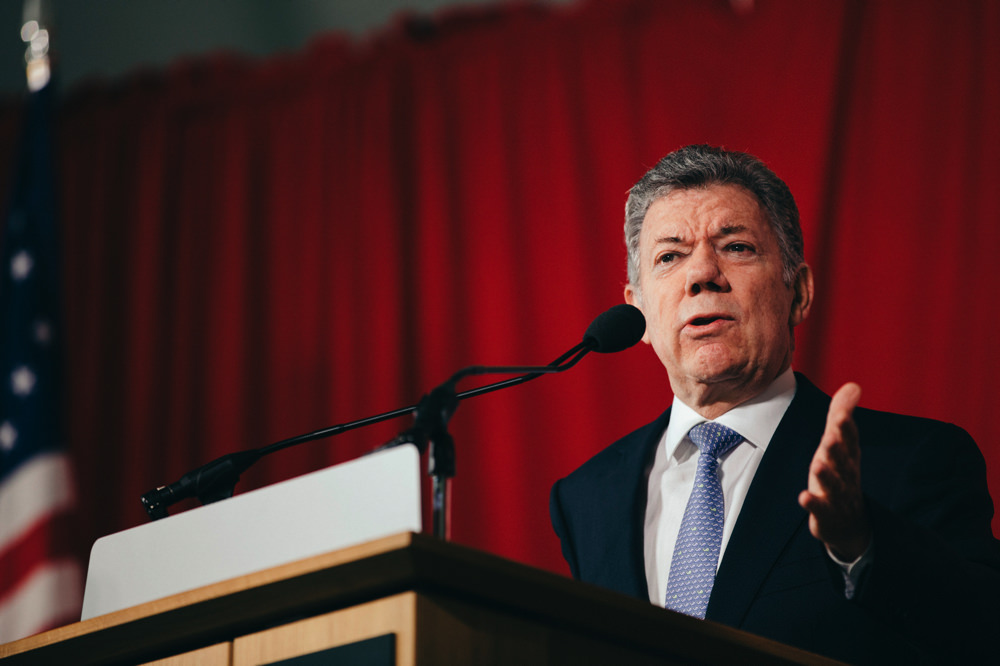 Photograph by Raychel Casey/Harvard Kennedy School
Drawing on his own success in brokering a peace treaty with the guerilla army FARC, ending five decades of civil war, former president of Colombia and Nobel laureate Juan Manuel Santos, M.C./M.P.A. '81, NF '88, implored graduates of Harvard Kennedy School (HKS) to also make "possible the impossible" by uniting to "stop global warming."
"Denying the reality of climate change is stupid, selfish, suicidal," Santos said, to rousing applause from an audience packed under a tent in JFK Park, "because what is at stake is the survival of humanity. The UN's latest report published this month by 455 scientists from 50 countries put it very clearly: 'Nature is declining globally at rates unprecedented in human history.' One million species are at risk." 
A trained economist and an award-winning journalist for Colombia's largest daily newspaper, El Tiempo, which was owned by his family, Santos entered politics in 1991 as Colombia's first minister of foreign trade. He gained influence and recognition during the presidency of Álvaro Uribe Vélez, his one-time political mentor, and then served as Colombia's president himself, from 2010 to 2018. In 2016, Santos earned the Nobel Peace Prize for his efforts to end what he called "the last and longest internal armed conflict in the Western Hemisphere…that left more than 250,000 dead and more than eight million victims. We had the highest rates of killings, kidnappings, and displaced people in the whole world."
How was peace finally won? How did what seemed impossible become possible? "Through good will, perseverance, courage, adequate planning—yes—but above all, by recognizing each other as human beings," answered Santos, who spent the last academic year as the Angelopoulos Global Public Leaders Fellow at HKS. That lesson, he said, is among many he learned while at the Kennedy School for his mid-career graduate studies: from Michael Dukakis, "how politics and power interact"; from Roger Fisher, "my first negotiation techniques"; and from Richard Neustadt and Ernest May, "how to use the lessons of history and the importance of discipline and perseverance to achieve your goals."
Reflecting on the state of world when he graduated in 1981, Santos said his return to campus was paired with a "strange sensation of déjà vu." He cited these events, among others: 
Amid the Cold War, President Ronald Reagan took office "with a conservative agenda" after defeating Jimmy Carter.
Military dictatorships controlled most of Latin America. 
Terrorist attacks intensified in Spain and the United Kingdom; there were coups in Poland and Bangladesh, and another attempt in Spain; and conflict raged in the Middle East.
Egyptian president Anwar Sadat, "peacemaker between his country and Israel, was killed by his soldiers in the middle of a military parade," Santos continued. "That same year, a Turkish extremist shot the Pope in St. Peter's Square." 
"I don't know if you agree with me, but what anyone can conclude from this summary of what was happening the year I graduated from this school, is that we lived in a crazy world, run by rather senseless people," he continued. "Unfortunately, when we look around, today's world is not very different."
There is, however, one giant exception, Santos asserted: "We are destroying our planet, we are destroying our biodiversity, we are destroying life on earth."
Advances in science and technology can help the fight planetary degradation, but the human work requires will and determination, he said—and true leaders. Leaders like those in the class of 2019, he added, who are "not motivated by hate and prejudice," and who are "prepared to question old ideologies and old methods, to open your hearts and open your minds to new possibilities." 
Leadership is "not considering yourself better than others, but serving others," he told members of the class, which represents 90 countries and five continents. "Leadership is not saying 'My country first,' 'My religion first,' or 'My race first,' but saying 'Humanity first.'" Then he quoted South African anti-apartheid leader Nelson Mandela, saying "We must 'rise above the parochial concepts of nation, race, and creed.'"
"What separates us today from one another is part of a big illusion," Santos continued. "Nations, race, and religion are all human-made concepts. But if we look deep into our hearts and our origins, we will understand that in the end, once we shed the imaginary labels that set us apart, we are all equal."
All the members of the class of 2019 have the capacity to become heroes, he asserted: "You can correct the mistakes of my generation and recover for the new generations the faith in the goodness of life and the innate generosity and greatness of the human being."
Santos studied business and economics at the University of Kansas, graduating in 1973, then earned a master's degree from the London School of Economics, and also served as chief executive of the National Federation of Coffee Growers of Colombia and as a delegate to the International Coffee Organization. He wrote several books, including The Third Way (coauthored with former English prime minister Tony Blair) and Check on Terror, which chronicles the battle against FARC guerrillas while Santos was minister of defense.
In his address, Santos summarily explained his own transformation—"from an effective war-maker, a hawk" to a "pacifier, a dove" during the long fight, and subsequent peace negotiations, with FARC; that shift, he said, "is difficult to understand. So, I was called a traitor." Yet there was no inherent contradiction: "Sometimes you need to wage war to make peace. I was a hawk because circumstances required it, but I always knew, as I said to the soldiers of our army, that the real victory, the only victory, the ultimate victory, is peace."