Commencement
"If You Believe That It Is Possible to Break, Believe That It Is Possible to Repair"
5.29.19
Roberta Kaplan
Photograph courtesy of Harvard Law School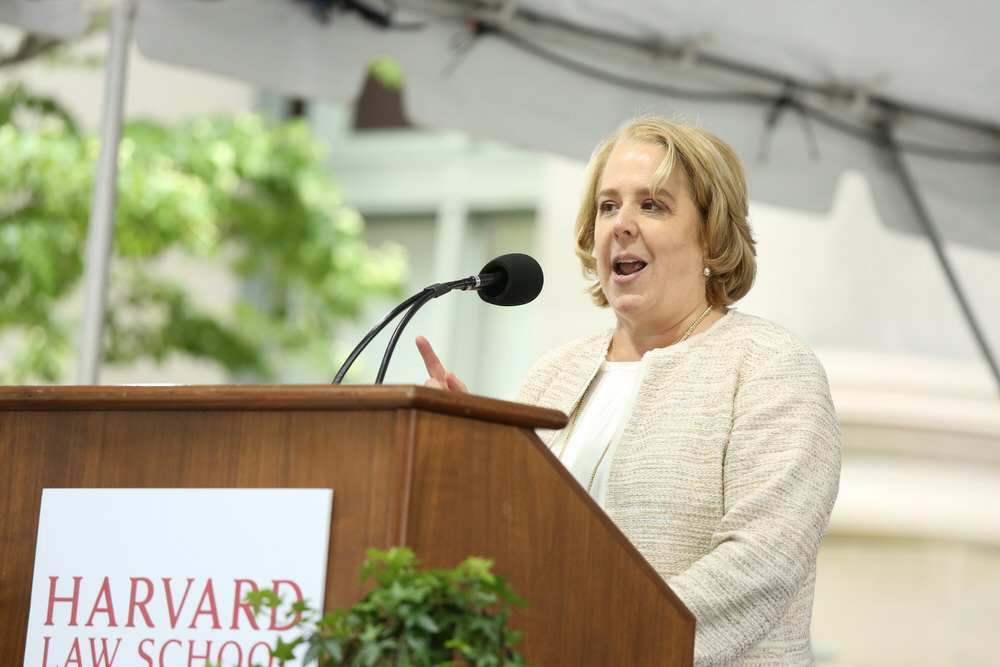 Roberta Kaplan
Photograph courtesy of Harvard Law School
This year's Harvard Law School Class Day had many firsts: Roberta "Robbie" Kaplan '88 was the first openly gay person to speak at the occasion, addressing the school's first majority-woman graduating class, whose members had performed a record-breaking 390,095 hours of pro bono work. 
One of the most influential lawyers of her generation, Kaplan has spent her decades-long career working on a wide variety of commercial and civil-rights litigation—but is best known for her role in defeating the Defense of Marriage Act (DOMA) in the landmark 2013 Supreme Court case United States v. Windsor. 
In her speech, Kaplan emphasized that she was not there to tell soon-to-be-J.D.s how to use their law degrees. "We all walk our own path," she said. "There's only one thing I know for sure, and that is that nobody really knows what life has in store for them."
But Kaplan also said that the students had the power to make change in response to whatever circumstances they would go on to face. She implored her audience to "be brave" despite the "impulse to play it safe" as a lawyer, using both personal experiences from her life and stories from her legal career to demonstrate the payoff of taking risks.
"As a closeted high-school student in Cleveland, Ohio, in the early 1980s; as a closeted college student here at Harvard in the mid 1980s; and as an only slightly-less-closeted law student at Columbia in the late 1980s—if you had told me that one day I would marry a woman, have a child, win a civil-rights case about marriage equality before the Supreme Court, and then start my own law firm, I would have responded to you that you were completely insane," she said. "But while there's a lot that you cannot predict or control, there's also plenty that you can." 
Kaplan concentrated in history and literature and then earned her J.D. from Columbia Law School, where she now serves as an adjunct professor, in 1991. She started her career as a law clerk and eventually made partner at Paul Weiss, a private law firm, in 1999. In 2017, she founded her own firm, Kaplan Heckler & Fink, which combines "high-stakes litigation with a groundbreaking public interest practice," according to its website.
She has dealt with issues ranging from user privacy in the sharing economy to municipal-bond transactions—but her defining case was United States v. Windsor. The events that led to the case began in 2009, when Edith Windsor's partner of more than four decades, Thea Spyer, died. The couple had married in Canada two years earlier, but because the U.S. government refused to recognize their marriage under the Defense of Marriage Act, Windsor faced a six-figure estate-tax bill. Windsor sought help from several gay-rights activists but could find no one to take her case until Kaplan agreed to do so, representing Windsor pro bono; she would later recall that it took her "about five seconds, maybe less" to agree to take the case. 
After Kaplan argued on behalf of Windsor, the Supreme Court ruled that a key provision of the Defense of Marriage Act—which barred married same-sex couples from enjoying the same benefits of marriage protected by federal law for married heterosexual couples—was unconstitutional. Former president Bill Clinton has called Kaplan a "true American hero" for her role in the case, and Loeb University Professor Laurence Tribe, a leading constitutional-law scholar, has said that he cannot "think of any Supreme Court decision in history that has ever created so rapid and broad a lower-court groundswell in a single direction as Windsor."Windsor in turn laid the groundwork for the 2015 case Obergefell v. Hodges, which established marriage equality nationwide.
Since her role in Windsor, Kaplan has litigated other related cases—for example, overturning Mississippi's gay adoption ban. She co-founded the Time's Up Legal Defense Fund—which provides legal defense for victims of sexual violence—and filed a lawsuit against neo-Nazi and white supremacist leaders who were responsible for the August 2017 violence in Charlottesville, Virginia. 
During her speech, Kaplan gave three main pieces of advice to the graduating law students. In addition to "being brave," she told them to eschew the common view of the lawyer as a "lone advocate" and instead work together, and she reminded them that "if you believe that it is possible to break, believe that it is possible to repair."
"You have the distinction of graduating from law school at one of the most unsettled moments in our nation's history," she told the crowd. "The past several years have seen a terrifying increase in hate crimes and bigotry toward minorities of all kinds. The #MeToo movement has exposed the misogyny that infects so many of our leading institutions. Our elected officials struggle to address soaring income inequality, access to healthcare, an epidemic of gun violence, and the imminent threat of climate change. Whatever your politics or party, we can all agree that our society has become dangerously polarized and our politics profoundly divisive."
Kaplan emphasized the increased importance of making courageous decisions and working together in the context of today's political climate. She said that she herself was scared to take on a marriage-equality case and "feel the fate of so many Americans resting on my shoulders"; she herself was scared to take on "a lawsuit against the dozen Nazis who planned the attack in Charlottesville"; she herself was scared to come out as a lesbian because of "my own fear of widespread homophobia." But she said that by working together and believing that what is broken can be fixed, "You will know when the moment demands bravery and you will have the support you need to act."
"When you wake up tomorrow and the next day and the day after that, persist. As members of the bar, you will be entrusted with the responsibility to protect the Constitution of the United States of America," Kaplan said. "The people who stand the most to lose from the battles raging around us today do not have the privilege to be sitting at this ceremony. They need your help now more than ever."