Sports
Football 2019: San Diego 31, Harvard 23
9.22.19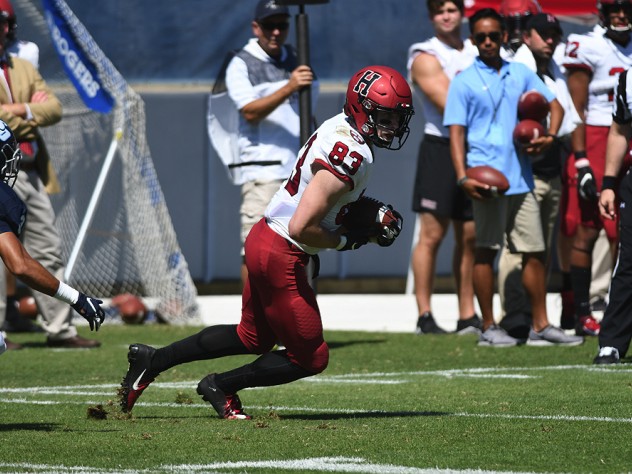 Photograph by Brock Scott/Courtesy of Harvard Athletic Communications

 
Photograph by Brock Scott/Courtesy of Harvard Athletic Communications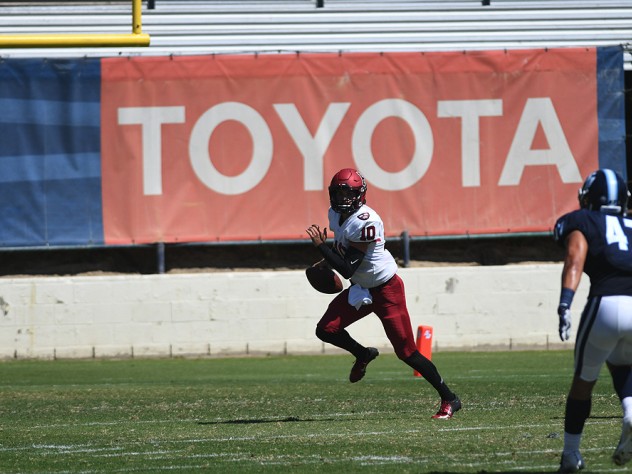 Passing grade: Back as a starter, junior quarterback Jake Smith survived a rough first half to complete 22 of 39 passing attempts and fire three scoring passes.
Photograph by Brock Scott/Courtesy of Harvard Athletic Communications

Passing grade: Back as a starter, junior quarterback Jake Smith survived a rough first half to complete 22 of 39 passing attempts and fire three scoring passes.
Photograph by Brock Scott/Courtesy of Harvard Athletic Communications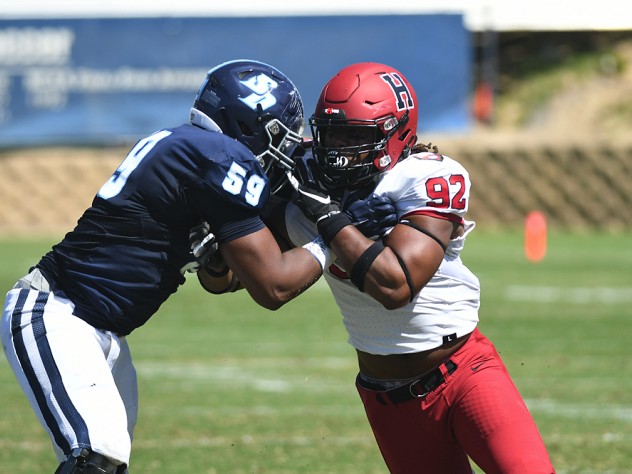 Standoff: Harvard junior defensive lineman Nasir Darnell (92) found his path blocked by San Diego's DJ Wright.
Photograph by Brock Scott/Courtesy of Harvard Athletic Communications
Standoff: Harvard junior defensive lineman Nasir Darnell (92) found his path blocked by San Diego's DJ Wright.
Photograph by Brock Scott/Courtesy of Harvard Athletic Communications
A Princeton man once remarked, "In a real dark night of the soul it is always three o'clock in the morning." For a venerable Harvard man, the real dark night of the soul came at three o'clock last Saturday afternoon, at halftime of the Crimson football team's 2019 opener at the University of San Diego's Torero Stadium. Harvard trailed 24-0 and San Diego had racked up 305 yards of total offense to the Crimson's 70. And so began the ugly, maddening thoughts: This could be the worst Harvard team of the twenty-first century. This could be the worst Harvard team in coach Tim Murphy's 26-year tenure. This could be the worst Harvard team in the 64-season history of the Ivy League. No…this could be the worst Harvard team in the 146-year history of Harvard football! 
Deep breath. In the second half, continuing a pattern that began in their three Ivy losses (Cornell, Princeton, Dartmouth) last year, the Crimson rallied and made a game of it before succumbing 31-23.  In winning for the first time in four tries against Harvard, the Toreros of the Pioneer League (1-2 in 2019) avenged last year's 36-14 loss in Cambridge.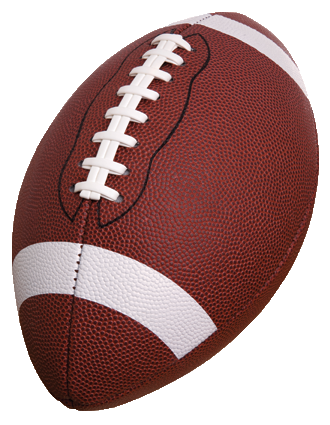 Harvard Football
Sign up for Harvard Magazine's football e-mail and follow the Crimson all season long! Dick Friedman will provide the latest news, game summaries, and insights.
Murphy was not sure whether the first or the second half was more representative of his team. "It's to be determined," he said as he prepared to travel back east with his squad. "We knew San Diego was a very good football team. We've got a ways to go, that's for sure. We're really young and not particularly deep. Today, that combination was deadly. But we played with character and energy, and I'm proud of that."
Before the game the Harvard Varsity Club conducted a tailgate outside the stadium for about 300 grads and friends. California is fertile Crimson recruiting territory. The 11 players from the Golden State on this year's roster are second in number only to the 13 from Massachusetts. An alumni band tootled Crimson fight songs and "Fair Harvard." Quipped former Crimson football player Vic Connell '70, "Except for the 70-degree temperature, you might think it was Cambridge."
When the opening whistle blew, the Toreros gave the Crimson defenders no chance to apply their sunscreen. Harvard was playing the first half without its senior captain, All-Ivy cornerback Wes Ogsbury, who was serving a suspension as a result of being called for a targeting penalty in last year's season-ending win over Yale. So on the first play from scrimmage, San Diego quarterback Reid Sinnett took advantage. He dropped back and threw downfield to star receiver Michael Bandy, who was running an inside route from right to left. Bandy gathered it in and outran the Harvard defenders into the end zone. Eight seconds into the season—stung! Brandon Eickert kicked the extra point. San Diego 7, Harvard 0.
To start this season, Harvard's quarterback once again is junior Jake Smith, who had many good moments as a freshman but was demoted early last year in favor of Tom Stewart '19. Smith and the offense showed opening-game rust, gaining a first down but then stalling.  The Toreros got the ball back and mounted a 19-play, 74-yard drive that consumed more than 10 minutes. On Saturday Harvard was starting four promising but inexperienced sophomore defensive linemen: Truman Jones, Anthony Nelson Jr., Jacob Sykes, and Chris Smith. This possession was a brutal baptism of fire. ("These kids are going to be outstanding," said Murphy of his baby blasters after the game. "They really hung in there.") It resulted in a 29-yard field goal by Tanner Kuljian. San Diego 10, Harvard 0.
That's how the quarter ended. The total yards were San Diego 173, Harvard 22. Things could have been even worse. A bad snap from Crimson center Jackson Ward '20 to Smith resulted in a safety that was negated when San Diego was called for a facemask penalty. (Ward, perhaps displaying a case of opening-day yips, had a particularly rough game and flinched on two snaps, resulting in illegal procedure penalties.)  Things did get worse again, and quickly. On the first play of the second quarter, Sinnett uncorked a pass to tight end Dalton Kincaid, who didn't have a Harvard defender within 10 yards. Kincaid waltzed into the end zone to complete the 57-yard touchdown. Again Eickert booted the point. San Diego 17, Harvard 0.
How low did things sink? At the conclusion of a promising Crimson drive, senior Jake McIntyre, Harvard's usually reliable field-goal kicker, missed a 42-yarder, wide right. Then, on a booming 60-yard punt by Kuljian, Harvard's return man, sophomore Kym Wimberly, was injured and limped off the field. Finally, with a little more than three minutes left, the Toreros drove 60 yards in seven plays for a score. On the capper, Sinnett threw to wideout Alex Spadone, who blasted his way to an 18-yard touchdown. Eickert punctuated. San Diego 24, Harvard 0.
As the third quarter began, it did not take long for things to turn around—10 seconds, to be precise. On the first play from scrimmage from the Harvard 25, Smith dropped back and saw wideout Cody Chrest running deep down the left—open. Smith threw and hit Chrest in stride. The lanky senior took it all the way to the house. McIntyre converted. San Diego 24, Harvard 7. Besides giving the Crimson life, the touchdown prolonged a non-shutout streak that has now reached an Ivy-record 209 games. It also created an oddity: the first play from scrimmage in each of the first three quarters resulted in a long touchdown. Even Murphy said he had never seen that before.
The Toreros restored their 24-point margin with a 68-yard drive that featured a sweet 31-yard flea flicker (off a double reverse, no less) from Sinnett to Kincaid. Emilio Martinez plunged the final yard for the score. Eickert booted the point. San Diego 31, Harvard 7. 
The Crimson would not go away. At the end of the third quarter, Smith launched a drive from the Harvard 23 highlighted by completions to tight end Ryan Reagan '21 and senior wideout Jack Cook, and a darting 15-yard run by junior back Devin Darrington. In the beginning of the fourth quarter, on second and nine from the San Diego 14, Smith found sophomore tight end Kyle Klink in the end zone. Here, with a little less than 13 minutes remaining and in hopes of making it a potential two-score game, Murphy chose to go for a two-point conversion. But Smith could not find an open receiver and his pass sailed harmlessly out of the end zone. San Diego 31, Harvard 13.
There was still time, if not plenty of it. With Bandy outfighting Ogsbury for a 39-yard reception, the Toreros reached as far as the 13. Set back by a penalty, they ended up punting into the end zone. Harvard took over on its 20. On first down, Smith dropped back. Cook streaked on a fly pattern along the right side. Whoosh! Smith's pass sailed through the air and into Cook's outstretched hands. He ran the rest of the distance into the end zone. At 80 yards, it was tied for the fourth-longest touchdown pass in Crimson history. McIntyre kicked the point. San Diego 31, Harvard 20.
Even with 8:23 left, the Toreros faithful were not overly worried. There was a small ripple of concern moments later when the Crimson defense forced a fumble that was recovered by junior linebacker Jordan Hill at the Harvard 36. Helped by two San Diego penalties, Smith moved the ball down to the Torero 13. On fourth-and-five, McIntyre kicked a 20-yard field goal—the thirty-first of his career, snapping his tie for most all-time with Matt Schindel '08. San Diego 31, Harvard 23.
There was 3:18 left. The Crimson defense did its job, forcing a three-and-out that led to a punt. Harvard took over at its 44 with 1:41 remaining but with no timeouts left. A touchdown and a two-point conversion would create a tie and probable overtime. It did not happen. On third down, Smith was pressured and threw the ball up for grabs. It was picked off by the Toreros' Daniel Tolbert—the first turnover of the game committed by Harvard. Tolbert happily ran out of bounds. Game over.
Smith finished with 22 completions in 39 attempts for 325 yards and three touchdowns. "Jake was solid," said Murphy, noting that the early deficit forced the Crimson to throw more than it might have otherwise. On the ground, Harvard was held to 59 net yards on 28 attempts.
In the end, all was not as dark as was imagined at halftime. But it was decidedly murky.
Tidbits: Junior back Aaron Shampklin, last season's Ivy League rushing leader, and junior wideout Tyler Adams, who scored a touchdown on a long run against Yale, are not enrolled in school this fall. Both were expected to be major contributors in 2019….The Crimson's all-time record in openers is now 119-25-2. Murphy's record in openers as Harvard coach dropped to 18-8….This was Harvard's first loss in eight games to a Pioneer League opponent.
Weekly Roundup
Cornell 21, Marist 7
Delaware 28, Penn 27
Yale 23, Holy Cross 10
Columbia 31, St. Francis (Pa.) 14
Dartmouth 35, Jacksonville 6
Brown 35, Bryant 30
Princeton 49, Butler 7
Coming up: On Friday night, the home opener against Brown, which also is the Ivy opener for both teams. Kickoff: 7 p.m. The game will be telecast on ESPN News and streamed on ESPN+. It will be broadcast on WRCA 1330 AM, 106.1 FM and 92.9 FM-HD2, and on WHRB 95.3 FM. Harvard leads the series 86-30-2 and has won the last eight, including last year's 31-17 victory in Providence. The Bears have a new coach, James Perry, who coached the past two seasons at Bryant. In 1999, as Brown's quarterback, Perry led the Bears to the Ivy League title and was the conference's player of the year.
THE SCORE BY QUARTERS
| | | | | | | | | |
| --- | --- | --- | --- | --- | --- | --- | --- | --- |
| San Diego | 10 | 14 | 7 | 0 |   | — |   | 31 |
| Harvard | 0 | 0 | 7 | 16 |   | — |   | 23 |
Attendance: 2,607