Sports
Football 2019: Harvard 62, Howard 17
10.6.19
Bison hunter: Harvard's Truman Jones drags down Howard quarterback Quinton Williams. The Crimson sophomore defensive lineman had three sacks and 4.5 tackles for loss.
Photograph by Tim O'Meara/The Harvard Crimson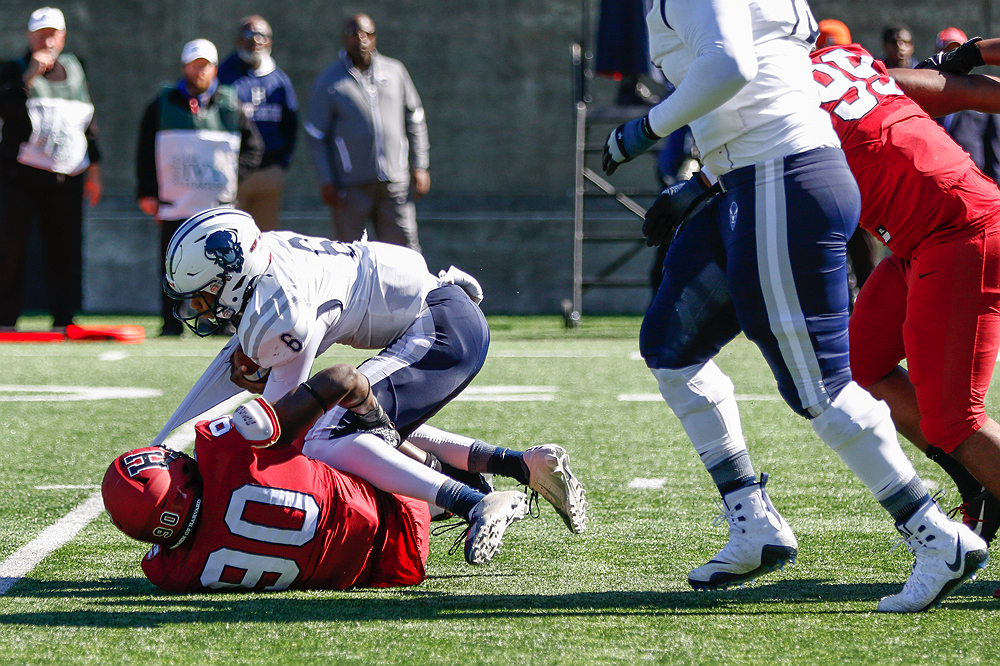 Bison hunter: Harvard's Truman Jones drags down Howard quarterback Quinton Williams. The Crimson sophomore defensive lineman had three sacks and 4.5 tackles for loss.
Photograph by Tim O'Meara/The Harvard Crimson
Quite dashing: Harvard's DeMarkus Stradford zooms past Howard's Ray Williams (7) and Deionte Davis (36). The Crimson sophomore scored three times, on rushes of 33 and 59 yards and on an end-zone recovery of a punt he blocked.
Photograph by Tim O'Meara/The Harvard Crimson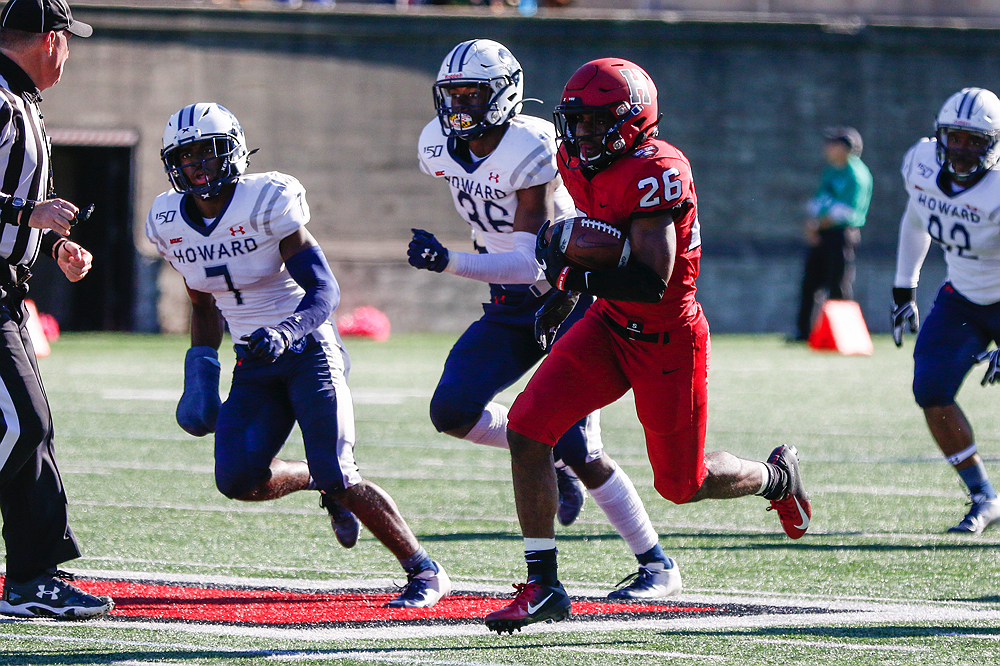 Quite dashing: Harvard's DeMarkus Stradford zooms past Howard's Ray Williams (7) and Deionte Davis (36). The Crimson sophomore scored three times, on rushes of 33 and 59 yards and on an end-zone recovery of a punt he blocked.
Photograph by Tim O'Meara/The Harvard Crimson
It was a rough week for Howard football coach Ron Prince. First, his star quarterback, Caylin Newton, announced that he would be placing his name in the NCAA transfer portal and thus would be unavailable for the rest of the season. Next, a group of players and their parents charged the first-year Bison coach with being "threatening, hostile, abusive, and disrespectful of the young men and coaching staff" under his command, prompting the school to say it would launch an investigation. (Prince had no comment.)
Then—oh, the humanity! On a sun-drenched Saturday at Harvard Stadium, his team couldn't get off a punt. Harvard blocked three attempted boots, leading to 21 points and paving the way to a 62-17 blowout victory in which running backs Devin Darrington '21 and DeMarkes Stradford '22 each scored three touchdowns. The nonconference win boosted the Crimson to 2-1 overall in 2019. (Harvard is 1-0 in Ivy League play.) Howard dropped to 1-5 on the season, and the Bison is 1-1 in the Mid-Eastern Athletic Conference (MEAC). A distinguished HBCU (Historically Black College or University), Howard has played one of the more unusual schedules in college football, having opened against a team from the Big Ten (a 79-0 loss to Maryland) and now having been drubbed by a team from the Ivy League. We wonder if any other team has faced programs from those two very disparate conferences in the same season.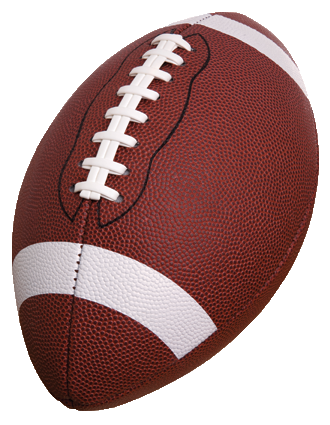 Harvard Football
Sign up for Harvard Magazine's football e-mail and follow the Crimson all season long! Dick Friedman will provide the latest news, game summaries, and insights.
"Stating the obvious, special teams certainly set the pace for us," said Harvard coach Tim Murphy. "Coach [Jon] Poppe, our special teams coach, did a good job scheming and timing up what we thought we needed to do to get a shot [at the punt]."
This was the first meeting between the two schools in football. How did it come about? Explains Murphy: "Georgetown had asked out of our home-and-home series so we were looking for a [Washington] D.C. area school because D.C. is an important recruiting area and high-density alumni area. Howard was attractive because it is a D-1 program in the highly talented and competitive MEAC. They are a high academic institution with a very important historical and rich tradition." As it turned out, Harvard and Howard already did have some shared football history. In 1893, Harvard donated used uniforms to the D.C. school so it could compete in football. And on September 18, 1971, Howard played University of Maryland Eastern Shore at Harvard Stadium.
For a quarter on Saturday this was a ballgame. After the Harvard defense stopped Howard on its first drive at the Bison 17, Howard's Isaiah Moore dropped back—but maybe not far enough—to punt. The ball was snapped, and it arrived to Moore at roughly the same time as Harvard's Khalil Dawsey, who had blown in from the Crimson right. Moore kicked and Dawsey, a freshman defensive back, blocked. Harvard junior defensive back Jason Brown recovered on the Howard six. On the Crimson's first play from scrimmage, junior quarterback Jake Smith handed to classmate Darrington, who headed right up the middle behind a scrum of Harvard blockers. The escort essentially pushed the running back into the end zone, but make no mistake: even unescorted, Darrington simply refuses to go down. Senior Jake McIntyre kicked the extra point. Harvard 7, Howard 0. Following a Howard interception of a Smith pass, the Bison, behind impressive freshman quarterback Quinton Williams, maneuvered into position for a 34-yard Nick Fariss field goal. Harvard 7, Howard 3.
The second quarter, however, often reveals the flaws of a team that is outclassed, and this game was no exception. At least two truisms had been established: One, the Bison could not stop Harvard's running game. Two, the Bison could not muster a running game. In this period, the Crimson scored five touchdowns. The first came after a sack of Williams by Harvard junior defensive back Isaiah Wingfield. Moore dropped back to punt—and in came Stradford, who got a piece of the ball, then followed it into the end zone, where he pounced on it for a score. McIntyre kicked. Harvard 14, Howard 3. Stradford, a sophomore running back, is Harvard's "quickest and fastest player," said Murphy. "There are a lot of guys who couldn't have gotten to the ball—but he can."
The deluge had commenced. On its next drive, the Crimson went 70 yards in six plays, including a 27-yard bolt by Darrington, who eventually squeezed in for a one-yard touchdown. A two-point conversion try failed. Harvard 20, Howard 3.
Later in the period, following a fumble recovery by Crimson junior defensive tackle Nasir Darnell (who always seems to be around the ball), Harvard went 56 yards in only five plays (helped by two Bison penalties). On the last play, from the Howard five, Darrington executed a nimble jump cut and went through a hole into the end zone. For this extra point, McIntyre returned and booted the ball through. Harvard 27, Howard 3.
Time for another blocked punt. After a Bison three-and-out, this time it was Fariss's turn to try to get a kick away. Once again, in sped Dawsey to get a piece of the ball, which ended up out of bounds at the Howard 18. Smith needed only three plays to get the ball into the end zone, courtesy of three rushes by freshman Aidan Borguet, who, like Darrington, simply refuses to go down when he smells the goal line. McIntyre kicked again. Harvard 34, Howard 3.
There was no mercy. For the coup de grâce (of this half, anyway) the Crimson took over on its 48-yard line. In two runs Darrington ate up 44 yards. The final eight came on a flip from Smith to junior running back B.J. Watson, who, like Darrington and Stradford, got an A for effort in getting over the goal line. McIntyre kicked. Harvard 41, Howard 3. At this stage, rushing yards gained read: Harvard 144, Howard 0. Darrington, who had carried 12 times for 115 yards, took a seat on the bench, his work for the day done.
(A word here about Darrington. He is a runner in the Walter Payton mode. Of course we are not saying he is in the class of Sweetness. But he has many Paytonian qualities. He possesses a steely build, deceptive power, and marvelous vision. He is just as happy to run over defenders as he is to run around or past them. Above all, he is amazingly determined, especially in the red zone.)
The second half brought a continuation of the assault. On Harvard's first series, Smith found two tight ends, completing passes to junior Ryan Reagan and sophomore Adam Shepherd. Then, on an end-around, Stradford burst 33 yards for his second touchdown. McIntyre kicked. Harvard 48, Howard 3.
Stradford wasn't done. Harvard's next possession, with sophomore Luke Emge now at quarterback, began at the Crimson 41. All Emge did was turn and hand to Stradford, who was confronted by a hole approximately the width of an eight-lane freeway. Stradford ran right through and, untouched, to the goal line. (Stradford would finish with 108 yards on six carries.) McIntyre kicked. Harvard 55, Howard 3.
There still were more than 11 minutes remaining in the quarter, but from here on in things settled down. Howard hung in there gamely and scored on a 13-yard pass from Williams to wideout Michael Cornwell, who made a nice play tipping the ball to himself. Fariss's point-after kick was good. Harvard 55, Howard 10.
On the first play of the fourth quarter, yet another Harvard running back, sophomore Daniel Abraham, scored on a 15-yard dash off the left side. McIntyre punctuated. Harvard 62, Howard 10. The Bison got one for pride when Jordan Aley ran for two yards at the end of a 75-yard drive. Fariss kicked the point to account for the final score.
What does this result prove? Not much, really. At this stage in its program, Howard is overmatched. But it was a good day for the Crimson to get some work in, and nobody got hurt. Next week, back to business.
Tidbits: Through three games, Harvard does not have an interception….Sophomore defensive lineman Truman Jones had a career-best three sacks and 4.5 tackles for loss against the Bison….Harvard had its first pair of 100-yard rushers in a home game since 2011's 41-10 victory Dartmouth, when it had three (Treavor Scales '13, Collier Winters '12, and Zach Boden '15).
Weekly Roundup
Dartmouth 28, Penn 15
Rhode Island 31, Brown 28
Princeton 21, Columbia 10
Yale 48, Fordham 24
Georgetown 14, Cornell 8
Coming up: On Saturday, the Crimson concludes its three-game homestand by dipping back into Ivy competition against Cornell. Kickoff: 1 p.m. The game will be streamed on ESPN+ and broadcast on WRCA 1330 AM, 106.1 FM, and 92.9 FM-HD2, and on WHRB 95.3 FM. In 2019 the Big Red is 1-2 overall and 0-1 in league play. The Crimson leads the overall series 47-34-2, but Cornell has won the last two, including last year's 28-24 victory in Ithaca. The defeats in 2017 (17-14, also in Ithaca) and '18 each provided a big red alert that Harvard might not be a serious contender for the Ivy title.
A CENTURY AGO: THE ROAD TO PASADENA, GAME 2
On October 4, 1919, Harvard rather routinely dispatched Boston College 17-0 to run its record to 2-0. B.C.'s coach was the fabled Frank Cavanaugh, whose nickname was "the Iron Major" for his heroics in World War I. A Stadium crowd of 17,000 (swelled by many B.C. supporters who made the trek from Newton) saw the Crimson defense throttle the Eagles, whose offense crossed midfield only once.
Perhaps of more historical moment was the first halftime appearance of the Harvard University Band, a 40-member outfit organized by Frederic L. Reynolds, A.B. 1920. Some of the early exploits of the band are detailed in a delightful 1951 Collier's article titled "Harvard Never Loses at Halftime," one of the pieces assembled in a volume published in 1961, The Gilded Age of Sport, 1945-1960, by the esteemed sportswriter Herbert Warren Wind. Wind, by the way, was a Yalie.
In other sports news that weekend, in the World Series the Cincinnati Reds took a three games-to-one lead over the heavily favored Chicago White Sox. "Misplays Give Reds Win, 2 To 0" was the Boston Globe's headline of its Game 4 story, attributing the defeat to the "fielding lapses" of Chicago's pitching ace Eddie Cicotte. Gee…if we didn't know better, we'd think the fix was in…
THE SCORE BY QUARTERS
| | | | | | | | | |
| --- | --- | --- | --- | --- | --- | --- | --- | --- |
| Howard | 3 | 0 | 7 | 7 |   | — |   | 17 |
| Harvard | 7 | 34 | 14 | 7 |   | — |   | 62 |
Attendance: 8,234