News
The Renovated Harvard Coop
10.27.21
The Harvard Coop finished its latest renovation project and celebrated its grand reopening on September 20. A few days later, in a Boston Globe op-ed, Joan Wickersham declared that "the renovated Coop is an embarrassment and a travesty," because it essentially replaced books with merchandise.
In the years preceding the renovation, the Coop had noticed a slow decline in its trade book business—and a dramatic decrease in the college textbook business during the past decade. "Sales of textbooks and trade books are supported by sales of higher-margin merchandise," said Coop president Jerry Murphy '73, M.B.A. '77. "It's a question of balancing our merchandise offerings with the realities of our business operating model. But selling books is still a core business."
 "We took a step back and analyzed all our businesses in terms of what we need, who our customer is, and the space we need to really drive the business," he continued. "We realized we can live with a lot less space."
Before its renovation, the Harvard Coop had 56,000 square feet devoted to selling in three buildings (the Mass. Ave. and Palmer Street buildings the Coop owns, and space it rents and uses in the Brattle Street building). After renovations, the Coop has 29,000 square feet of total selling space—including a 2,500-square-foot increase in selling space within the main Mass. Ave. building. (The Palmer Street building has been closed.)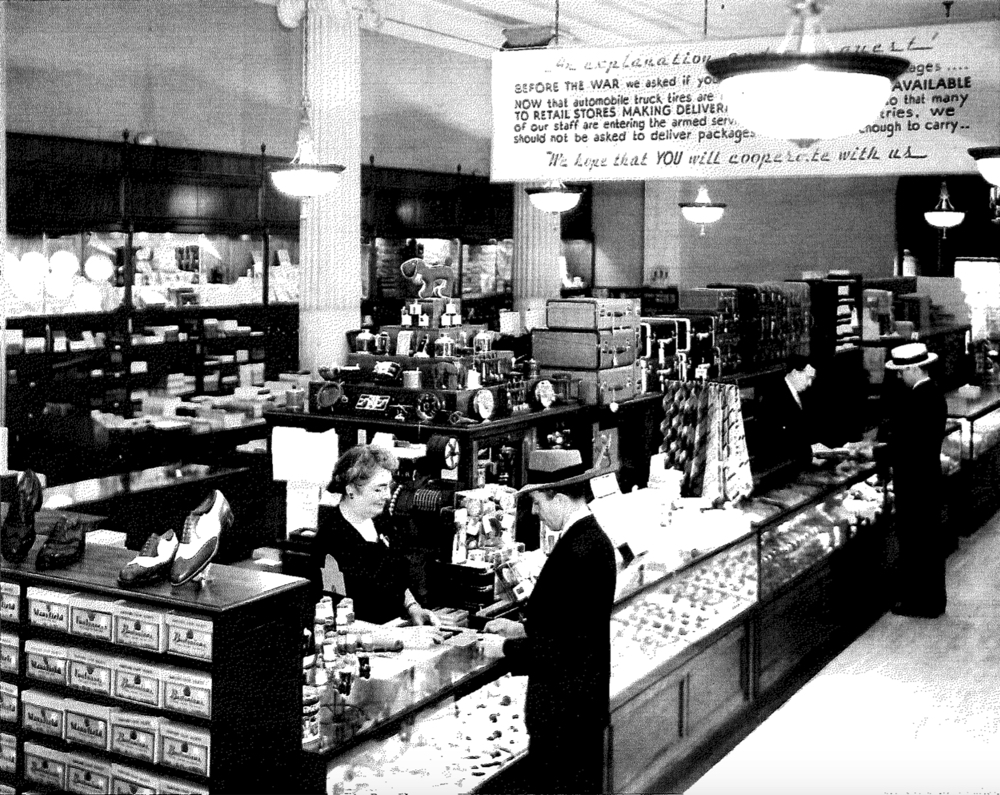 Photograph courtesy of Jerry Murphy, Harvard COOP President
Over the course of its 140-year history, the Coop has been many things to many people—and has evolved accordingly. The Coop initially sold firewood. It housed a pharmacy, and there were 21 tailors on staff to serve the students who wore sports coats and ties. At one point, the Coop sold refrigerators and electronics; the store even used to be known as the largest music seller in New England. As time passed, the Coop did away with both the men's department and the music business. The iconic front building didn't become a bookstore and café until 1997. Previously, books were housed in the Palmer St. building.
This year's renovation did away with that café (and the associated racks of magazines and journals). "Twenty-five years ago, it was the thing to have a café in a bookstore," Murphy said, "But we realized the café had outrun its usefulness. There are enough cafés around the Square, and we could use that space in more valuable ways."
Another major goal of the renovation was to make the space more adaptable to the seasons. Event space on the third floor will allow for in-person and virtual events. Textbooks can be placed on the shelves twice a year and then removed. More Harvard merchandise can be displayed during Commencement season.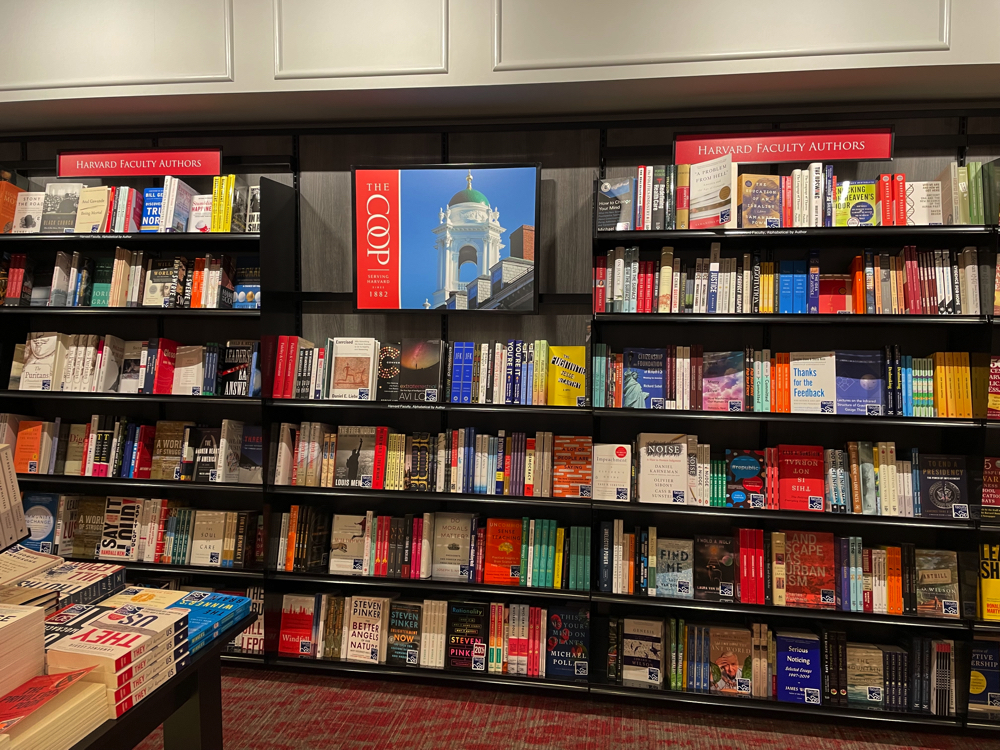 Photograph by Kristina DeMichele/Harvard Magazine
Although the main floor of the store now displays a lot of Harvard-logo merchandise, catering to visiting parents, alumni, and students (and the tourists who thronged the Square and campus pre-pandemic, and presumably will return), Murphy said "We feel pretty comfortable that we're still offering the widest and largest selection of books in Cambridge and the greater Boston area." While offered trade book titles decreased from 55,000 to 41,000, the COOP is increasing its curated title collections. There are still more than a thousand titles on display on the first floor, and the Coop increased its Harvard faculty-author selection there from 130 titles to more than 400. Most of the selling spaces on the second and third floors are devoted to books.
 "We really examined our book business to see which categories, subjects, and titles did well," said former trade-books buyer and current community-relations manager Nancie Scheirer. "We wanted to curate every single section to meet our customers' expectations."
The Coop's analysis of its book inventory revealed that still offering a large nonfiction and business-book selection would be beneficial, but large format art books, for example, could be greatly reduced. "Art books get damaged on the shelves," Scheirer mentioned. "People love to browse them, but then they'll want to buy a brand-new copy online that doesn't have damaged covers."
A current challenge to the publishing industry is the supply-chain backup worldwide, which is greatly affecting the availability of paper. Book department manager Rebecca Conn said, "I'm getting all the books I need on a daily basis. If there's a title you want, I can get it for you within a few days. We are aware that certain supply issues are potentially coming, but we're ordering up a little bit more than we might normally and are very focused on getting the right books in."
"Our strength is in our backlist titles," Scheirer said, "So we also aren't necessarily getting hit by supply-chain issues, which are mainly being seen for new bestsellers."
Murphy, Scheirer, and Conn all emphasized that the Coop has exceptional booksellers. When Schoenhof's Foreign Books closed in 2017, Dean Hunt, its bookseller of 24 years, began working at the Coop. "To this day, you will see people walk in the store and they will recognize Dean all of a sudden," Conn said, "and they'll spark up a conversation—many times in a different language."
Other Coop booksellers include Barry Duncan, a former Harvard University Press employee and master palindromist who joined the Coop in 2014, some years after the HUP showroom closed. Zachary Bond serves as both supervisor and the store's poetry and literature expert. Dorothy Williams manages and curates the Harvard Faculty Author section. 
Murphy added, "If a customer knew what title they wanted, they would have no need to browse—they could just order online. But this is not our customer. Our store is hopefully more than the sum of its parts—physical space, curated titles on the shelves, events, and experienced booksellers who can take you on a journey through the store and offer advice. Booksellers are an integral component of the experiential feeling and success of a bookstore."