Sports
Harvard Basketball's Sibling Stars
11.8.21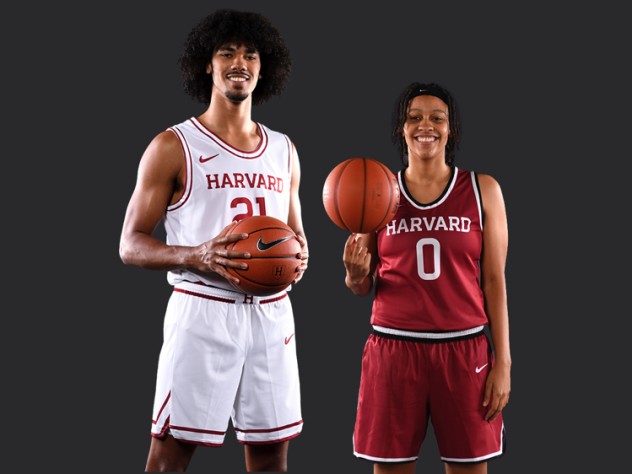 Photographs courtesy of Harvard Athletic Communications; collage by Niko Yaitanes/Harvard Magazine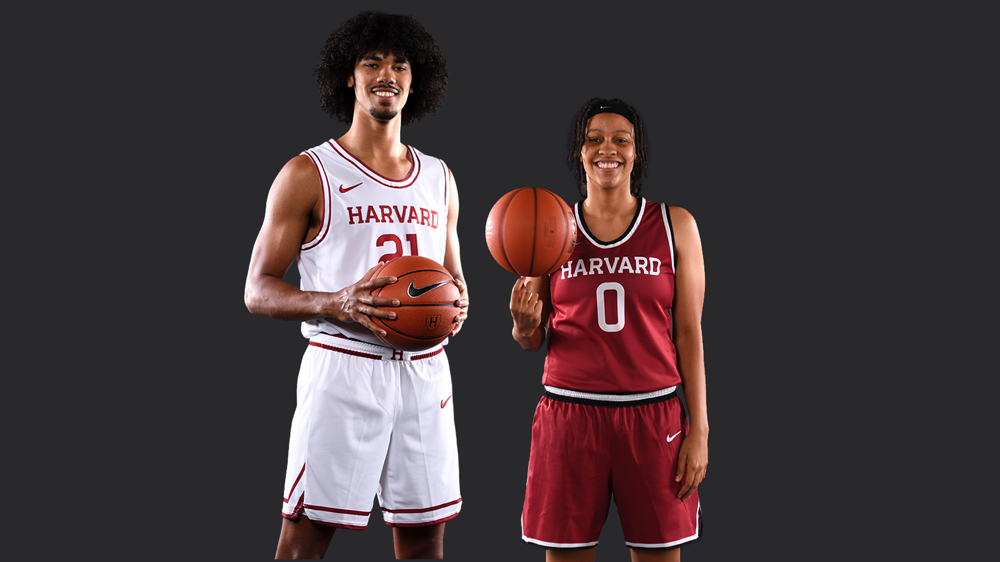 Photographs courtesy of Harvard Athletic Communications; collage by Niko Yaitanes/Harvard Magazine
On a Friday this October, Mason '22 and McKenzie '23 Forbes were standing outside Lavietes Pavilion, bobbing to music and smiling as their friends played cornhole and noshed on pizza. With temperatures lingering in the 60s, it seemed as though they could have been home in California, relaxing before a high school basketball doubleheader. Instead, they were enjoying the festivities preceding Crimson Madness, a preseason basketball event that marked the first time they both suited up for the Crimson. This was a significant moment for the siblings, who had long drawn on their bond and navigated an improbable journey to end up at Harvard together.  
Growing up outside Sacramento, Mason and McKenzie had extraordinary basketball role models. Their grandfather, Sterling Forbes Sr., starred at Pepperdine before getting drafted by the Los Angeles Lakers and, after suffering a back injury, joined the Harlem Globetrotters. Their father, Sterling Jr.,  also became a Globetrotter following a standout college career at Southwest Texas State and a stint playing professionally in Argentina. After retiring, he frequently organized basketball camps. As a result, Mason, McKenzie, and their older brothers—Marcus, Ed.M. '19, and Max—grew up, as McKenzie said, "living, breathing in the gym."
Just 16 months apart in age, Mason and McKenzie proved to be formidable teammates. On their football team, McKenzie played quarterback and tossed Mason touchdown passes. In basketball, they played together on a local AAU team. The siblings hated to lose, so they pushed their teammates to win every game. This helped the group overachieve but also placed intense pressure on their parents as coaches. One summer, Mr. and Mrs. Forbes suggested that the family take a break from AAU basketball and just travel for fun. As Sterling recalled, Mason and McKenzie "looked at us like we were crazy."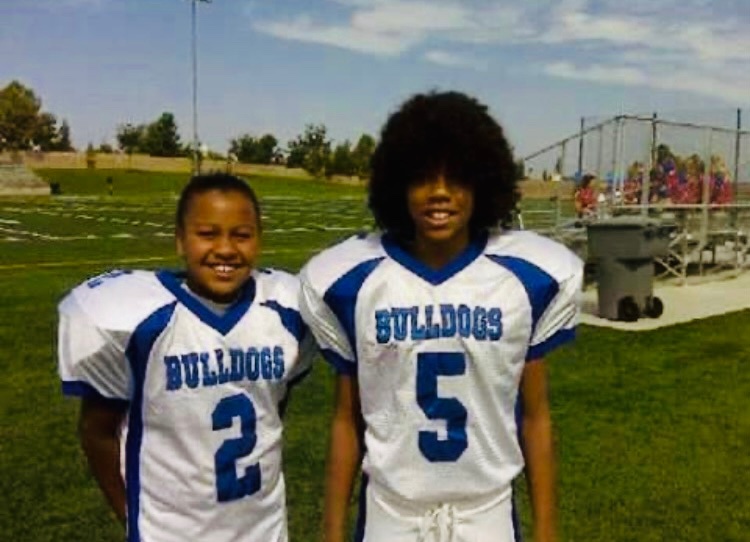 McKenzie and Mason, quarterback and wide receiver.
Photograph courtesy of the Forbes family
The siblings were also relentlessly competitive with one another, leading to fierce games of one-on-one that often ended in fights. By seventh grade, Mason had sprouted to six foot three, so McKenzie called off the one-on-one battles. They instead became workout partners. McKenzie scripted their practice plans, while Mason often provided the motivational push to get out the door. Once at the gym, McKenzie, a perimeter player, threw precise entry passes, which helped Mason develop deft, ambidextrous post moves. On defense, Mason's long arms forced McKenzie to refine her ball-handling and develop more arch on her jump shot—a skill that was on display when she won the three-point shooting contest at the prestigious McDonald's All-American game. As the siblings got older, their parents required them to put the same time into academics as basketball, so they pushed each other with schoolwork as well, taking classes together and staying up late to study as students at Folsom High School.
As they helped each other become elite prospects, their paths began to diverge. Mason was heavily recruited by Princeton, Oregon State, and Virginia (the 2019 NCAA champions), but was drawn to the unique opportunity of attending Harvard. McKenzie—rated the thirty-fifth-best player in the country by ESPN—considered powers like Stanford, Baylor, and South Carolina before choosing the University of California, Berkeley, a nearby campus where she had been heavily recruited since she was 15. The challenge? The siblings' new homes were on opposite coasts.
As first-years in 2018, they stayed connected through FaceTime and social media, often talking for hours at a time and streaming television shows together. They also watched one another's games, including a memorable contest in December when the Harvard women faced the thirteenth-ranked Golden Bears. McKenzie scored a career-high 22 points, but the Crimson sprung an 85-79 upset—an outcome that foreshadowed McKenzie's interest in transferring to Harvard after the season when Cal's coach accepted an NBA job. Friends Coach Kathy Delaney-Smith had recruited McKenzie in high school, so when she expressed interest in transferring, the coach initially joked, as McKenzie's parents recalled, "'Oh, now you want to return my phone calls?'" But she was of course kidding: McKenzie was a McDonald's All-American and excellent student—the kind of player who could significantly bolster Harvard's program.
A more serious concern was that Harvard's transfer admissions process is extremely competitive and because the deadline had passed, McKenzie had to wait for the next application cycle to apply. For a high-level recruit who could seamlessly transfer to another basketball power, the decision to hone in on Harvard was frightening. Yet she now knew from experience the strength of the Harvard team and had enjoyed visiting campus. And then there was Mason. "He honestly paved the way for me," McKenzie said. "I wouldn't have ever thought in a million years to come to Harvard unless he was already here…." So she took the risk, enrolling in a junior college during the 2019-2020 academic year where she got straight A's to maximize her chance of admission.
Mason returned to Harvard for sophomore year and played a more significant role on the team in the 2019-2020 season. The high point came in a one-point win over Princeton in February when he tallied 11 points, seven rebounds, and four blocks—including a swat with 12 seconds left that sealed the win. Then, the coronavirus hit. The silver lining was that Mason was home when McKenzie received her acceptance email early one morning in May 2020 and woke everyone up, setting off an impromptu dance party at 7:00 a.m. Mason called it "a huge moment for our family."
During the 2020-2021 academic year, the siblings still had challenges to navigate, such as 5 a.m. wakeups for remote classes and the uncertainty of when they would return to campus. But they found strength in their bond, resuming their routine of studying and working out together. They also drew on their relationship to make sense of the social issues roiling the country. This included starting a book club with friends and sharing compelling content with one another, ranging from readings by academic and activist Angela Davis to podcasts such as "Millennials Are Killing Capitalism." According to McKenzie, this dialogue has become one of the most important parts of their relationship, right alongside basketball.
Now back on campus, they are poised to play prominent roles as the basketball teams return to the court. Stemberg Coach Tommy Amaker lauded Mason for his dependability (the coach cannot recall him ever missing a practice), leadership (he is a co-captain and one of just 10 players nationwide named to the National Association of Basketball Coaches Community Assist team), and sense of self. "Mason knows who he is," Amaker said. "That's as big as anything for a player, to have a true sense of understanding of who you are." For Mason, a six-foot-nine forward, that includes being an elite shot-blocker with patient post moves and a cerebral understanding of the game. 
Delaney-Smith, who will be retiring after this upcoming basketball season—her 40th as head coach—has similarly high praise for McKenzie, whom she describes as a player with "unlimited potential," exceptional basketball IQ, and a nurturing and caring personality. The coach also lauded McKenzie for her communication skills, which will allow her to be a "coach on the floor." McKenzie's leadership complements her versatility. The six-foot guard is a lethal three-point shooter who can break players down off the dribble and guard multiple positions. 
No matter what happens this season, the siblings can relish the joy of the everyday. They live together in a mixed-gender suite in Lowell House with the other seniors on the men's team, providing opportunities to discuss topics ranging from their Japanese cinema course (they both love anime), to practice, to professional basketball. They also cross paths at moments that simultaneously feel normal and extraordinary. When they passed each other during warmups at Crimson Madness, McKenzie couldn't help feeling like they were experiencing something special.
"Man, this is just nuts," she recalled thinking. "Who would have thought?"