Parklands and Wastewater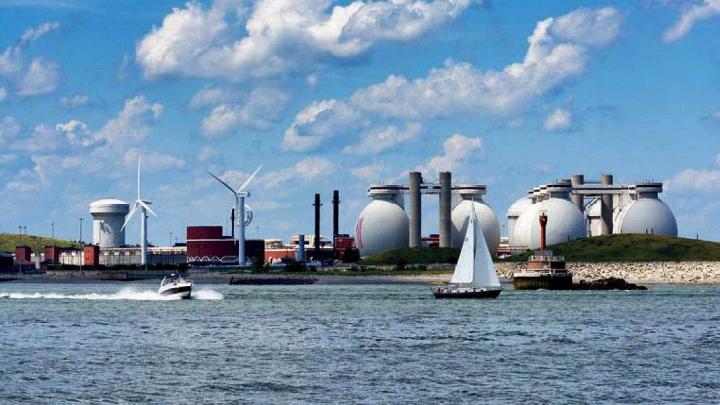 Wandering the hilly paths of Boston Harbor's Deer Island, breathing in the ocean breeze and marveling at panoramic views, visitors would never know what exactly goes on beyond the security gates, or inside the giant steel eggs that dominate the southern end.
That this stunning recreational space doubles as the home of the nation's second-largest wastewater treatment plant reflects a merging of practical engineering with artful land development rarely manifest in America's massive public-works projects. "We wanted to restore the island back to its natural landscape," says David F. Duest, director of the Deer Island Treatment Plant. "Although the harbor and its islands are beautiful sites, the old Deer Island was an ugly place with an ugly purpose; while we did not get away from the wastewater mission, we decided we could definitely leave the island better than how we found it."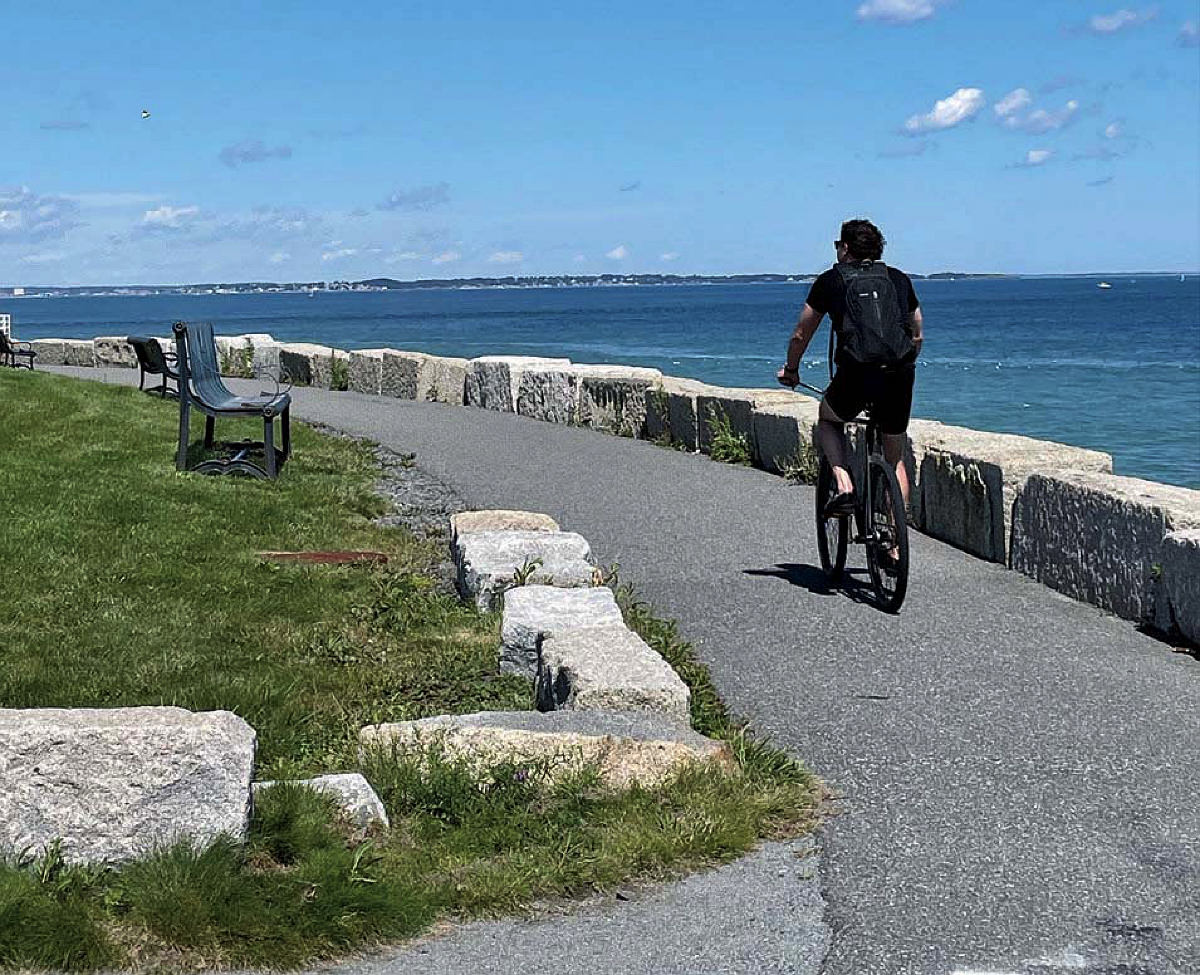 Photograph by Nell Porter Brown/Harvard Magazine
Thus, as joggers, cyclists, picknickers, and children enjoy the outdoors, the plant complex (more than 60 structures) treats about 330 million gallons of wastewater, at an average cost of $275,000, a day. That is waste—household, human, business, and industrial pollutants—flushed down drainpipes in about 800,000 households and from thousands of businesses within 43 Greater Boston communities. The raw material, pumped from sewers through a series of processing facilities, is ultimately transformed into suitably clean water that's channeled through a 9.5-mile outfall tunnel into Massachusetts Bay.
Those dozen eggs, each 140 feet tall and 90 feet at their widest, are German-designed anaerobic digesters. Following primary and secondary treatment, the remaining "sludge"—at "the consistency of a Frappuccino," notes Duest—enters the eggs, which work like a human stomach to churn and blend the concoction. The bacterial breakdown of matter daily produces about five million standard cubic feet of biogas, mostly methane, that's recovered and recycled to help heat and power the plant, he says, yielding the equivalent of more than $20 million annually in offset energy costs. Moreover, the plant sells another daily byproduct from removed and treated solids: about 100 dried tons of pelletized fertilizer.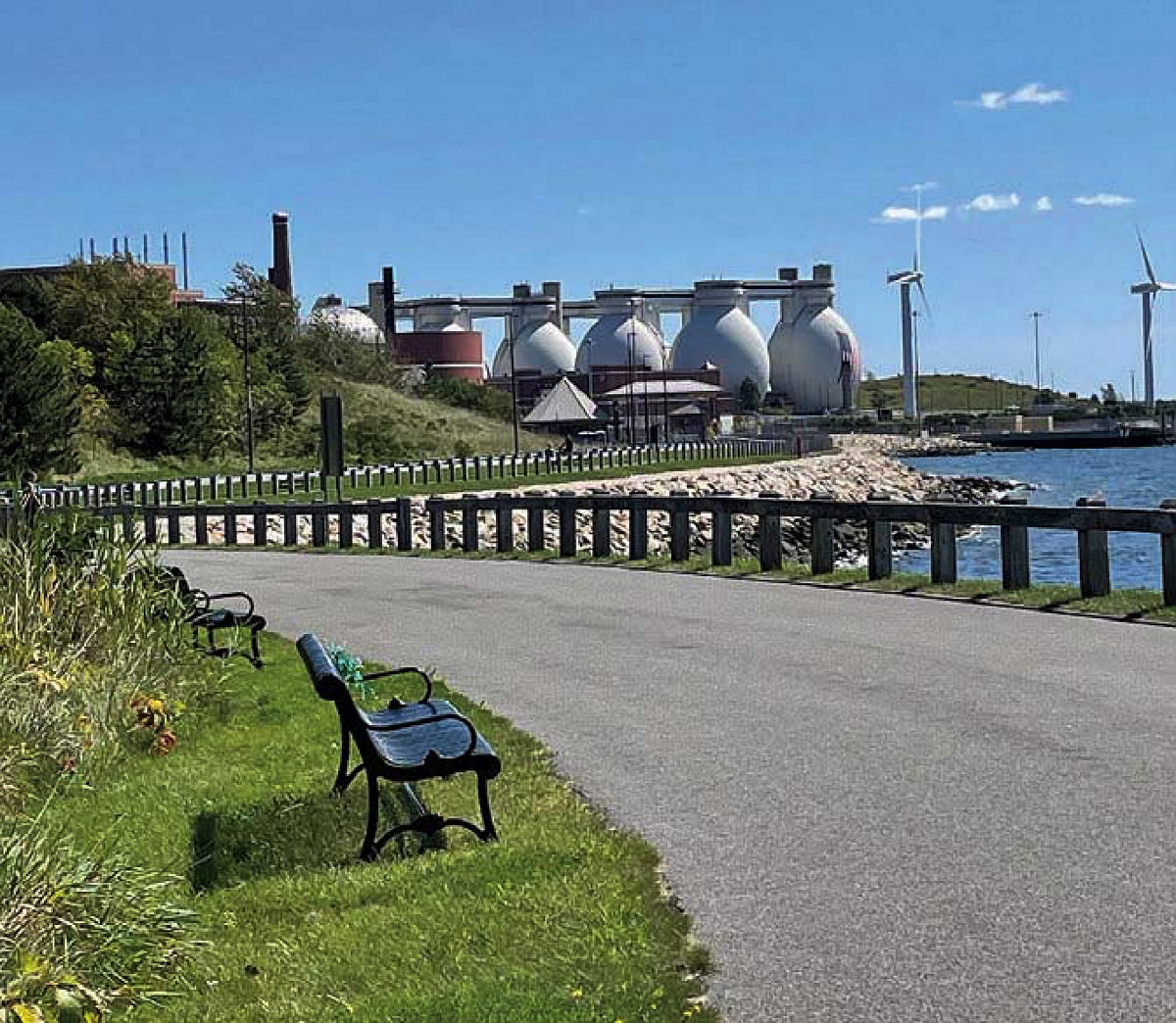 Photograph by Nell Porter Brown/Harvard Magazine
The $4-billion plant, managed by the Massachusetts Water Resources Authority (MWRA), has had to compensate for, and help reverse, more than a century of environmental abuse. Since the English arrived, the harbor and its tributaries (the Charles, Mystic, and Neponset Rivers) were used as sewers and dumping grounds. By the time Boston infamously starred in The Standells' 1965 hit "Dirty Water" (now sung gaily at sporting events), "nothing could survive in that water except worms," Duest explains: "Boston Harbor was covered in a deep sludge resembling black mayonnaise." The federal Clean Water Act (1972) finally forced Boston officials to stem pollution and replace failing treatment plants on Deer and Nut Islands, although they fought the mandates and the new complex, which entailed redeveloping the entire 210-acre island, and did not open until 1995, with the park and its five miles of paths following in 2002.
The man-made drumlins, built from soil, rocks, and other debris relocated during construction, have been re-vegetated with hardy native plants. The topography provides noise and visual barriers for the town of Winthrop (to which Deer Island became attached after the hurricane of 1938 filled in the Shirley Gut channel), and perfect terrain for cardiovascular workouts—with rewarding vistas. Throughout the island, but especially from 10 overlooks, are views of open skies and water, along with the Boston skyline, other harbor islands, and the Blue Hills. Because Deer Island is elevated, with revetment walls built of granite blocks lining most of the perimeter, the eastern elevation faces what becomes the Atlantic, making it feel like you're standing on a fortress at the edge of the earth (and, indeed, during World War II, Fort Dawes was built there to help protect America's coast). Breezes can whip off the water, morphing into bracing gusts, as waves crash onto the beaches below. Peregrine falcons live, hunt, and breed from a perch built for them ten years ago, and the cleaner harbor means the return of many fish species, along with whales and harbor seals sometimes spotted from the overlooks.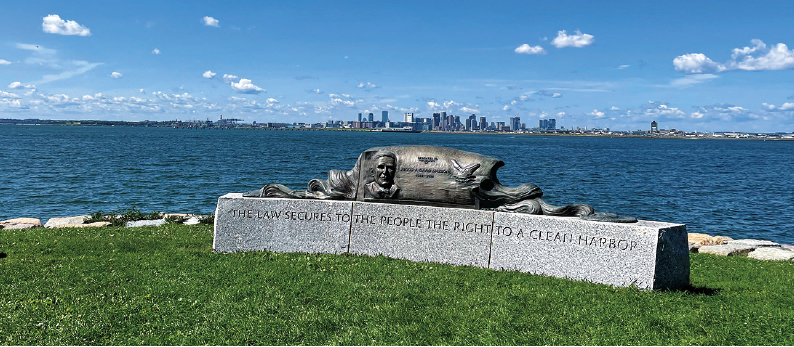 Photograph by Nell Porter Brown/Harvard Magazine
Isolated and exposed to the elements, the harbor islands were often reserved for activities more comfortably kept hidden, like trash disposal and human containment. The winter of 1675-76, during King Philip's War, a Deer Island internment camp held hundreds of Native Americans, many of whom perished. In the 1840s, the island was a landing point for immigrants, especially Irish people fleeing the potato famine; of the 4,800 quarantined at a hospital there, about 850 died. A city-built almshouse, the Deer Island House of Industry, was built in 1853 to house "paupers," and later became the Deer Island House of Correction, which closed in 1991 to make way for the new plant.
Along the island's 2.5-mile perimeter path, a sign acknowledges this painful Native American history. And on a western drumlin, the 2019 monument to An Gorta Mór, The Great Hunger, features granite-slab seats facing a Celtic cross and an inscribed stone plaque: "From dreams of a better life to the shores of our destiny was worth the sacrifice for those who followed." Atop a hill near the park entrance, an area is marked by a bench and a sign, "Rest Haven Cemetery," but no gravestones— even though immigrants, prisoners, and even military personnel were certainly laid to rest in two cemeteries that were active at least through the early 1900s. Some remains were long ago relocated, as were bones unearthed during construction of the current plant that were identified as a northern European Caucasian alive in the 1800s. But the markers do make the past present.
Visiting the island is somehow deeply stirring. It encompasses a haunting human history and progressive efforts to curb destructive behavior—like polluting—against a beautifully rugged natural New England backdrop so close to the city. "There's a lot of good stuff here," Duest allows. "Government agencies don't like to toot their own horns. Usually it's only the bad stuff that gets into the papers."
Getting there: MBTA Blue Line to Orient Heights, then #712 bus to the last stop (MWRA/Deer Island entrance)—or take bikes on the T and ride the easy five miles through Winthrop's residential streets.Plant tours: Tuesdays and Fridays, April through November; advance registration required. Food and Drink: Try Bridges Nepali Cuisine or Antique Table—or, for inlet views, Belle Isle Seafood. 
You might also like
Toward another apartment complex on Harvard-owned land
Stepping down after 30 years of University service
Harvard researchers seek to empower individuals to steer their own careers.
Most popular
A new election could take place as early as next fall. 
In the Woodberry Poetry Room, a landmark audio collection waits to be heard.
Lincoln offers rich history, nature trails, local food, and art.
More to explore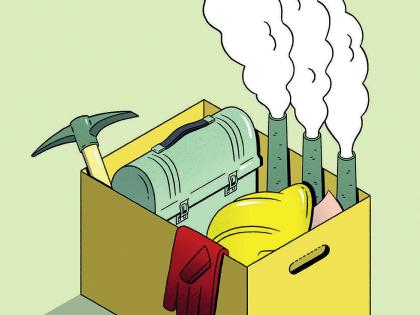 Expect massive job losses in industries associated with fossil fuels. The time to get ready is now.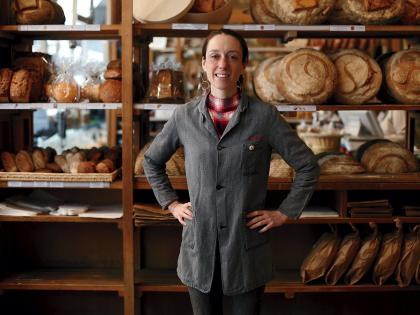 A third-generation French baker on legacy loaves and the "magic" of baking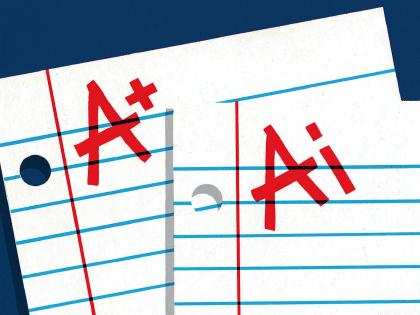 Generative AI can enhance teaching and learning but augurs a shift to oral forms of student assessment.