Explorations and Curiosities
You've Got Game
When it comes to recreational sports, the Boston area is tough to beat.
It's no secret that Harvard alums are an athletic bunch, from Olympians to coaches to legendary sportswriter Roger Angell '42, who died last month at 101. Whether you're a pro, a hobbyist, or finally ready to get moving after two-plus years in a pandemic, the region has plenty to offer. Here's where to join a club, hit the courts, set sail, and work up a sweat.
Hoping to join an intramural team? Hub Sports Boston (hubsportsboston.com) offers competitions throughout the area in leagues ranging from basketball, soccer, and softball to flag football and beach volleyball. With thousands of enrollees, there's a range of abilities. Join solo and meet new friends, or enroll a team from work or school.
Meanwhile, Boston Ski & Sports Club (bssc.com) goes beyond the slopes to offer co-ed leagues for more than 50,000 athletes each year: Try lacrosse, ultimate frisbee, kickball, or golf—or take a weekend trip for whitewater rafting, mountain biking, and more. BSSC maintains a busy social calendar too, with bowling leagues and cruises, making it a popular choice for new Bostonians. And the Eastern Mass Women's Soccer League (emwsl.org) is a popular way to connect with other female athletes (more than 2,000 of them), from beginner to expert; the schedule is manageable, with games either once or twice per week.
Or cast an even broader net with tennis and volleyball. Brookline is home to several quality public tennis courts, complete with instruction: Try the Amory or Waldstein tennis centers (netresultstennis.net) for court rentals, semi-private or private outdoor lessons, matches, and more. If you prefer a purely indoor experience, the Winchester Indoor Lawn Tennis Center (winchesterindoortennis.com) offers kids and adults' lessons, court rentals, teams for all levels, and even early-bird rentals starting at 6 a.m.
In Natick, Beach House (beachhouseboston.com) is a beach volleyball oasis. Their indoor sand courts host kids' and adults' programs, tourneys, personal training and coaching—basically everything except the mosquitos. Meanwhile, Wootown (wootownvolleyball.com) offers intense indoor and outdoor options (sand or grass) at venues throughout Greater Boston; it's known for a strong sense of camaraderie among players.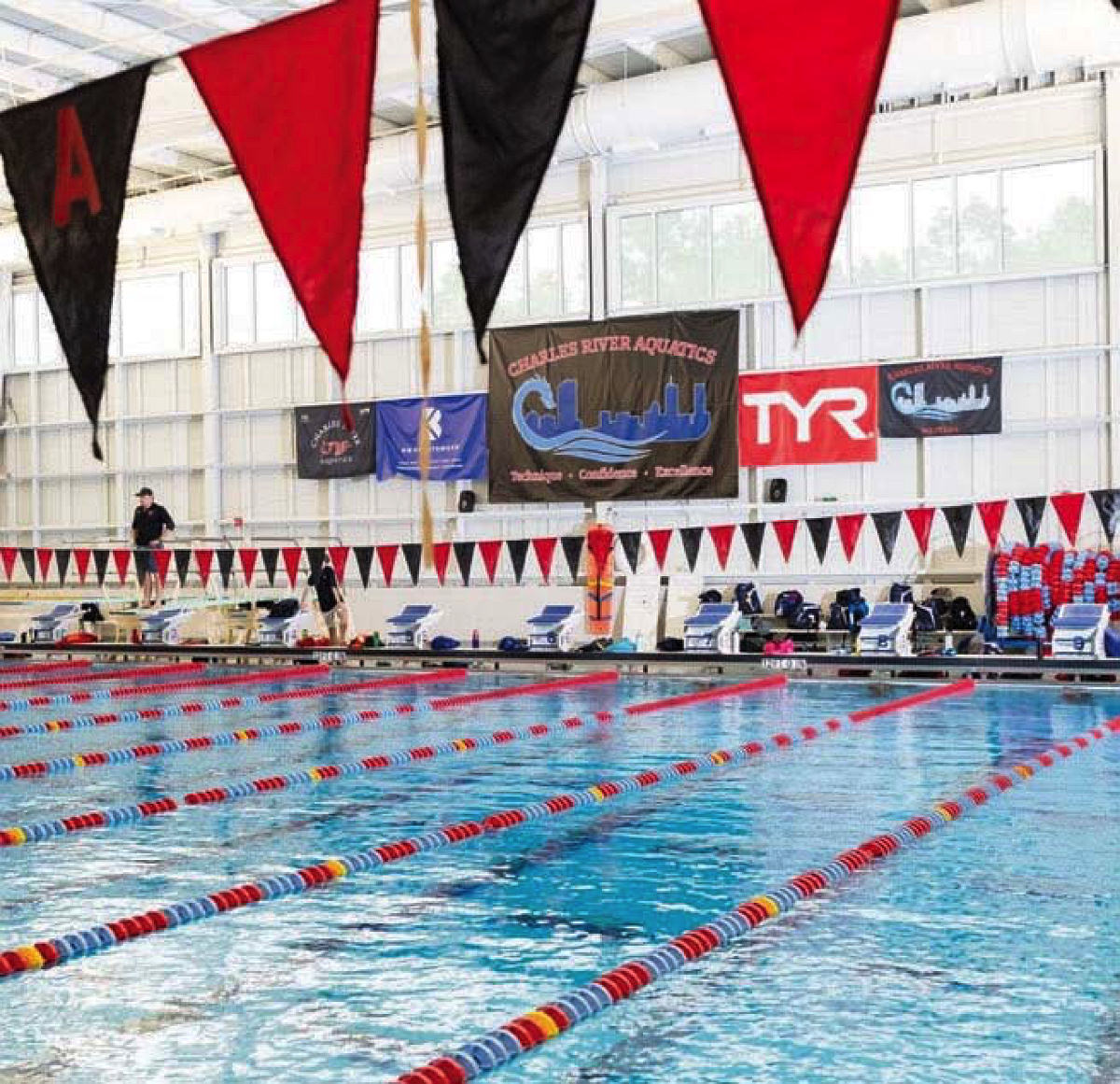 Photograph courtesy of Charles River Aquatics
Or stray from dry land at Wellesley's Charles River Aquatics (charlesriveraquatics.com), which offers programs for swimmers of every stripe: lessons for novices, teen and adult swim teams, diving technique classes, aquatic exercise, and lots more. If choreography is more your speed, join a class at West Roxbury's Boston Synchro Swim (bostonsynchroswim.org) for beginners and intermediates (who even compete on the regional circuit). See if it's for you at a trial class first.
If you prefer to take to the water in a seated position, enroll at Brighton's much-loved Community Rowing (communityrowing.org), now with a refurbished boat house, where teens and adults can learn to row along the Charles River. It's the largest such program in the country; in addition to rowing, they offer off-season training inside, plus yoga and strength classes to maintain fitness levels all year long. They also work with disabled rowers in therapeutic programs, as well as kids at risk for obesity in partnership with Children's Hospital Boston.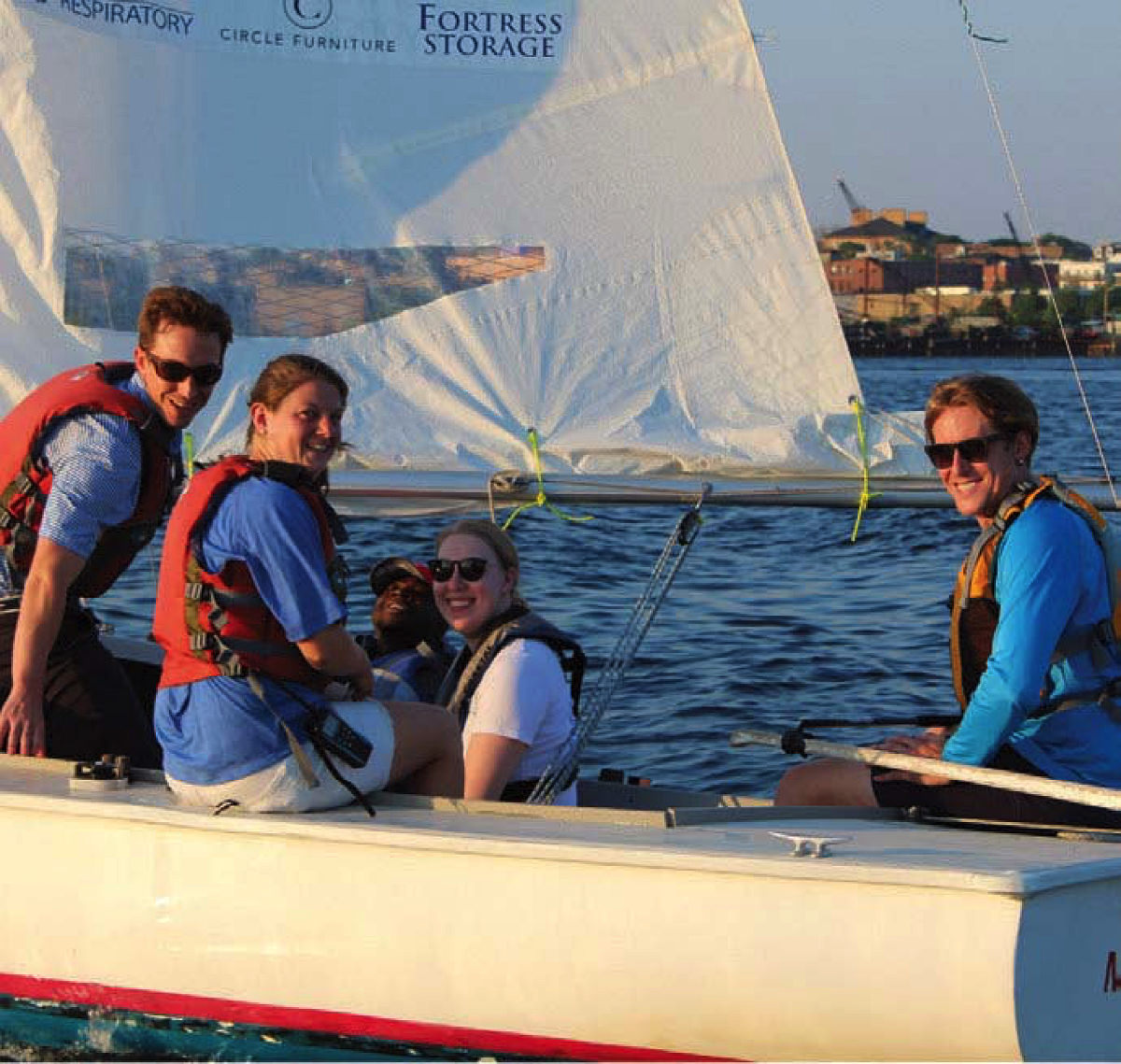 Photograph courtesy of Courageous Sailing
A few knots away at Boston Harbor, Courageous Sailing (courageoussailing.org) hosts 10-day youth classes (on Jamaica Pond), beginner to advanced classes for adults, private lessons, rentals, and even four-person harbor cruises hosted by an instructor, where boaters can sit back and enjoy the sights or receive personalized instruction. For the truly intrepid, there's a "Frostbiting" racing series November through April.
Finally, if you can't decide on your chosen sport, visit Teamworks (teamworkssp.com) in Acton: They host recreational leagues in soccer, field hockey, lacrosse, volleyball, and even pickleball, plus private training sessions when you're ready to take your game to the next level.