Destinations | All In a Day
Jumping for Joy
Something about bouncing around, defying gravity, just feels good. And then there are those with real ambition. "I had this idea that I wanted to learn how to do a backflip," says John Sequeira. So, the athletic Cambridge father of four would go to the Sky Zone on a Friday or Saturday night to practice devoid of cavorting kids (including his). He'd even taken a few acrobatic lessons and knew that if he could quell the anxiety arising from flinging his body upside-down, he could succeed.
There are plenty of places to grapple with these kinds of worries. Trampoline parks promoting family fun have opened across Greater Boston in the last two decades and have become hugely popular for exercising rambunctious children, teens—and adults. Sky Zone, Altitude, and Launch are the bigger companies with multiple locations. All offer trampoline-enhanced volleyball, dodgeball, and hoops, as in: "Jump higher, dunk harder." Or try out the warped walls, foam pits, and higher-performance trampolines for more daring aerial feats—or take on the challenge of climbing walls and ropes courses. Some parks, like Launch, run laser tag games, and others feature jousting on a pedestal with foam rods (also used just to bonk opponents around the court).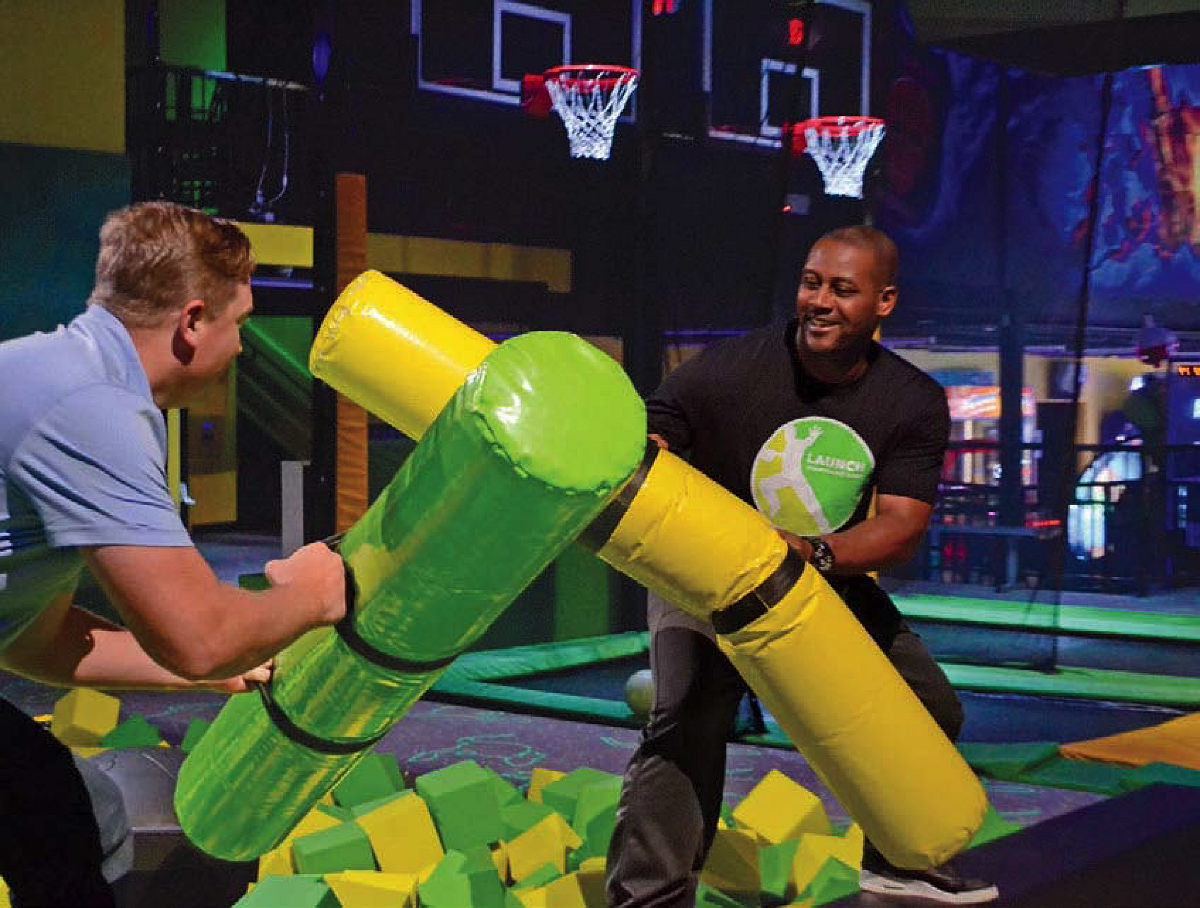 Photograph courtesy of Launch
Using stretchy material—historically animal skins—to hurl a body into the air has long been celebrated in parts of Alaska and the Northwest Territories, and likely originated to help spot game from far away. The first modern-style trampoline was developed at the University of Iowa in the early 1930s for athletes, and later models used to train astronauts and fighter pilots. When regular folk wanted in on the high-octane activity, trampolines proliferated; it became a competitive sport in the 1960s, entering the Olympic lineup in 2000.
Sequeira did finally complete a backflip. But "one was probably enough," he laughs. "You don't have to be good at this to have a lot of fun." These days, he still enjoys going to the parks, exercising and playing with his kids. "I read about a study that said keeping elements in your life that remind you of being a kid has an age-fighting element," he adds. "If you're out there grinning like a fool jumping on the trampoline, it's hard to imagine that you're not fighting time in some way."