Commencement
Larry Wilmore Follows His Path
5.24.23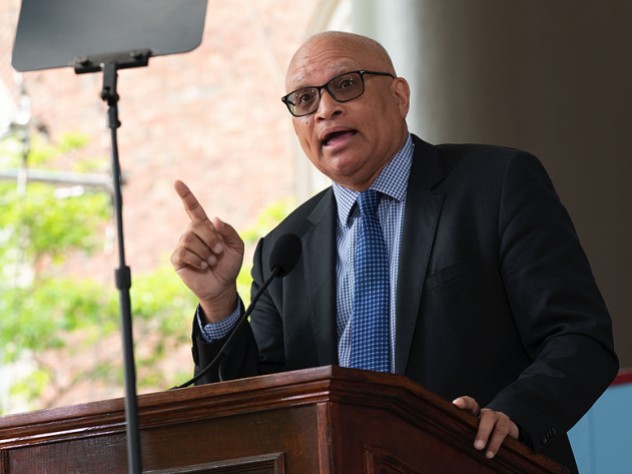 Larry Wilmore delivers the Class Day address.
Photograph by Jim Harrison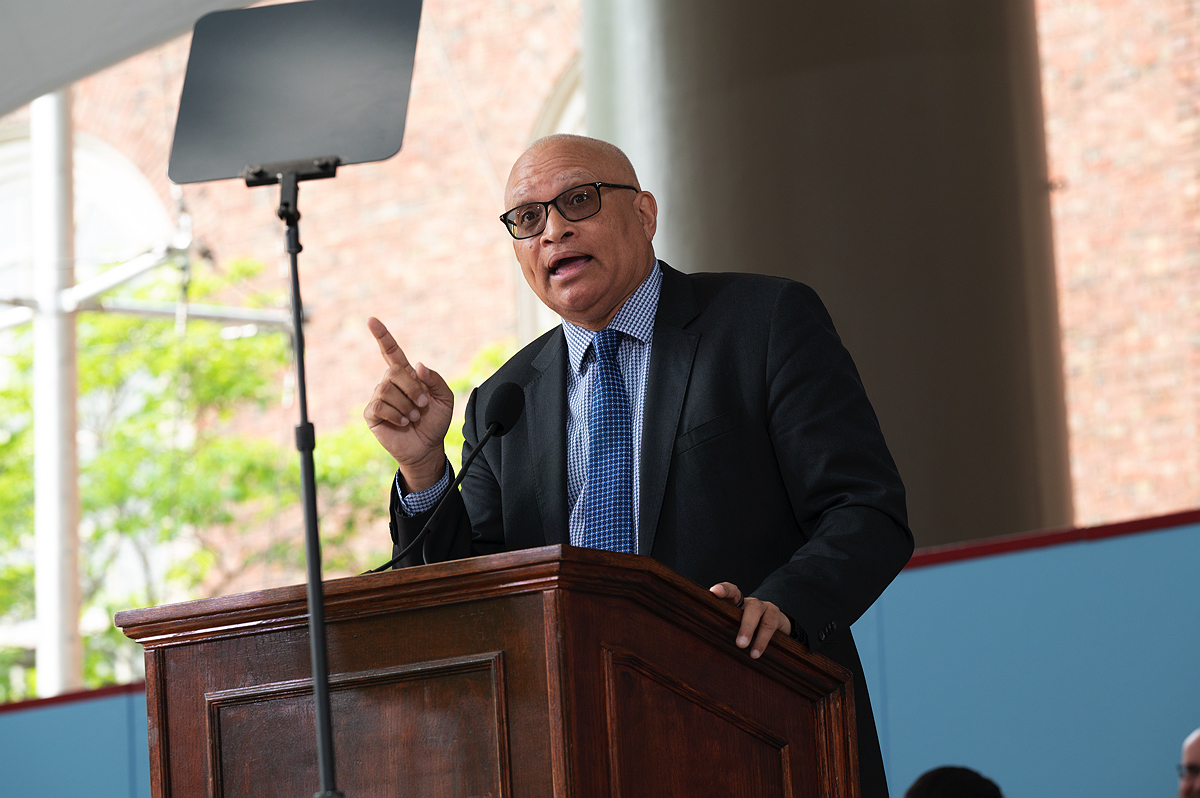 Larry Wilmore delivers the Class Day address.
Photograph by Jim Harrison
In the summer of 1982, then-college junior Larry Wilmore traveled to Rhode Island to sell books door-to-door. Now an Emmy Award-winning writer, producer, and actor, Wilmore still thinks back to his summer working for Southwestern Advantage. He learned a lot: how to convince people to overlook their initial doubts and make a purchase, how to stay excited in the face of rejection, and how to face so many people who seemed unhappy with their lives. In the living rooms of dozens of discontented customers, Wilmore diagnosed a lack of self-examination: "Most people spend more time planning a two-week vacation than they spend planning their lives." In his Class Day speech, Wilmore encouraged Harvard College's class of 2023 to think deeply about their paths.
Wilmore grew up poor and felt pressured to chase economic stability. "As a product of a broken family… at the edges of poverty," he said, "it felt irresponsible of me to not think practically." Wilmore fell in love with entertainment, but in college, he struggled to find the courage to pursue it wholeheartedly, knowing he "was possibly throwing away the most important time in my life chasing a foolish dream."
That fateful junior summer, Wilmore opted for financial stability—or so he thought. "I was terrible at selling books," he said. Striving for money brought him neither wealth nor happiness. So, he opted to seek happiness:
I vowed to myself that I would choose happiness and fulfillment above all else in my life's direction. I knew it didn't matter how much money I made, how much status I had, or what kind of things I could accumulate. I had to pour myself into doing something meaningful or there was no point. I decided to choose a path for myself and whatever I did for a living was the physical manifestation of walking down that path. I remember saying to myself, "I'm never going to work again. I'm only going to walk."
Choosing happiness is not easy, Wilmore acknowledged. He encouraged the soon-to-be graduates to recognize their fears and get past them. "Fear is usually the culprit that prevents us from doing the things in life that we are meant to do, but we are afraid of for whatever reason," he said. "The most paralyzing type of fear always starts inside of us… Fear wants you to be a prisoner of your past and a terrorist of your future."
To help the graduates face their fears—or more accurately, minimize their worries—Wilmore offered three catchphrases. The first, "It is what it is," covers "95% of situations," and allows him to look past things that are out of his control. The second, "You do what you gotta do," covers the four percent of circumstances when he is unsure of his path but understands he must keep moving forward, at least temporarily. The final percent, "Play better," encourages him to seek self-improvement in the same way a coach would encourage a player.
To conclude, Wilmore challenged the graduates to make their work something they love and a good addition to the world. "Don't just look at your life's work in terms of what you can get out of it," he said. "Instead, approach it in terms of what you can put into it. Make a contribution in everything you do. Pour your passion, love, desire, integrity, intelligence, and generosity of spirit into a world that desperately needs it."
Earlier in the ceremony, Danoff Dean of Harvard College Rakesh Khurana praised the unpredictable moments of exploration that help students find their path academically, socially, and professionally. In the long shadow of the COVID pandemic, Khurana acknowledged, the class of 2023's road to graduation was "unexpectedly opaque, the steps along the way… without signposts." But the lack of precedent led to beautiful surprises, which Khurana called serendipitous. Foreshadowing Wilmore's address, Khurana said that "serendipity depends on our willingness to diverge from the expected path, which should be unsettling." He charged the graduates to continue seeking these serendipitous moments even once they've left the comfortable confines of the College. "I hope Harvard has prepared you to recognize these unexpected detours, to use your wisdom to embrace those alternate paths."