"A Calling Above All Others"
Ruth Simmons at the Graduate School of Education's Convocation
Ruth Simmons today delivered the Harvard Graduate School of Education's 2023 Convocation speech, calling on the school's 649 soon-to-be graduates to remain hopeful and persistent in the face of the "attack upon educators." "By probing deeply into what is and can be known, we can withstand any assault on our humanity and on our future," Simmons said.
HGSE Dean Bridget Terry Long introduced Simmons, Ph.D. '73, LL.D. '02,  to a crowd of students and family that covered the entire expanse of the Radcliffe Yard behind HGSE's Longfellow Hall. As she rattled off a list of Simmons' accomplishments, audience members cheered in unbridled support.
Hailing from Grapeland, Texas as the twelfth child of a sharecropper and a domestic worker, Simmons is recognized nationally as a higher education trailblazer. She led Smith College as its president for six years before her appointment as Brown University's 18th president in 2001—making her the first Black president of an Ivy League institution. She later served as the eighth president of Prairie View A&M University, a Historically Black College and University (HBCU), from 2017 until February 2023.
In 2003, Simmons created the University Steering Committee on Slavery and Justice at Brown and spearheaded an investigation into the University's historical involvement with slavery, which positioned the institution as one of the nation's first to publicly disclose such records. On March 30, the University renamed its Center for the Study of Slavery and Justice in honor of her work. 
She will now bring her efforts to Harvard where—beginning June 1—she will become senior adviser to the Harvard president on engagement with HBCUs. She assumes the position for the last month of current president Lawrence Bacow's tenure and will continue in the role under president-elect Claudine Gay.
Simmons opened her speech with a succession of thank yous to those who "have given so much to assist these graduates in their aspirations and endeavors"—Harvard staff and faculty, family, friends, mentors, and even "detractors who sought to dissuade them from their pursuits" but instead fortified their grit. "God bless teachers for doing that most essential and elevated of human endeavors—caring for the young," she said, crediting teachers for cultivating intellectual curiosity and independence of thought. 
She next congratulated the graduates on their milestone and "the beautiful music you will make in your careers—music that will nourish and inspire generations of learners and strivers." Whether this music is "mellifluous or atonal," Simmons said, it will undoubtedly empower others to seek discovery and remain unwavering through difficult challenges. 
"We raise a song to you for your belief in what is possible with learning," she added. "Our thanks to each of you for committing yourselves to empowering others to improve the world."
Simmons told attendees that in preparing her speech, she reflected on the pressing issues that educators face today—like the 2007 mass shooting at Virginia Tech that killed 32 people, political divides, and the rampant spread of misinformation. "More and more extraordinarily burdensome worries," she said, "cast a pall over our formal learning environments."
"What new tragedy, they must ask, will arise tomorrow to unsettle further their future?" Simmons continued. "More and more often, it seems such doubts are the ever-present companions for students from the time they start school until they graduate from college."
Attacks on educators have existed since American educational reformer and abolitionist Horace Mann called for universal education, Simmons said, noting that every generation of learners have "studied through a dizzying array of events" that shake the foundations of societal progress.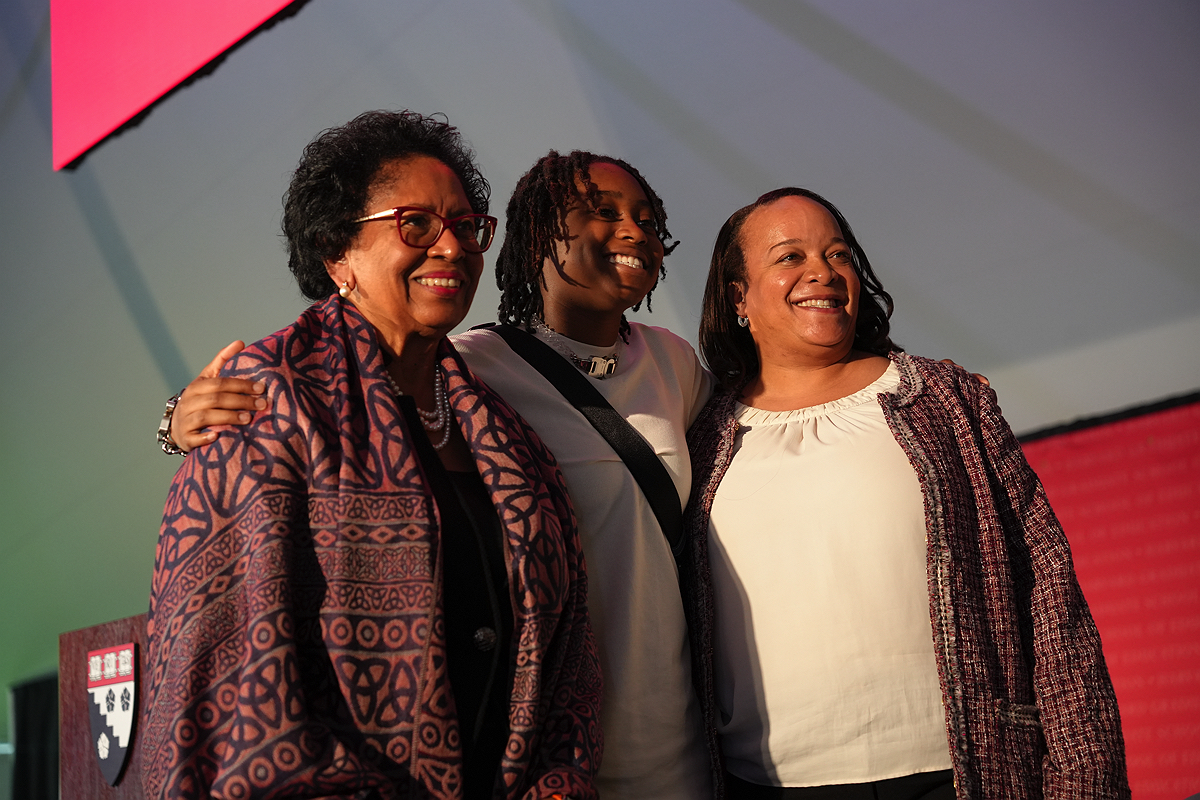 Photograph by Ryan Doan-Nguyen
For instance, some "upend the influence of educators" by questioning their qualifications, asserting instead that parents, officials, and religious organizations "should have the strongest voice in shaping the education of young people." She acknowledged the value of debate, but distinguished healthy dialogue from "misguided and unwise" speech that undermines knowledgeable experts. 
Simmons said that she herself was "born in a time of darkness and limitations," in which she encountered "calls for permanent enslavement of our minds and aspirations" 
"We have been here before," she told graduates, sharing how she grew up in the '40s and '50s in the Jim Crow South "at a time and in areas where evil reigned"—from lynchings for being in the wrong place at the wrong time, to segregation and legislation guided by racial hate. "Yes, I was overwhelmed at times by the magnitude of the ills I perceived," Simmons said.
However, something helped her "see beyond a pervasive fog of malevolence." For her, that was education. Teachers.
Teachers always seem to be hopeful despite whatever circumstances they may be in, Simmons said. She explained that she understood that this ability came from an innate sense of purpose—a calling that imbued in educators "a hopefulness that could not be staunched by signs of dangers ahead."
For Simmons, teaching is the key to remedying the world of its ills. "By assuring people's ability to evolve through learning, we will always have a way out of madness," she said. "By enlightening others, we have an opportunity to shape a common understanding of our humanity."
Simmons called to attention the case of Charles Butt, the chair of Texas grocery store chain H-E-B. Driven by the conviction that the nation's future depends on the quality of education its children receive, Butt established The Holdsworth Center, a center for public education leadership that Simmons chaired for six years. The project said Simmons, "has helped over 1,400 educators from 50 school districts build stronger leadership."
Simmons urged graduates to remember that "You, more than any, have at your disposal the capacity to shape the future." Centering one's life around education means to protect "the lifeline to a sane and sensible future for our children," she said. 
There will always be hostility, antipathy, and hatred directed toward educators, but "time will demonstrate that educators play a pivotal role in what the world can be in the future," Simmons said, pointing to centuries of triumph by learners across fields—art, philosophy, theory, invention, and the written word—and against those who sought to ban knowledge. "The results speak for themselves." 
At the end of her speech, Simmons implored graduates to "resist efforts to create a new dark age that inculcates learners and society with self-serving false information." 
Accept the values of "truth, open-mindedness, independence and rigor of thought and a commitment to the advancement of society," she urged, and "forever be hopeful, forever strong in your views of what matters, and forever able to heal this nation." 
Simmons delivered one final message before the outdoor tent housing the convocation ceremony descended into a standing, raucous ovation: "Yours is a calling above all others. Thank you for embracing this magnificent profession."
The full text of Simmons's speech is available here.
You might also like
Harvard officially installs Claudine Gay, its thirtieth leader.
A half-dozen symposiums feature Harvard research on AI, climate change, inequality, and more
A musical and poetic "prelude" to Claudine Gay's installation festivities
Most popular
President Bacow on humility, Prime Minister Jacinda Ardern on democracy and social media, and Attorney General Merrick Garland on civic engagement and threats to U.S. democracy
The new police chief introduces a new policing culture.
Recent books with Harvard connections
More to explore
A test can identify these productivity-boosting personnel.
Ancient history professor studies coins, ceramics, and Zelda.
Anwar Floyd-Pruitt's wildly profuse art