Commencement
"Go Guard the Galaxy"
5.25.23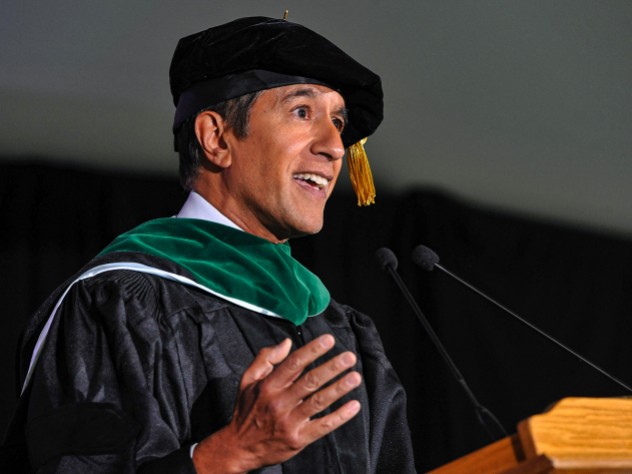 Sanjay Gupta
Photograph by Steve Lipofsky/Harvard Medical School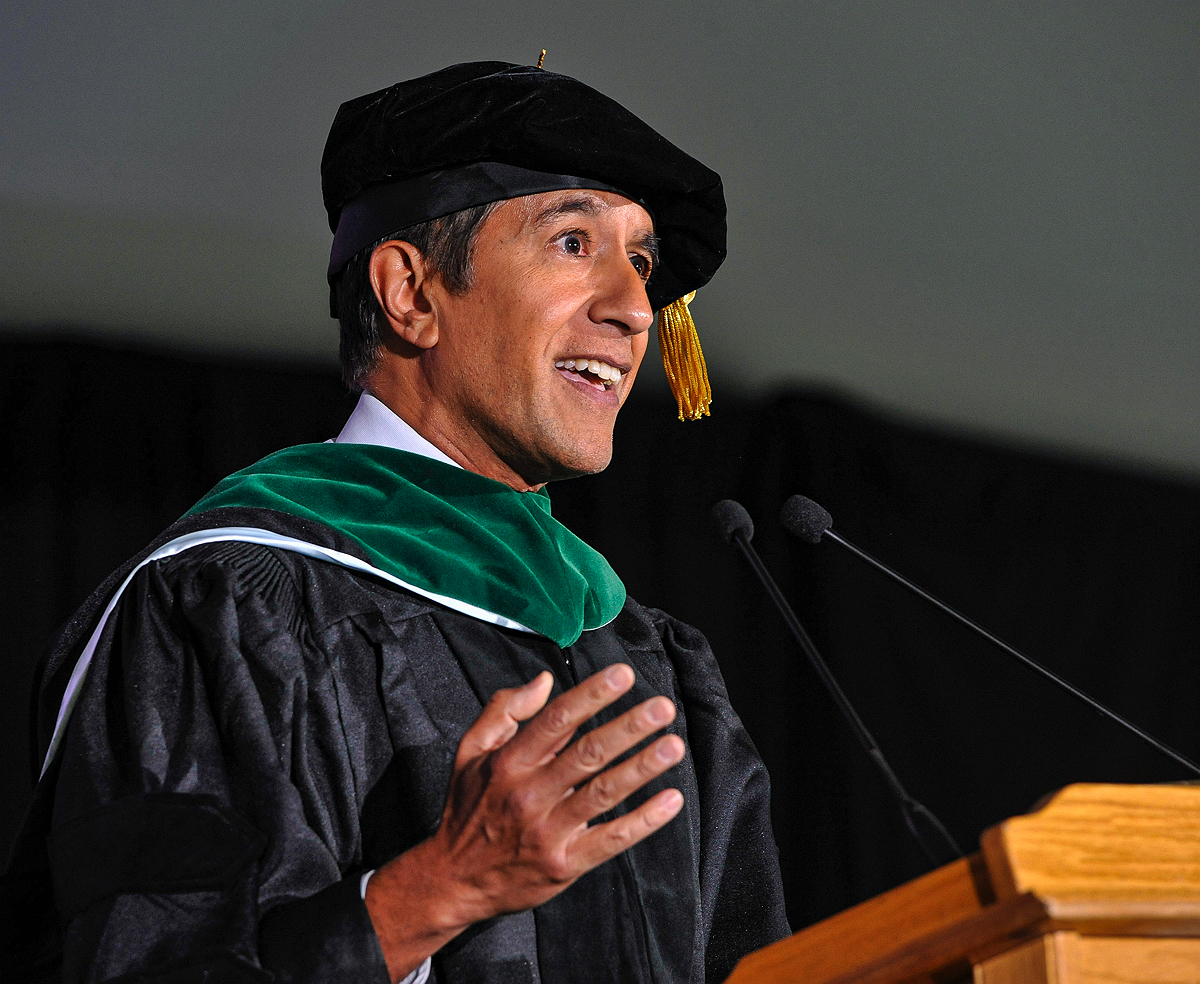 Sanjay Gupta
Photograph by Steve Lipofsky/Harvard Medical School
Emmy Award-winning neurosurgeon Sanjay Gupta was keynote speaker at today's 2023 Class Day ceremony for the Harvard Medical School and the Harvard School of Dental Medicine. He shared with graduates what he believes being a doctor truly means.
Gupta, the chief medical correspondent for CNN, has reported in-depth and from all over the world on medical and public health news for more than 20 years. He was the first western reporter to travel to Conakry, Guinea, to cover its deadly 2014 Ebola outbreak, and when a major earthquake hit Nepal in 2015, he flew into Kathmandu to document the aftermath. Gupta's work has taken him to the frontlines of Flint, Michigan's, water crisis, the Gulf of Mexico's oil spill, and wars in the Middle East. For his investigative work, he received multiple Emmy awards.
Gupta began his address, "What I Know Now That I Wish I Knew Then," by congratulating the graduates and telling them what holding the title of doctor entails. Being a doctor is "for life," Gupta said. "It's going to be likely one of the most central tenets of who you are." Others will have "all sorts of notions" of what kind of person the graduates are and what their competency is; some may even assume they chose their vocation to get rich. However, "going into medicine for the money is kinda like having sex for the exercise," Gupta asserted, prompting chuckles throughout the crowd.
He told graduates they'll likely become "the doctor of your neighborhood," and to expect questions on subjects ranging from aching backs to strange rashes. "You'll be amazed at what people will suddenly be comfortable sharing with you," Gupta said. "Embrace that role—never shy away from it."
Gupta thanked the crowd for having him speak and then told graduates that their experience, talents, and roles as medical practitioners have now "taken on a greater sense of urgency." Though he didn't "want to put too much pressure" on the graduates, he told them that they're "more important than ever." "In my estimation," he said, "you are the new guardians of the galaxy."
Gupta compared the state of the world today to 1993, when he graduated from the University of Michigan Medical School. People now have more faith in doctors, put more money toward healthcare than ever before, and are able to "treat and even cure diseases we barely understood when I graduated." Yet despite the progress, Gupta said, "we too often live in fear," "life expectancy has decreased," and "the people who sometimes would most benefit from those therapies don't have access." 
"You have the ability to change that," Gupta continued. "You have the capacity to restore the faith, reverse some of those tragic trends, and reassure people who are going to come to depend on you. 
He urged graduates to remain humble in spite of the benefits and opportunities their careers will offer them, telling them to "soak yourself in the privilege of your profession but never the arrogance." He described a scene they will soon experience: the physician wears a "crisp, white coat" by contrast to the patient's "paper or cloth gown." As the doctor handles their "tools, bright lights, hammers, and blades to shine, bang, and probe," the patient is going to be "worried, insensitive, insecure." "They may barely know you at that point, but you will be the most important person in their lives," Gupta said.
Gupta called this relationship "the greatest privilege given by one human being to another—to care for them at their most vulnerable time, to restore them to health when their bodies have betrayed them, to take them to the brink of death if you have to but then promise to bring them back in better condition than when you started."
Healthcare providers constantly face sources of frustration and irritation. Regardless, they should "always be kind," Gupta said, explaining that in retrospect, what bothered him most about such situations was his own reaction. "So be kind. Take the extra moment to touch in this most human of all professions—ChatGPT be damned. Smile a lot, even use humor," he said.
"People may not always remember what you said or even what you did, but they will remember how you made them feel," he added, quoting the esteemed American poet Maya Angelou.
Gupta urged the graduates to avoid spending their life "continually trying to prove you are smart." Instead, he encouraged them to become wiser. "There's a difference: A smart person knows the right answers. A wise person knows the right questions." So, ask questions, Gupta said, even if they don't sound intelligent. "Along the way you may find yourself starting to no longer just continuously memorize the past but instead change the future."
Gupta called on graduates to seek happiness as an end goal. "As healers, there's going to be tough moments. That's the nature of our shared profession," he said. "Learn from those moments, but cherish the wins as well. Celebrate them, no matter how big or how small."
Asked (as he frequently is) what the "connective tissue" between medicine and media is, he answers that they both "contain some of the best stories, the most important stories ever told—the story of people, the story of patients, the story of the scientific process."
Gupta added a further paean to the importance of people: attend to and nurture friendships and relationships, he said. "Fly around the world, graduates, for the weddings of your friends. Be there for the births of their children, and always answer the call in their times of need."
"My most heartfelt congratulations to you, graduates. I love you, I'm with you," he said in conclusion, "and now, go guard the galaxy."