Off the Shelf
Recent books with Harvard connections
In the Blood, by Charles Barber '85 (Grand Central, $29). Barber, a riveting storyteller, recounts the invention of a revolutionary way to prevent traumatic death from hemorrhagic bleed-outs—an urgent need in military combat—and the U.S. Army's resistance to adopting it. He begins in 1993, in Mogadishu, where the Army Rangers raid that went tragically off course (the subject of Mark Bowden's Black Hawk Down) brings mangled casualties to Major John Holcomb's field hospital. The hero of that blood-soaked day—who applied the traditional gauze, pressure, and ligatures to try to staunch the bleeding—becomes the bureaucratic villain as the tale unfolds.
Unleash Your Complexity Genius, by Jennifer Garvey Berger, Ed.D. '02, and Carolyn Coughlin (Stanford Briefs, $14 paper). The Cultivating Leadership leaders, who coach and mentor CEOs and the like, offer simple, reassuring guidance on "growing your inner capacity to lead" (the subtitle). Those who are especially uptight, or simply harried, can flip right to the Genius Engagement Moves to regain control. Underlings and others may be a little alarmed by chapter titles such as "Emotions Are the New Facts" and "Connections Matter More than Competence," but there are benign explanations.
From the Battlefield to the Stage: The Many Lives of General John Burgoyne, by Norman S. Poser '49, LL.B. '58 (McGill-Queen's University Press, $37.95). A tercentenary biography of the British general whose advance from Canada into New York resulted in his army's surrender at Saratoga in October 1777. Poser, a retired law professor, recreates his subject's honorable service in Parliament, his interest in theater (he was a playwright), his less honorable interest in actresses, and so on—all of which added up to an interesting life if not to prowess as a military commander.
Young and Restless: The Girls Who Sparked America's Revolutions, by Mattie Kahn '15 (Viking, $29). A young writer explores the young women whose energies and sense of justice propelled movements for social change. She begins, in a chapter titled "Material Girls," with chanting that "must have sounded like a schoolgirl's clapping game" during the Lowell, Massachusetts, textile workers' strike of 1836 and proceeds through recent actions focused on civil rights and climate change. An interesting, overlooked perspective—and a hopeful one.
Athena Unbound: Why and How Scholarly Knowledge Should Be Free for All, by Peter Baldwin, Ph.D. '86 (MIT, $35). A historian at UCLA and Global Professor at NYU probes the aim of open access ("a visionary quest whose ultimate ambition is an absolute: All knowledge should be freely available to anyone anywhere") and the practical and other obstacles that hinder its realization. Important, at a time when institutions like this one are creating ever more intellectual property of immense economic and social value. Practicing what he professes, his book is open access.
Instructional Moves for Powerful Teaching in Higher Education, by Jeremy T. Murphy, Ed.M.'18, Ph.D. '22, and Meira Levinson, Thompson professor of education and society (Harvard Education Press, $38 paper). Distilling lessons from the Instructional Moves project at the Harvard Graduate School of Education, the authors observe great teachers at work from across the University and explain how they facilitate discussions, employ cases, engage active learning, and more. Of obvious professional appeal here and elsewhere (Murphy is at Holy Cross now) but of wider interest, too, to people who care about education but don't have ready access to contemporary classrooms.
Justice by Means of Democracy, by Danielle Allen, Conant University Professor (University of Chicago, $27.50). A work of political philosophy drawn from Allen's lifetime of scholarly interests (see "The Egalitarian," May-June 2016, page 40) and her analysis of traumatic socioeconomic and political events during the past decade. A just society is secured by political equality, she explains—and justice itself depends on democracy. But she argues further that "power-sharing liberalism" is the best way to achieve the equality and justice essential to human flourishing: a prescription for inclusion and careful avoidance of any group's monopoly on political, economic, or social power. Aspirationally, "Justice by means of democracy will exist when all people, regardless of background, fully share power and responsibility."
Mozart in Motion: His Work and His World in Pieces, by Patrick Mackie, G '99 (Farrar, Straus and Giroux, $30). The late-eighteenth-century culture ("a world in motion," the author calls it) is brought vividly to light in Mackie's close readings of Mozart's signal compositions and depiction of the settings in which they were created and heard. In the opening chapter, he reconstructs the autumn 1787 premiere of Don Giovanni: the opera house approached on "murky, bumpy streets" in "a city chafing against decades of indifference or even neglect from its Habsburg rulers in Vienna," giving rise to a "restless underlying resentment and a skittering cultural inventiveness" throughout Prague—"the perfect landing place for such an exuberantly complex opera."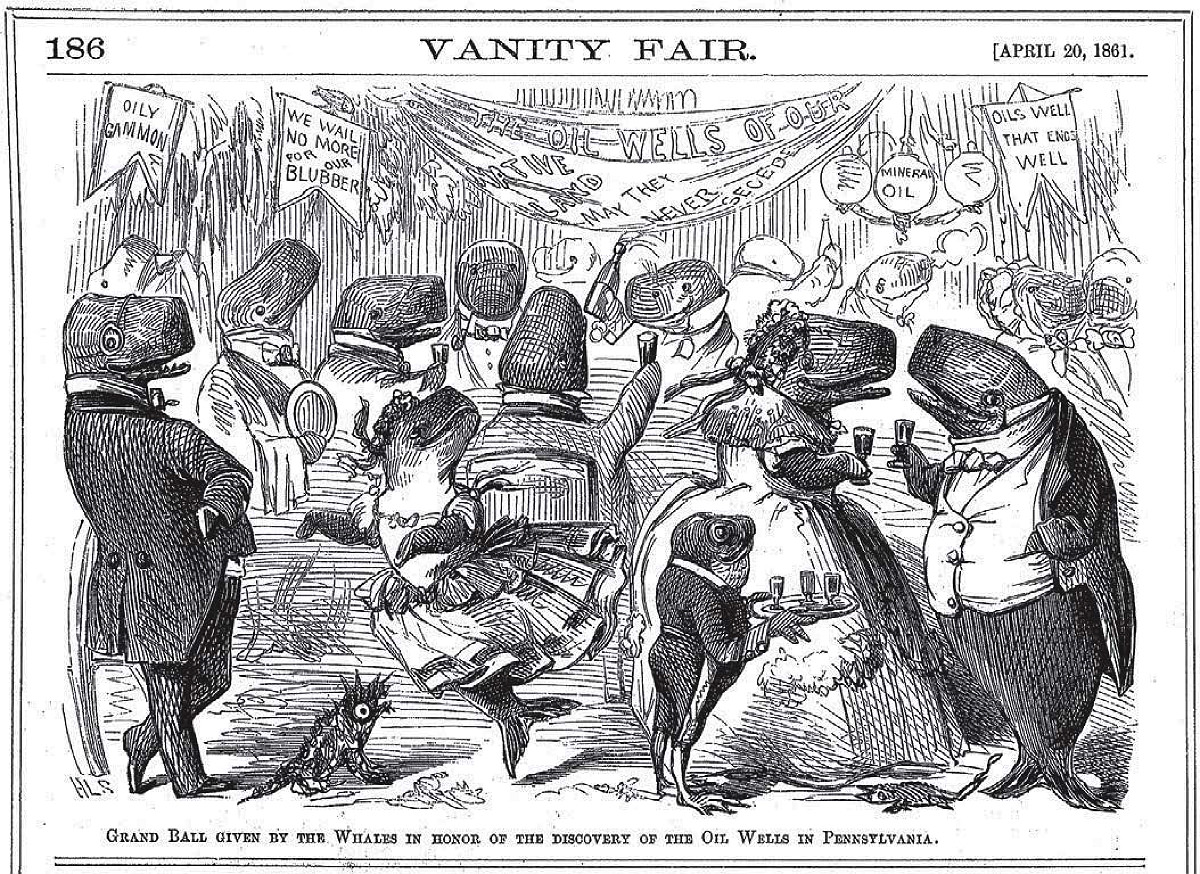 in the public domain
Stay Cool: Why Dark Comedy Matters in the Fight Against Climate Change, by Aaron Sachs '91 ('92), (New York University Press, $22). A Hist and Lit graduate, who now professes history and American studies at Cornell (and confesses to occasional open-mic stand-up in the acknowledgments), tries to get readers to lighten up a little about the impending collapse of Earth's natural systems: gallows humor vs. catastrophe. "We don't all have cancer (yet)," he notes, "but we all have global warming" and find it overwhelming. He surveys dark comedy and begins hitting the mark immediately, captioning a photo of the famous Harvardian climate leader, "Al Gore, looking serious." There is probably something to learn, and little harm done, from indulging in jokes like "Why do Prius drivers keep only one hand on the steering wheel? So they have the other hand free to pat themselves on the back."
Rescuing Ellisville Marsh: The Long Fight to Restore Lost Connections, by Eric P. Cody, M.C.R.P. '80 (University of Massachusetts, $26.95, paper). At a time when preventing climate change can seem daunting to the point of paralysis, stories about local, individual action appreciate in value. The author, a consultant to electric utilities, buys a piece of coastal property on the Massachusetts South Shore and finds himself joining with neighbors to protect and then restore a salt marsh inlet. A fine-grained account of what is entailed in addressing the problems humans have caused as the built environment has "stranded the natural places."
My Hijacking: A Personal History of Forgetting and Remembering, by Martha Hodes, A.M. '84 (HarperCollins, $32). "We were flying from Tel Aviv to New York on a September day in 1970": the author, then 12, her sister Catherine, 13, traveling from their mother's home in Israel to their father's in America. But "instead of landing in New York that evening, we ended up as hostages in the Jordan desert" as their plane was hijacked by the Popular Front for the Liberation of Palestine. So begins the New York University historian's excavation of trauma, memory, and an obviously extraordinary kind of family history.
You might also like
The context for Harvard Management Company's 2023 results
The Crimson outlasts the Bears in an Ivy nighttime shootout.
The first in a series of public conversations about Harvard and the legacy of slavery
Most popular
First-years Ngozi Musa and Gabby Thomas help set the pace for track and field.
A negative investment return and annual spending reduce the endowment's value 5.1 percent.
The director of Head Over Heels and The Star, on animation's different dimensions
More to explore
A test can identify these productivity-boosting personnel.
Ancient history professor studies coins, ceramics, and Zelda.
Anwar Floyd-Pruitt's wildly profuse art