Graduate Schools
St. Louis Blues
3.31.16
Demolished in the 1970s, less than two decades after it was built, St. Louis's Pruitt-Igoe public-housing complex became a symbol of poverty, segregation, and urban-planning failure.

United States Department of Housing and Urban Development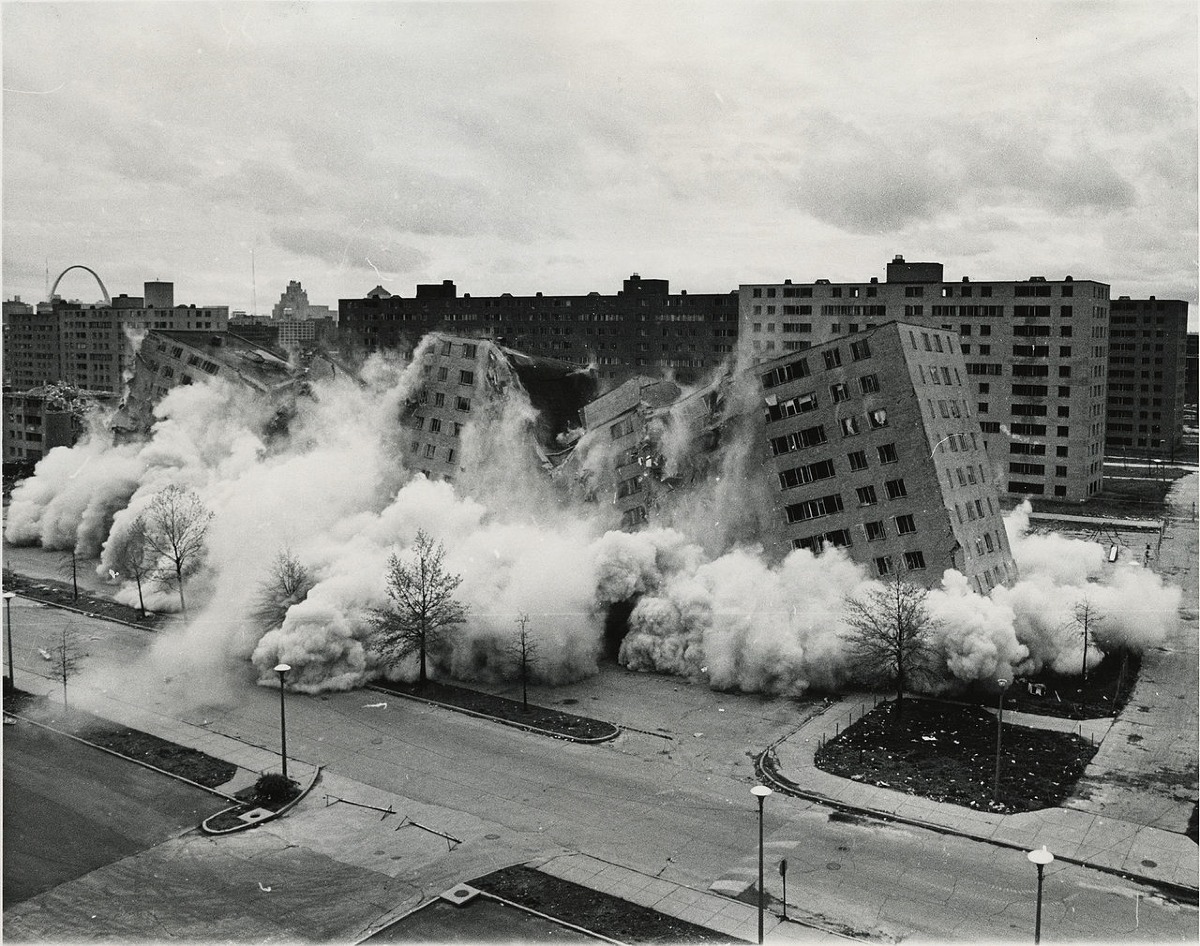 Demolished in the 1970s, less than two decades after it was built, St. Louis's Pruitt-Igoe public-housing complex became a symbol of poverty, segregation, and urban-planning failure.
United States Department of Housing and Urban Development
"Many of us are here because we want to bear witness," said Diane Davis Wednesday night in Gund Hall's auditorium, leading off a three-day Harvard Graduate School of Design (GSD) conference exploring issues of racial justice in St. Louis. Bringing together planners, politicians, activists, and scholars, "Voices & Visions of St. Louis: Past, Present, Future [4]" continues a national conversation that began in August 2014 in nearby Ferguson, where protests erupted in the streets after the killing of unarmed teenager Michael Brown.
The conference, which continues through Friday, examines the urban planning and design decisions that have excluded and dispossessed St. Louis's African-American community during the past two centuries, and what today's planners and designers can do repair the damage. Calling St. Louis "not just a place but a metaphor for our national condition," Davis, the GSD's Norton professor of regional planning and urbanism and chair of the school's department of urban planning and design—and a native St. Louisan—said, "We have allowed pockets of poverty and social stigma to become normalized in our cities.…This is a clarion call to rethink how cities are built, by whom, and for what purposes." 
In the keynote lecture and panel that followed her remarks, Joseph Heathcott, an urban-studies professor at New York's New School, and a Midwesterner who spent a dozen years working and teaching in St. Louis, described the roots of racial tension in what he called "this weird, borderland city." He traced the area's history from the Civil War through World War II and the years just beyond, a period when race became a central factor in St. Louis's politics and planning. "In the decades following the Civil War, white racial hostility towards black people was a constant feature of life in St. Louis," Heathcott said. But Jim Crow didn't emerge on its own. "It was carefully constructed by white politicians, real-estate networks, neighborhood groups, and business associations over the course of five decades." Segregation deepened throughout the early 1900s, so that by World War II, the separation between whites and blacks was nearly absolute.
Those decades also included the 1917 race riots and massacres in East St. Louis (just across the river in Illinois), the violence that flared in 1949 when a group of black children attempted to integrate St. Louis's Fairground Park pool, and the downtown lunch-counter sit-ins and protest marches that predated the Civil Rights era by more than a decade. "Amid the worst days of segregation in St. Louis," Heathcott said, "black men and women honed the very tools needed to dismantle apartheid, and so for us have left a legacy and model to follow in terms of challenging racial injustice in America." 
Jamilah Nasheed, a Missouri state senator whose district includes some of St. Louis's most desperate and impoverished neighborhoods, spoke about the city's failure to invest in jobs, schools, and infrastructure, describing block after block of abandoned, crumbling buildings left to rot. "Many are missing entire walls, the bricks literally stolen away by thieves," she said. The frustration, shame, and resentment of those living next door, she said, can be overwhelming. "When our government's actions tell people they are not worth the most basic investment of its time and money, it should be no surprise when they start to believe it."
Sharing her own experience, Nasheed talked about growing up in St. Louis public housing, the child of a father murdered before she was born and a mother who killed herself two years later. Nasheed was raised by her grandmother, and she joined a gang and fell into violence before pulling her life together. "Growing up in St. Louis is like a coin flip that so many lose," she said. "We cannot keep leaving these lives up to chance." 
In the Q&A that followed, audience members—many of whom were from St. Louis, or else taught or went to school there—probed the connections between St. Louis's problems and its built environment, and between St. Louis and other troubled cities around the country. Don Roe, a planner who works with St. Louis city government, urged young planners to "take it personally," and to design cities with passion and compassion for the people who will live in them. Following up on a lecture [5] he'd given earlier in the week in the same auditorium, David Harvey, the GSD's Senior Loeb Scholar and a CUNY professor of anthropology and geography, observed, "There's a vast amount of investment going on in cities which is about making cities good places to invest in, rather than making cities good places to live in." In other words, he argued, cities find money to put toward corporate building projects and high-end condominiums and "rich stuff downtown," but not for "rebuilding those parts of the city that really need it.…I think it is a scandal in this country that the conditions of life in many of the central cities have deteriorated over time."  
A few minutes later, Nasheed drove the point home: "When those children, each and every day, have to walk up and down those streets and see those buildings"—empty, abandoned—"it really decays their minds," she said. "I mean, what do you expect out of them? What do you expect out of them other than hopelessness?"
The conference, a partnership between the GSD and the Divided City Initiative at Washington University in St. Louis, continued on Thursday with panel discussions that delved deeper into the city's social and racial history, the geographic conditions and land-use decisions that affected it, the role of design in the city's character, and the policies of exclusion in the urban environment. On Wednesday night, GSD dean Mohsen Mostafavi noted that the conference follows a year and a half of discussion and events grappling with design and social equality: "The conversation has really affected our work in the school, our pedagogy, our project." This conference, he said, is intended to launch years more of multidisciplinary discussion on injustice, inequality, race, and exclusion.